nuggets: little bits of the season in photos and words about the last week
I can dork out on well-organized spreadsheet just as much as rolling dryer lint balls. In school, my grades in calculus were comparable to my grades in literature. I've never fully aligned myself with my right or left brain; I am constantly playing hopscotch between the two. The party lines are blurred.
Similarly, I am equal parts social butterfly and homebody. Recently at a fund raising training for an organization I volunteer for, the facilitator asked the group to line up at the end of the room, creating a spectrum of outgoingness. "Stand on this end if you walk into a party and know most people and could talk to anyone. Stand on this end if you walk into a party and find a corner." I was certainly on the know most people/talk to anyone side but the thing is sometimes I just don't go to the party because I want to turn my phone off and make a pie in my leg warmers. 
I tend to lean toward creative endeavors (and I am beginning to believe my husband when he sweetly suggests that while I *could* do them, I might never prioritize my books and need to hire a bookkeeper). Almost always, I pick making something. But the introvert-extrovert isn't as predictable. It's seasonal, it's random. 
Right now, I am inclined to spoon my home. In fact, right now, it is 5am and I am under a hot pink, orange and green afghan with my purring 20-pound cat tucked against my body. Last night, I slid under our heavy winter blankets with my daughters and a stack of books as 8pm with no intention of getting back up. My husband is already gone, left with a friend to fish. And I am leaning into hibernation with coffee and cat. 
nuggets.
:: In our home, a sure sign of fall and more time inside is dance parties. They happen at least once a day when one of us will declare
dance party!
followed by a stampede to the living room and hardcore move-busting for one song.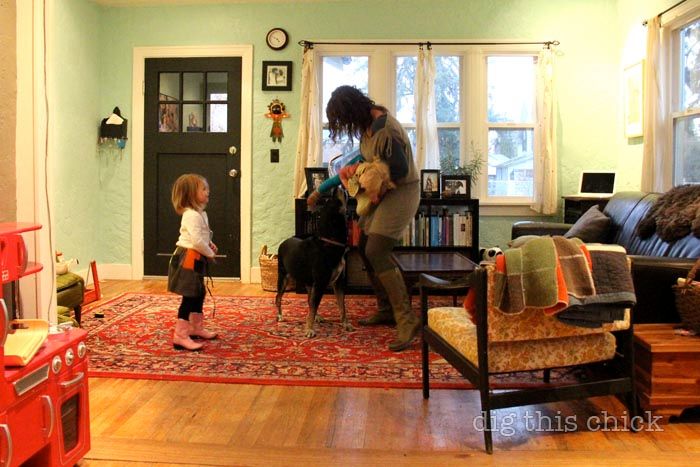 A new favorite Pandora station in our home: Kidz Bop Kids
:: Our friend outgrew his shopping cart and handed it down to my girls. While it definitely doesn't come out of the car when both kids are with me (hello mayhem!), the little cart is the perfect accessory when on a mama-one kid shopping date. Like, to the grocery or fabric store.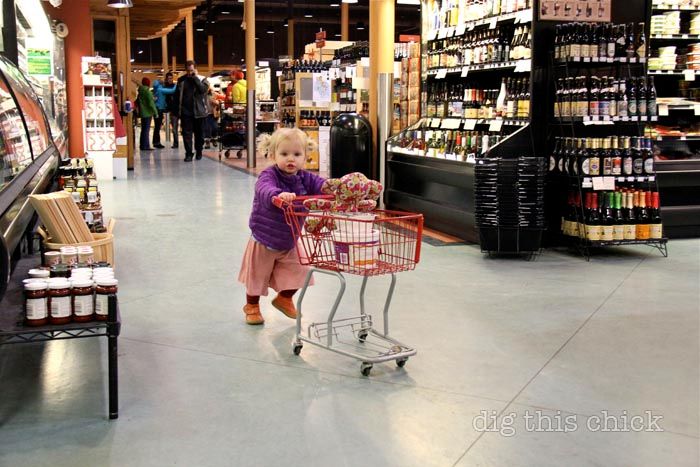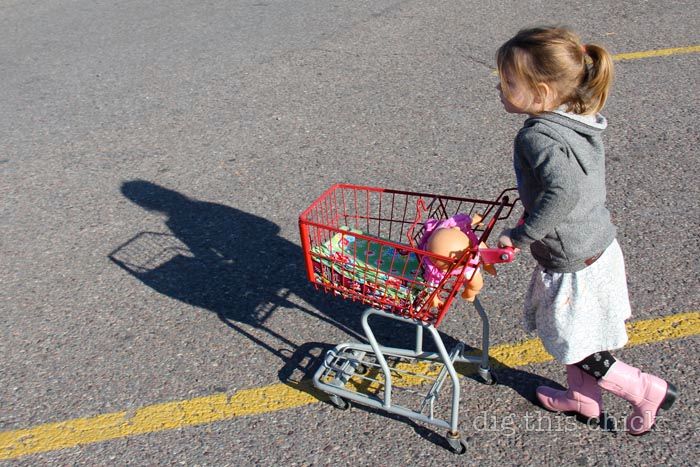 :: Leaves are nearing the end of their brilliance, about to tuck in for the year. Still, they remain pretty awesome.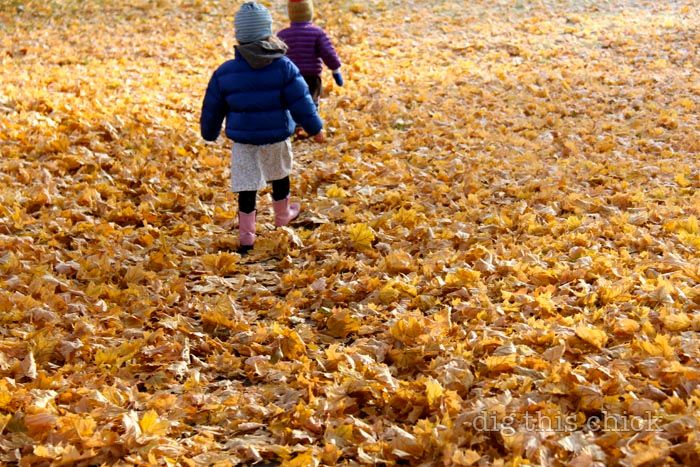 And fun to make trails in the morning frosting, as Margot calls it.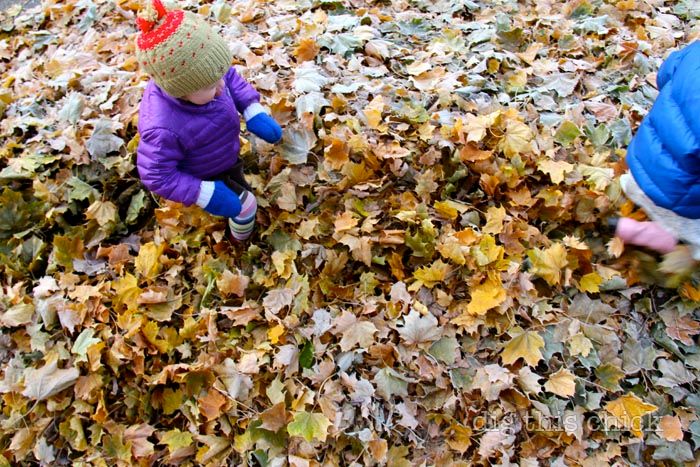 :: This is the greeting my assistant, Sarahjess, gets when she comes to work.
:: I made a calendar! It is for sale here.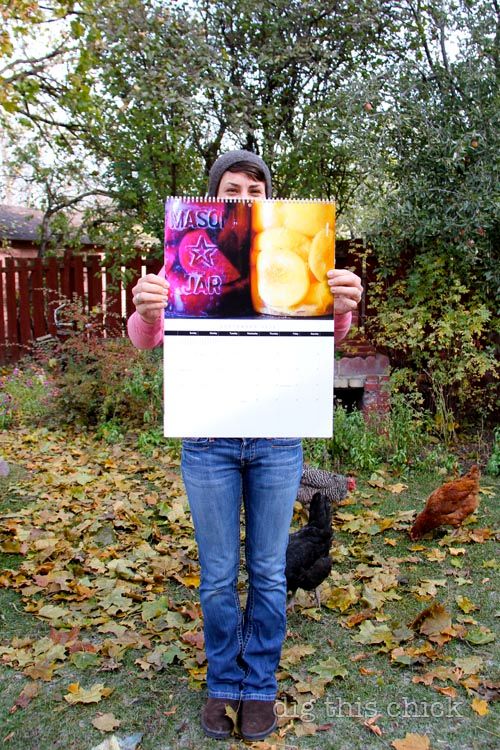 Also, through December 15, use coupon code 'holiday' to get free shipping on your entire order from my etsy shop
:: We have things in out home that mom allows and dad doesn't and things dad allows and mom doesn't. Do you have those? One that I permit and makes dad bananas: kids on chairs, stools and counters when in the kitchen. Sure it makes for additional obstacles and can turn a quick recipe into an hour affair, but I love it.
:: We tend to make more time to see art during the cool months.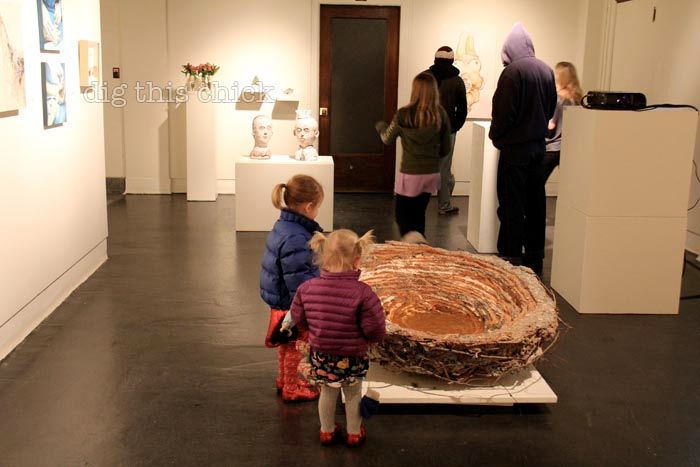 The girls ponder human condition.
:: We went to a thrift store last week and Margot fell in love with this totally creepy looking baby doll so he came home with us. His name is Boto.
:: Our rolling pin broke so we made sugar cookies with my kids' play rolling pin. It was funny and worked swell.
:: Ruby, suddenly, seems so big to me. As we approach her second birthday and her second anniversary of survival, I am so thankful for this healthy, thriving sweet potato.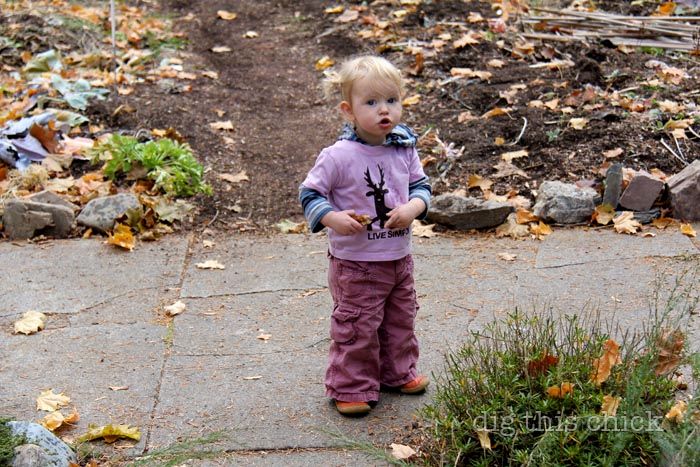 happy Friday out there
:: :: ::
Congrats to the randomly selected winner of a Blue Q shopping spree: Rachael said…Ooh, if I had $60 at Blue Q I'd definitely get the Marshall shoulder tote, some soaps, and the Cameras pencil case. Such a cool shop, I'd never heard of them before!
:: :: ::
all photos taken with a Canon Digital SLR from Vanns.com