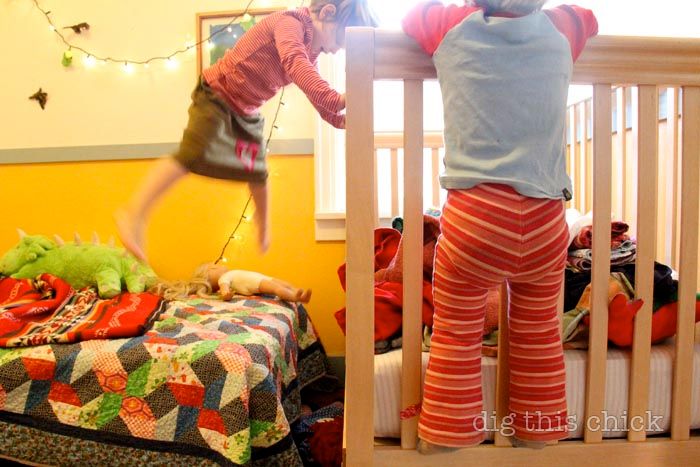 I am so tired of having the same answer to how are you? Truth is we are nuts right now. So, that is what I say and then find my brain and mouth taking off in all the details of the craziness. This buying and selling homes business in the midst of birthdays, holidays, company, travel, work has us running, making phone calls, signing documents, waiting for emails, rearranging schedules while gifts languish half-made and party punch bowls patiently wait to get washed…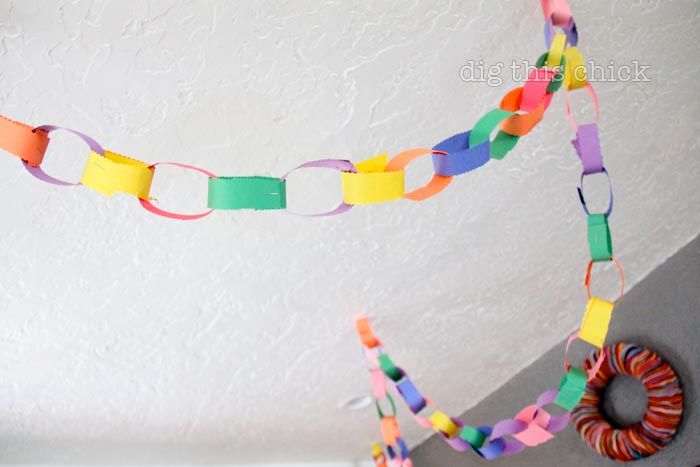 Andy and I keep reminding ourselves how right this feels for our family, how it is all working out beautifully when one looks at the general productivity graph. A big, simple, sweeping arch is what we see. However, if we grab a magnifying glass and we can see at all the volatile, chaotic points that form that tidy arch. Some moments I am frying under the magnification, others I am happily observing the big, thankful picture.
Our friends watched the girls last weekend so Andy and I could go on a date and talk. As in have more than a two sentence exchange before Excuse me mama? Look! I can do a cartwheel off the couch! or any variety of very important things a two and four year old must interrupt to show/tell us. We brought a blank book and a pen and made a list of what we want with this change. It was so GOOD to get it down on paper, to see the list of dreams that are becoming reality.
We were curled over a dimly lit table in the corner of a restaurant talking in dreamy, seamless conversation when 12 of our friends dressed in all white came skipping and hooting to a large table next to us. There was a party that night, one that we decided to not attend at the last minute in favor of this date. Turns out a pre-party was at the same restaurant. We talked with the group and explained why we were in pedestrian clothes and taking notes. "Maybe we picked the wrong place?" Andy laughed at one point, gesturing to our partying pals. I told him I thought it was perfect. We achieved some good stuff and got a little contact high from our tribe. At one point a friend tossed me a gauzy white skirt and shirt and said, "Have Andy drop you off on the way home. You can be a hippie." I considered it for a hot second. But I didn't go. We fetched our kids and were in bed by 10pm. We are so going to the Snow Ball next year.
I bristle at this chaos. It is uncomfortable and I can't wait to feel a steady life cadence again. I also find it an exceptional opportunity to notice. To pay attention to my last days in our home, stop the boat-rocking activity and make eye contact. I like the challenge.
Taking notice of:
:: Walks around the block. Our hood for only a bit longer.
Andy remembered Margot's head-over-heels devotion to this little purple pony from Ace Hardware a while back. He wrapped it up for her birthday, unsure if he'd bought the right horse. She held her breath, mouth open, she was over the moon. The nameless pony who is "definitely a boy" hasn't left her clutch since. Good job, papa.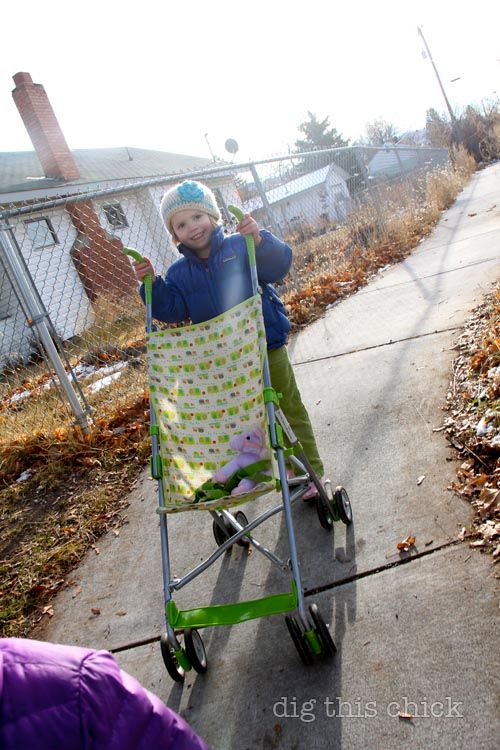 :: A totally awesome birthday party that ended in our friend juggling cupcakes.
Margot's party day was an exercise in flexibility, in letting go. I am the Limbo Queen. Read more in this week's mama digs: bendy.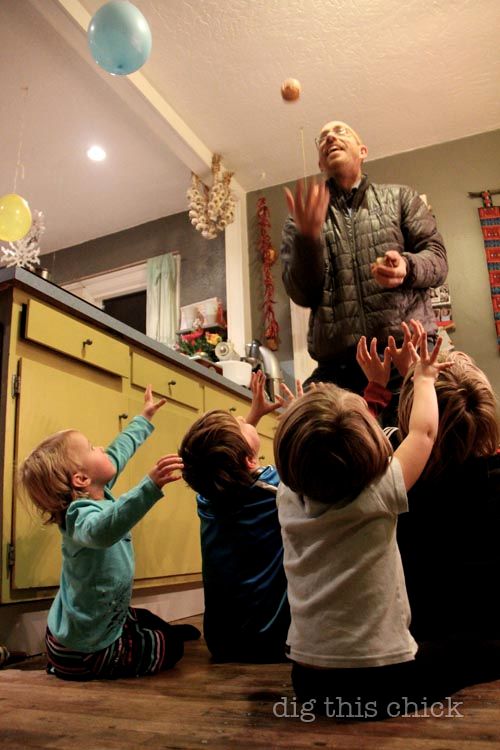 Also, remembering last year, when my bug turned three.
:: Toys that are played hard and left, quietly waiting for the next round.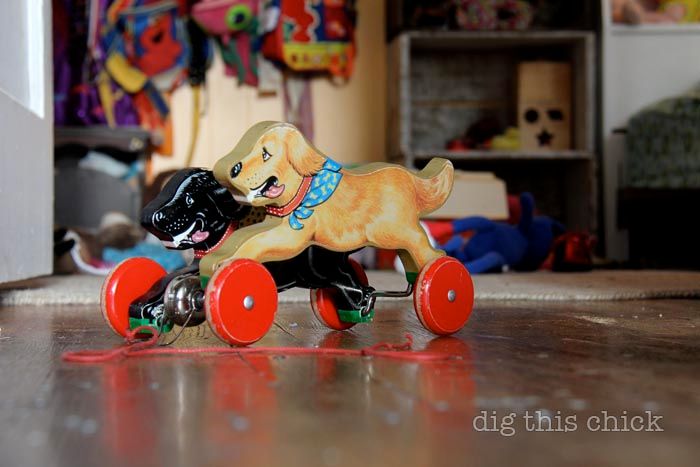 :: Winged kids collecting eggs.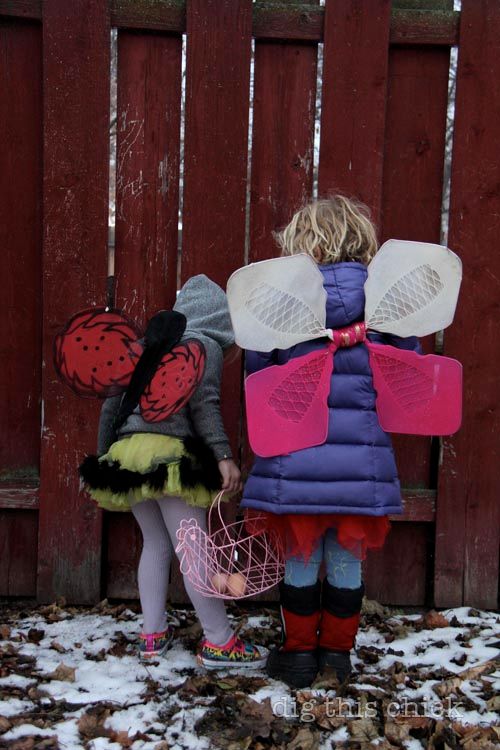 :: Lingering party decorations that feel continually encouraging and festive. I think I'll leave them up until we move.
:: How simple and free gifts can be.
The kids painted cardboard, I cut circles and folded in half and glued together (held with clothes pins until dry) with sewing notion scraps in the middle. Once dry we painted with glue, sprinkled glitter. Lastly, we glued and glittered the corrugated edges.
:: The awesomeness of grandma (who arrives with cooking ingredients and matching leotards for the girls. I am still waiting for mine.)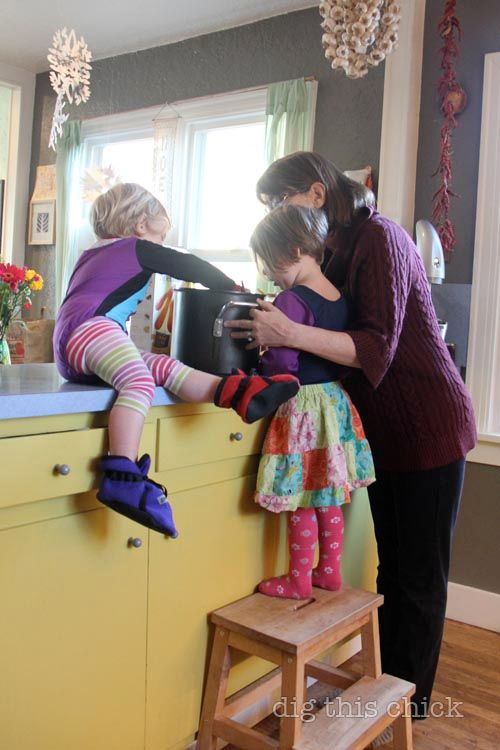 :: My endlessly optimistic dog with a graying face.
:: Exploring an icky old ditch as if it contained gold.
Really, discovery and wonder are a choice.