nuggets: little bits of the season in photos and words, about the last week 
First, THANK YOU. When my domain was bought out from under me, I wondered if it meant the end of my contributions here, if I was to look to the next thing. I was open to that, even though I feel like I have more to give to dig.
It always seems so cliché when people say I have no words for… but that is how I feel. Words just don't seem to tell the heartening significance your support and encouragement has meant to me. It was so clarifying and buoying. Thank you for your time, energy, ideas, expertise, emails, quotes, sharing and intention. We win. Thank you.
I am not going anywhere just yet.
So Chris put my domain up for sale. For $4800. Which made it pretty dang easy. I made a list of 48 things I'd rather spend $4800 on. It was a fun process and really put this in perspective. A couple of my favorites: fund spay-neuter clinics, take all my bffs shopping at Cydwok, go to Spain to see my friend and her boys, send my husband helicopter skiing in Alaska, pay into my kids' college funds. I intended to post the list here but, you know what? Nah. There is so much more to talk about. Real stuff, right now stuff.
I will say, real quick, that I do care about this unethical situation. I am working with some very smart and generous people and pursuing the unlawful snagging of my url. I'll keep you posted.
I saw an Alice Walker quote yesterday.
The most common way people give up their power is by thinking they don't have any.
NOW. now. nuggets.
:: We are finally feeling a little more moved in. We are all snug up in our 400 square foot apartment. We will move into the whole house in June, when our tenant's lease is up and, thankfully, in the meantime, we we able to store all of our stuff in the garage here. So, we really are quite contained. And if I need, say, that butterfly blanket that would fit perfectly on Ruby's new bed, I get some exercise climbing over piles of furniture and boxes while my kids cheer. 



:: Living in tight quarters really isn't hard. There are a few challenges though. Like the bedroom-kitchen situation. As in, they are the same room.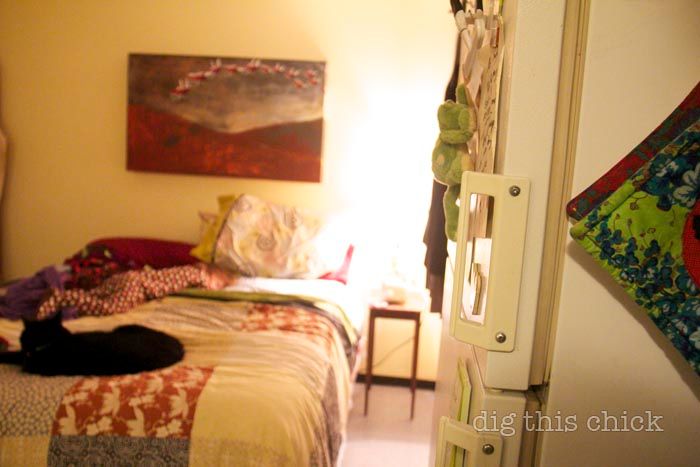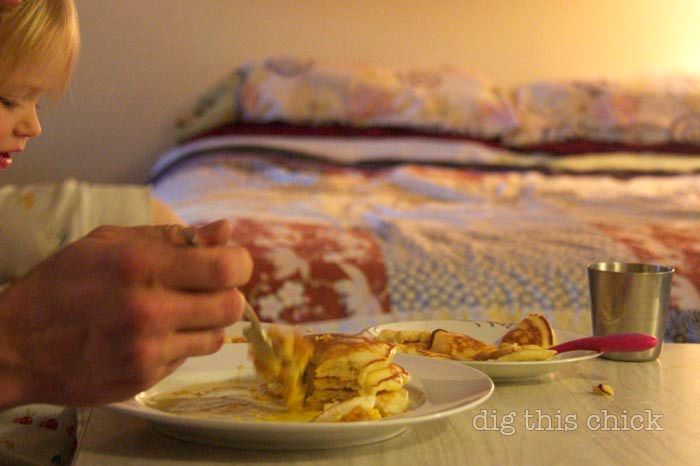 And the bathroom is just a tiny closet with a shower and toilet so kid bathing is interesting. So far, the best method is me in the shower with both children for the quickest scrub down in the west.
They are just challenges. Andy will build a temporary wall separating the kitchen from the beds which will create a good noise and visual barrier. The girls will love it because the whole thing will be a jungle gym as the room will be exactly the length of our bed and, to access their bunks, they will climb over our bed.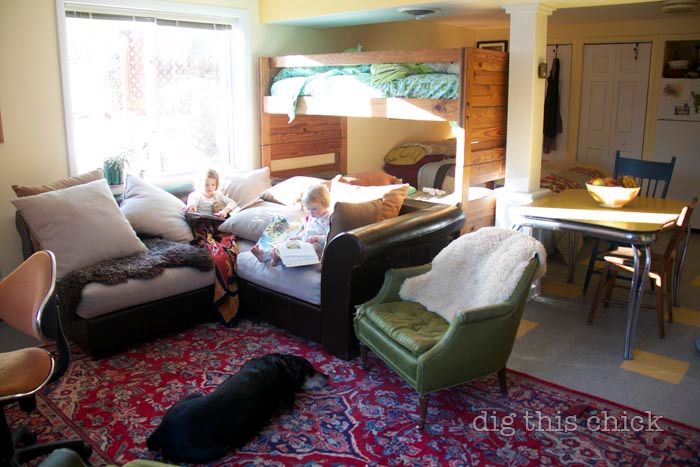 On the other side of the bunks, I plan to make a wall out of three old doors behind the couch.
:: I can totally dork out on efficient space use. Against this wall by the front door: all our daily winter gear, diaper covers, kid puzzles, pet food, grocery bags, cat bed and cat perch for food.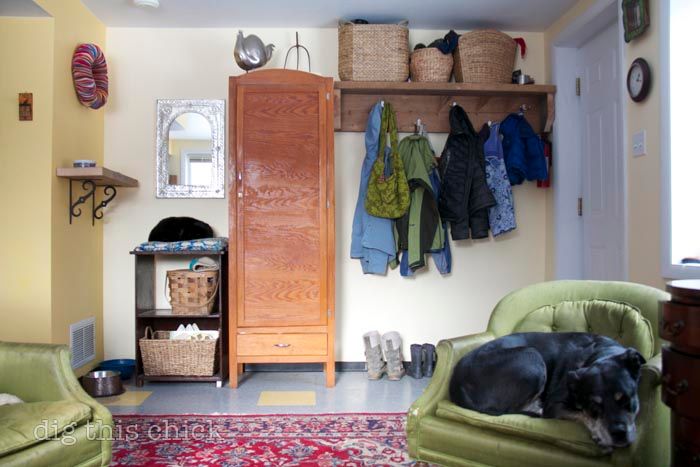 :: The kitties are finally settling in a bit. Olive is still a little pissed.
:: My mom has been here for the last 11 days and, man, do we feel thankful for her help. I love my mom a lot and I wrote about her awesomeness in this week's mama digs: dig's mama.
:: One thing that makes this small space especially manageable is the big space just out our door. It is so quiet here, so friendly, so open.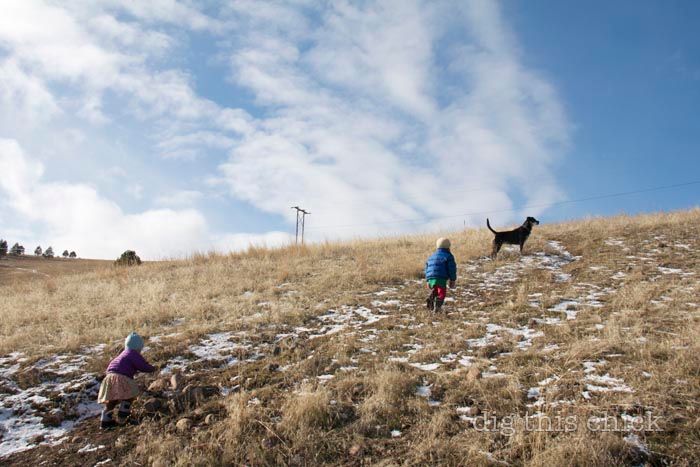 This is why we moved. We moved so our kids could access Montana whenever they want. We are a few blocks from the most perfect swimming hole, a few blocks from single track into wilderness. We have a trailhead in our backyard, a sledding hill in our backyard.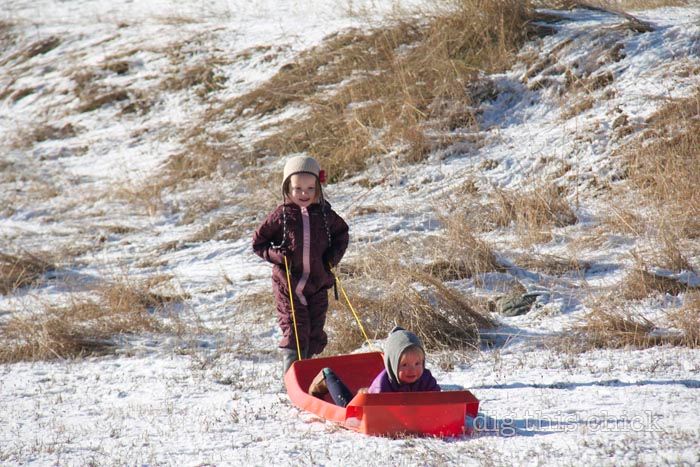 Endless nature nooks for observing, playing, inventing, exploring. And about 15 kids under the age of six. Oh the stories my daughters will make here.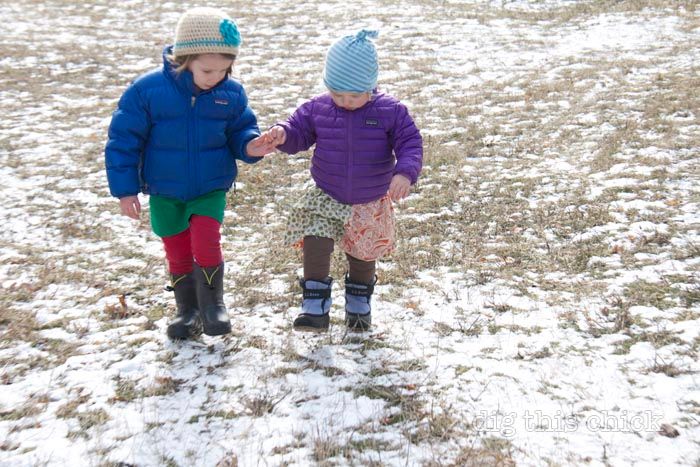 I hope I wake every day and feel what I feel when I wake now: how awesome is this?I think I will. How could I ever take this for granted?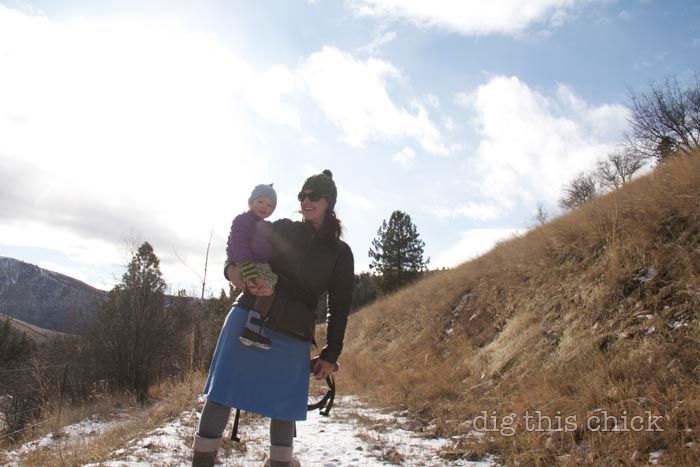 just above our house, photo by Margot
happy Monday out there.
:: :: :: 
all photos taken with a Canon Digital SLR from Vanns.com