Yesterday our valley was wiped clean with snow. There was a snow bunny sculpture in the field behind our house. This morning it rained, punching down that smooth, soft layer into a pocky, slick mess. The once-bunny is a phallic lump, melting by the hour. Now the snow flakes blow sideways and then stop mid-flight to steer the other way like a beautifully choreographed dance.

surprise snow storm on a walk home from friends
My two cats and dog all sit within a few feet of me, their ears back as they try to interpret the whispering wind. It is unsettling and exciting at the same time. Spring knocks on our door.


sunny sunny hike with Ruby and Alice
I can feel this shift in energy as Margot giggles and dons flip flops declaring it is SO warm at 38 degrees. The seed displays are up, friends plan camping trips. And I have this urge to freshen up spaces.
Being that this is our new home, there are plenty of opportunities to transform. Of course we can't do anything to the main house until June but, oh man, we are dreaming about it. In the mean time, we get to spiff up our apartment, embracing tiny adjustments to improve our feng shui. A well placed plant disguises the litter box in our living room, a shifted kitchen table allows for easy bunk bed access, the removal of chairs allows for some negative space around those cast about books and dolls.
One of the first things I wanted to change were the window treatments.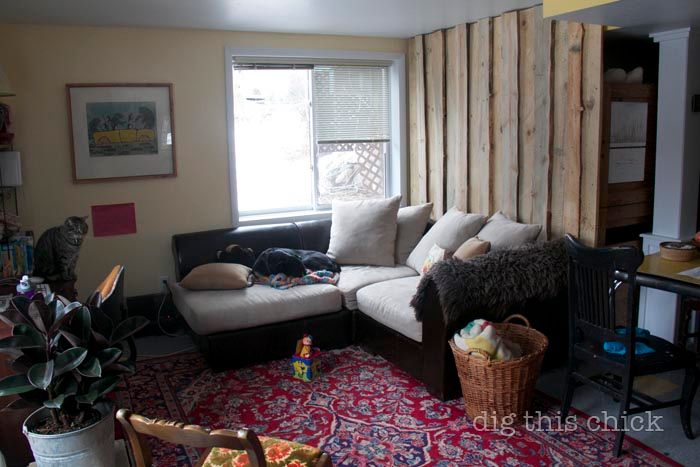 In addition to not being a blind fan in general, I have children who have become quite adept at turning anything into a toy. I am not sure why it feels fun to wrap their bodies in the stringy apparatus but every time we neglected to hoist it up high, one or both of my kids would step right into the lasso and start wrapping. Once, I had to cut it off of Margot. Anyway. I made curtains!
Margot and I talked on Saturday while Ruby napped and Andy worked on our new chicken coop and his new painting studio (my handy man!!). She turned to me and said, "mama, when are you ever going to make me that pink and orange skirt? And that shiny pink long dress? And fix my sun-moon costume?" I have been saying I'd do these things some day for so long now, as she watched me stitch things for other people every day. On this day I said, "How about right now?" And we peeled out to the studio.
I made her skirt and she was so over the moon about it, immediately stripping down and spinning (sorry, no photos!). We had so much fun sewing together, just she and I. I fixed her sun-moon and then asked if she'd mind if I started in on my curtains, the ones I've been wanting to make for over a month now. "No mama!" she squealed as she spun on one foot.
Holy smokes, it felt good to sew long, straight and fast. I sew so much detail work these days with tiny, precise stitches, seam allowances and thread tensions. On this bright afternoon, I floored it and felt the six yards of fabric zip into curtains, wind in my hair.
I found the fabric at Selvedge Studio (Red Work Renaissance by Chloe's Closet for moda, #32620) and just fell in love. It reminded me of my happy curtains that we sold with our house. Rockin' textiles are so inspiring. I just couldn't wait to work with this fabric.

Deets: One inch top hem, four inch bottom hem, one inch side hems. I opted for the clips and rings because it is easy for my kids to open and close the curtains.
Have you noticed how hideous and expensive curtain rods are? In my opinion, they are most all gawdy and clunky. I wanted a simple, streamlined object that would hold curtains. I didn't need finials the size of my head or faux-finished marble. Being that I am married to one foxy electrician I thought I'd use conduit and then asked him to think on a bracket. He came through with a brilliant idea.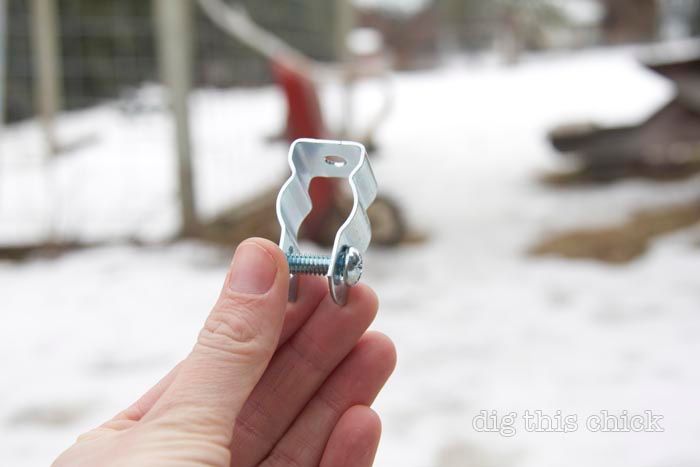 They are called 1/2″ EMT minis and are available at electrical supply stores, 25 cents each.
I cut the conduit down and spray painted those the whole shebang turquoise while it was snowing, which was hilarious.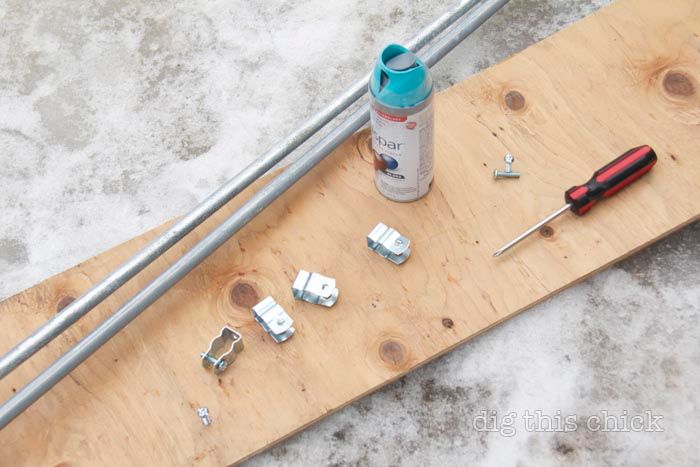 four 1/2″ minis, conduit and spray paint for two 60″ curtain rods: $8

a few nails in the plywood held the conduit in place for spraying
I needed something to finish off the ends and, for real, I didn't have a clue what I'd discover and then I remembered I spontaneously fell in love with and purchased four glass knobs at an antique shop in Ennis a few weeks ago! When I brought them home, Andy was all yeah those are awesome but what can we do with only four knobs? Well, darling love of my life, check it.

A magic collision of divine awesomeness.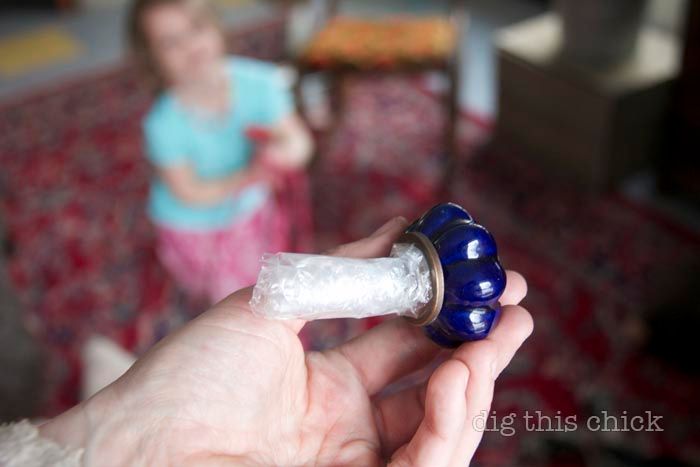 Wrapped in bubble wrap, I shoved those mo fos in the ends.
When we first moved into this small space the novelty and excitement carried us. A few weeks in, the challenges darkened our enthusiasm a bit. And now, I am so happy to report we are in our new groovy groove: sleep is happening, we are all getting the quiet personal space we need. It took some work to get here and, oh, it feels fantastic. Andy even brought up the possibility of staying in our little apartment for a while longer…hmm. I'm not so sure about that but I am really thankful to be here now. I wrote about our funny everyday and the surprising, bewildering moments of happiness I have in this week's mama digs: our story. I had fun writing this essay and I am happy with it as I feel like it really captures Us, Now.
I love my new curtains.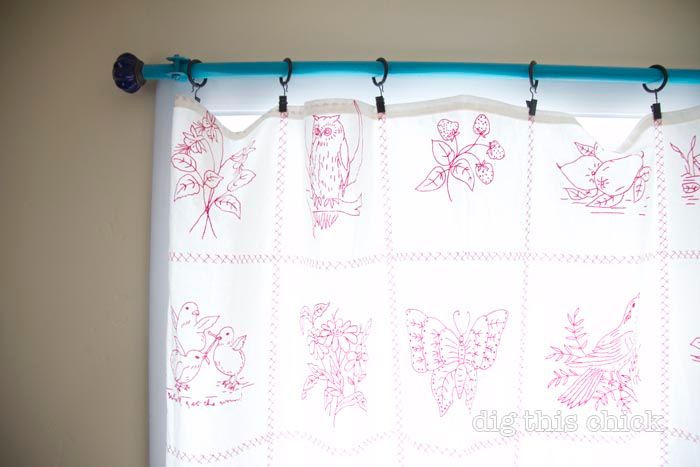 And the creatures they frame.
happy hump day out there!