My kids love jobs. This has been such a fun discovery and consequent tool for me for it always true: When Margot and Ruby have a sense of belonging and importance in whatever it is we have going on, things are smoother and more fun. Giving my kids real, meaningful responsibilities is my silver bullet as a mama, especially as a work from home mama.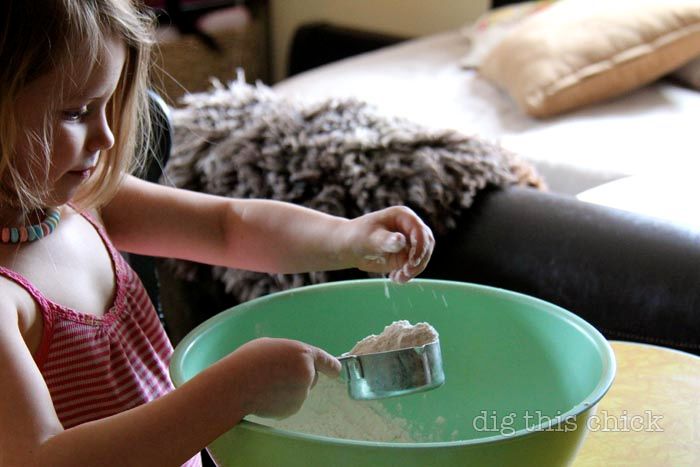 Measuring and stirring. Yes, it is messier.
I get asked about working with my kids quite often. Sure, there are arguments and difficult days. But, mostly? They move through my work right with me. They seal envelopes, organize fabric scraps, attach interfacing, they sit on my lap while I sew. They play together, make games out of buttons and spray bottles. We take a lot of breaks for snacks, tea, untying knots in doll's hair and working through conflict. They are a part of this family business and I've always expected that they could be. I've found that, when given opportunity and trust, my kids shine.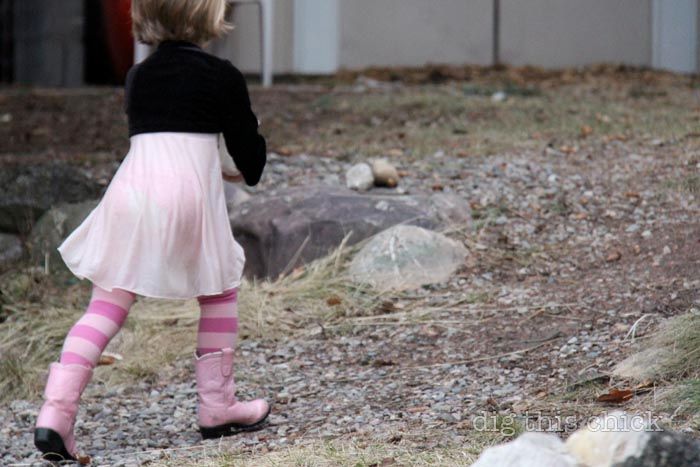 Hiking up to the coop to collect eggs
Sometimes it feels easier to do it myself but then I am reminded that I am denying my kids an opportunity to experience the pride, accomplishment and happiness than comes from a job well done. Every single day Ruby wants to buckle her car seat by herself. She can't do it. Sometimes I hurriedly buckle it while she protests and remains bummed out for several minutes and I feel pushy. When I let her try for 15 seconds, she then sighs and says, "Can't mama. Help?" I buckle her and we drive away happy. I learn from my kids every day. In this life, I prioritize family, connection and community. It isn't easier to just do it myself.
Another successful process that has emerged in our home is the power of visual reminder notes. For example, I'll ask Margot if she wants to bathe tonight or in the morning. She'll say the morning and then wake and fight it. But! If we draw a picture and write a note about bathing in the morning and place it on the bathroom door? She excitedly discovers and "reads" her instructions and eagerly hops in the shower.
So where am I going with all this? I made family participation boards for my kids.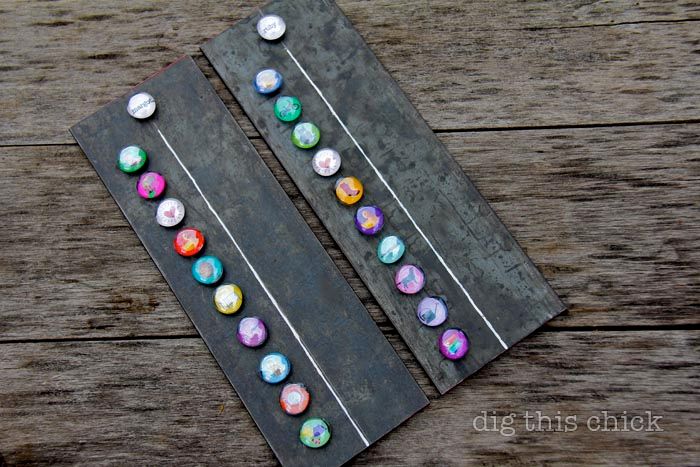 Jobs + Visual Reminders = Winner!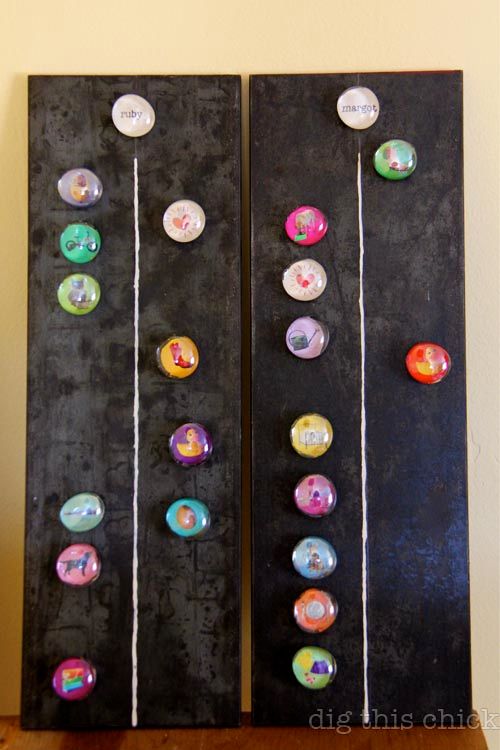 It's like a chore chart, a schedule of activities for each girl to complete that focuses on the health of our homestead and it's inhabitants. These work to not only encourage kids to participate but to remind the parents to step back and let their kids do it. So far, everyone loves it.
I am not the best tutorial person so I don't have many process photos, but it was super easy to make.
:: supplies ::
steel (I used 1/4″ welded steel, 4×12″, I found these at Lowe's, $9 each.)
clear glass flattened marbles (available in the floral dept at craft stores)
glossy Mod Podge (clear drying craft glue)
1/2″ magnets (don't get the high powered magnets or your kids won't be able to easily move them)
1/2″-3/4″ images depicting your participation items
white paint (I used primer)
:: process ::
Make magnets:
I searched the interweb for royalty free images, manipulated them in photoshop and added .6″ diameter circles of color behind the images. I printed two copies in case of goofs. You could also use photos, magazine images, drawings, words…
CLICK HERE TO VIEW AND PRINT A PDF OF MY MAGNET IMAGES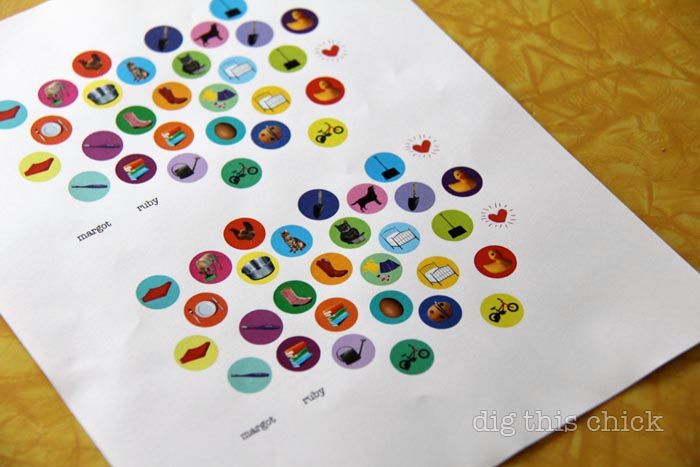 I followed this tutorial, with a few changes: I used mod podge to adhere the magnet to the back as well (no glue gun). I assembled the whole thing at once (I didn't wait for the image to dry first). I didn't use strong magnets because I wanted my kids to be able to move the puppies.
These boards comfortably hold 10 magnets each. I made one magnet with each name for the top. This name magnet will eventually cover the screw that holds the boards to the wall.
Paint a line:
I wanted a hand painted line so I used a tiny paintbrush that I secretly borrowed from Andy's studio. I drew a line in graphite and then followed with Ruby's encouragement.
That's it! They will hang on the wall when we move (we will drill one hole at the top and use a wall anchor with screw and then cover the screw with the name magnet) but, for now, they rest out of reach, on the cat food shelf, under the cocksucker, next to Jupiter.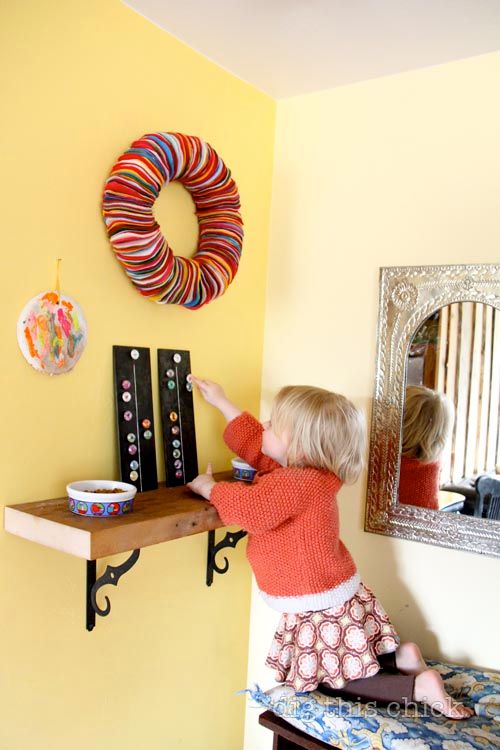 I made several more images and we will rotate out for the seasons and as skills or needs change. For example, I made a snow shovel and a garden trowel. I also made one indicating a thank you note needs to be written.
Also, the girls get to manage who does what. So, if Ruby fetches the eggs, Margot will pick up books. It's very cooperative and Margot especially likes this because sometimes she says things like, "Well, mom, I really want to pet Sam but I am just sooooooo tiiiiiiirrrrred." But running around outside to pick up buckets and shovels feels way less taxing to her.
Margot's daily jobs: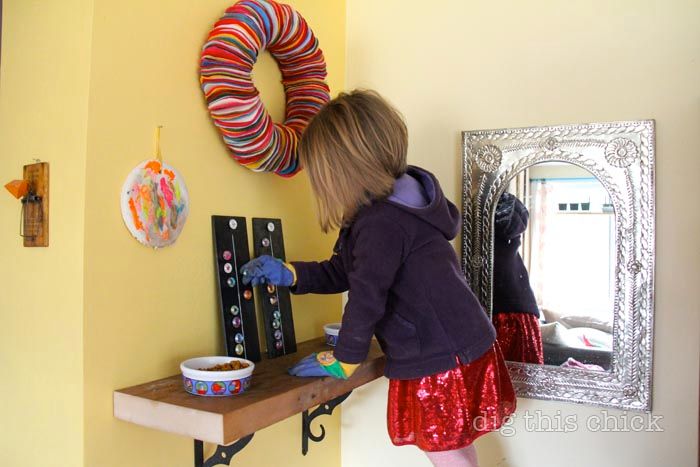 gardening gloves and red sequin dress optional
feed the dog
put shoes away
make a choice to give someone love and kindness
collect eggs
snuggle with the cats
wash body
make bed
brush teeth
set dinner table
lay out clothes for the next day
Ruby's daily jobs:
pick up books
make a choice to give someone love and kindness
feed the cats
put shoes away
wash body
brush teeth
snuggle with the dog
put art supplies away
help mom water seedlings
put outside toys away
Not every job gets done by the girls every day. And the "give love and kindness" magnet has generated some funny conversation:
Me: Margot, tell me about something you did to give love and kindness today.
Margot: I didn't hit Ruby.
Me: How about something you DID do?
Margot: Oh, OK. Well, I just gave love and kindness to everyone all day long.