I am inspired and motivated by my surroundings. Or not. I really am affected by light, color and surfaces. While I can easily tune out unmade beds and a floor littered with tutus and books, there is a certain way I like things in the areas where I create. I like order and white space. My counters are clear of tsotchkes. I like to work with old stuff, handmade tools. I like bright natural light and complimentary colors. I want to spread out, get messy and involve my kids.
The kitchen in our little apartment is my biggest challenge. It's small and dark and for this mama who likes to twirl around with two kids while chopping, sautéing and baking, it doesn't work. Or, rather, it works differently and it has been my quest to figure out how to work with this small, dark space.
Work with it. Work it.

sleeping foot :: kitchen
A few weeks back I was cooking angry. I chopped a carrot on my cutting board next to the stack of dirty dishes that never goes away. Those damn dishes remind me of those old cartoons where the pig is moving hay with a pitchfork but the pile size doesn't change. Ruby was pleading to get up and help. I had two things cooking on the stove and the pans didn't quite fit next to each other on the two back burners (the front big burner is broken). The pots fought for space like two toddlers for mom's lap. The dishes and I fought for space like two frat boys in a bar on ladies night.
It is no fun to have this thing I love (making meals for my family) and then squish it into something I don't like. Now, I totally believe life is about perspective and focusing on what we want, being open to every situation's possibility for growth and understanding. I own my approach. So I decided that I was responsible for this kitchen shit storm. Surely I could find creativity and peace in this corner. Certainly I can happily make food here.
I've found that in this small space, micro adjustments make a huge difference. And I've found it's easy to shake it up, rearrange–even if only for one day. Things that make our small kitchen work:
1. Allowing for more time to make food. Multitasking can't really happen. We chop cabbage and move it onto the bed (for real!) so we can mince garlic and so on.
2. Embracing my slob. It's messy and cluttered and piled when we cook. Always.
3. Moving the kitchen table around for meals.
Last weekend we moved our table to the living space/by the front door for a few days. It was totally in the way but the natural light made meal time fun.
4. Making room for my kids to feel apart of it, even if they can't really be a part of it. Margot and Ruby really miss cooking with me. And I miss it too. There isn't space for a chair, isn't space for their bums on the counter. So, I've been giving them small jobs to complete at the table, hoisting them up to add ingredients to the pot. And, when I am doing something like heating water or grinding coffee, they sit on the counter and 'help.'
5. Storing many of our utensils and dishes. The less we have, the less we have to wash.
6. Making soup and other one-pot meals. I posted a question to facebook about favorite slow cooker meals and got some wonderful ideas.
7. Maintaining a cleared kitchen table. It is SO easy for us to pile leotards, car keys, half-eaten granola bars, wet mittens on our table as it is the only surface in our home. Everything feels more manageable when the kitchen table is empty.
7. Making simple meals and eliminating risk of failure. We can't really cook in the oven. (Although every one ate the irregularly-cooked pizza and burned-to-shit biscuits I made…) We eat a lot of vegetables, rice, tofu, beans and noodles in various combinations.
Our simple go-to breakfast: Cream of the West, mashed banana, rice milk and peanut butter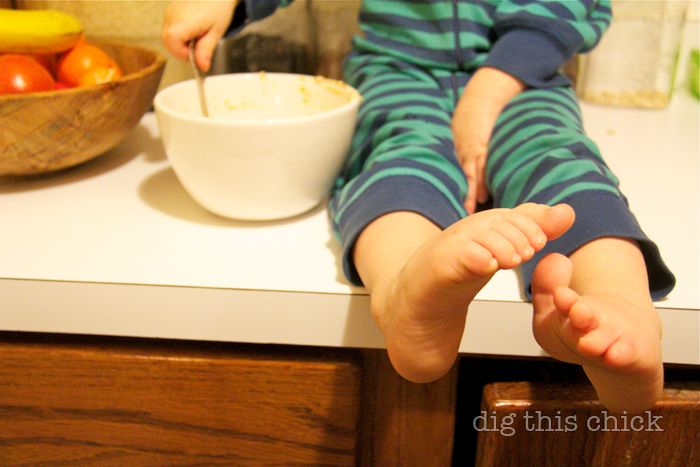 8. Finding humor in the fact that our oven only bakes at 500 degrees.
9. Candles.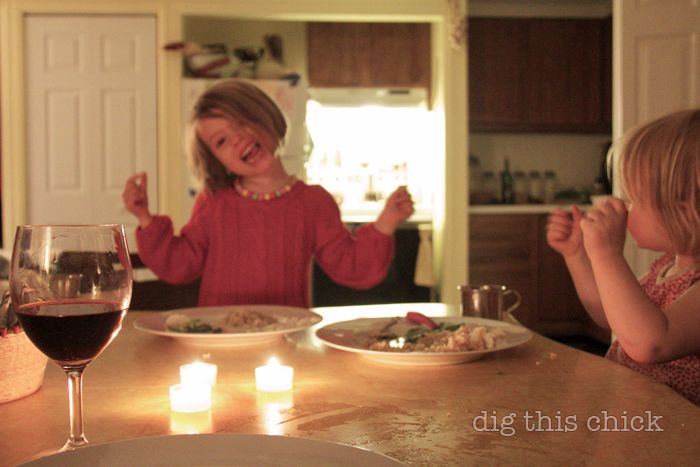 candles make fish tacos glamorous
10. Having fun making food. There's always room for that.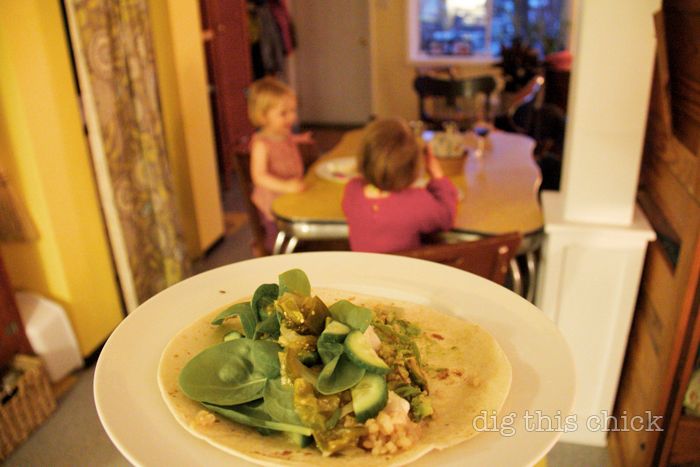 My next addition is to make this kitchen island. I just need to find the perfect dresser (oh, and I finally gave into pinterest, which is where I found this treasure…).
So that's our kitchen and my newfound adoration (adoration? hmm. tolerance maybe. but adoration came out so I'll keep it) of it. A good challenge is always welcome. And, whoo boy will I LOVE counters, a functioning oven and daylight in a few months!
:: :: ::
In this week's mama digs I wrote about an awesome run and how I thought I was pregnant a few weeks ago. Click to read happy with what we've got.
:: :: ::
Winner of the gorgeous skein of Twist & Twine yarn:
Hazel said…
The yarn is gorgeous, but like you I don't seem destined to knit! It took me 3 years to knit Rob a simple scarf! I love that Margot wants to take your photo now, and I love the dancing shots. I wish I could say I don't normally dance like a muppet – but it wouldn't be true.


It's your time to learn sister! Email me at [email protected]. Congrats!