We are off to California tomorrow, er, today. It's actually Monday as I type right now, having just packed my week's items into my backpack. We couldn't dig any luggage out of the garage but we did find our backpacking backpacks.
Me: I've never dealt with so much laundry in all my life. 
Andy: I've never washed so many dishes in all my life.
Margot: I found thirteen more worms!
Ruby: Wook! Worm! Oh, honey.
The last time I travelled with this pack, like for days, seems like a lifetime ago. I measured and weighed each component, I rolled my one pair of pants around a toothbrush and rice. I shimmied my water filter in at the last moment and slapped my thermarest to the exterior. The last time I remember really using this pack for its intended purpose I carried my skis in the spring up Taylor Peak in Wyoming.
Me: We seriously have SO MANY socks. 
Andy: Yeah. We make a lot of dirty silverware.
This time, after packing my kids' stuff with exquisite detail, I muscled five days of clothes into that same space, under my faded sharpie name on the yellow webbing. I drank a gin and tonic while I dyed my hair, while I talked on the phone to my best friends we are going to visit, while noodles boiled, while I pulled laundry from the line, while the kids scooped sawdust into buckets, while Andy cleaned up from his third 12-hour day of digging fence post holes.
Andy: Babe, I am going to bed.
Me: Will you please pack tonight. I have to work in the morning before our flight.
Andy: I am only packing a pair of pants, flip flops, hiking shoes and some t shirts. It'll work out ok.
Me (elbow deep in backpack, jenga-ing three pairs of shoes together): Aha.
Andy (under-reacting to the several carefully packed bags already by the front door): You could totally do the same.
Me: Yeah but then I wouldn't be your foxy wife in mint green jeans. 
Andy: True.
The purpose of our trip is to visit our old, best friends. I met Lindsay 23 years ago when she stepped on a frog. I met Paige 16 years ago in the dorm bathroom. The three of us fall into a perfect rhythm when together: we are hilarious, smart and unstoppable. They both settled in northern California where they fell in love with amazing men. And our men all love each other too. It really is perfect. Tomorrow (today), we unite for four solid days and get to meet Paige and Arann's baby boy. Holy smokes I can't wait.
So we leave, a wake of activity in Missoula. Chicks and hens meeting each other and a garden being fenced in.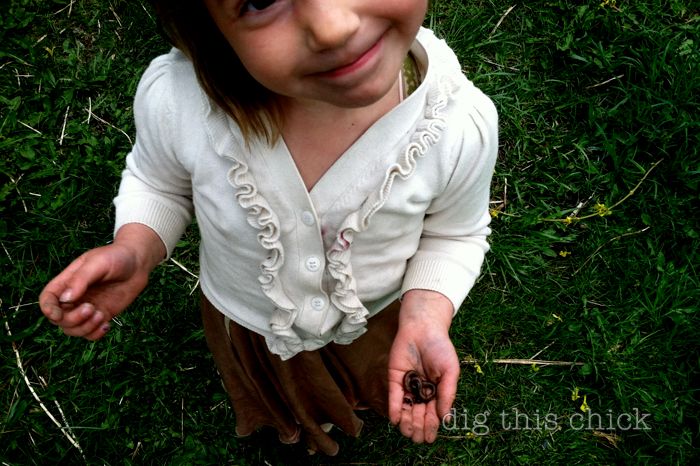 We introduced Cup and Gold to the flock by placing all the hens in the new run we constructed.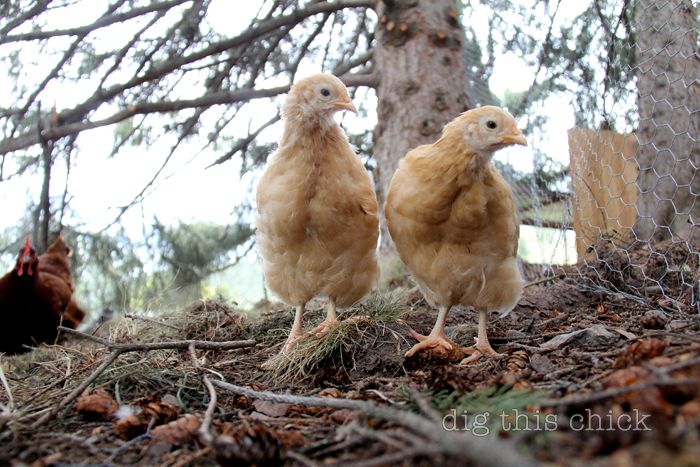 The space was new to all the girls; no chicken had clucked there before and I peppered the ground with freshly dug grass with lots of bugs. 16 Months (above) was the most fired up about the whole thing.
The wee ones kept mostly to themselves and all went well.
 
Cup and Gold are still separated and will exchanges vows with the elders when we return. The introduction went well.
 
After eleven million conversations and an equal number of
researching hours
, we finally decided on a fence plan.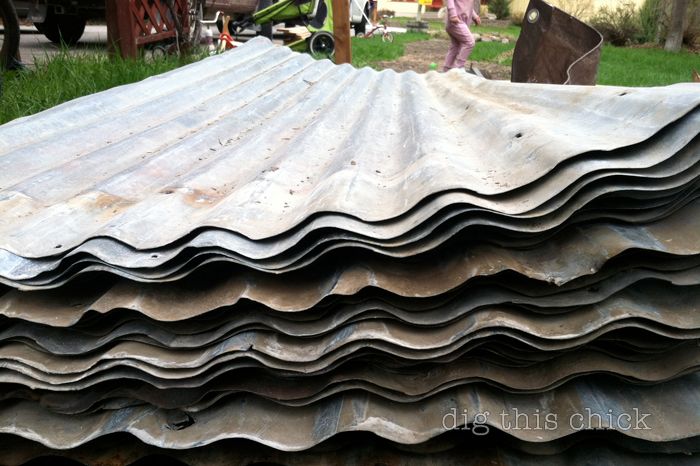 We scored a pile of reclaimed corrugated metal (from Heritage Timber) for our Epic Fence Project. 
My strong man dug and dug and measured and cut assembles and dug all weekend long.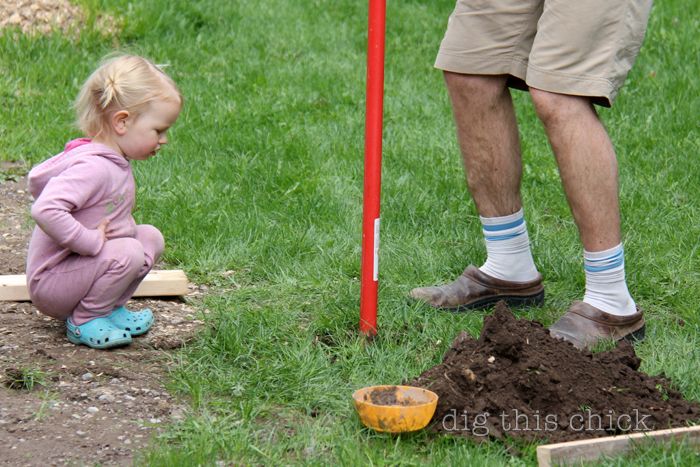 Taking breaks to tie new swings for his daughters. 
I dug two holes. Andy dug 32.
I was blissfully distracted by the dirt. ALL THE SOIL LOOKED LIKE THIS. Oh man, y'all.
 
More fence stories soon. For now, a little glimpse. Also, my new garden plot is gorgeous and 24×36 feet of loamy, sunshiney promise.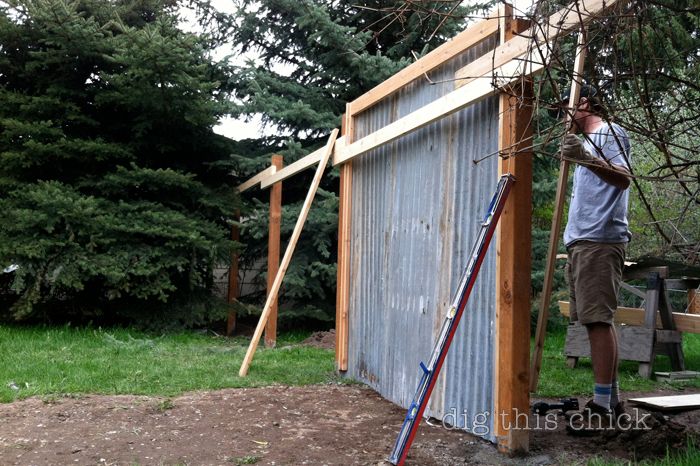 And, hey, while I am in California, I'd love to meet you! A casual chin wag, cheers sort of thing at The Sycamore in San Francisco. I've never done anything like this before and it sounds fun as so many of my favorite readers hail from the lovely area. If you are around and into it, come on down between 5 and 7 tomorrow night (Tuesday, May 1). I'll be the lady in mint jeans near two beautiful, irresistibly hilarious women.