nuggets: little bits of the season in photos and words, about the last week
Margot asked me to get under the covers and hug her last night. I stood at the foot of my bed, in my kitchen, thinking about all the stuff I wanted to, had planned to do. Thing is, I can't just crawl in there for a bit. These days, once I am horizontal, especially under covers, I am out until the next morning. I either go to bed at 8pm or 1am.
Last night, it was an 8pm bedtime. I swept the day's debris off our kitchen island/family bed and heaved my body next to Margot, who, even after spending the entire day by my side, kicked her legs and squealed with joy. Two feet away, we thought Ruby was asleep but then we heard her breathy grunts and "Mama? I want to snuggle you and Margot."
We arranged and rearranged until everyone was pleased: Me in the middle, Margot's head in my elbow crook, Ruby on her belly with her cheek pressed into my belly. Tell us a story they said as Andy gave me secret spousal gang signs from the front door indicating he was going to paint in the studio and that Ruby's pacifier was on the cat food bucket should she need it.
Margot is really into bald eagles right now. We see them many times a week circling over our home and she is always the first to notice the awesomeness. "There is a bald eagle who lives way up in a tree in a giant nest at the bottom of a hill between the Clines and the Tiltons. Her name is Germaine," I began.
Ruby: What color is it?
Margot: White and…
Ruby: Pink!
Margot: No, white and brown.
Ruby: Wif a pink beak!
Me: Do eagles have hands or hoofs or…?
Margot: No. They have claws.
Me: Yes, they are called talons. Well, Germaine, instead of having four talons, only has one talon on each foot, making her a super unique and special bald eagle.
Margot: How does she pick stuff up?
Ruby: Pick stuff up?
Me: Well, eagles are so strong and…
Margot: Because they feed their bodies well and exercise?
Me: Exactly. They are so strong, they can even pick up big animals.
Margot: Like Ruby?
Me: Hmm. I bet an eagle could pick up an animal the size of Ruby.
Ruby: No! Ruby no want to be pick up bald eagle.
Me: No worries, Rubes. That won't happen.
Ruby: I need to talk wif daddy 'bout that. I have a question 'bout that. No bald eagle pick me up. That's not kind.
Margot: Eagles don't pick up kids like you and me.
Ruby: OK, Margot.
Seconds later they were breathing heavy. I was still, a daughter on each side of me, noticing they are each more than half my body length. Amazing.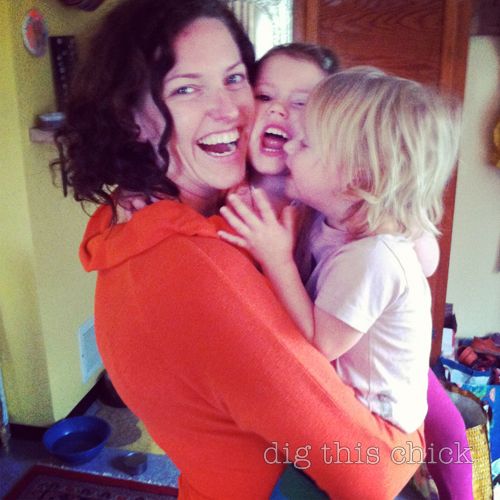 nuggets.
:: We had our first FULL day gardening. The girls collected worms, pill bugs, ants and millipedes for hours while I dug grass, moved rocks, prepared beds and found little indications of what once grew here.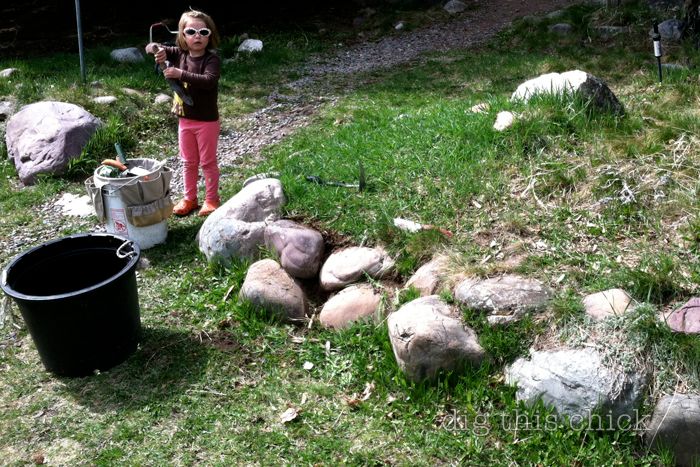 Lots of potential. If only my digging could keep up with my ideas.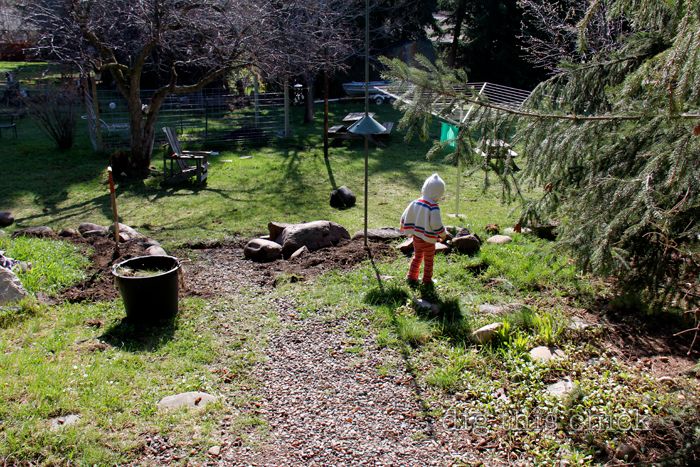 :: Morning spring light and steel cut oats.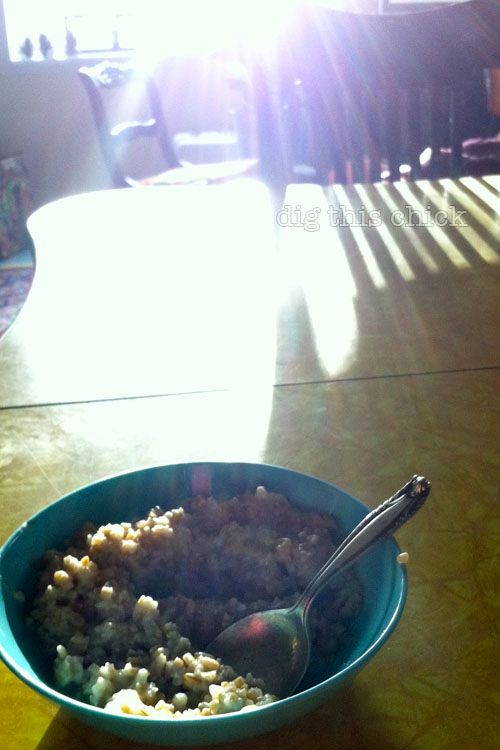 :: Our tiny home is insanely messy all the time. We regularly, thoroughly pick up and clean and approximately 11 minutes later, the shoe basket is overturned, the living room is a fort, the bed a ship and the sink full of dishes. I love this little studio apartment and I look forward to rooms.

We move upstairs in one month! I am excited to share that space and our ideas with you.

:: Tea with Alice. She's almost ten, our beloved dog.
::  Rainy day errand running.
:: Oh my stars!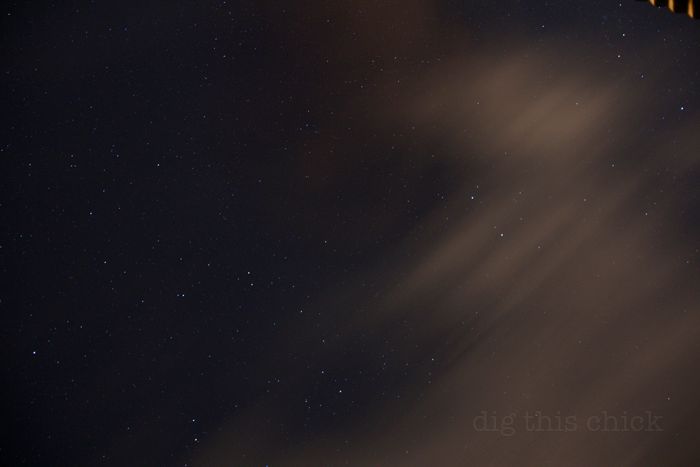 ::  Margot has been taking gymnastics for quite a while now. We attended a little performance last week and, there, watching my girl beam on a beam I about fell over with pride.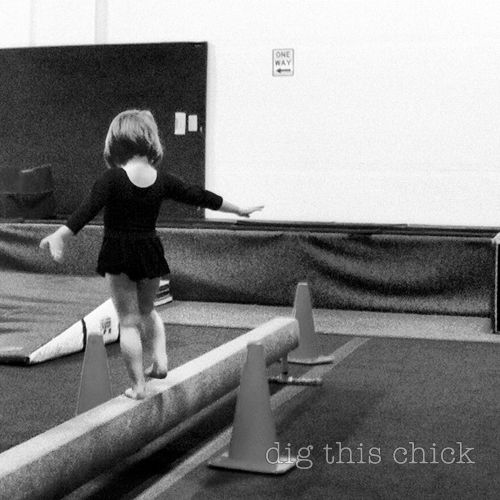 :: I found a strange donkey basket while thrifting. Perfect for egg collecting.
:: My Rhubarb.
:: Margot really wants Ruby to play this game with her as of late.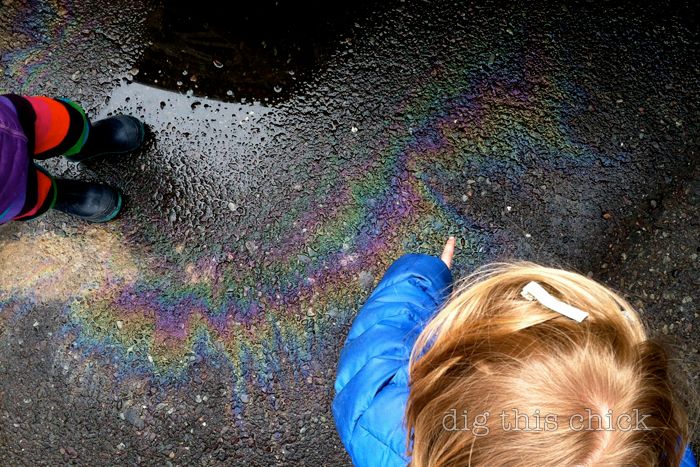 Margot: Ruby, one person says yes and the other person says no. OK?
Ruby: OK Margot.
Margot: No.
Ruby: No.
Margot: No Ruby! You say yes!
Ruby: Yes.
Margot: No.
Ruby: No.
Margot: Aaaah, Ruuuubyyy. No, ok. I'll say yes. Yes.
Ruby: Yes.
It eventually ends, Margot is super frustrated and Ruby is giggling.
:: Walking up the mountain behind our house, I continue to feel over the moon about it.
:: Welcome back to rockin' business tart, as a dig sponsor! Tart is a boutique and contemporary art gallery (although they prefer the term 'tartique') located in the Emerson Center for the Arts and Culture in Bozeman, Montana and online right here for your international shopping exhilaration!
Recently, the girls got their hands on the
ABC (Animal Coloring Book) by tartist Allie "Gato" Buck
. Now I am generally not a coloring book fan as I find they can be so unimaginative. But! This book! I LOVE and so do my kids. The drawings are exquisite and the quality (hearty stock) is awesome. This is my future go-to kid gift.
And you could win one! Tart is giving three away. Leave a comment on tart's facebook page telling us, dear ones, what is your favorite letter? Also, use coupon code 'digthis' and receive free shipping. Thanks, tart!
One last conversation I overheard tonight, WAY past bedtime:
Daddy? Dada? Dad?
Yes, Ruby?
I frilly want prassbooees.
Raspberries?
NO. I just frilly want prassbooees in bed.
You really want Pirate's Booty in bed?
YES!!!
 
Sweet dreams.