On the east side of our property stand 14 towering trees.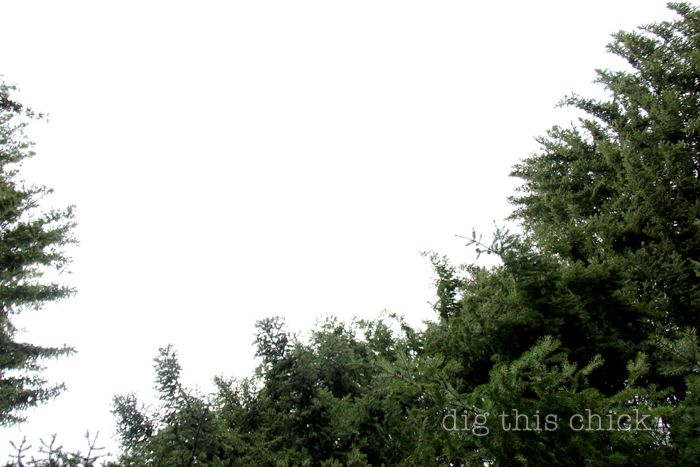 Anyone know what kind of trees these are? I am thinking Engelmann Spruce? Or are they a kind of fir?
I barely noticed this piece of our soon-to-be land, for my attention was squarely focused on the sunny, garden-friendly aspects. It was the third or fourth visit that I imagined how IN LOVE I would have been with those trees and their footprints as a girl.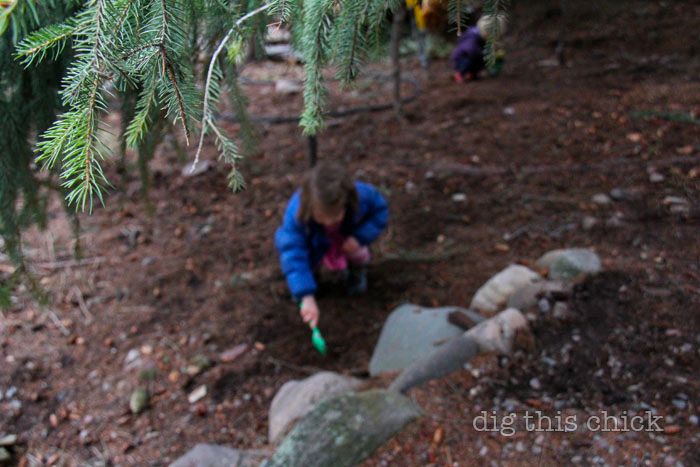 And, it turns out, my girls are IN LOVE with these trees and their footprints.
The tree tops stand stories tall. The bottom canopies gracefully give in to gravity creating magical, dappled light nooks that change by the minute. And there are 14! Lined up, standing calm guard over our home. Waiting (not so patiently) for a fence so I can begin work on our edible plot, I've been working among those serene, solid trees whose arms wave at me every time I visit. I've even been hugged.
garden shed in the background
I trimmed up the low branches to allow a bit more light to pass through, snapped off the dry, prickly, dead under-branches, mimicked the previous owners' idea to prop low slung branches with wishbone-shaped cut branches, created a shady-sunny nook for our chicken coop and began expanding the chicken run and raked up inches of pine needles, branches and pinecones. Bobby and Will, the amazing people we bought our house from (and our neighbors), hauled 21 truck loads of the same away to our local compost company. Amazing that there was still some left!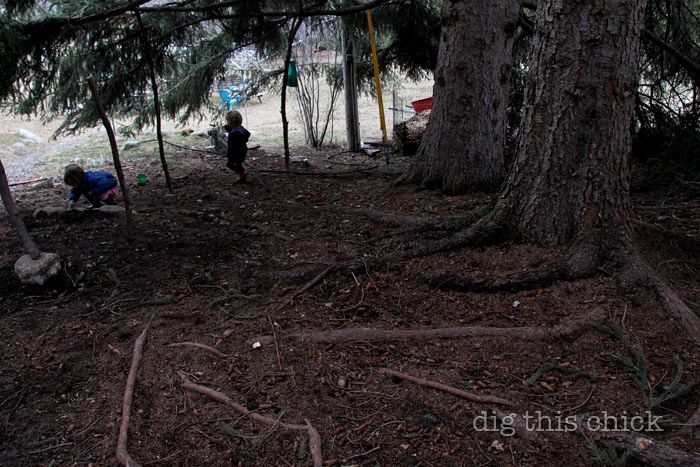 All those small-diameter vertical sticks are cut Y-shaped branches supporting heavy branches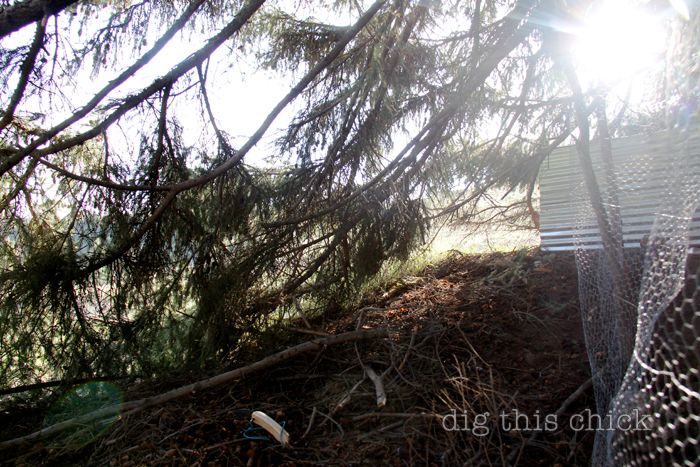 I've grown to know and love this side of our new property. And while I know my daughters will create their own play under the embrace of our little forest, I wanted to carve out a surprise nook for them. I made a fort.
I bought five yards of outdoor canvas and had plans to cut apart and sew into a teepee sort of shape. Instead, after many tries at many different ideas, I wound up using the existing tree branches to create a fort. I didn't cut the fabric at all, didn't even hem. I wanted additional coziness and coverage so I dug through the garden shed and found an old, white vinyl window covering. And I filled holes with a few old flour sack dish linens, attached to branches and fabric with clothespins.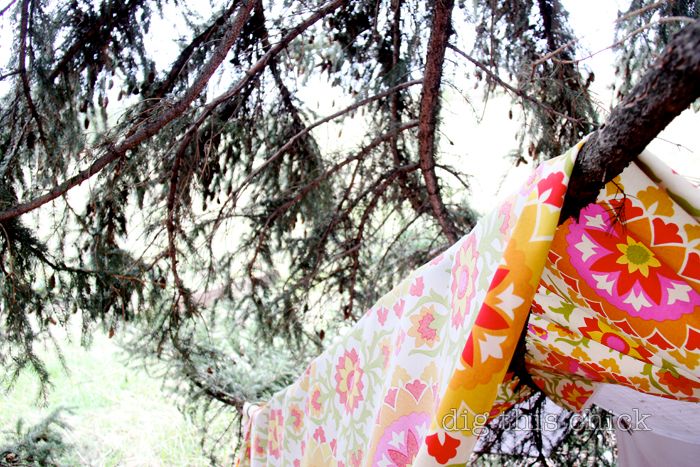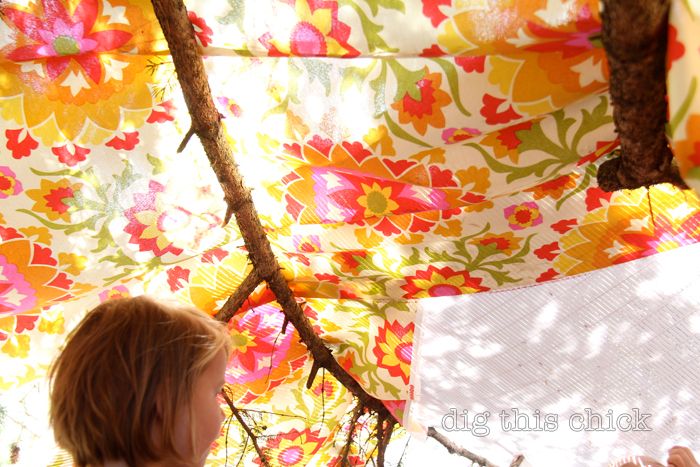 The vinyl window covering creates wonderful stripedy light all day.
I seriously had so much fun creating this space. I spent hours crawling around, rearranging rocks and sticks, raking debris. I scoured the hill behind our house, finding an old stump, sticks and stones. I sat in there, cross-legged, and remembered four years-old.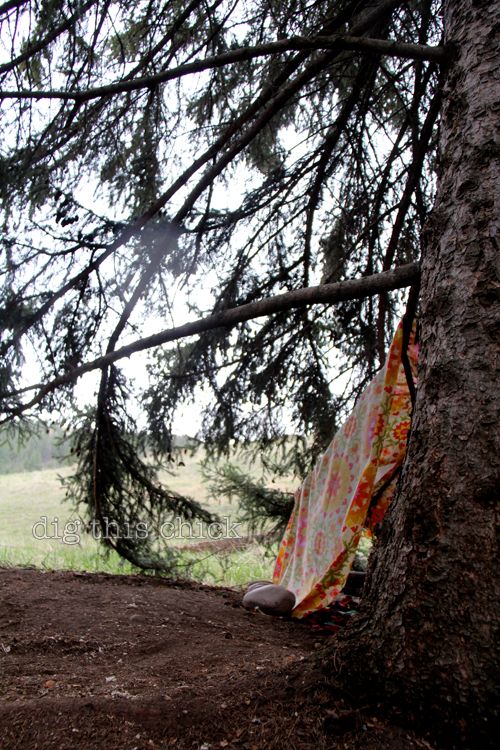 the fort backs up to the hill behind our home
There were weird chunks of concrete that I uncovered at the far end. Also, I found a baby doll leg.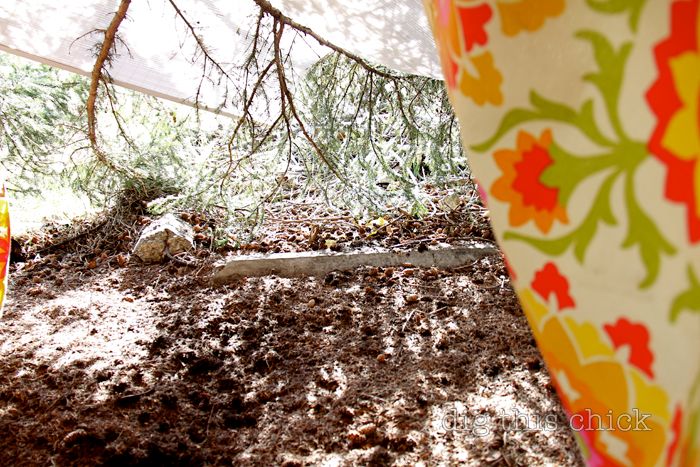 I stacked sticks, cut branches and rocks around the concrete chunks and random rebar, which makes nice seating for kid bums.
And I scored this giant, weirdo 70s quit at a thrift store last week for $15 (the same one shown in my last post, hanging to dry on our friends' deck) and it is the perfect, cozy fort floor.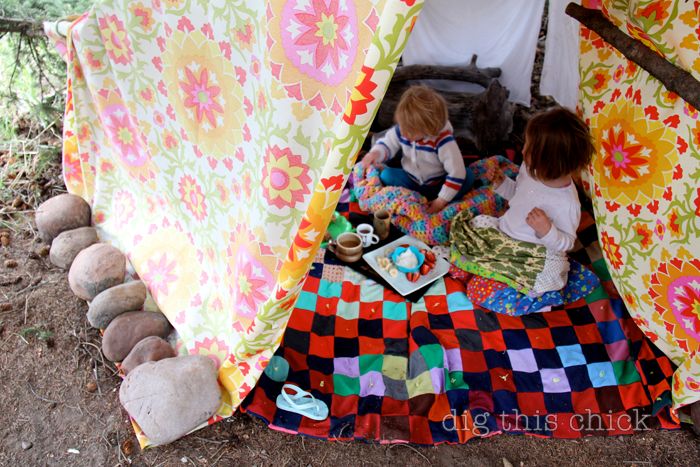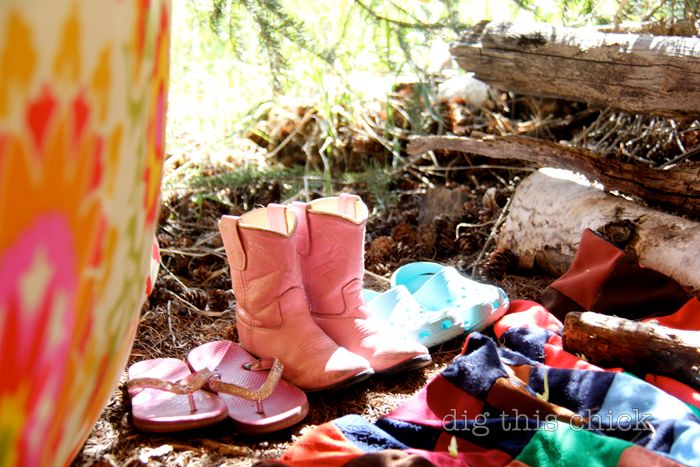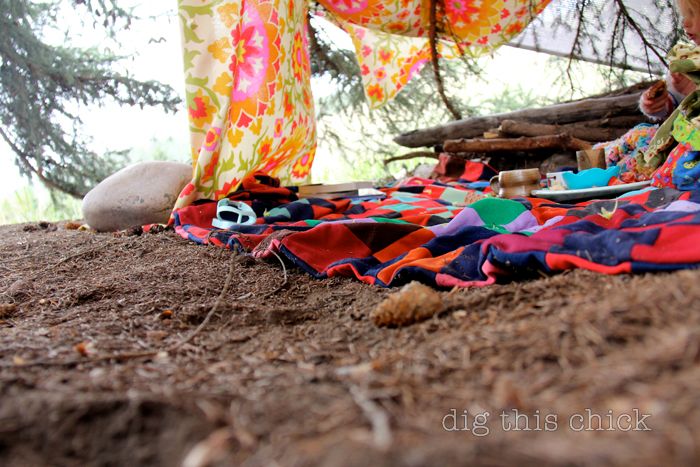 And there are nice little 'windows' with nice little views.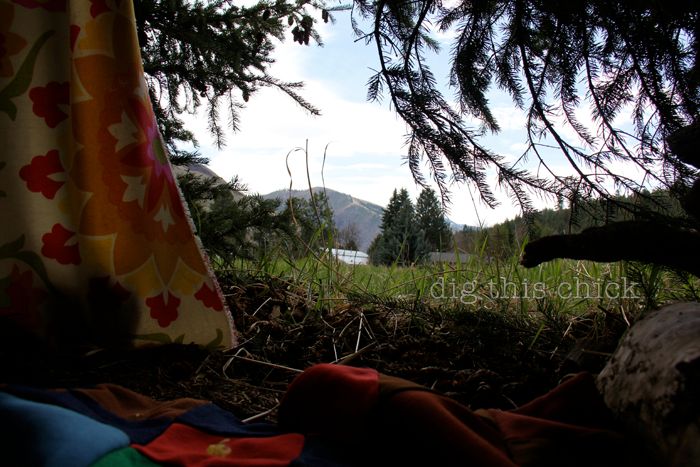 I have to say, in its first few weeks, I flipping adore the constant stream of kids tucked into this sun-kissed, hidden space. I smile every time they hang in there. A big part of me wants to kick of my shoes and join in, but a bigger part of me wants to just fetch them water and snacks and let them have the fun all to themselves.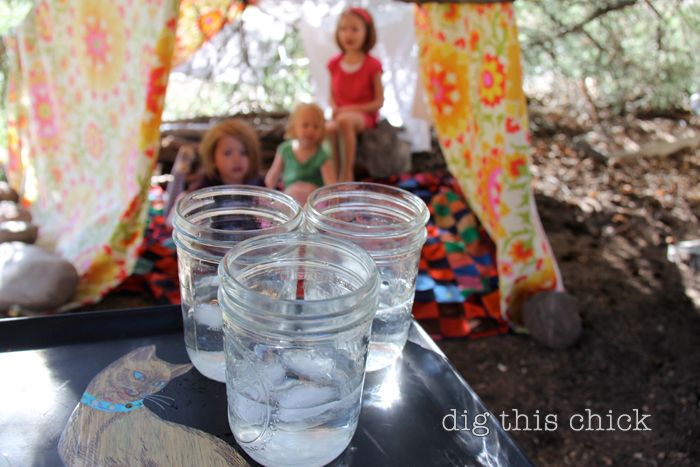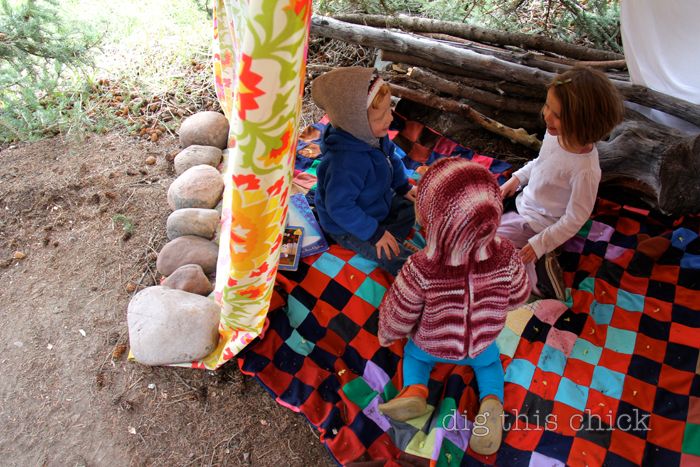 But every once in a while I accept an invitation to join.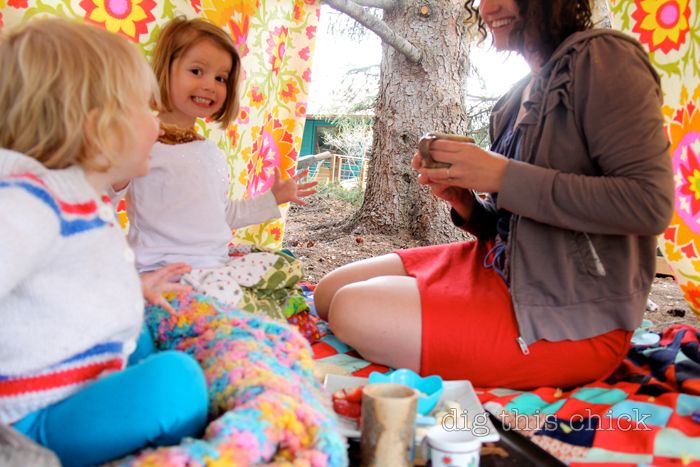 :: :: ::
In this week's mama digs, I wrote about a conversation I had with my kids about bee stings and the inevitability of injury in our lives. In speaking that truth to them, I realized I needed to hear it too. Click to read sweet sting.