We had a big, sunny weekend outside (after many weekends outside) that culminated in Andy exhaling as he fell into the grass, "Holy shit the fence is done."
Our fence was a big project that began with months of research and brainstorming and, mostly, standing in our yard staring at the melting snow and then thawing earth while tossing ideas back and forth. We needed a fence for our dog, kids and garden. But! For decades, our property has been the neighborhood pathway to the public space behind our home and we wanted to honor that tradition. Also, the fact that our land spills into the vast, undeveloped mountain is its best asset so we didn't want to just fence it shut.
The result of all this planning, consulting with local government, material shopping, digging nearly 90 feet of holes and heaving wood and metal together is one helluva beautiful fence that keeps our edible garden safe, allows neighborhood access and highlights the lovely free movement from our backyard to wilderness. We did it! Er, rather, Andy did it! And I took pictures, made gin and tonics and consistently came up with really good ideas and funny jokes!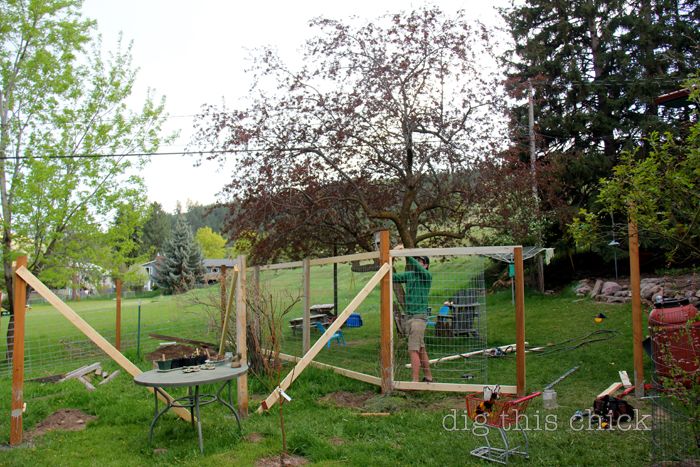 My man's fabulous attention to detail blows me away. Every single aspect of our fence is completely, thoughtfully perfect.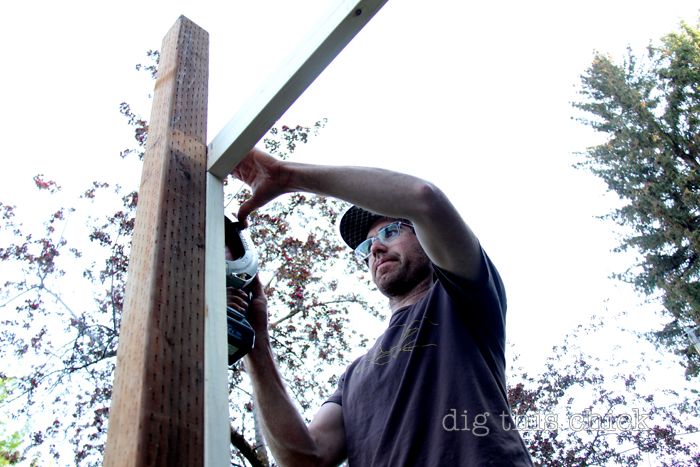 He might look a little concentrated grumpy here. He probably was. I had my best encouraging spouse cheer going, which includes food, coffee and aforementioned jokes and gin.
Our guiding criteria:
1. Bored by six-foot cedar privacy fences, we wanted something artful, unique and clean.
Our fence is framed (on both sides) corrugated metal on the north side:
the street-facing section is totally pimped out in cedar trimmings and a Pittsburgh tat

interior side of the north facing fence
We planted raspberries along this side of fence.
The east side is framed on the back with the height stepped into the hillside. The north 3/4 is corrugated metal, the back 1/4 is a beautiful cedar rain wall.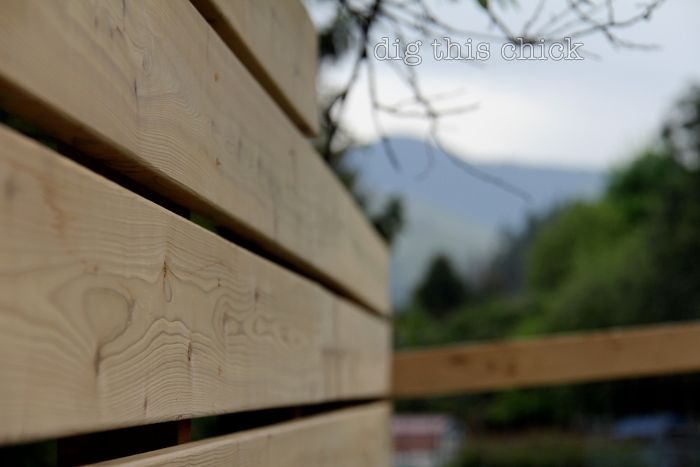 FAQ: WTF is a rain wall?!
I am so glad you asked! I hadn't a clue. But Andy called it a rain wall and I liked it so that's what I called it. Here's what it is, according to my in-depth interweb research: Also called a rainscreen, a rain wall is the exterior weather-facing surface (like siding on a home) that stands off from the moisture-resistant surface of the structural backup wall (like the plywoody wall under the home siding). In a rainscreen, the air gap allows the circulation of air, removes condensation and helps direct water away from the dry insulation where it otherwise might cause problems such as mold formation and water leakage. It's more popular in the Pacific Northwest US and other areas where moisture gets all up in building structures.
So, this here horizontally slatted fence is compositionally, visually like a rain wall and yet functions just like a plain ol' fence. We chose it for beauty, interest and trellis function.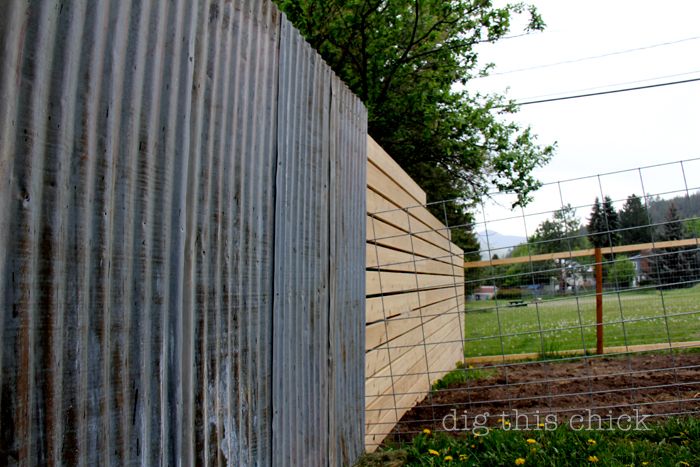 2. Use reclaimed materials.
Andy has LONG dreamed of a fence constructed from graffitied railroad car sections. He's been talking about it for years. We didn't find any (oh yes, we looked and looked). Instead, we settled on salvaged corrugated metal which interestingly satisfies a bit of the graffiti curiosity: it's endlessly fun to study and changes with the light; it's vibrant, intriguing and fun.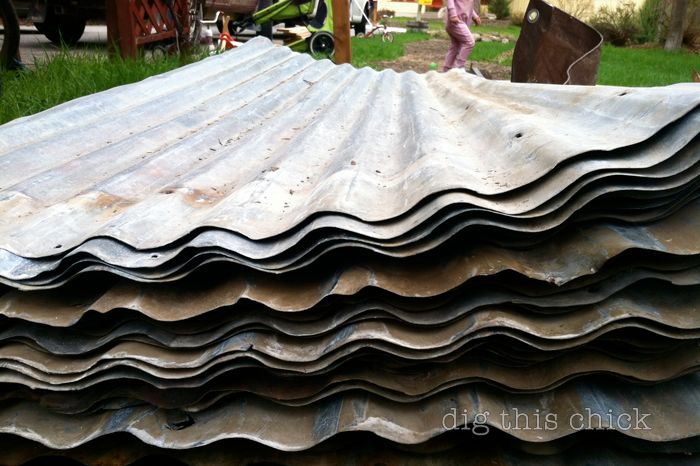 We bought all of our corrugated metal from Heritage Timber
The daily continuum of cast shadows is my favorite surprise.
The front gate is six feet wide, to easily allow for passage of  bikes, sleds, wheelbarrows and large herds of children.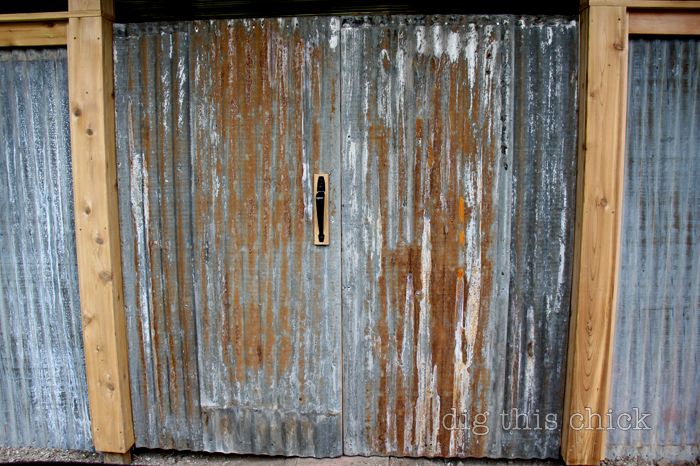 3. Create a private nook but an overall open feel.
This was our mental hangup. Out house sits in the middle of the property but the west side is surrounded by 14 giant trees. In answer to your questions about how it is all situated (sincerely, I haven't meant to be so cryptic!):

I am standing on the hill, facing north (more about: fort, coop)
The east side is where the edible plot would surely be, where the fence would surely be but how to keep that wide open runway that made us flip over this place? We use this area a lot and didn't want complete enclosure.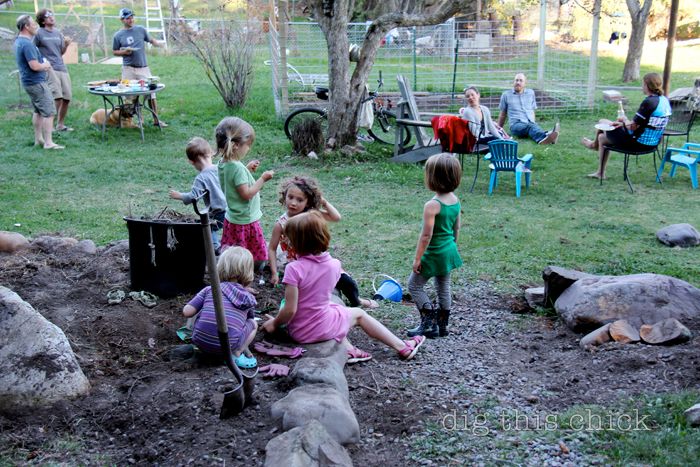 before any of this
Here, I am standing up near the front door of our house, which is on the west side; the fence angles back into the corner of our house so we can exit our front door and peel out up the hill: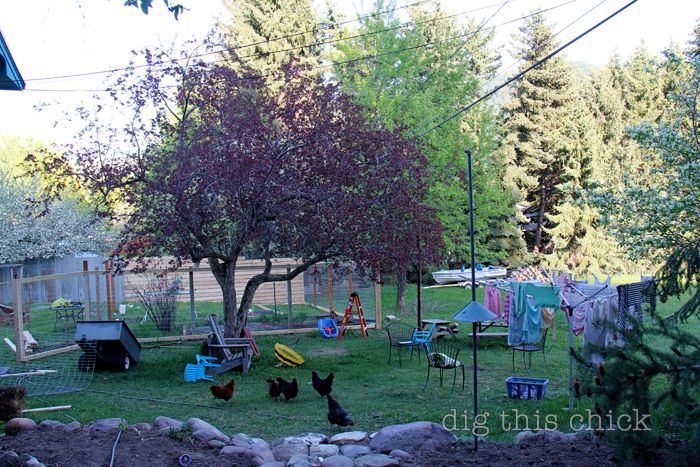 in the middle of fence construction
4. Enclose an area for Alice and the kids to hang, a bear-proof area for trash and compost.
Margot planting calendula seeds we saved from our last home 
5. Form a giant, sunny, critter-proof garden plot.
You'll notice in the above pic, we had 6′ fencing all around. The photo below shows we chose to lower the interior north facing portion. We did this to minimize fence vision, to reuse existing fencing material and because it isn't necessary to have a deer proof fence here (it's inside the tall fence).
The other two sides of the garden fence are 6′ welded wire. We wanted to do 8′ (I've seen deer jump 6′) but the permitting was bananas. So we are trying out 6 and plan to install flags on the posts. We'll go up if we need to. So far though, no deer jumping. And they hang out in our yard every day. And this reminds me of a deer fencing study I just heard about where the most effective deer fencing is two 3′ fences, 2′ apart?! Apparently, deer won't jump it. Wish I could share some sort of link with you…anyone know about this? Hmm, I'll hunt for it and let you know.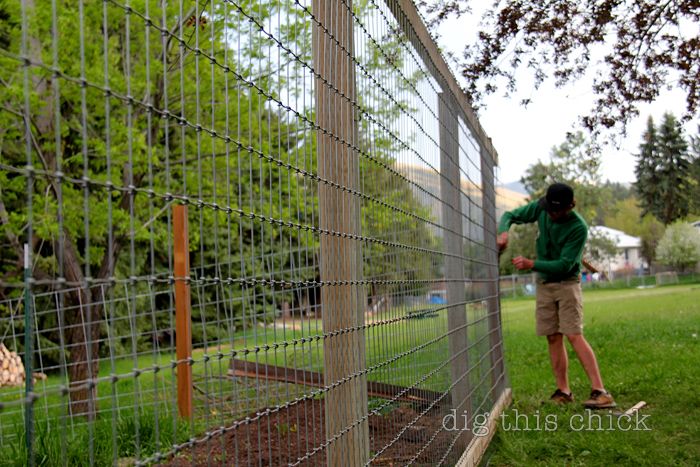 Andy regularly used a compression strap to make the garden fencing straight and taut like the most perfect spreadsheet I've ever seen.



6. Maintain a path for the public to access the sledding hill.
We decided to set our fence off our neighbor's by four feet. We pruned up trees and created a little aisle to open space. It's plenty of room for strollers, sleds, dogs and excited children and we are looking into creating an actual easement on the land.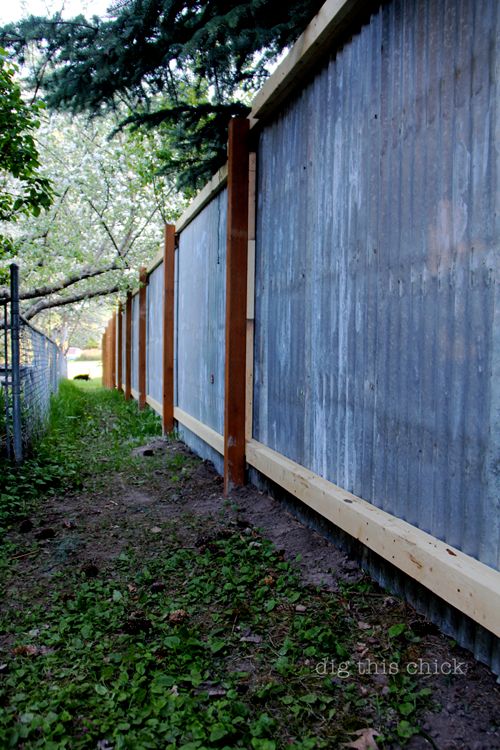 south-facing before: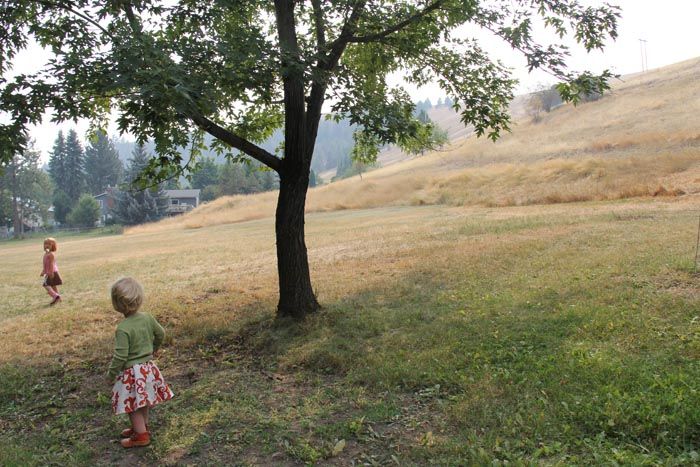 This photo from September 2011 | Ruby stands where my garden plot now is. We cut that tree down which was a choice made after consulting with an arborist. 
south-facing after: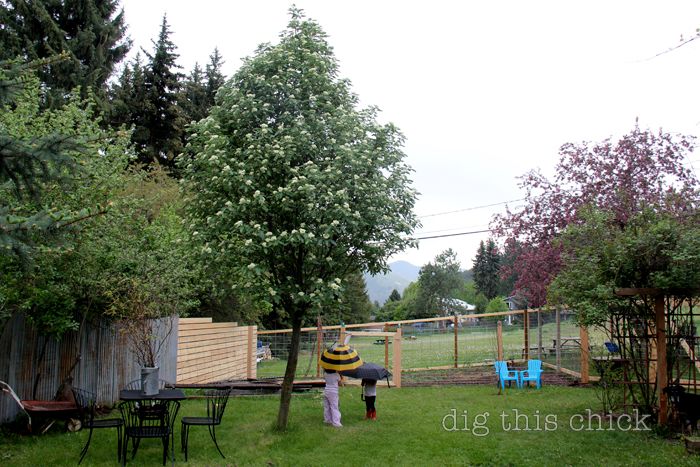 I think a good fence is like a good room arrangement or a good wall paint color: it showcases, rather than distracts. It's not so much about blocking or dividing as it is about defining, framing and highlighting. A good fence is a blissful union of form and function.
We are so excited about our new front yard sculpture from artist Nathan Tonning.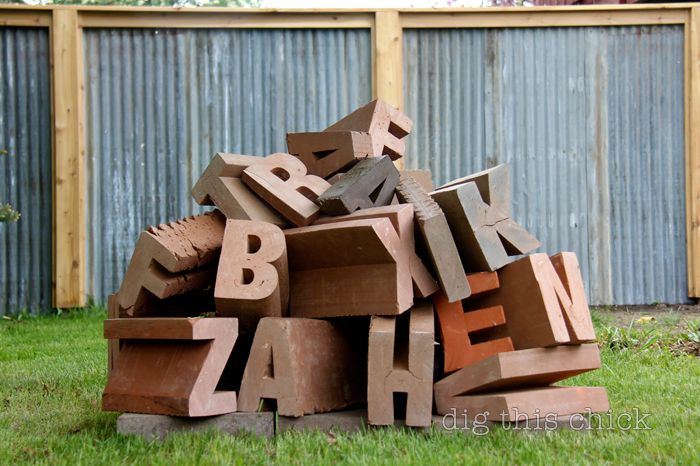 Our renter of the last six months whom we adore (the tenant in the home we bought…I know it's confusing and I'll tell the story soon), pointed out that, from the right angle all you can read is Zen Hen.
You might also like