Do you remember your first memory? I have so many vivid memories from my early childhood and I wonder what is real and what is hopefully imagined. One of my favorites is when my mom walked out of the kitchen in our Lake Stevens, Washington home while I ate breakfast. I hopped off my chair and flew to the top of the refrigerator where I snagged a cookie from a ceramic jar. I flew. I know it to be as true as I know I am sitting on my couch right now.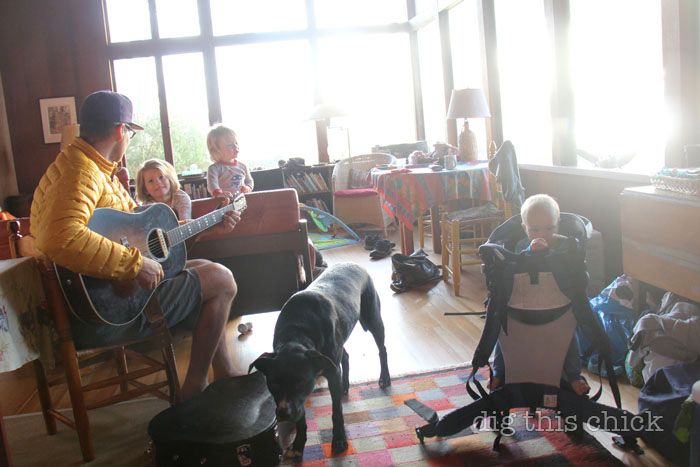 My two best friends and I talked about memory in California last week. We've known each other for decades and took turns remembering shared stories, adding on to each other's recollection with details that were clear in one mind and forgotten in another.
I have been thinking about memory a lot lately, as my kids are both at ages where their little brains store linear information they will carry into adulthood. Margot might have a fuzzy recollection of our last home, Ruby likely won't remember it at all. Neither will remember life without the other.
(On the subject of memory, I wrote about my visit to our old home to fetch a few plants that are important to me because they were buried with my kids' placentas. Click to read this week's mama digs: out of my body.)
I write to document. I mean, I write to write; I have always written to process, decompress, reflect and explore. But, now that I have kids, I write (and photograph) largely for them. I write about our everyday, things I want them to know about how I feel, how they are, how I am, my perspective. I know how much I cherish my grandma's notes about riding a horse to school in Kalispell, my mom's handwritten records of every single thing I did, her first born.
Anyway, that's a whole long intro into a whole slew of photos and a few words about our California trip. It was amazing. I love my friends. I love California. I love Allegiant Airlines for having $80 direct flights.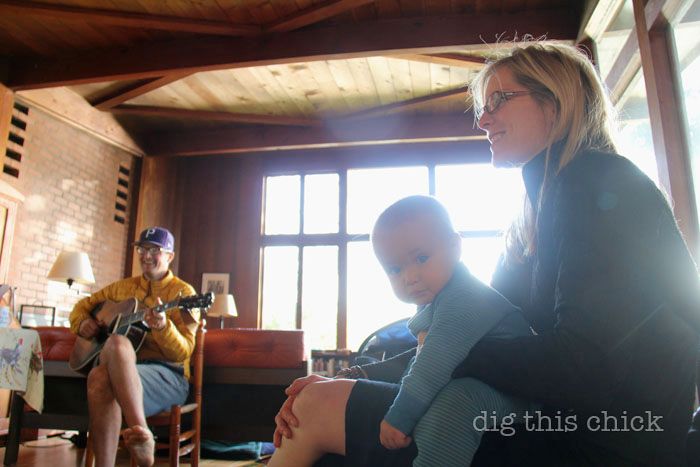 Day 1
We packed gifts for our friends, one of the items a box of Cream of the West cereal for baby Harper. It opened in Andy's bag, dumping a whiteish powdery substance all over his belongings. This caused a significant security delay.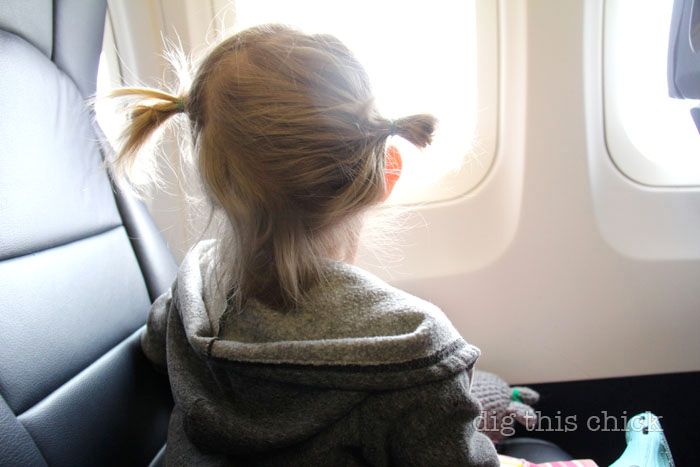 We arrived without a hitch, Lindsay waiting for us with open arms in that amazing California air. We stopped at her favorite Mexican joint. I was allergic to something in my burrito and spent my first hour vomiting on the side of the highway. Thankfully, Lindsay pulled off by a huge, beautiful oak tree upon which I could lean.
We first stopped off in Petaluma to fetch Paige and Arann and to land eyes on Harper, the boy I have been aching to meet. And then our motley crew headed to Inverness.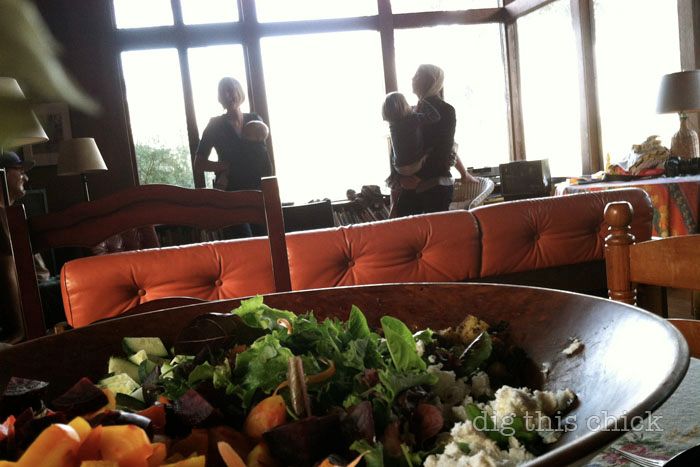 Day 2
A slow morning, exquisite wooded walk to the beach.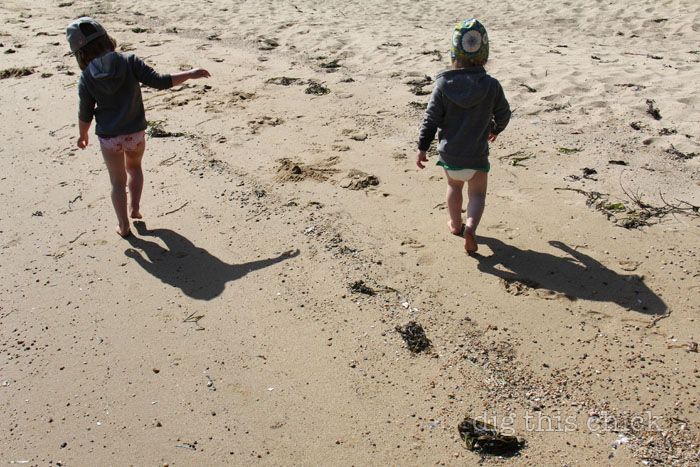 The girls and I went for a run before we drove into the city (which I have been told to NEVER call San Fran and to ALWAYS call SF). The boys hung with the kids.
Our drive in was (nearly) perfectly timed so Lindsay could take an important work call. We took a wrong turn, which is actually quite expected, with no cell service and drove until Lindsay shouted I have three bars!, three minutes before her call. Paige, Harper and I went for a walk and found a huge, soft, warm, amazing beach and the endless ocean.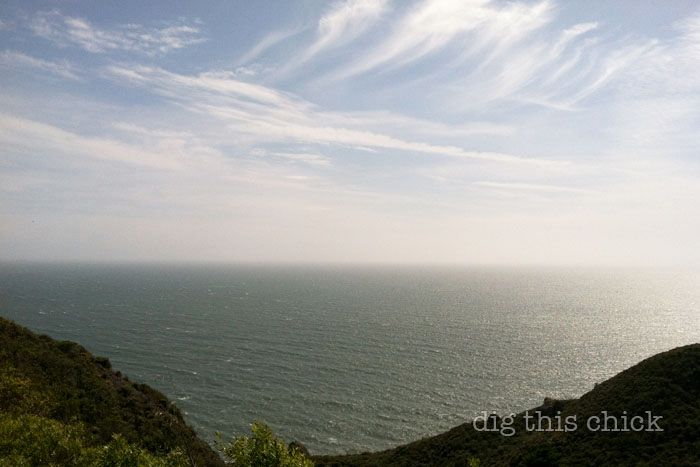 In SF, we met a few of you kind folk at a bar (it was so fun! I'll give more notice next time.) and then walked a few blocks to a party for a newly published cookbook that features Paige's photographs. On that night when my one friend was interviewing some hot shot venture capitalist roadside and my other friend was the subject of much praise for her brilliant photos, I so felt proud of my talented bffs.

we had fun waiting to see if people might arrive / a few people did arrive and I happened to get one photo of Kate and her lovely family
Day 3
We packed up and hauled off to a different beach with icy water, sand like flour and tide pools galore.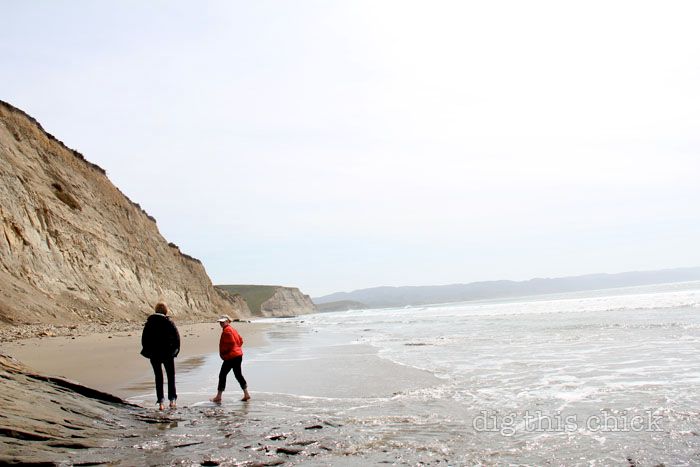 And then a few of us took off to follow my desire to visit the Rancho Gordo bean farm and store. Turns out the farm is in Sacramento and the store is nothing special *at all*. It's about the journey, right? Right. At least I travel with people who have a good sense of humor and the one and a half hour drive was stunning. Also, Ruby devoured a cupcake, I bought a flat of giant strawberries for $12 and Margot got her 1-2-3 swing on.
Day 4
We packed up and left Inverness, not without distraction.
Our handsome, local friends toured us around Petaluma, including Arann's mom's magical farm.

I want goats.
Our trip was full of good stuff, a wonderful reminder of the importance of our people. It felt a day too short, as it always does.

Words to live by, Point Reyes, California.