A bit on the story of our family business and the direction it's headed…



While working full time at the Missoula Art Museum, I started a small gardening business many years ago called dig this chick. Eventually, I stopped pulling other people's weeds and started a blog to track my own weed pulling. I named it dig this chick. And then it changed and grew. I learned to sew on my grandma's sewing machine because I was surprisingly pregnant and didn't like any of the kid clothes in my budget. At first I made another blog, where I wrote about my pregnancy and changing life. Eventually, that seemed silly since it was all my life; no division between growing carrots and growing a human. So I merged the two together. I continued sewing and people liked my designs. I opened an online shop and started selling.

I still do all of my sewing on my grandma's Singer Featherweight
It's all dig this chick and that was a mostly spontaneous, trusting-my-gut choice. Or, rather, it just always felt right, like it was all the same thing. Me. Dig.

My studio, 2011. Still moving into my new space (in the apartment we lived in for the last six months).
I had an exchange with Margot yesterday:
Me: Bug, what do I do for work?
Margot: You write. And you sew stuff for other kids. And adults. With Ruby and me.

Margot, 2011
I didn't use to be but I now am the most flexible, patient person I know. My business is a Family Business in the truest sense. My kids are with me most always. Most of the time it works really well. At times it's really challenging.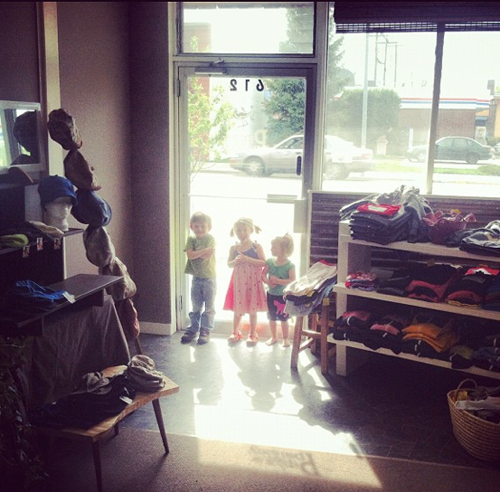 Margot, Ruby and their friend, Reuben at our temporary shop space
I feel so lucky to work with my Margot and Ruby. It's real and honest-to-goodness. They know I work for them, for our family. I do my best to model appreciation and abundance. They are witness to the tangible connection to the work we do, the effect we have. They get it. They know they are are a part of it, they are most of it really.

Margot and Ruby at the shop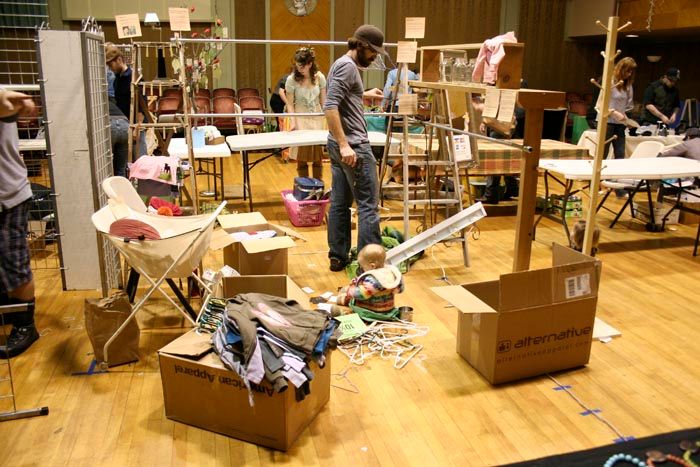 Andy and Ruby setting up for the MADE Fair, December 2010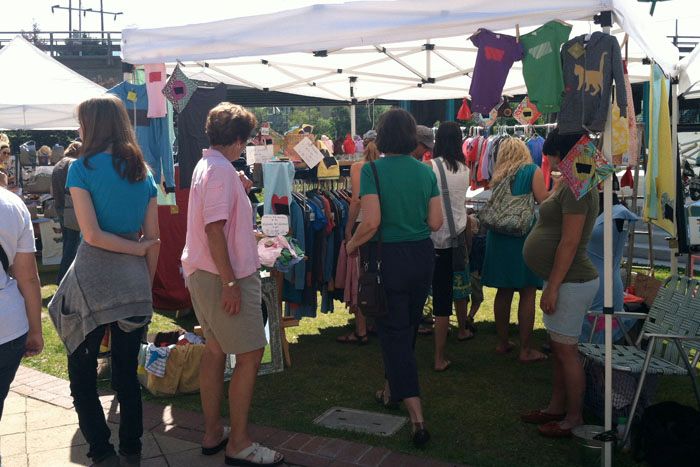 Summer MADE Fair, last weekend
We have two employees. Kathie is our amazingly wonderful seamstress. We've been working together for nearly two years. Sarahjess assists in all manner of dig things. She is a huge part of my family's life and also babysits the girls on occasion.

Sarahjess is having a baby this summer!
Dig this chick is growing and we are over the moon about it. Last week we received our fourth shipment of 2000 tags! We are amazed and grateful for the over 6000 dig handmades floating around the world. What?! Thank YOU.
While we do continue to create and sell new designs, we spend most of our energy on the GEO line: attire and homewares featuring geographical silhouettes. We create custom, detailed, meticulously stitched appliqué shirts, hoodies, hot pads and tea towels featuring the place(s) you love.




handstamping and customization available


bottom photo set: a few recent group orders: hoodies for the bridesmaids to a Montana bride, t shirts for grandkids featuring a canoe, lake Ocoee and the Cherokee word for Ocoee, New Jersey tea towels for a family reunion.
And we have plans! Growth is an interesting, delicate thing with a small business. I chose this career so I could maintain a specific quality of life. My definition of success is wholly about feeding my creative brain, contributing to my community, supporting my family and spending as much time as I can with the people I love. I want to contribute beauty to our world. Dig this chick strives to grow smartly and sustainably. We applied for a grant to help us do that. Specifically, we applied to win $250,000 which we will mostly keep in Missoula, offering well-paying jobs with benefits. We will manufacture GEO items, expanding our reach and as we grow, we will give back. Will you take a moment to vote for us? Click here and click 'login and support' and then search for 'dig this chick' (Many non-facebook users have asked how they can vote. As far as I know, you need a facebook subscription to vote! Thanks for asking.)
Thank you so much for your support.
With appreciation,
Nici and family