WE ARE IN our house! And even though we aren't *supposed* to be living in here, I am more than I'm not. Andy tells me all the time about homeowners who prematurely move into spaces that are being remodeled, how it complicates everything. Now his wife is that annoying homeowner.
It's just that…I want to
be up here
. Right now. I definitely want to cook and bathe up here. So, little by little, I kind of moved some stuff in. Last night I hauled our mattress up to the sunroom. He didn't say anything as I tripped up the rock path with the giant floppy beast. I finally volunteered, "So it will be a little more complicated when Steve shows up to work on our walls. So what?" He shrugged and nodded, knowing my impulsive, driven nature and my proclivity to make home. We balance each other well.
We got right to work, our first few days here. In fact, the morning our tenant moved out, Andy was in the attic before the sun peeked over the saddle. And he pretty much stayed in the attic for two solid days, threading wire through holes and hoisting up a sagging ceiling. It's all magic to me.
"Daddy still up there with the yellow wire?"
Our house has pretty good guts but the style is very much not ours. Lots of brass, carpet (inside and out) heavy window treatments, fake tile, floral wallpaper, ceilings with frosting texture, walls that match my pasty Montana winter flesh…
Oh how I want to get in there and start yanking up carpet and painting over dingy beige and sage! Andy, in all of his wise practicality, wants to leave the carpets down to function as a giant drop cloth. Next week, our walls will be retextured, the next we'll paint and the next the carpet can come up. Seriously, how am I supposed to wait that long to reveal the hard wood treasure?! I settled on bathroom wallpaper removal.
Behold our bathroom, a floral vinyl explosion:
It was super satisfying, especially when I got hold and peeled that bitch off in a big chunk.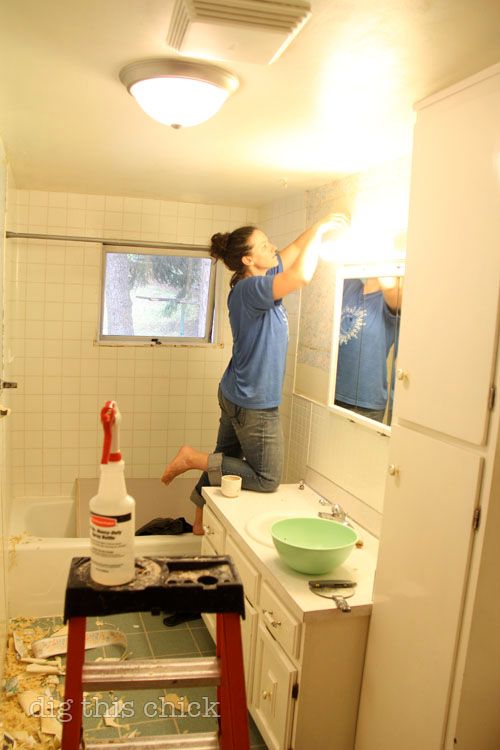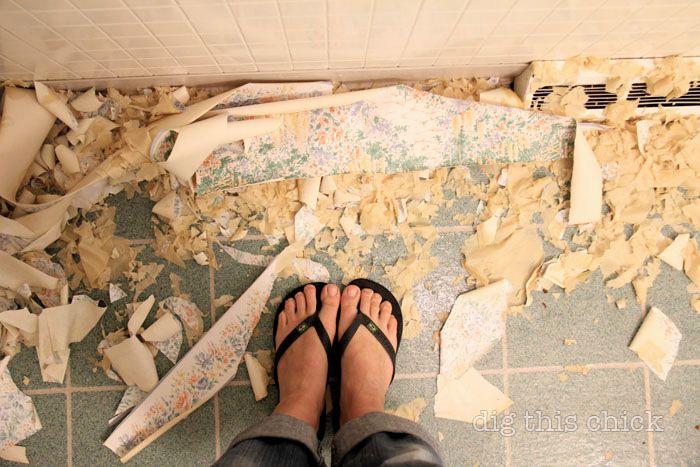 For wallpaper removal: I used a 1/2 vinegar, 1/2 water in a spray bottle. I let it sit for a few minutes and then peeled and scraped. 
Once the wallpaper was down, I spontaneously decided to take a crowbar to the vinyl wall. Fear my crowbar face.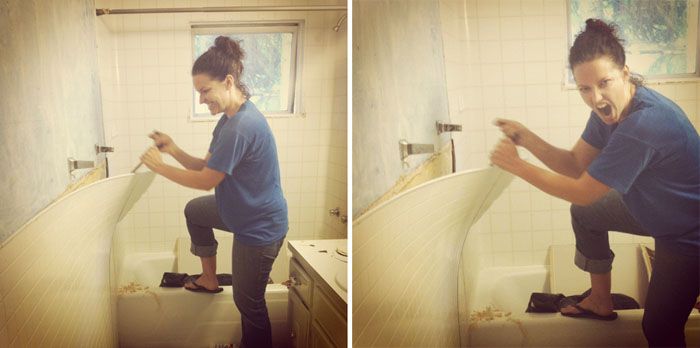 I will continue to post home renovation photos and other riveting images to instagram. I'm @nicirae.
And, the last few stages: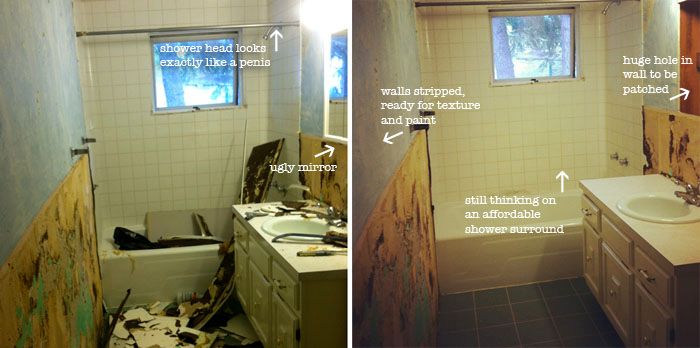 What would you do with this bathroom? What color for the walls? Vanity? Fixtures? Shower stall? Do tell. Oh, I am busting at the seams with images and stories I want to share here. I plan to post more regularly on dig.
In other weekending, we got to know our new place. We like it here.
:: First coffee.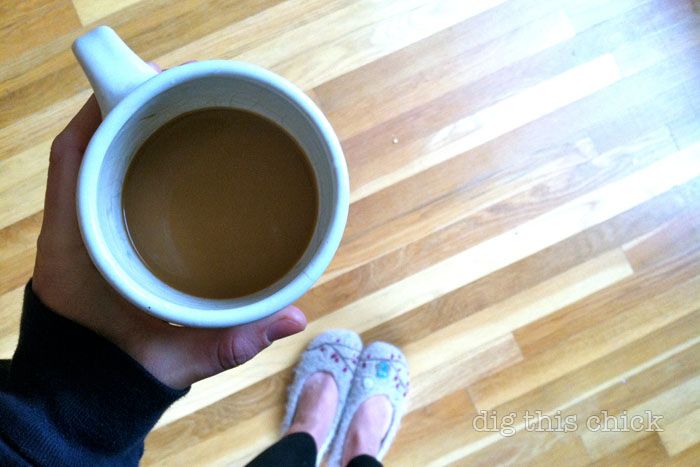 :: Bed in the sunroom.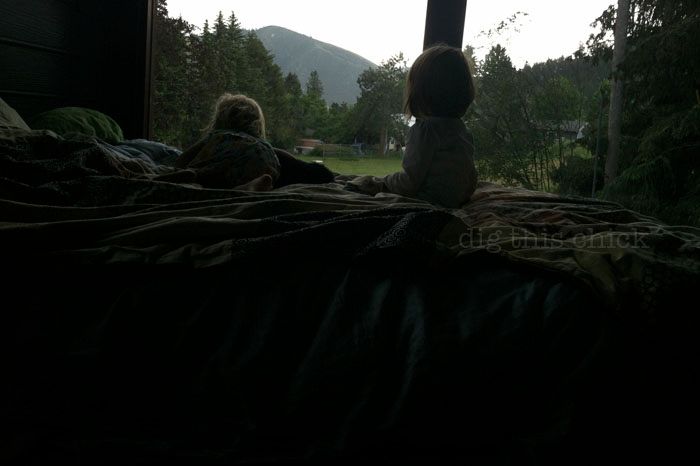 :: First breakfast.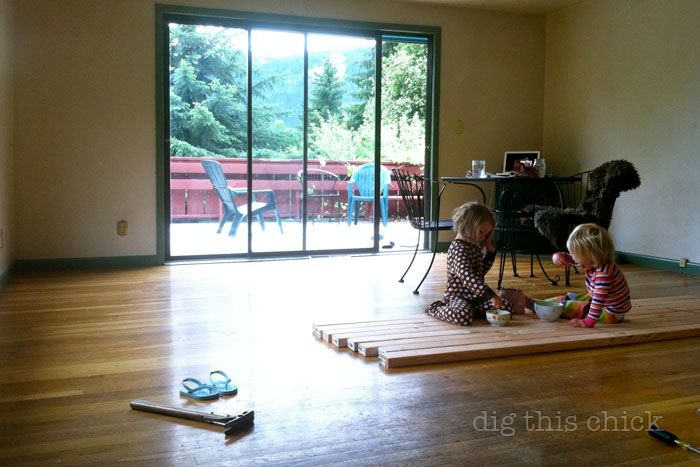 :: First dinner guests and COOKING in a functioning kitchen!
:: Enjoying.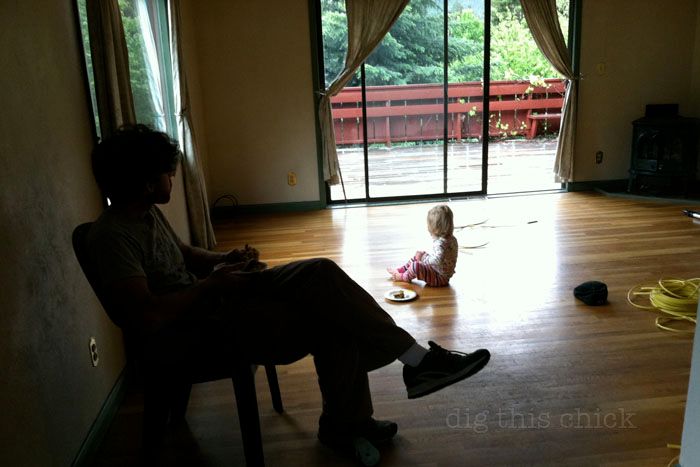 :: So so many lists.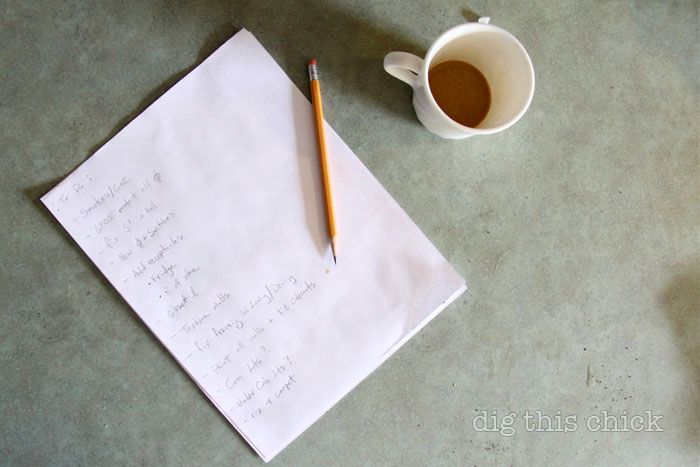 :: Watching storms roll in and out from the deck off the living room.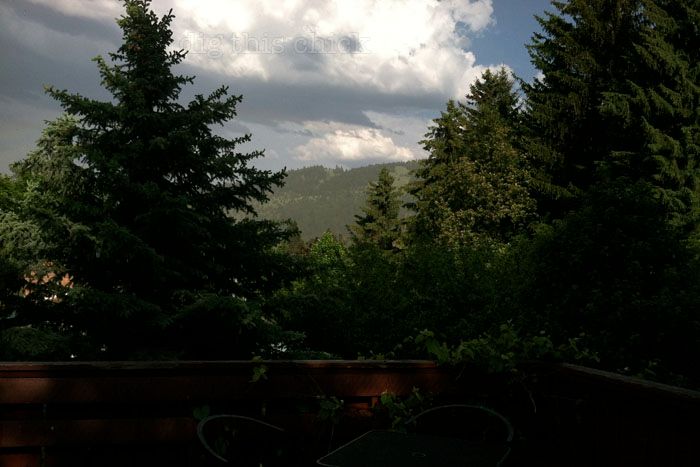 :: Sharing meals on that same deck.
:: Rainy afternoon movie watching in the girls' room.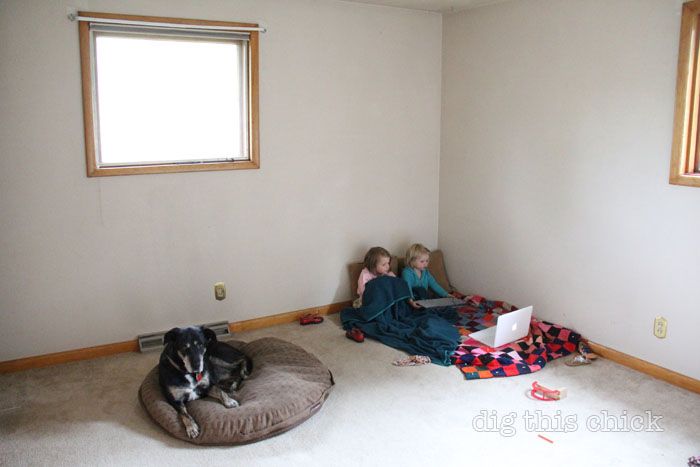 That night — the one where I lugged the mattress up the hill and into the sunroom — we laid there, all four of us, eye level with mountains. Everyone fell fast asleep and I listened to the roaring creek and all was so good. My daughters were curled into each other under the watchful moonlight, Ruby laying on Margot's arm. Lately, I swell with love over their relationship. Those two have walked through all the change and tumult of the last six months, hand-in-hand. I wrote a bit about it in this week's mama digs: together.