We are away for a week, with a pile a family (including my little brother and his girl whom he proposed to LAST NIGHT!!!) at a cluster of lakeside cabins. It's a slow-going, simple kind of place that is completely about people and community. A place where I really notice everything. Every sound is acute, every smell vibrant, every sight brilliant. My favorite kind of getaway. I wrote about the history and connection of this lakeside getaway in my weekly column. Click to read mama digs: a good pace.
Last night I walked with my daughters and my cousin's daughters, from one cabin to another. The girls stopped at the rustically covered ping pong table at the center of camp to watch and listen to the teenagers. They were talking about genetic predisposition to cancer and lupus, a riveting topic for four thigh-high girls. The conversation shifted when the audience was realized and the teens asked the kids to join in and play, asked them questions and told stories about growing up here. Calliope's family has operated camp forever and she said it's pretty much the best place to grow up on the planet. The others nodded.
Ruby, to a kid on a bike wearing shorts and a lifejacket: Hi.
Kid: Hi.
Ruby: Hi.
Kid: Hi.
Ruby: You live in Montana?
Kid: Yes. Do you live in Montana?
Ruby: Yes.
Kid: Bye.
Ruby: Bye. Margot lives in Montana too.
Margot, to her cousin: Do you want to play family with me?
Charlotte: Yes.
Margot: Do you know how?
Charlotte: Yes, it's like when like you are the baby and I am the mom and we play.
Margot: Yes. How about I am the mama.
Charlotte: OK. Then I get to be the puppy.
Ruby, Margot and Charlotte walked to the "store" to buy some worms for fishing.

The camp owners line dry all the linens
We spent nearly an hour trying to blow up a baby pool my mom brought so the kids could take baths (they are a bit big for the cooler they bathed in last summer!). Thing is, my mom mistakenly purchased an infant pool that holds like two gallons of water and, for some reason, wouldn't blow up despite a hilarious and dedicated effort by my mom and her brother. I have it all on video, most of it shakey from laughter (oh all those cooks in the kitchen making suggestions about how to blow, where to blow and oh all the jokes about being "hard to blow").
My mom shut her cabin door and the hook fell into the eye, locking her out. The two of us had to unpin the door hinges and wedge the screen door out of the frame with a slotted spoon. There were several campers documenting and directing the crazy thing. I mean, for real, HOW can that happen? Usually the hook dangles down. It certainly cannot stay upright without support. It is a great mystery discussed by many campers. And? It happened a second time the next day. The latch is now duck taped flat. Ghost? Hmm.

or maybe it was one of the magical bunnies hopping all around the cabins
Ruby woke early this morning and Margot and I were still tired. I carried her seven feet to my parent's cabin where I found my mom and uncle preparing to go fishing. I suited Ruby up and crawled back in my bed. I couldn't fall back to sleep but I freaking relished that extended stay in bed. Hot coffee, Margot's heavy breaths, knowing my girl was out on a lake catching perch with her grandma and great uncle.
Trail runs with my aunt, long hugs with my second cousins. Jumping into the lake holding my dad's hand, listening to my mom talk about her mom. Living in the woods by a lake with a smiling village. I feel so lucky.

Evening community campfire; Margot and Ruby watch their cousin dance to a friend's piano music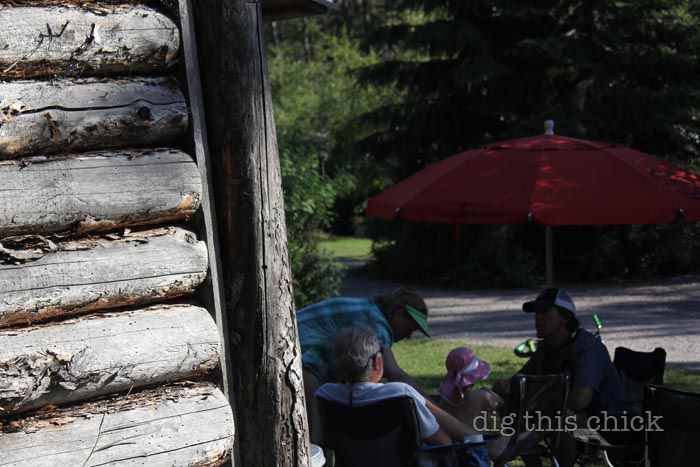 On the first night, I walked back to our cabin from the community campfire and Ruby sleepily whispered, "Look mama. Look at the beautiful ocean. It's all puffed up. Isn't that awesome?" Sure enough, the lake looked swollen, like you could see the earth's curve and intention in the belly of water. Like, life starts and ends in that puffed up belly. It is awesome.
OK, off to kayak with my dad. More from here next Monday.