Our cat, Olive, has been missing for two days. She's cautious, prefers to sleep on our bed and watch the world from the window. She goes outside during the day, as she's done for the last 12 years, staying within a few feet of our home, coming in at night. So, this is worrisome and unusual and I dreamt all night last night that she was locked in a dark shed, dehydrated and sad. It's killing me.
My kids keep looking in her favorite spots. Under stuff. Under the deck, under the beds, under the stairs. "Mama, I just know we'll see her green eyes staring back at us when I investigate under the porch. They, like, glow," Margot said yesterday as I stared into the fire season smoke haze, clicking my tongue against the roof of my mouth. That's her call. She always comes to that clicking. She didn't come.
I like the idea of an eagle grabbing her better than the idea of a car or nightmarish shed. I hate that I am imagining any of this but I am. In detail.
Andy and I lived with his mom during the summers in college. I waited tables and Andy swung hammers. There are feral cats everywhere in Red Lodge and one summer the sheriff told me that if I caught cats and called him he'd happily drive them up the Beartooth Pass and drop them off. Let Mother Nature deal with them, he beamed. I decided to do something about it myself. I borrowed live traps and caught and spayed/neutered cats with a kind hearted woman named Millie. One day I walked down the alley on my way to work and bumped into a man with a pellet gun. He told me a litter of kittens were in his basement and they made good target practice. Later that day, Andy's mom and I snuck over behind his house and set a trap. And another and another. Until we had caught the entire litter of brand new babies. And the mama too. She escaped before we could have her spayed.
Oh they were mean, those teeny, freaking sweet creatures. Hissing and growling in their adorableness. Joan and I wore leather work gloves to our elbows and still shrieked and reeled when we reached in their box. It wasn't easy (it took months) but we found good homes for all the kittens. We kept the loudest, feistiest, cutest one. We named her Olive.
She was so little and afraid. But she was never afraid of Sam. We'd adopted Sam (Bubbas is what we call him) six months prior. He became Olive's mama. She'd suck his dry nipples all day long while he just lounged and purred. She never learned to groom herself, never had to because Sam cleaned her every day from then on. They hug.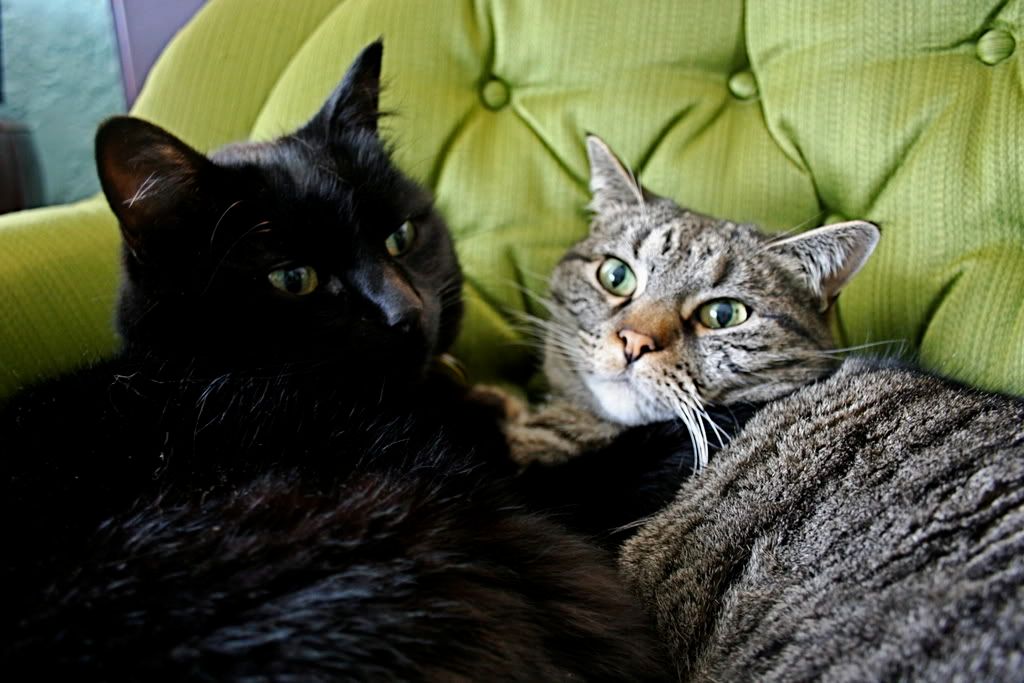 I went to search for photos of Olive to post but every time I found one my gut lurched into sobs. So there's just this one. It is enough.
We lost two chickens last week. 16 Months and Gold. We think it was a dog because the animal dug under the coop run in the middle of the day, killed two birds and left them right in our yard, uneaten. It was sad and we had a little ceremony honoring the lives of those birds. But I have to say that there was a marked difference between the death of these two versus the death of our flock several years back. This is part of it, keeping chickens. They are vulnerable creatures. We do the best we can to protect our hens because we care for them. We are responsible for their safety and also for the safety of the wildlife around here that don't need to be habituated to chicken dinners. Even though I was much more Ranch Wife about the loss of 16 Months and Gold, it bummed me out. I've felt shitty about it. I am just really attached to the creatures I live with. And then Olive goes missing? Our scrappy, wild girl? Ugh. Feels like too much.
I've poured myself into the things I wrote about on Friday, which happens to be the last day we saw Olive. Went for a run, spent time writing, time in the garden, time in the kitchen. It's helpful to keep on, with the guiding, meditative omnipresence of Olive's absence. There are the moments of knowing I don't *know* anything, the moments where I rest hopefully in all the stories shared about cats who have disappeared for a week and returned. They quickly slide into darker thoughts, the ones where all I know is the last 12 years, during which time Olive has stayed within 50 feet of her home. Today Andy, who has remained very optimistic and unworried, poured coffee and said Damnit. I thought she'd come home this morning. 
I love my animals. I miss Olive. And Bubbas? I believe he misses her the most. And the kids…Oh man this feels awful. The not knowing, the waiting. I keep hearing her little meow except nobody else does. I go out on the deck and call and shake her treat bag every hour. I cry. I try to imagine her up wandering the hillside, happy and exploring but I am too damn sad to believe it. Sitting, waiting for an answer or acceptance or — the best — a pitter patter down the hall from my stripedy, green-eyed sweets.