There are a few activities in my life I love so much, things I need for my whole self to feel good: gardening, cooking, running and creating. There have been concentrated, more productive periods in my life with each of my four loves. And there have been fallow, less engaged periods as well. The most miraculous part? They are always there for me, waiting without annoyance or judgement. Just waiting for the white space to gain color, for their turn in my embrace.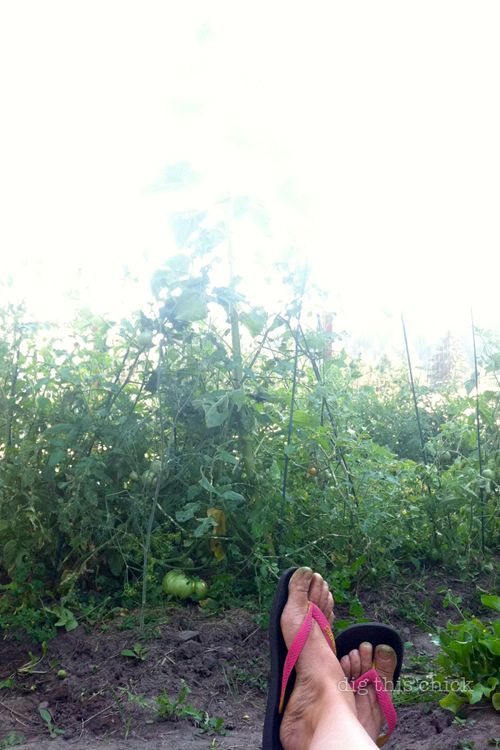 I've recently, after nearly two years of sort of running, started running again. Making time for it, looking forward to it, feeling that euphoric urge to turn my feet over all the way to Canada.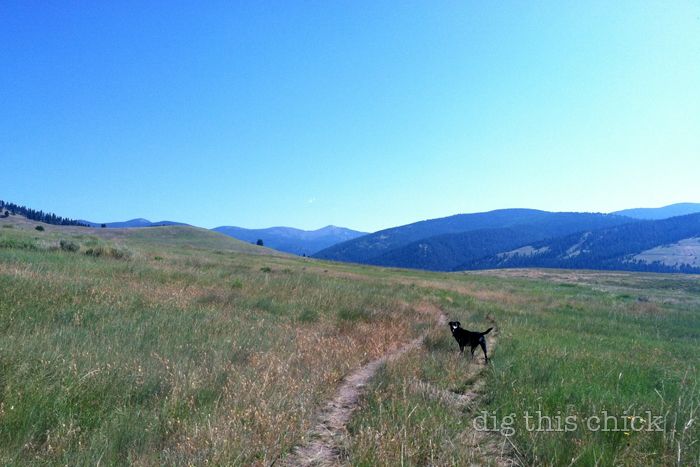 hello up there! eh?
I've found that cooking and creating (for me, this includes, writing, sewing and making art) seem to always find their place in my daily activity. I've never been without those two. Really. I don't believe I ever have. 
My interest in growing food started when I was young. My mom had an epic flower garden and I would help her dig, weed, transplant. When I was in middle school I asked if I could have a small vegetable garden. We went out together and chose seeds and I took it from there. It was so magical, that day I pulled my first tiny carrot. We lived in Georgia at the time and I sat in our backyard and stared at that strong, dirt-covered root that had grown from the teeniest speck. Magic. I was hooked. 
The next big moment in my garden-loving journey was a job I had while in college here in Missoula. In the afternoons, I picked, sliced and dehydrated tomatoes on
a local farm
. The farmers, Connie and Andy, quickly became our dear friends (we got married on that farm many years later). It felt a lot like an apprenticeship. I studied there, learned organic farming in the grittiest, truest sense. Connie is this smart, beautiful, compassionate and impassioned person. She is a writer, with an impressive resumé, and sister is alive in the dirt. My job there grew and, eventually, I managed the farm. I planted 3000 tomato plants from seed, planted them in the ground, tended them, harvested the fruit and made tomato chips. Oh man those tomato chips would knock you right over, y'all. The chips aren't made anymore. In fact, the tomato plot that I intimately knew is now grapevines.
From there I took the Master Gardening class at my local County Extension Office and started my own gardening business. I named it dig this chick. It was fun, but not for me. I wanted my work to be elsewhere, I wanted to garden for my family. I started a gardening blog by the same name. And here we are, many evolutions and a couple of children later. 
When Andy and I decided to move, we of course had some guiding criteria. One of the big ones was more space to grow food. When I saw the south-facing expanse on this property,
well.
It was love at first sight.
I desperately tried to let go of having a garden this year. What with moving, home renovations and life, it just seemed a good place to step back. But my love knows my heart so well and surprised me with the best Mother's Day gift this girl could ever want:
a garden plot
.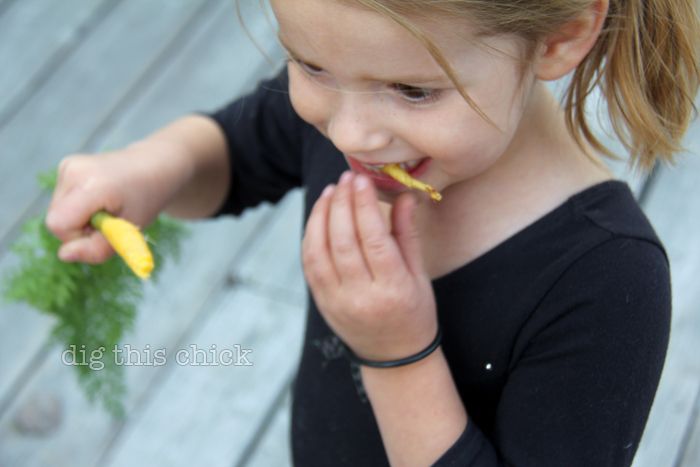 I didn't get much planted this year; nearly half my plot is a weedy jungle. The seeds I planted in June rotted in the ground because of the heavy rainfall. Much of it didn't get planted until July, two months later than usual. And I wasn't in the garden nearly as much as I usually am, just sort of popping in there when time allowed. The whole thing ended up being a wonderful experiment. For, I discovered what grows well when planted late and I discovered what grows well with neglect.
Our daily harvests are small but abundant.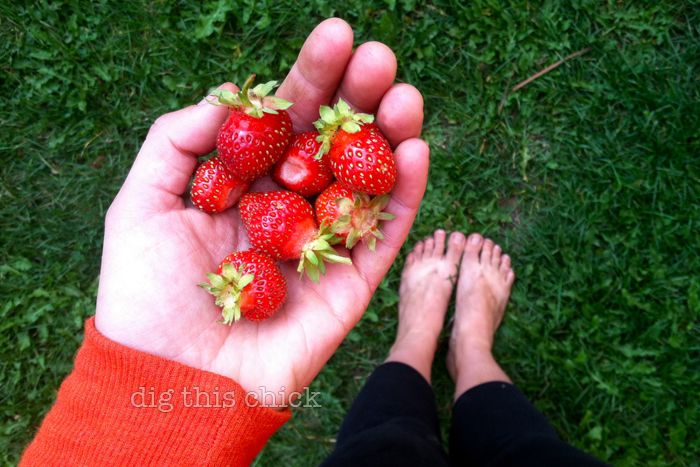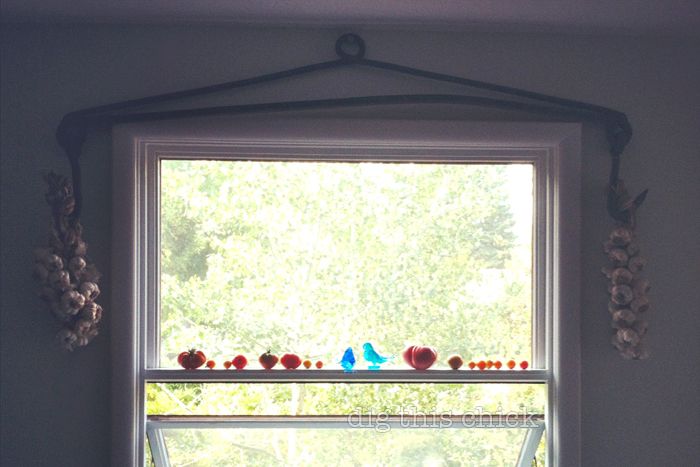 I will always have a tomato sill in my home. This window makes me so happy. Glass bluebirds were my grandma's and I found that old hand-forged meat hook at a garage sale for $2! Perfect for my garlic braids.
THE WINNERS:
1. Tomatoes. I planted 26 plants in late June and they are giant and heavy with fruit.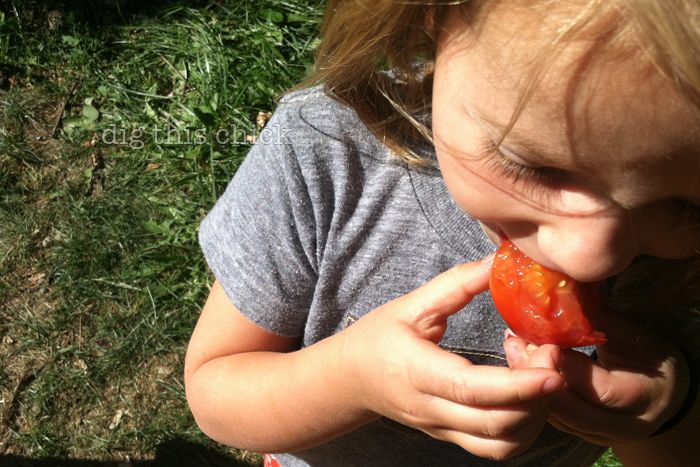 'Mom, is it ok if I eat all the tomatoes right now?'
2. Kale and carrots. I planted seeds in late July and we are getting a fabulous harvest now.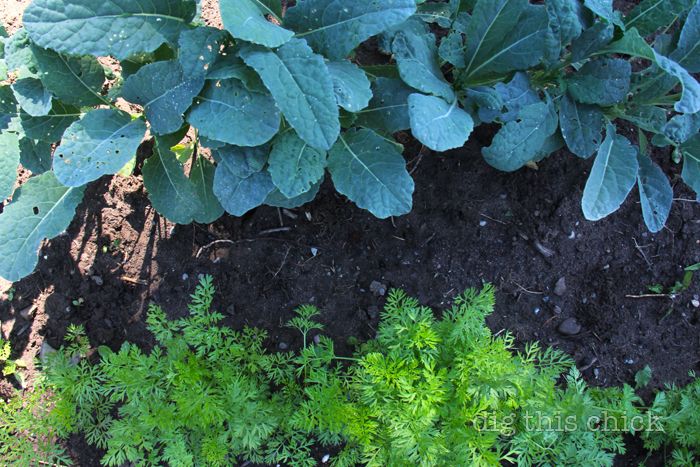 3. Beans. The seeds rotted and I sowed again in July. We are about to get millions of beans.
4. Lettuce. I planted seeds in a spot that gets afternoon shade and we ate lettuce for
months
. I am particularly impressed with the flavor and bolt-resistence of Amish Deer Tongue.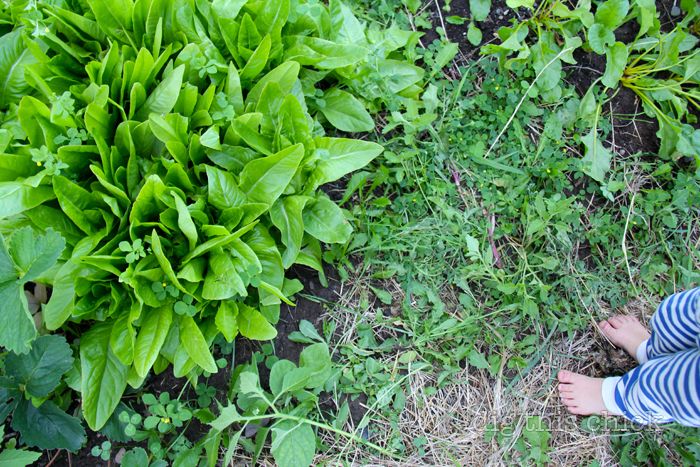 5. Cucumbers! I planted a handful of sorry looking starts at the end of July and we have cuc heaven over here.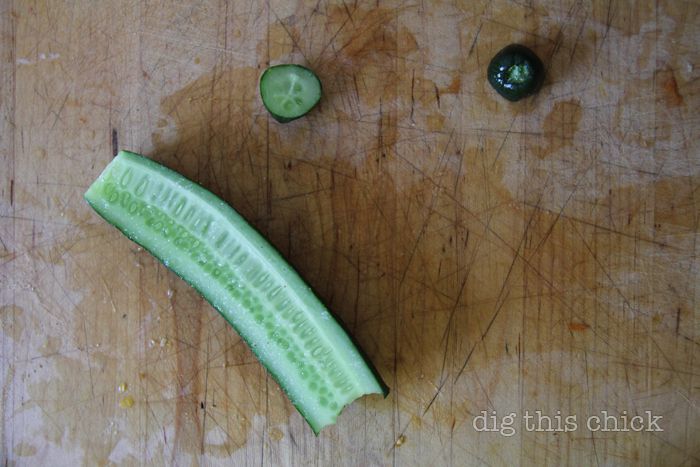 6. Eggplant. These babies just keep on giving.
THE LOSERS:
1. Cauliflower and broccoli. We enjoyed a few heads but those dudes bolted pretty quickly. I am, however, in love with gone-to-seed broccoli bouquets which adorned every corner of our home until aphids took residence on the plants. We then yanked up the plants and let the hens have a bug snack.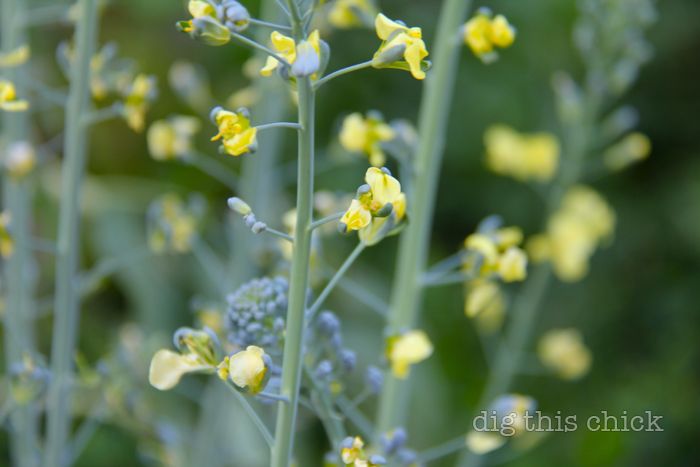 broccoli flowers

bouquet of cosmos, flax and broccoli
2. Squash. I planted 18 starts and they are just now growing well. They had a rough go with the transplant. I bet we'll get one or two squash from each plant.
3. Peas. They need cool soil to germinate and grow well. Ours were puny and unproductive. 
4. Beets. Our harvest will only be ok. We will buy in bulk from a local farmer and preserve.
I love making meals out of the day's harvest. This year, we have been eating a lot of pizza and a lot of salad. I'll do a post about our pizzas. Two of our current favorite salads:
Peachy Corny Salad

Peaches, corn (cut from cob) and basil; dressed with balsamic, olive oil and salt.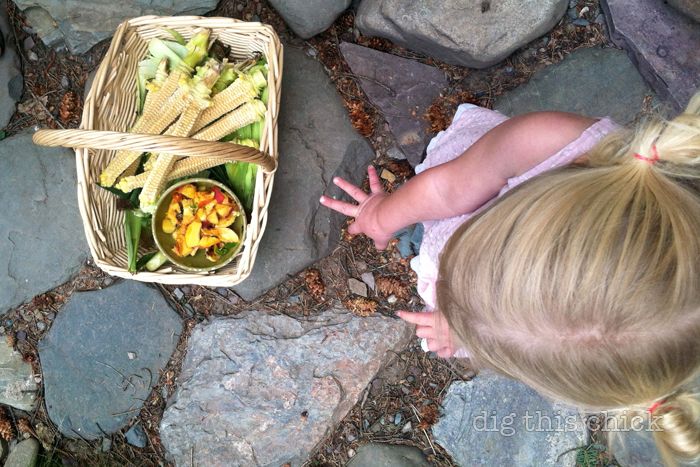 chicken food

Melon Cuc Salad

Cantaloupe, cucumbers; dressed in balsamic, olive oil and salt.
As we pull in this year's harvest, I am already dreaming of next. Isn't that the way with gardeners? What keeps us coming back? There is always room for improvement. Always new problems to solve. 
And this brings me to
Virgin Harvest
. You may have noticed, I abandoned the management of it this year. Thank you for keeping on with your virgin plans and thanks for your understanding. I sincerely appreciate you sharing your gardening journeys with me and I am sorry I couldn't find time to participate or respond to emails. I have particularly enjoyed all the instagram* shares and encourage you all to share your first-time garden and preservation endeavors there with a hashtag of #virginharvest. And! We are in the process of building an awesome, interactive VH place right
here
. I look forward to sharing it with you in a few months. Virgin Harvest took a little siesta and will be back this winter, yo.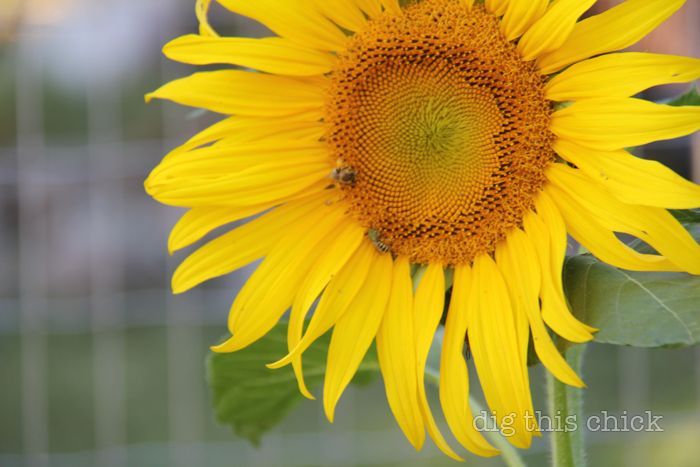 I plan to spend the weekend harvesting and preserving food with my kids. It's a heartening challenge to outpace Margot with the cherry tomatoes. Sister eats them as fast as she can pick. And Ruby melts me with the way she talks to every bee, worm, beetle and gnat she sees. "Oh hi honey! You going to your home? Your mommy waiting for you?"
Happy weekend.
xo,
dig
* my instagram username is @digthischick
You might also like