Last fall my kids and I made some pretty radical fall decorations for our home. Now, as it's been a year and I can sincerely laugh at it, I will tell you that Andy threw them away! Because he didn't know what they were. Actually I believe he said, "Babe, Sorry. It's just that it looked like nothing. I had no idea what they were."
I found this surprising since the items adorned our living space for more than a month. And our children made them (I loved the hanging pumpkins!). And the leaf wreath had some heft. I know my holiday decorations are all hippie-recycled-repurposed but…who throws away something that is clearly something? Oh really there is no sense in it just as there is no sense in placing a bath towel on the floor instead of the hook but this is my life and I will continue to instead focus on my man's lovable qualities of which there are plenty.
*like, for example, spending the entire weekend ripping out a greasy old cream-colored microwave-hood and installing a stunning stainless hood that hums lullabies as I cook. And being adorable and funny the whole time.*
I have been getting all up in my holiday crafting this week. It's so fun to me: making seasonal stuff with my kids that is fun for us to create and our style. For real, I can ignore most any obligation when I have cascading indian corn on my mind. What the what? This shocks me too. I am definitely not a minimalist person but I am sensitive to certain kinds of design clutter in my home. I like busy as long as the stuff in there means something to me. That's my only criteria. Give me art, handmade, old, unique, interesting and I adore a carefully curated mess.
So there are a few corners I've done up in autumnal delight that do me right. I am aware my titles sound like soft porn movies. I'm ok with it.
1. Table Bling.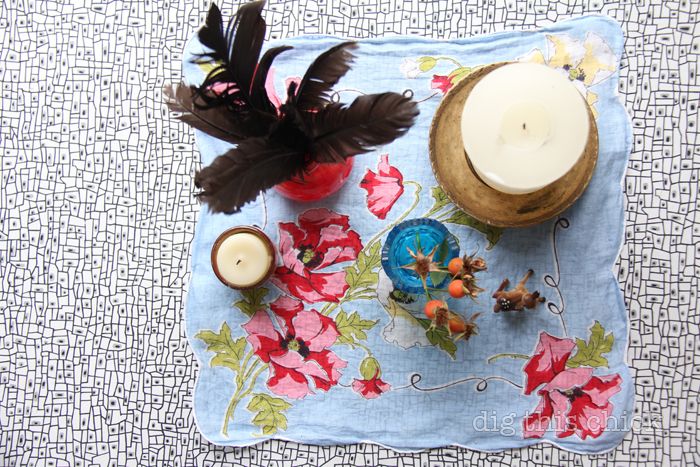 I wanted something affordable, practical and warm. And something that could be easily moved and not destroyed when knocked over to accommodate our raucous life. It's simple, everything we had on-hand.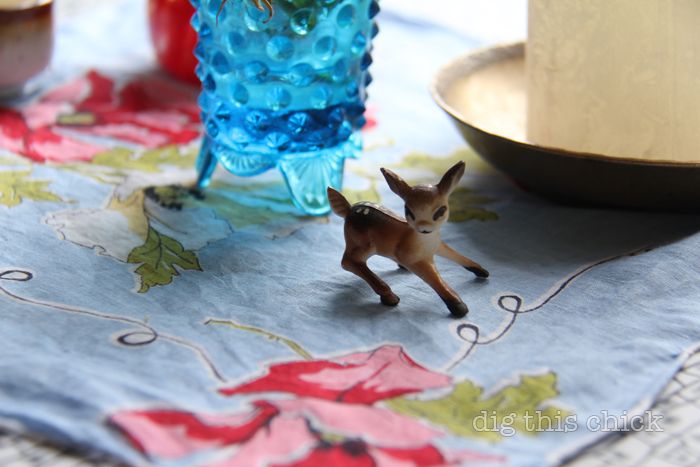 sources:
blue vase: garage sale, rose hips from garden; red vase: wedding gift, feathers from our chickens; deer: garage sale; ceramic cup: grandma-made; candles; old hanky.
I have long been in love with the royal beauty of indian corn and this is the first year I've purchased it. I hung each cob from its own twine, tying the center few husky leaves (so a few were left out of confinement). Then, I gathered the twine threads and secured in a knot around those puppies.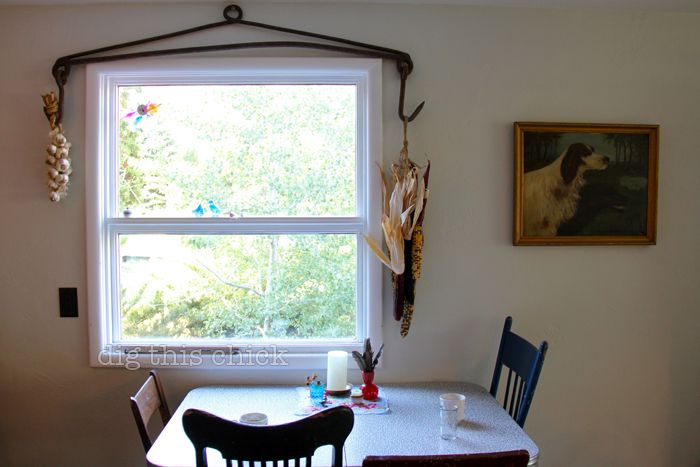 sources:
corn: local farm; twine: Ace hardware
And, one of my favorite things Margot has ever made: a little clay "monster". I hot glue gunned him to the window.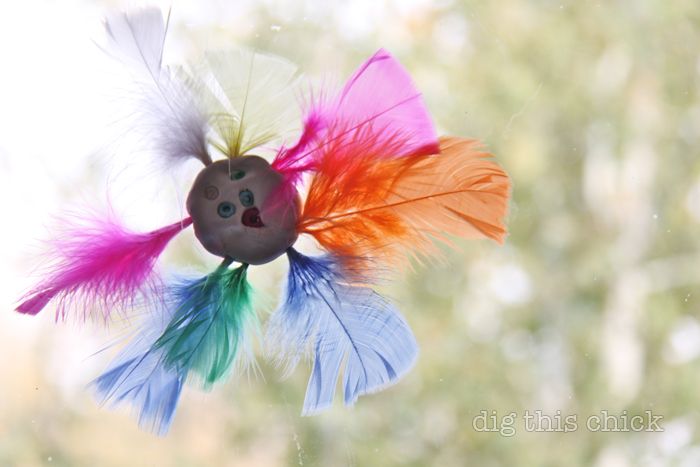 2. Chairside Cozy.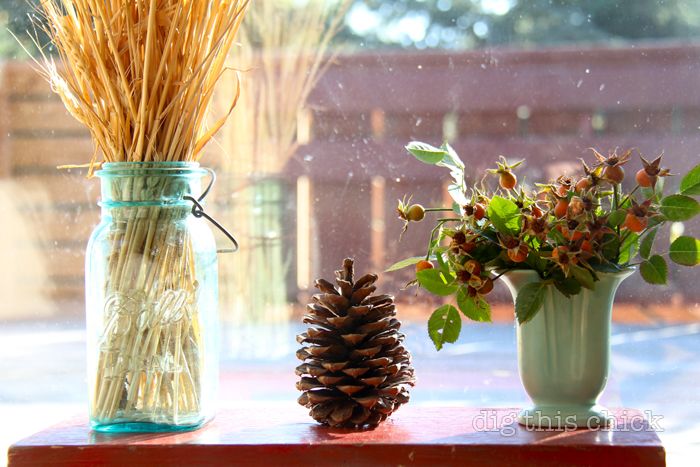 I adore this little arrangement. Sincerely, it makes me very happy all day long. Morning sun through the wheat, afternoon mellow shadows.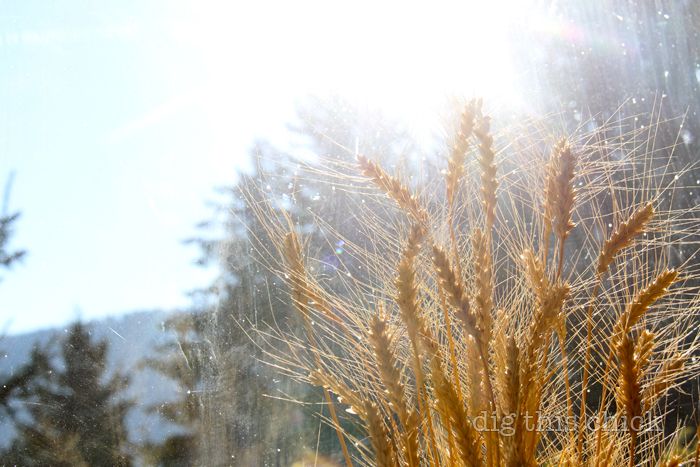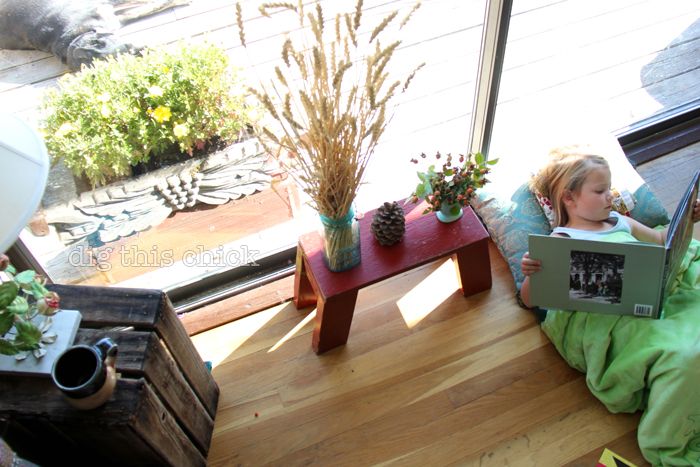 yellow mums peeking though from the deck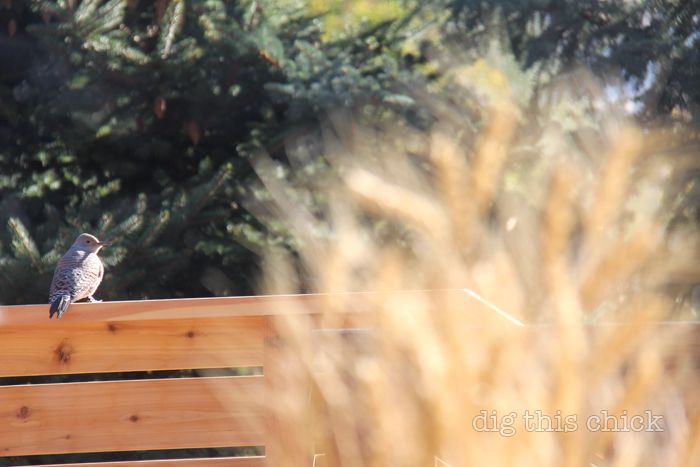 sources:
stool: handmade by a friend; ponderosa pinecone; ceramic vase: gift from my mom, filled with rose hips from garden; thrifted ball jar, filled with wheat from local farm.
And in another living room corner, a vase of branches (what is this tree? pink flowers in spring, looks like a crabapple but the fruit is tiny) and dish of our heart river rock collection.
sources: 
vase and bird frame: gifts; weird face jug: my dad made in high school; red wooden basket: also a gift but I believe from China Woods; rocks: river yo
3. Red Berry Burst.

The thing I want to change most about our home is the entrance. It's upstairs and on the side of the house. It isn't that obvious or welcoming. It feels like a design afterthought to me. So! Until we can make the reshake happen (oh! we have grand plans), I am focused on happy things that shout hello! to our guests. Currently, one has to step over piles of ducting, wood and an old microwave to access our front door but once they arrive they get one mother of a welcome.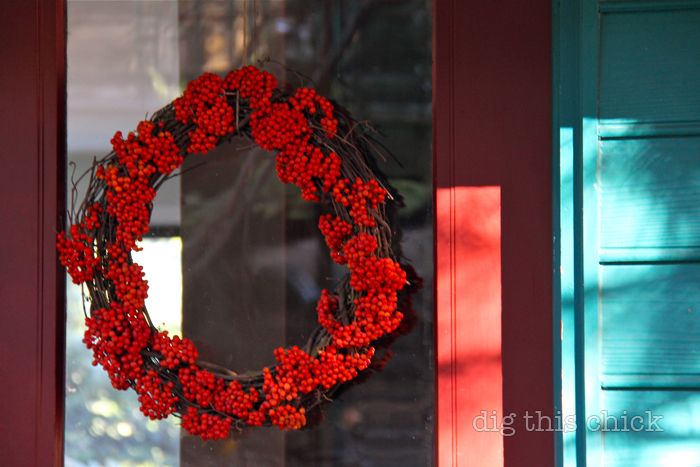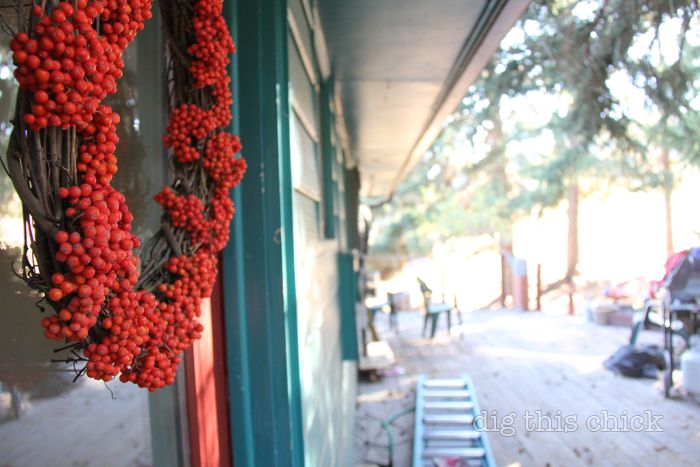 construction chaos on the front deck


The girls played with the berries for hours which got me thinking…why not create a pretty little space for them to do just that? And add fire to the mix just to keep them aware? Just kidding. They don't play in the berries when the candle is lit.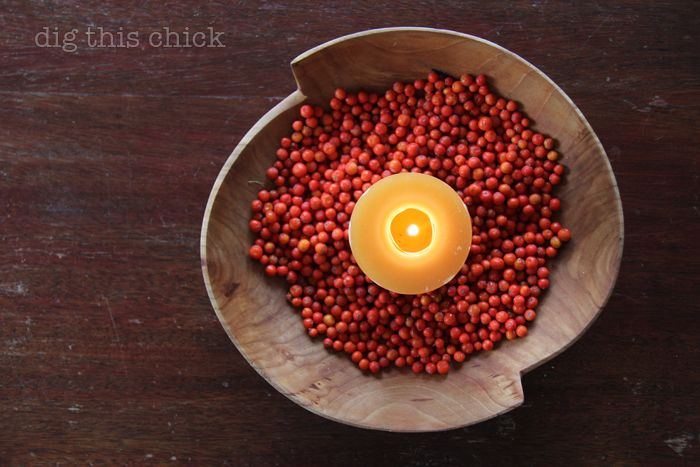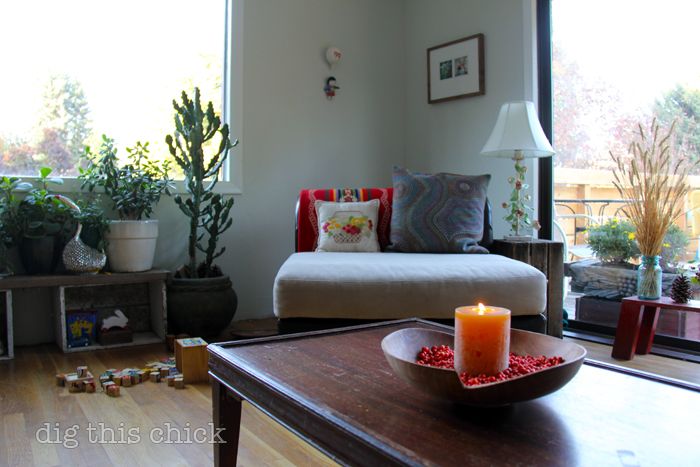 sources:
grapevine wreath: Joann's; mountain ash berries: tree; bowl: handmade by Baba's Bowlworks

4. Husky Love.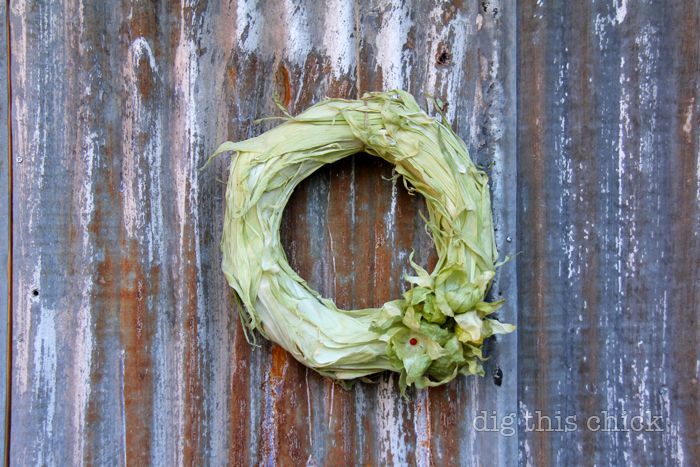 I have always felt it a waste to toss corn's hearty, veiny paper on the compost pile. Fondly remembering the leaf wreath we made last year (the one that is now degrading in our landfill, ahem), I set out to make something similar but better: a crunchy, husky fall wreath that welcomes anyone and everyone to knock on our door. It was a last-minute epiphany to use tomatillo husks as well. And a last-last-minute incorporation of the cotoneaster berries. We hung this specimen on the new gate. I like husky homeboy there.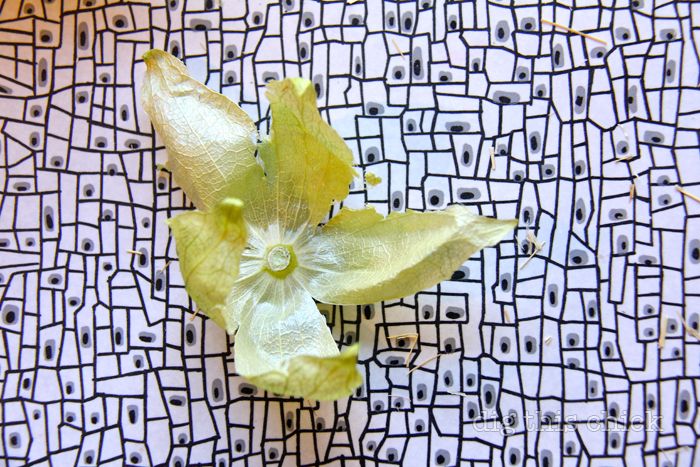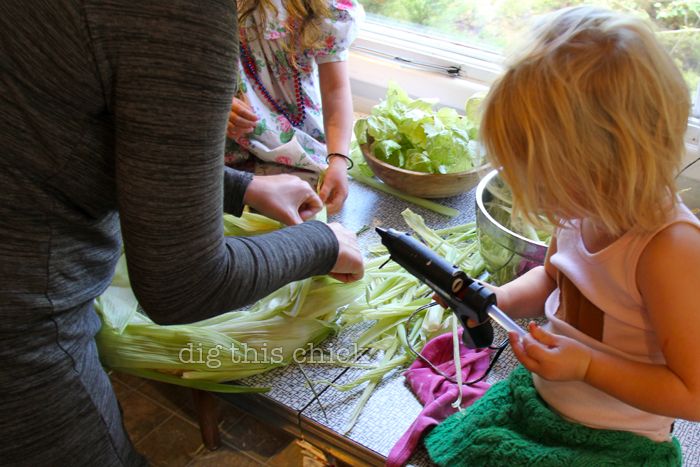 Margot especially loved the glue gun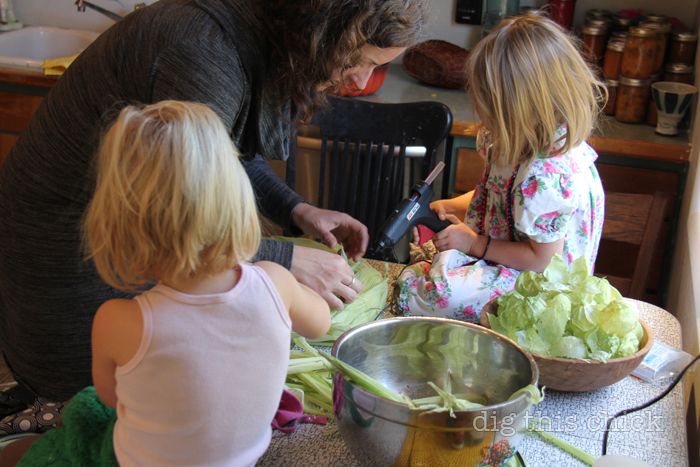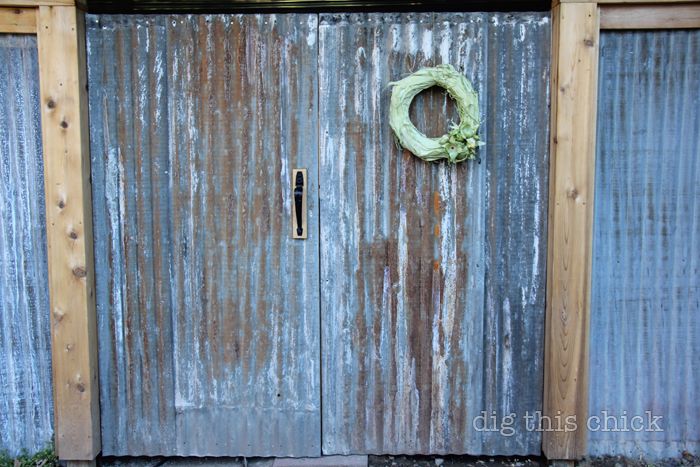 A few process deets: I applied the corn husks with a hot glue gun in a clockwise fashion until the wreath was covered. Then, I went in and glued wrapped (from back to front) and twisted husks. Finally, I glued the tomatillo husks (previously split into stars) into a cluster on the bottom right. And, fer-real finally glued the cotoneaster berries in the center. But then! The husks dried and shrunk/curled so I got back in there, laying the husks flat and gluing even more, the hot glue gun assassin that I am.
sources:
compressed hay wreath: Joann's; corn husks, tomatillo husks and berries: garden (both mine and others)


In case you are curious, Andy is 
very
 lucky in that he didn't throw away 
my cocksucker
.
And because there are an unruly number of photos in this post, I'll leave you with a few more featuring my two favorite home adornments. I have felt especially appreciative of their relationship and I wrote about it in this week's mama digs: making love.