We woke to our first snow this morning. Just a wet skiff but it made me thankful I had foraged through the garden in the oily darkness last night, harvesting pounds of green tomatoes. It is supposed to drop down to 27 tonight.
The garden harvest was a last-minute choice after seeing a few friends' facebook posts showing piles of zinnias and cucumbers. All of my weather sources predicted a 38-degree low but then I found *one* that headlined FREEZE WARNING so I slid into my puffy and garden clogs. I couldn't find a light in the entirety of our home until I finally found the light part of Margot's headlamp. The entire neighborhood of dogs barked at me as I hacked my way through our viney jungle in search of glossy green orbs. I laughed many times as drool dripped from my mouth to the cool earth. Why drool? Well, because the only way to hold the light in position to see was if I clenched it between my teeth.
I heaved the crinkly brown tarp, heavy with fruit, into my studio, shut the door and headed upstairs to shimmy under our down comforter. I woke to rain, a chorus I haven't heard in months. It was still deeply dark at 7am when Andy left for the day, dressed in a warm jacket and leather boots. The streets are blanketed in gold and crimson. Warm mug of coffee a fixed featured in my left hand, I thought about a day of Halloween costume-making and green tomato relish-making. Or whatever.
I love Wednesdays. It is my one day during the week that's just us three girls. We rarely make plans with others, we just hang out together. My hump days are sacred, saturated with beautiful ordinary.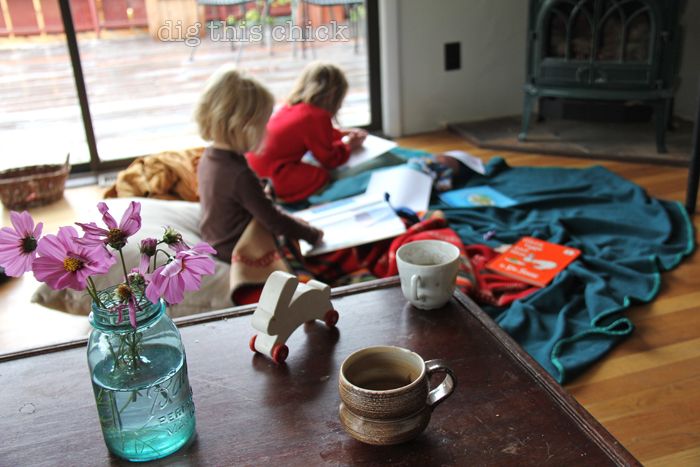 Margot (grumpy, tense brow, arms crossed): I don't think I like winter right now. I will miss climbing trees and doing cartwheels outside.
Me: Yes. It will be different. Should we talk about some things we can do in the winter?
Ruby (dancing, jumping, smiling): Ski! And sled! Snow! Snow!
Margot: RUBY. You don't have to be so happy about everything all the time you know. Gah.
Ruby: la la la lalalala! Snow snow snow! Us love snow!