We had a full day yesterday. By day's end, both of my kids were cooked. We were finally home, with nothing to do but make dinner (have you seen this? so funny) and sit down. It was nearly 6pm. I hadn't even slipped my purse from my shoulder. I picked up my phone to check in with my husband as he is usually home at 5:30. Ruby started screaming, a horrible shrill painful yell coming from the guest room.
I was there in two leaps to find her kicking on the floor with genuine, fat tears. What is it baby? I asked over and over. She couldn't answer. I saw my scissors — my super sharp sewing scissors — on the floor. I felt hot. Did you cut yourself with the scissors? Let me see your hands. Where? What hurts? Show me. She finally managed to let me know it was her arm. I scooped her up and saw a stomach-flipping sight. My little girl's arm, the super soft fleshy place on the inside bicep split clean open in two spots. There was no blood, just a gaping window to raw flesh. And then, right before my eyes, it gushed.
I bandaged her up, remembering Margot, at this same exact age, her forehead cut open. Shit we have to go to the doctor I said as I reconnected with my phone, this time getting through to Andy. My sequencing was all out of whack as I recounted the story and and asked questions, as Ruby sobbed into my shoulder, her little porcelain arm held up high, wrapped in gauze and tape and one heart purple bandaid. Andy raced home, Ruby and I drove into the pouring sleet that was quickly turning to snow.
In the car, Ruby was calm and chatty. She told me how it went down: "I cut carefully away from my fingers, mama. I so careful. I cut a big piece of paper to make cards to send to grandma Terri and grandma Joan because us need to send cards. And the paper go like this and I try to cut and I just cut my arm with the scissors."
As we neared the clinic, it was a full on blizzard. The streets were busy with slow-driving cars. I ate a carrot. I was really hungry. I had forgotten my coat. "Mama," she said through a cracking, nervous voice, "you stay wif me? I want to hold your hand." My heart heaved while I assured her I'd be right where she needed me, now and always.
She didn't want to lay on the white bed under the bright light. I curled next to her, cupping her sweet, trusting moon face in my hands. I told her it was going to be painful for a little bit and then it'd be over. The numbing medication injection hurt her so damn bad. I twisted my full upper body around her while she screamed my name directly in my ear. mama mama mama mama. Oh how I wanted to take that shot for her.
And then I sang goofy songs, played our unique version of this little piggie and rubbed noses with her while the doctor glued and stitched her arm.
We stopped for pizza on the way home and drove through silver dollar snowflakes careening toward my windshield like a ticker tape parade. "I fine mama," she assured me when I said I felt badly.
Our home had transformed into a winter  wonderland while we were out. After a late dinner, Margot and Ruby fetched snow gear and headed out to make moon-lit snow angels. It was the best medicine, I do believe. That snow created a canvas of possibilities and shined light on Ruby's effervescent, able body. What a relief it was to sit on the couch and watch my kids play.
Ruby fell fast asleep. Margot and I sledded across the pearly ocean, beneath the still sky and then joined our family under down and wool.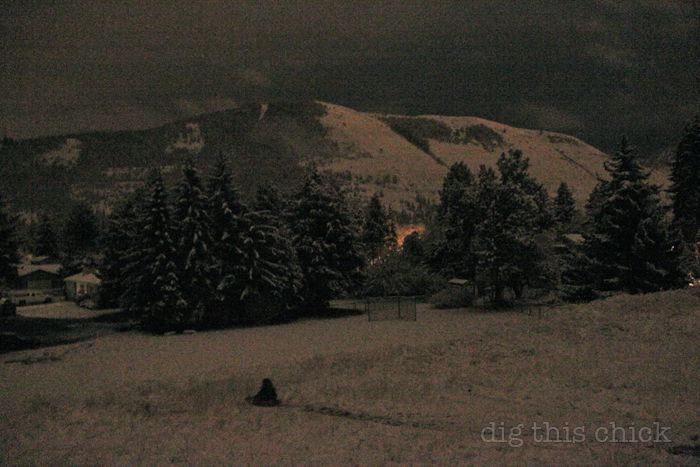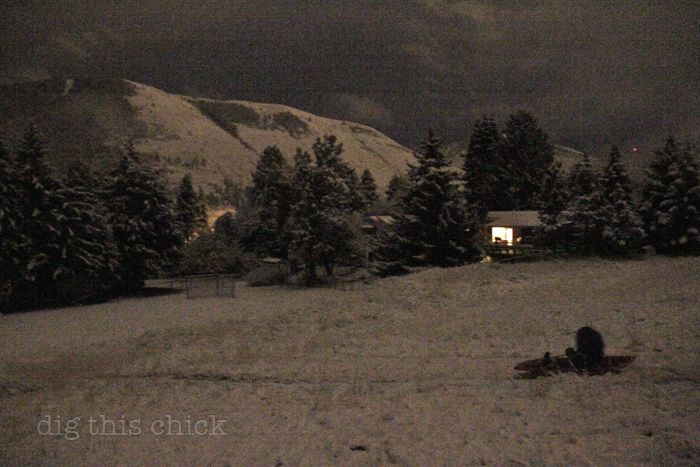 Today, we find thankfulness in so much: the awesome care Ruby received last night, blooming Christmas cactus, a slow-paced day with friends, the earnest and pure childhood love of new snow, my kids' newfound respect of mama's sewing shears and this warm, hearty family favorite meal I invented last week and will make again today.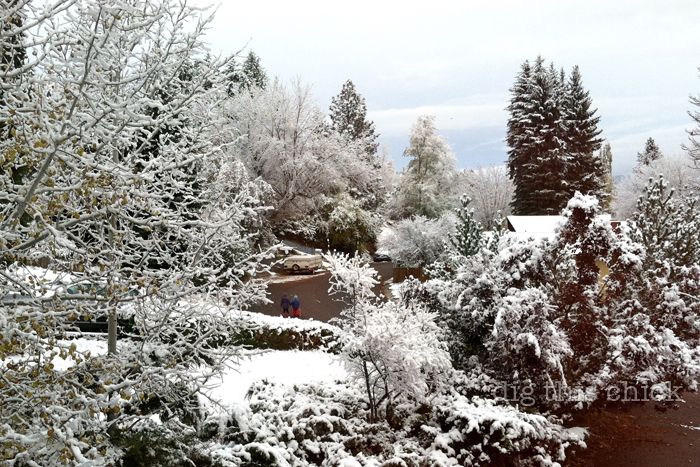 :: peanut butter yammy coconut rice ::
2 cups white rice
1 can coconut milk
water
3 large carrots, chopped
3 large parsnips, chopped
curry powder
olive oil
1 onion, chopped
3-4 yams, chopped
4 tomatoes
vegetable stock or water
1/2 cup smooth peanut butter mixed with water (use a fork to 'whisk' it into uniform liquid)
salt
In a saucepan add rice and four cups liquid (coconut milk + water) and prepare as you would prepare rice. About 10 minutes before it's done, add carrots and parsnips. When rice is done, add curry powder and fluff with fork. Set aside.
In a large stock pot over high heat, add a few swirls of olive oil. Add yams and onions and cook, stirring for a few savory minutes. Add several cups of vegetable stock and/or water, enough to cover yams and onions plus a a few more inches in the pot. I did about half and half. Grab tomatoes and squeeze them into pot, releasing juice and then drop the skin and pulp in pot. Add peanut butter-water mixture. Reduce heat to medium-low and cook for 15 minutes, until yams are soft. Purée with an immersion blender (or in small batches in a blender).
To serve: scoop the coconut veggie rice in bowls and ladle peanut butter yam purée over rice.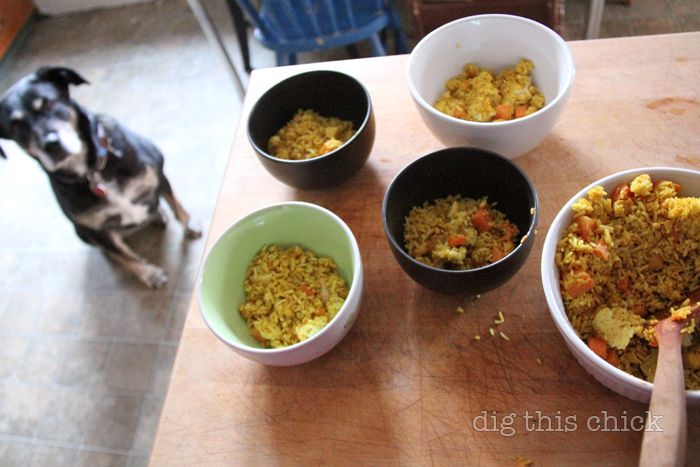 wishing you all a warm and safe weekend.
xo,
dig