Since I was a middle schooler, perhaps longer, I've had the same dream. It varies slightly and happens about once a year. It is always an indicator that I am stressed beyond comfort.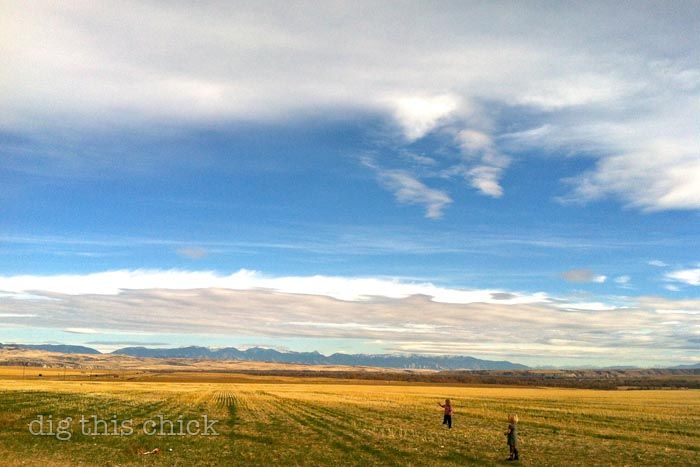 The dream: I am in a performance. I am the lead performer. Sometimes it's a dance recital, sometimes a play, sometimes a comedy act. The consistent part is that I am always completely unprepared — don't know my lines, forgot my costume, have never learned the choreography — but have to get out there and do it anyway.
In my dream last night, I was alone on stage under a bright spotlight to a full, quietly excited house. A shiny silver microphone on a shiny silver stand, my only prop. I was to tell a story, the program declared with my name in bold on the front page. Back stage, I reached in my pocket and felt my notes. I was so relieved to have something to tell me what the hell to do. But when I opened the paper, the words were unreadable. The sheet was water damaged and was consequently a smear of black. The crowd cheered as my name was announced and I walked out on that lonely stage of potential and told a story.
I always make it through the performance. I leap around one step behind everyone else, wearing only my underwear, insecure about my thighs. I sing the song passionately without knowing the lyrics. I take a deep breath, start talking and my words tumble into a story. I am exposed and not ready. I am nervous and sweaty and inside out. I am compelled to continue. And I do it. It ends and I feel hot flash of relief and deranged success and then I wake up. It goes this way every single time.
This is a busy time of year as I make and mail gifts for my dear customers. It's an interesting dynamic because I deeply crave hunker down with ginger tea, glitter and daughters. My reality is that I have less to give to that homey-family time than I do the rest of the year. I actually need more time without my kids so I can meet my work expectations. It's a necessary and appreciated crunch time. I am so grateful for my work, I love my work. And I want just a few more hours in the day to do it all.
Those hours are unavailable so, instead, I dive wholly and thoroughly into the day's opportunity.
My first time ever hunting. Went with my uncle and cousin. Read more in this week's mamalode.com column mamadigs: everywhere, life.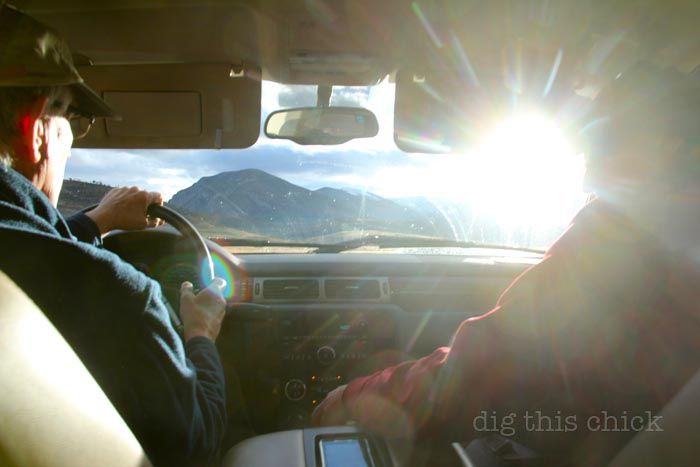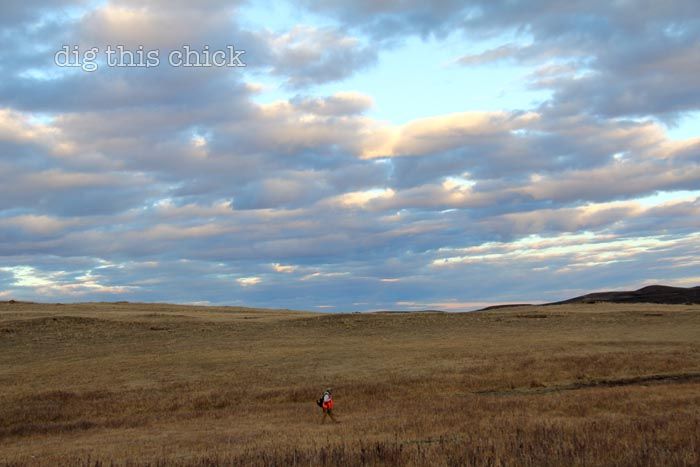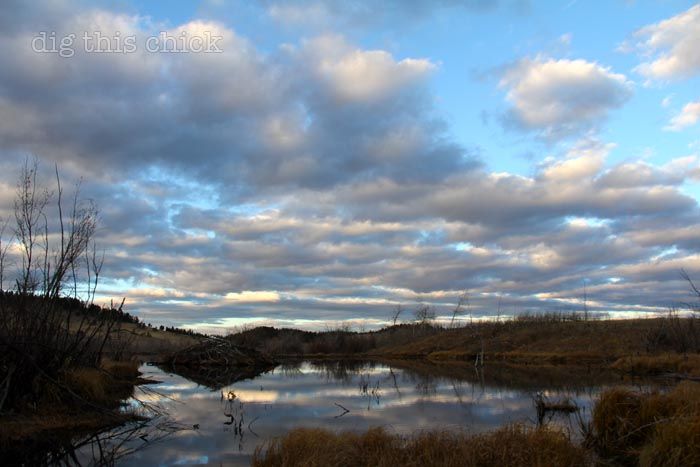 I make myself open to anything, every day. This is not a natural instinct for me. I practice. I've become good. Or perhaps this is my natural instinct and I was taught to be scheduled and plan-oriented and I am now unschooling. My kids are very good at focusing in the reality right in front of them, their inclination driven purely by the moment's emotion. They were born with that. For sure, we need to evolve as we age because grown ups have real and tangible commitments and responsibilities that are time sensitive, unlike kids. We do not always have the luxury of changing our socks seven times and then deciding we'd rather wear a tutu without undies. Sometimes we have to grab jeans out of the dirty clothes pile and apply lipstick while driving to a meeting. But! I think I grew to compartmentalize things into 'commitment' and 'responsibility', even when unnecessary.
My daughters have helped me remember that we have choices about most things. Feeling panicked or overwhelmed is a choice. Time and humanness are here to stay. It's my interpretation of productivity and my interaction with my brain that counts. I make choices throughout my day and, with those choices, I decide to be undistracted. I commit.
Often, things that seem inconvenient at first glance are our greatest, most generous experiences.
When Andy took the kids to the carousel on Sunday, I had a choice to make. I really wanted to go with my family. I didn't go, opting to take advantage of the time and hole up in my studio, prep work for my seamstress. When a friend emailed to say she was considering hopping on the Greyhound to visit me, I chose to wrap my arms around that opportunity. I shelved work and the anxiety surrounding shelving work, knowing it would wait 24 hours for me. And that I would not regret my choice, that I would love my choice.
I've met a couple of people after 'meeting' them through blogging. Every single one has been awesome. There was Finny and then Kelle and now Melina.
Melina rolled in on the bus but I couldn't pick her up right away. She texted me that she'd just walk to town. Town being a few miles from the bus stop. When I was able to fetch my wandering friend I couldn't get ahold of her so I started driving west and there she was, just as I thought she'd be. Walking down the sidewalk in her light blue puffy coat, petite and smiley. We hugged. I love that she's a firm hugger.
The gist: Melina is a wonderfully authentic, inspiring and relatable writer over at The Wilder Coast. She's the same way in real life. She rolled seamlessly into our fold. We ate and stayed up so so late with wine, watching the election returns and talking grit: regrets, love, growth, perspective, loss, family, politics, future, past, now, writing. My half-dressed kids crawled into bed with her at 6:30 in the morning and when I rushed (ok, ahem, slowly sauntered) in to fetch them I found her with a grin and snuggles. We played and hiked. I am just enamored with this woman's presence, smarts, guts and love. My family too. Earlier today Ruby said, "Mama, Lina please come to my birfday party?"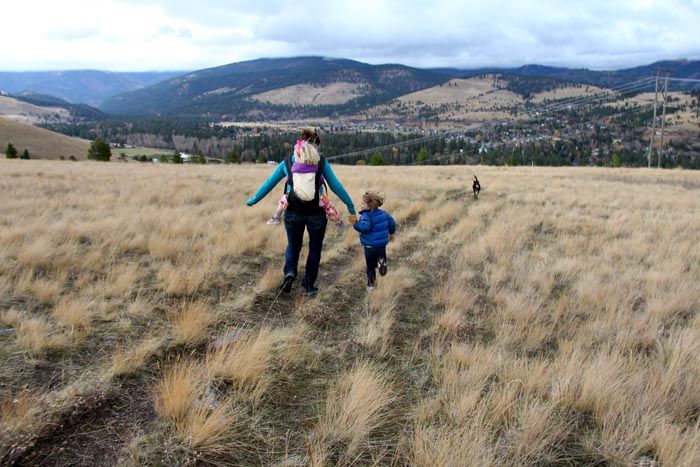 I paid attention to last night's dream. I had worked most of the weekend, which felt really great and productive. But I couldn't turn it off and my sleep didn't feel restful. I didn't commit. I had this ache in my wrist, that came on Saturday. Ache is actually an understatement. I couldn't lift anything with my left arm. I couldn't bend my wrist without gasping. When I woke from my dream, my wrist throbbed unbearably. I got up, walked down the dark hall to the bathroom and dropped essential oils of lavender, valor, pan away and frankincense over my knobby bone and around my low arm to the soft purple veins. I chugged a glass of water. I looked in the mirror and felt confident. I let go. I woke this morning and the pain was gone. I went for a run. And worked all day again, strong.
In the end of it all, we go on stage. We participate. We perform. We engage. We give it our all and wait for applause or rotten tomatoes and hope we feel good about our choice, regardless of response. The world spins. We gather another collection of moments and memories on our curriculum vitae.