Oh this week! I love this week. Thanksgiving and my Rhubarb turns three. Three!
Ruby's favorite question to be asked: Who turns three on Friday? She waits for the sentence to finish with a big, proud grin and then throws her hands overheard and shouts I! Which is fun because I interpret it like Aye! Been spinnin' on the ol' planet for three years, me lady.
Our Thanksgiving plans have changed several times in the last few weeks and while we are accustomed to large gatherings of loved ones, this year we have decided to spend our day of thanks with just our little family unit. We're cooking all day today and then, on Thursday morning, we will load up food, spirits, games, books and drive to a friend's cabin on a mountaintop, just south of here. I eagerly look forward to the quiet simplicity of a few days away and unplugged. Remote trail runs, animal watching, chilly treks to the outhouse in boots, the most oxygenated, enlivening air, the rich connection that comes from stillness with great company. A good place to meditate on thanks.
We'll be away for two days and return to fete our girl who wants pink cupcakes and black balloons. Just black? I asked. And red. And green. White too. And orange. Maybe pink and blue. And yellow.
With all the celebrating we have to do, preparations are under way. I'll share more of gifts for Ruby but here's a little sneak peak at some of the making for our girl. I have a little work to do on Ruby's doll and then the hard part — I wait until Friday morning to give it to her.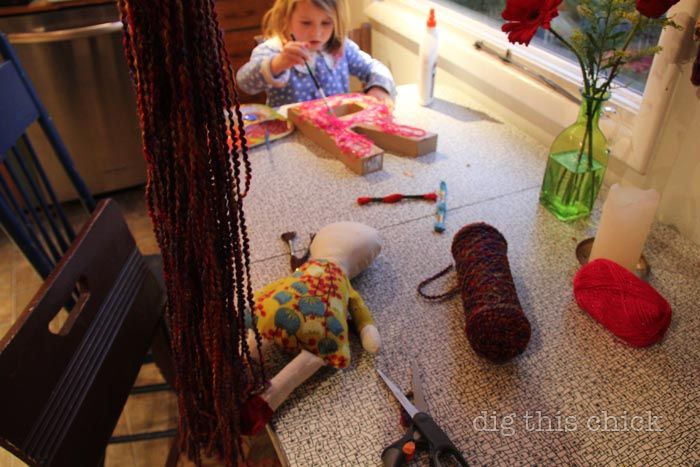 Inspired by some sweet little trees I saw on pinterest, we got groovy with the hot glue gun this week while secretly listening to holiday music. Andy is not a fan of of the holiday tunes (Indie Holidays on pandora! Come on!) or maybe it's the frequency with which I listen during December. Anywhichway, at some point he about faints from annoyance at pa rum pum pum pum.
We ventured out back to look for a stick and found lots of sticks which spawned a whole other project. See, this is how my brain works. I am full-steam-ahead on one thing until something shiny catches my eye and shifts my direction. My kids are naturally this way so the three of us together are on a never-ending treasure hunt that is sometimes productive but mostly just fun. At the girls cheering, I grabbed the saw and cut up some sticks. A little glitter and glue and it was an awesome afternoon (can't say more because the recipients of these lovelies need to be surprised!).

photo by Margot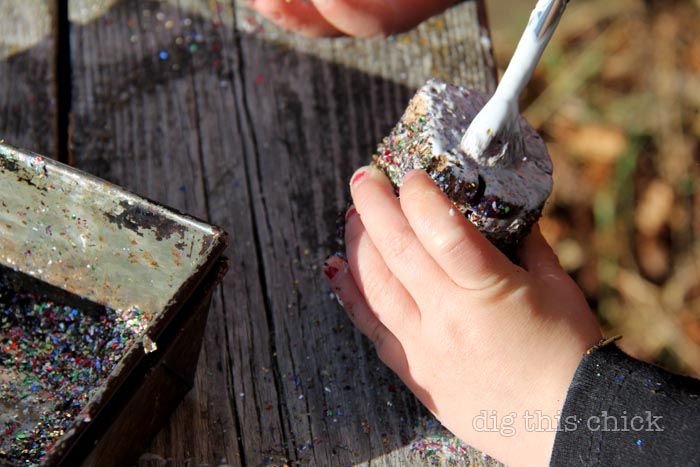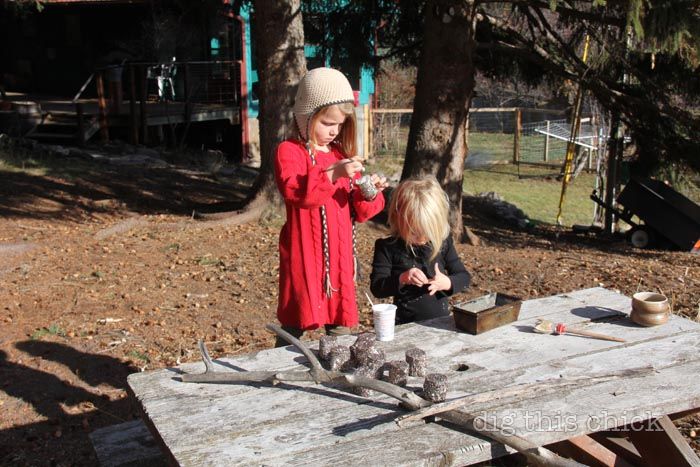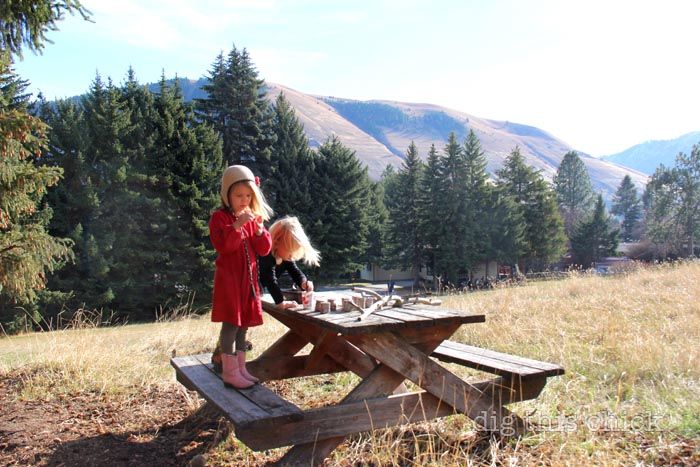 And then back to the pinecones. We hung the jolly dudes in the picture window.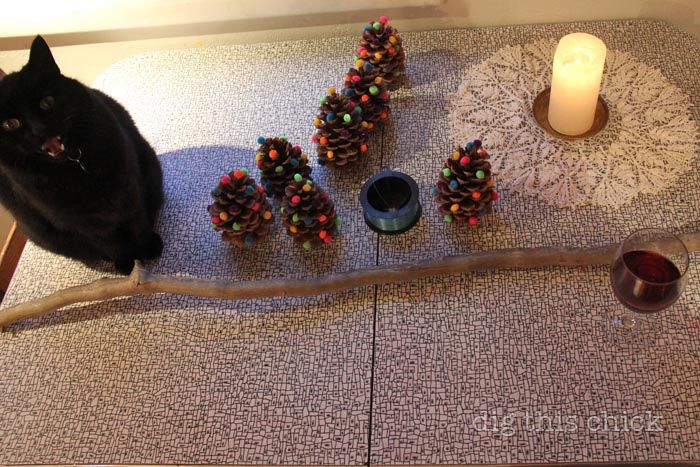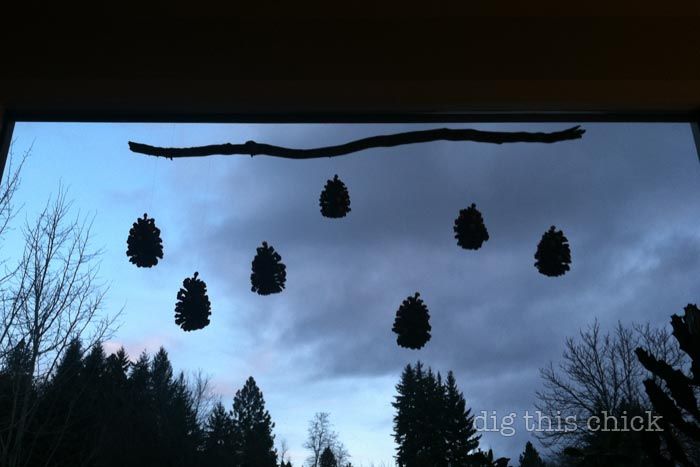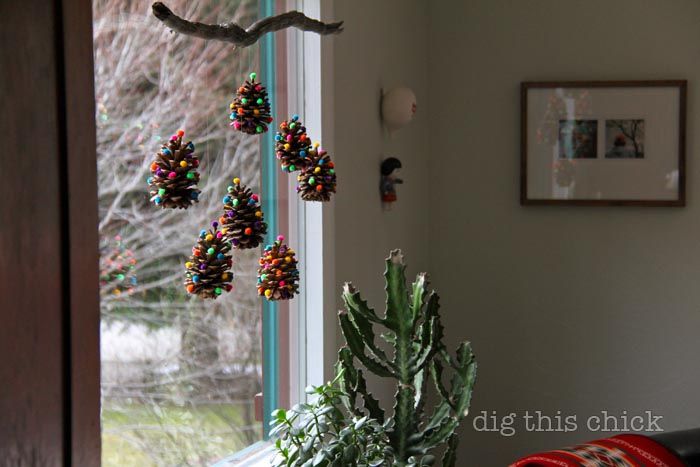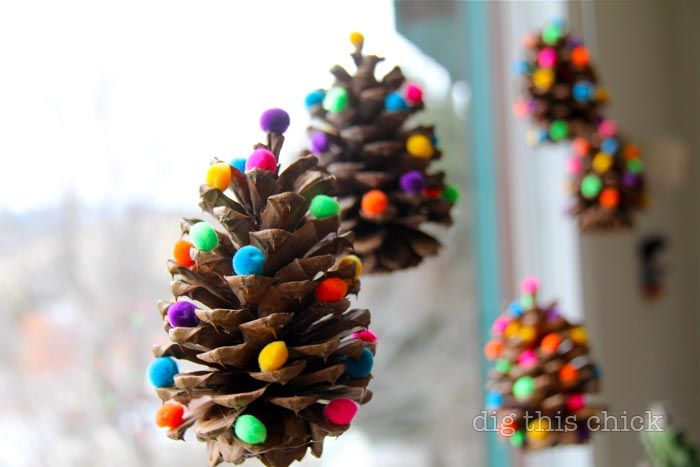 to make: ponderosa pinecones, pom poms, hot glue gun, monofilament, stick, tacks

This time of year means late nights for me, which I completely adore: me, up when my family sleeps, elving. Stitching on doll hair, making birthday cake, repainting the bathroom I just painted a few months ago (ahem). Last night I assembled a giant paper chain for Ruby's party and got teary when we hung it this morning. I also welled up when I downloaded some photos of Alice. And again when listening to my friend Pam play and sing True Colors by Cyndi Lauper. Yesterday my daughters embraced and played all day. I heard Margot say, Ruby, you are adorable and I love you. And then Ruby said Yeah, us best sister friends right? And my watery eyes smiled, grateful.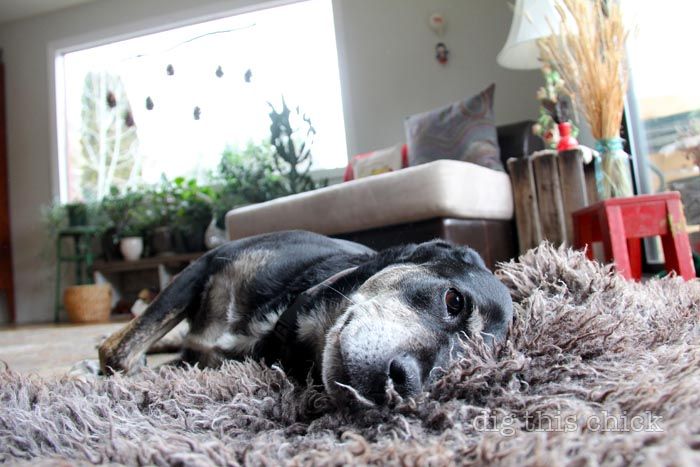 It's this time of year, so much opportunity for pause and love. So much to celebrate, appreciate. A lot to feel.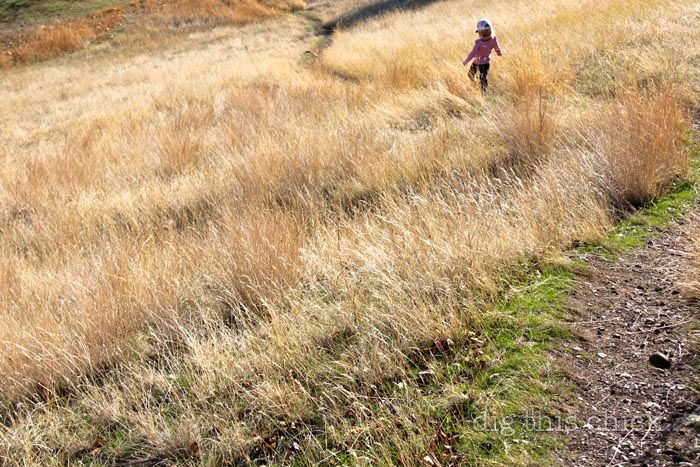 Wishing every single one of you and your people pause, love, celebration and appreciation tomorrow and always. Happy Thanksgiving.
With love,
Nici
ps In my mamalode column this week, I wrote a love letter to Sleep. Click to read mama digs: Dear Sleep.