Wednesday, that mid-week peak, is a favorite for this mama. It's the one day that I am home, with both my girls, just us three. No work, no school, no gymnastics. Usually, we only go places we can walk, if anywhere at all. We definitely don't make plans.
I celebrate every iteration of our Wednesdays. Sometimes we do a lot, sometimes we do little. They are a lot like every day; there are easy moments and hard moments. There is a beaming, wonder-full truth on hump day: My goal is to catch my kids' whimsy and play along. We choreograph, my girls and I, like a continuous line drawing. Three pencils hit paper at 7am and their paths weave, interrupt, clash, dance and vibrate off of each other. By day's end, we've an honest sketch of us, now.
On Wednesdays, I am the luckiest.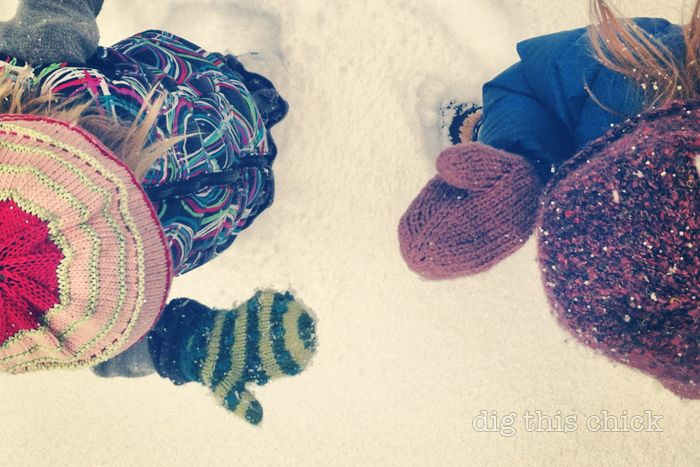 Today, my daughters and I:
:: Fetched coffee beans, stayed for a hot bev.
:: Spontaneously hit the museum on the way home and had a grand time exploring, made it though my 15-minute talk with Ruby about the necessity of shoes in snow.
I've decided five-year olds are exactly like art critics: confident in their viewpoint, hilariously succinct and awesome to witness.
:: Played a unique hybrid of The Three Little Pigs and The Wizard of Oz, Montana style. I was cast as the big bad wolf who gets too hot during the day and melts when I drink water. So I am often thirsty. There are hunters. Ruby is the weak pony who the wolf wants to eat. Margot is the farmer who enjoys decorating, protecting the pony and provoking the wolf.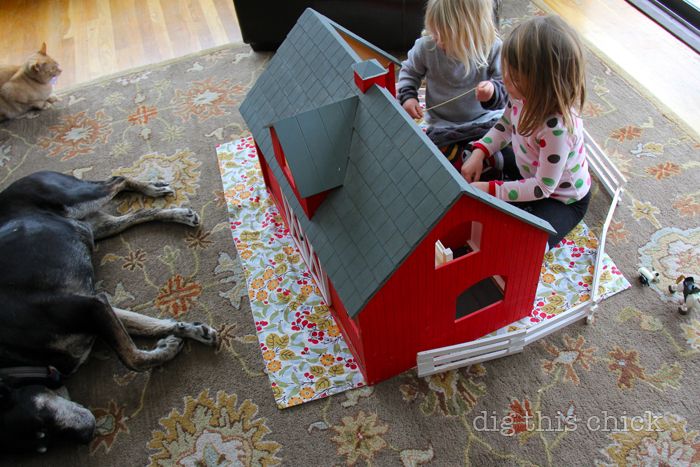 This barn and animals, a gift from friends. They scored it at a thrift store, no less.

Margot: Mama, I mean Mr. Wolf? Do you see anything right here or do you just love my beautiful decoration?
Ruby: Tee hee hee. Snort.
Me: Hmm, do I smell a tasty morsel? I am hungry!
Margot: OK, now mom, you are supposed to try to get her but you don't really. I don't want you to ruin my art.
:: Shoveled the lead snow from our crazy large driveway. Oh it was so light and airy yesterday when it fell! Plus, I never shoveled the last big snow so we are officially *that* neighbor with the neck-breaking icy drive. Welcome, all, to our cozy home! Nonetheless, I shoveled and the girls made Fairy Pie.
Margot: I really like summer more than winter. Even with the skiing.
Ruby: Yeah.
Margot: I mean, in summer we don't get wet and cold! And we can SEE dirt!
Ruby: Yeah. You want more butter in your pie, hon?
At sunset, it started raining. I threw in the shovel and we made a snowman.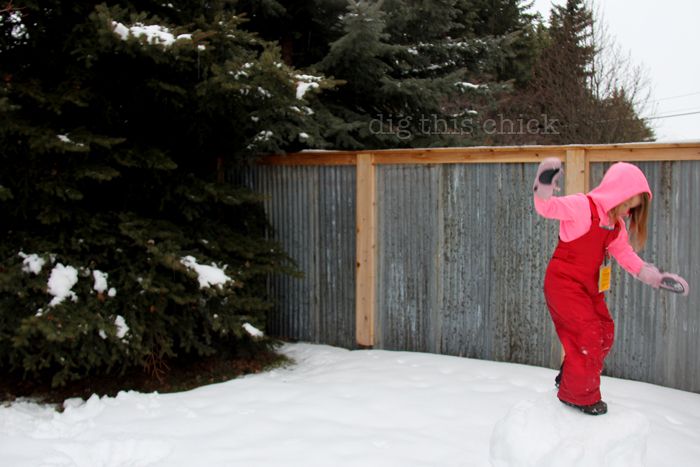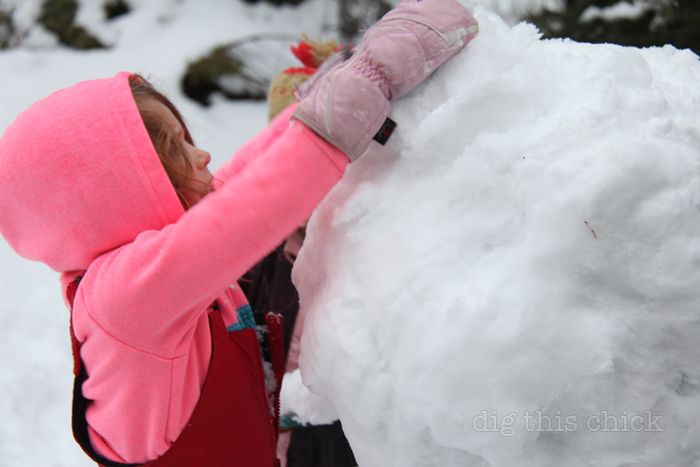 In an inspired moment, Ruby decided to name him Frosty. She and Margot carefully packed colorful beads down his belly while singing his song. Thumpedy thump thump.

happy hump day out there
xo
dig
:: :: ::
I am honored to be a contributor over at 3 Things for Mom today! What is 3 Things? "In quick, bite-sized blog posts, 3 things for Mom looks at the same three topics (a truth, a tip & a find) through the eyes of different inspiring mom bloggers. Discover a fresh voice, a neat product and a unique perspective every weekday."