Monthly Archives: April 2013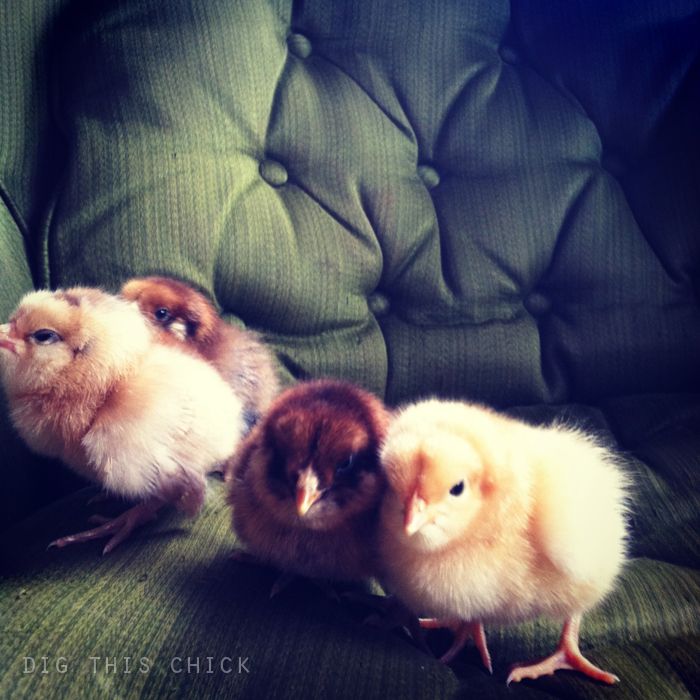 Meet Rosetta, Sparkle, Cayenne and Tiffany. Our very own gaggle of adolescent birds with stripper names. Margot named Rosetta, Ruby named Sparkle, Andy named Tiffany and I named Cayenne.
They are four weeks old now. We've lost six hens since our move. Some to predation, some to illness. It sucks to admit we are down to two chickens: Cup and Cooper. Our system was pretty dang stout and still not enough. We didn't want to get more chickens until we could create a more secure environment. Mostly, we weren't (I wasn't) on top of closing the run at dusk. Several hens were killed in a 30 minute window after the sun went down when I was nearby! Sucks. Margot is very bonded with Rosetta. This chick is happiest in Margot's hands or on Margot's shoulder. So, we imagined the eager thumbs of a raccoon, the body-flattening capabilities of a coyote, the heft of a bear. Ultimately we built
a fence
and then moved the shebang into our fenced-in yard, under our deck, up against the six foot corrugated metal fence. Because we've had several instances where a very small animal dug under the run, the entire run is wrapped in thick wire fencing (previously we didn't wrap the bottom). Because we still, on occasion, let the girls run about our yard, I set a daily alarm on my phone to remind me to drop everything and shut those chickens in their house. When the alarm sounds, I literally GO that moment. And! Here's our coop. It's a beauty, as is my husband's natural way of doing things.
Continue reading →