Meet Rosetta, Sparkle, Cayenne and Tiffany. Our very own gaggle of adolescent birds with stripper names.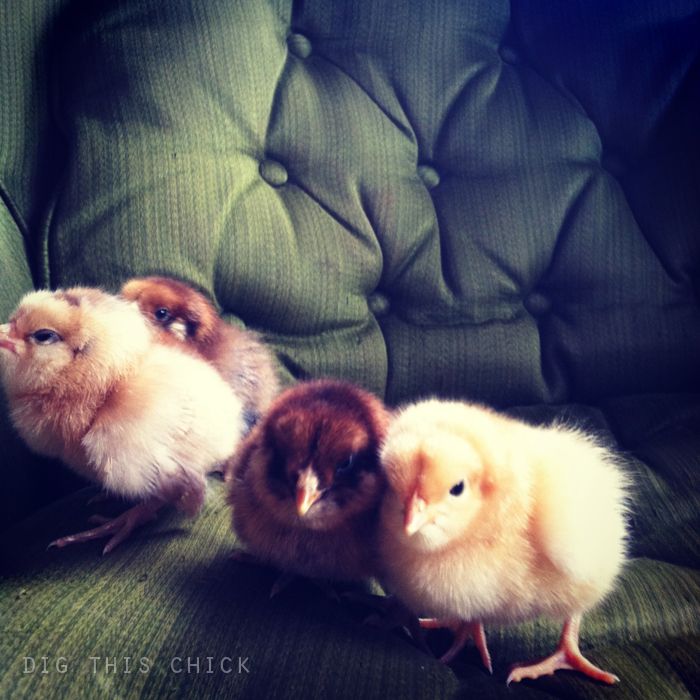 Margot named Rosetta, Ruby named Sparkle, Andy named Tiffany and I named Cayenne.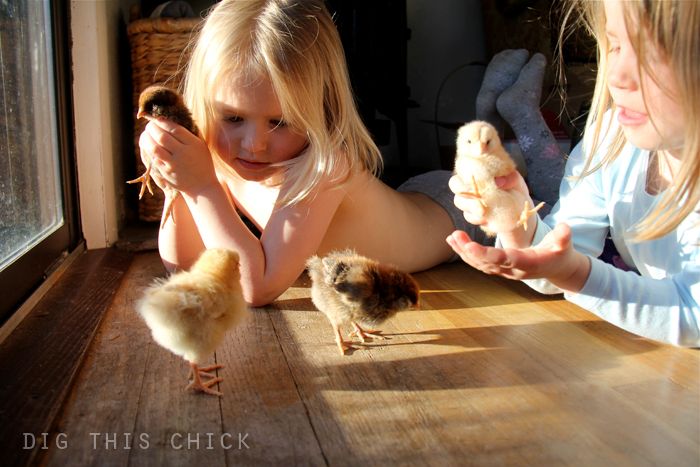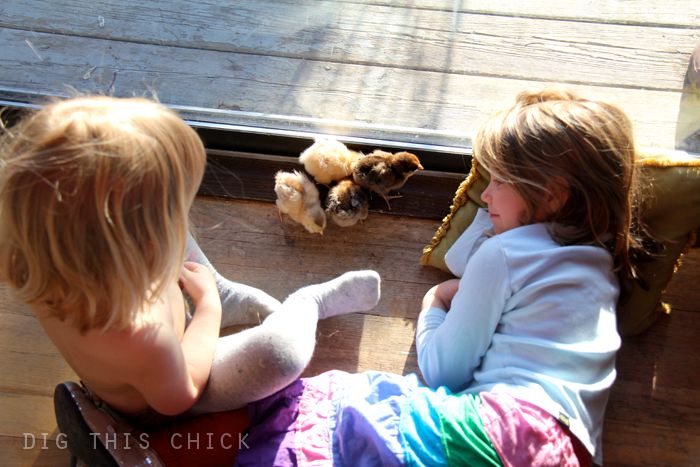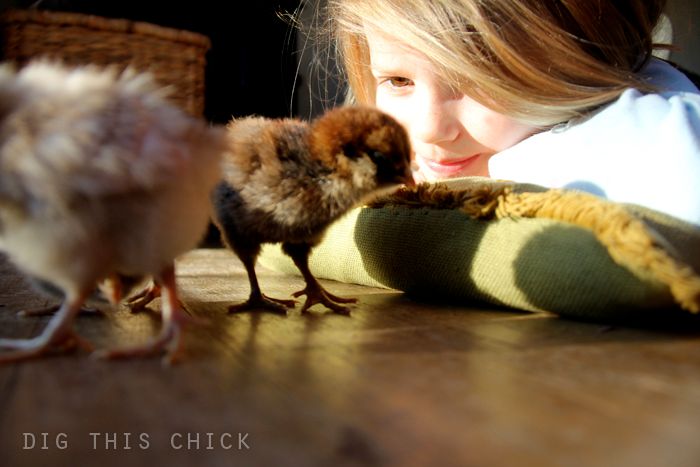 They are four weeks old now.
We've lost six hens since our move. Some to predation, some to illness. It sucks to admit we are down to two chickens: Cup and Cooper. Our system was pretty dang stout and still not enough. We didn't want to get more chickens until we could create a more secure environment. Mostly, we weren't (I wasn't) on top of closing the run at dusk. Several hens were killed in a 30 minute window after the sun went down when I was nearby! Sucks.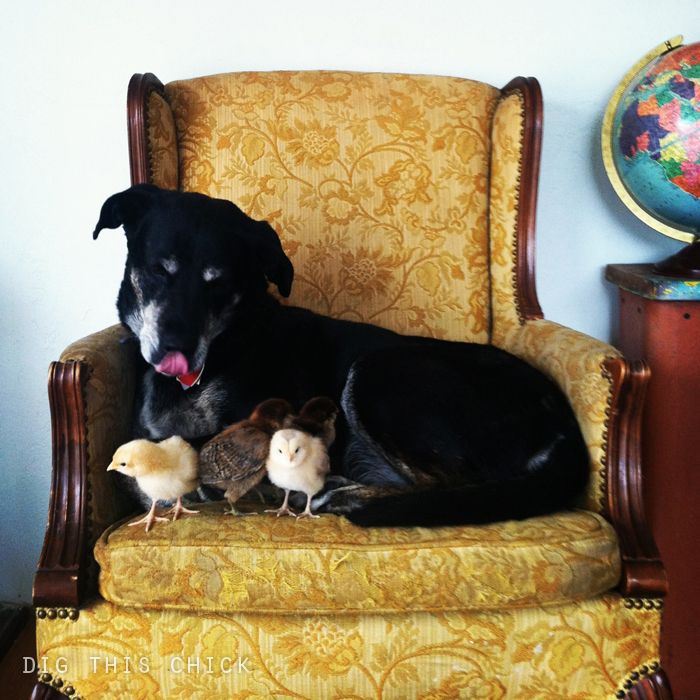 Margot is very bonded with Rosetta. This chick is happiest in Margot's hands or on Margot's shoulder.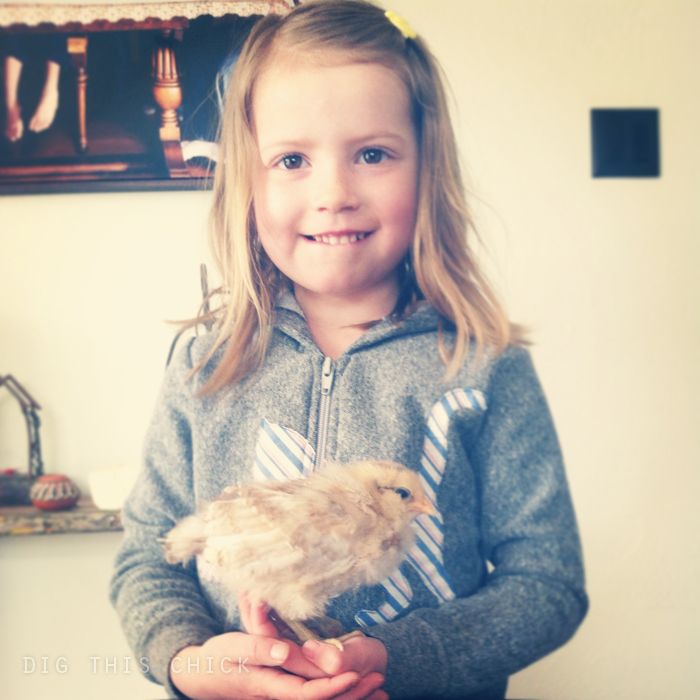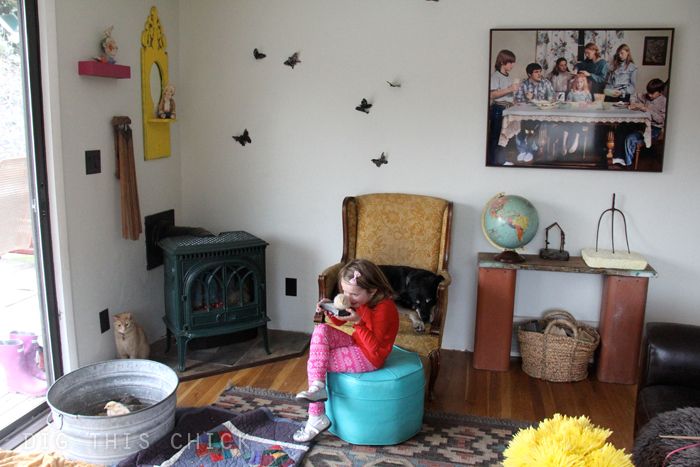 So, we imagined the eager thumbs of a raccoon, the body-flattening capabilities of a coyote, the heft of a bear. Ultimately we built a fence and then moved the shebang into our fenced-in yard, under our deck, up against the six foot corrugated metal fence. Because we've had several instances where a very small animal dug under the run, the entire run is wrapped in thick wire fencing (previously we didn't wrap the bottom). Because we still, on occasion, let the girls run about our yard, I set a daily alarm on my phone to remind me to drop everything and shut those chickens in their house. When the alarm sounds, I literally GO that moment.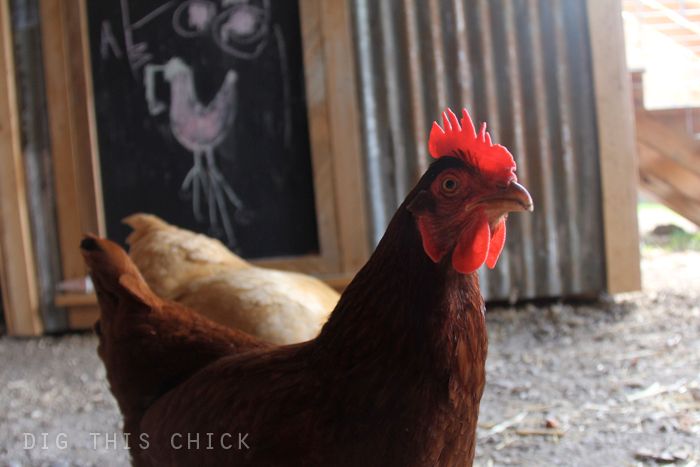 And! Here's our coop.
It's a beauty, as is my husband's natural way of doing things. Even things like the second coop (here is the first coop) in the fourth location for the chickens he never wanted. Sure he enjoys the eggs and the joy they bring our children and me but I do believe I've used up my spousal favor punchcard when it comes to chicken coop moving and building. When we lost three hens in a massacre last summer, we rallied a team of neighbors to move the coop again. It was cumbersome, we had to remove part of the fence he'd just built. In the late summer heat, tired kids sounding out, sweat still on our brows, I cornered him and said I understand this has been expensive and heartbreaking. Let's just finish the coop and sell it. I'll find homes for our hens. He surprised me when he said no. He didn't grumble or complain. Hip to hip, he one-arm squeezed my shoulders, the way he always has, and said he liked how happy the chickens make me and then mumbled a few words about some extra bedroom attention coming his way.
At that time (summer 2012) the coop wasn't sided or trimmed out and I was fine with that. I could have lived with it that way forever, especially appreciative of my husband's patience and investment.
I also knew that if I waited until his inspiration struck it'd be knocked out in a day. And that's just what happened. One morning, a few months later, I read The Sneeches with Margot and Ruby while sipping coffee. Heaving and piling and banging noises came from below. I smiled, knowing our coop was getting pretty.
We wanted a contemporary, simple, boxy coop. It is very sturdy, framed and then covered with plywood (we bought mostly new framing material and plywood). We used leftover corrugated metal from our fence for siding and Andy dug up bits and pieces of scrap lumber — chunks of decking, chunks of old fencing — for the trimmings.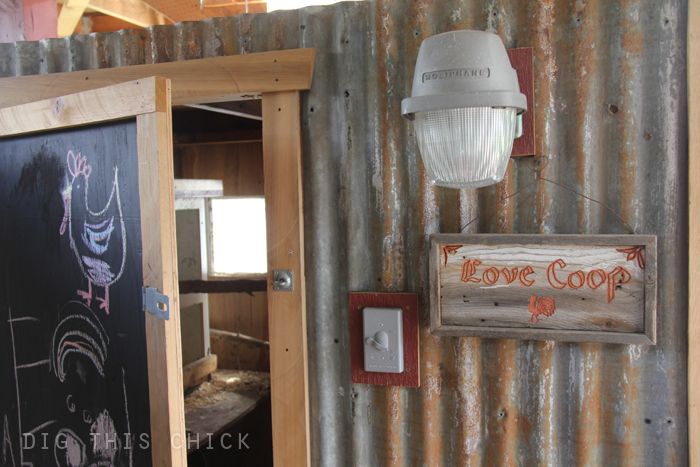 The nesting boxes are an old cabinet ($2) from our local building reuse store. We discovered the girls like to also lay eggs on top of the boxes so my handy Andy added a little lip to the top shelf with scrap lumber. For the roosting poles, we used branches. The window is also from Home Resource ($6).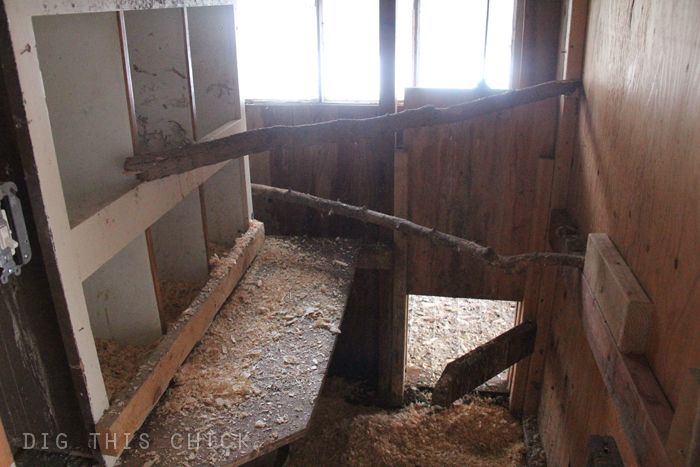 I love the placement of the food and water. We needed a secure spot (inside hen house) for poultry libations. Instead of creating a larger interior space to accommodate it all, Andy made a platform under the nesting boxes. This ensures chicken poop and whatnot won't enter the area. He screwed hooks into this overhang to hold food and water containers. Brilliance.
The coop is well electrified thanks to my foxy Journeyman. There is a light in the coop as well as an outlet for the light we hang in the winter (not so much for heat but to extend 'daylight' hours to encourage egg-laying). On the exterior, is a light that Andy rescued from the dumpster at a job site. And, there is a light in the side storage area.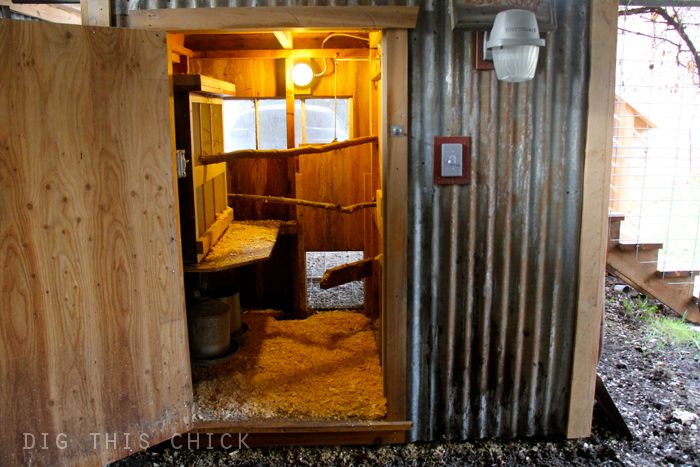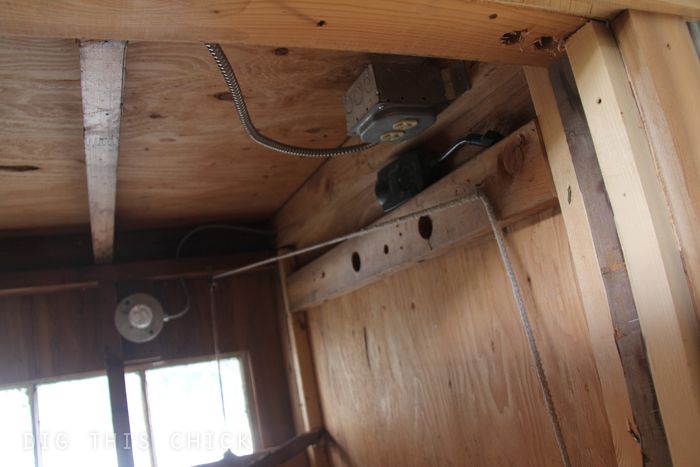 I painted the coop door with chalkboard paint.
This area is also where we keep trash cans and bikes. Next up: leveling the ground and building an enclosure for garbage.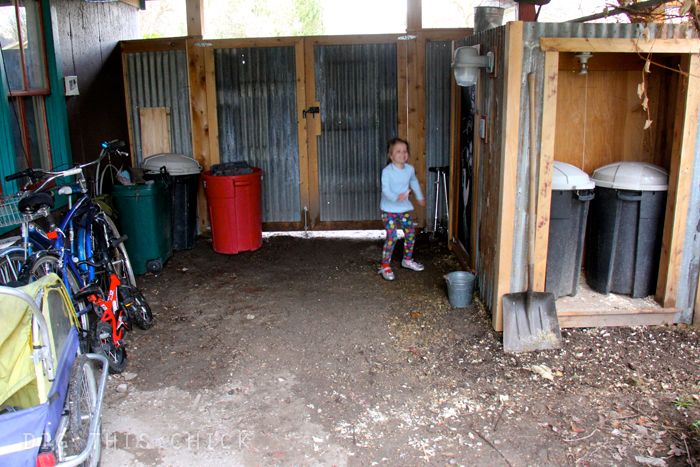 Actually, before that we are digging up the existing sprinkler system that was severed when our home connected to the sewer (before we moved in). Our yard and the patio outside my studio (the apartment we lived in last year) right now: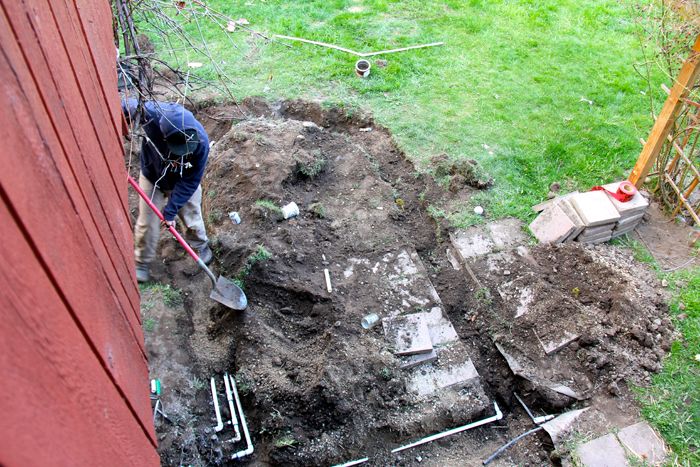 Looking toward our garden and field behind our home. That's Ruby and her beloved Cup who is flying out of her arms in this pic.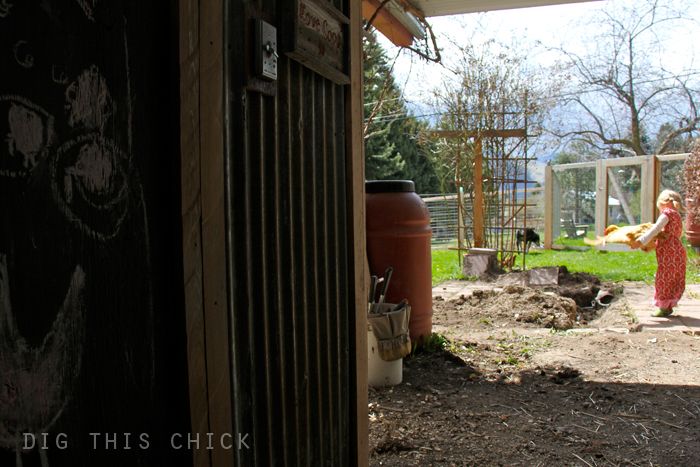 This cubby will get doors this spring. It holds two trash cans: one for chicken food and one for wood chips.
The run is simple and sturdy. And while Alice can't dig under the run, I discovered on this day that she can still access the food scraps we give our hens.
Oh! And there above is the finished railing for the Secret Stairs we built last summer. Another next-up project: removing the old, red deck railing and replacing with framed hog wire.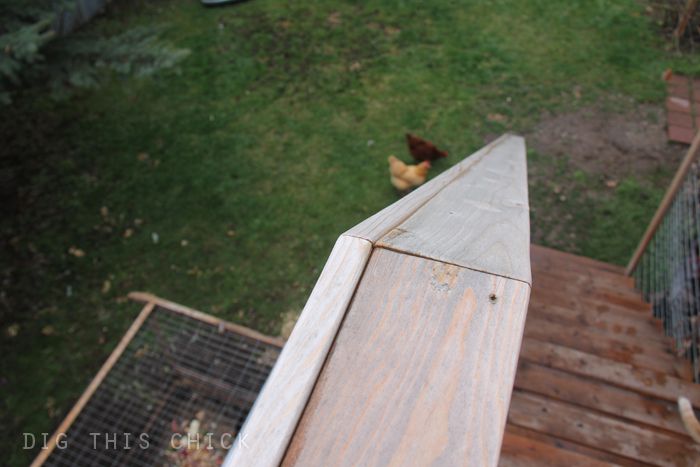 That's it. Hopefully our very last ever iteration of The Love Coop. Cluck cluck.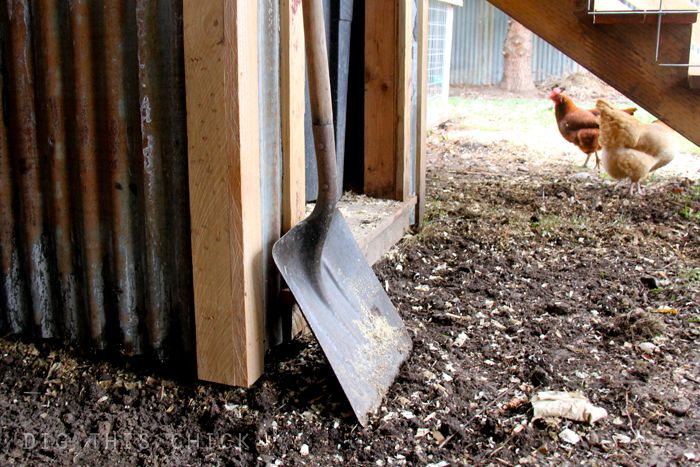 You might also like