We started planning this family vacation about a year ago when my brother proposed to Crystal. We decided we'd save to take two whole weeks exploring the southeastern US and then the possibilities became a nearly-every-day conversation. Do we fly into DC and travel south? Do we fly into Atlanta and do a loop? And so on.
We settled on beginning in New Orleans, traveling east to Destin for the wedding and then finishing in Naples where our friends live. We had a three day window to steer our minivan south through Florida. Andy and I had planned to wing it – perhaps camp at state parks, hike, discover small towns. But then! My dad decided to join our post-wedding journey and he mentioned Disney World. We hadn't really considered it we told him.
That night we started really talking about it, looking at the website and amping. Let's do it! he announced. Cheers!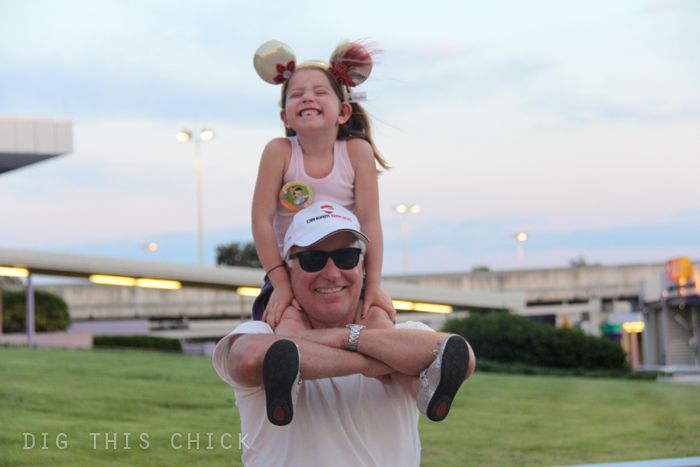 We woke early and made our way to the Magic Kingdom. Our ride buzzed with excitement as my kids shouted out the names of Mary Poppins, Tigger, Alice, Snow White and Ariel! My dad in the back row all smiles, just a few days after his 63rd birthday. I cried, honestly. It surprised me but the tears were there as we drove with hundreds (thousands?) of cars into another world, all for our kids. In a few months I had gone from eh to HECK YEAH regarding Disney.
I went there as a child and I remember the feelings I experienced more than what we did. Awe, joy, warmth, excitement. Holding my parents' hands, skipping with my dad, posing for photos with my brother. It was even better than I remembered. It truly is another world. Parades, singing, dancing, giant balloon bouquets, shiny confetti, boat rides, bright sunshine, life-sized Winnie the Pooh. Magic. Kingdom.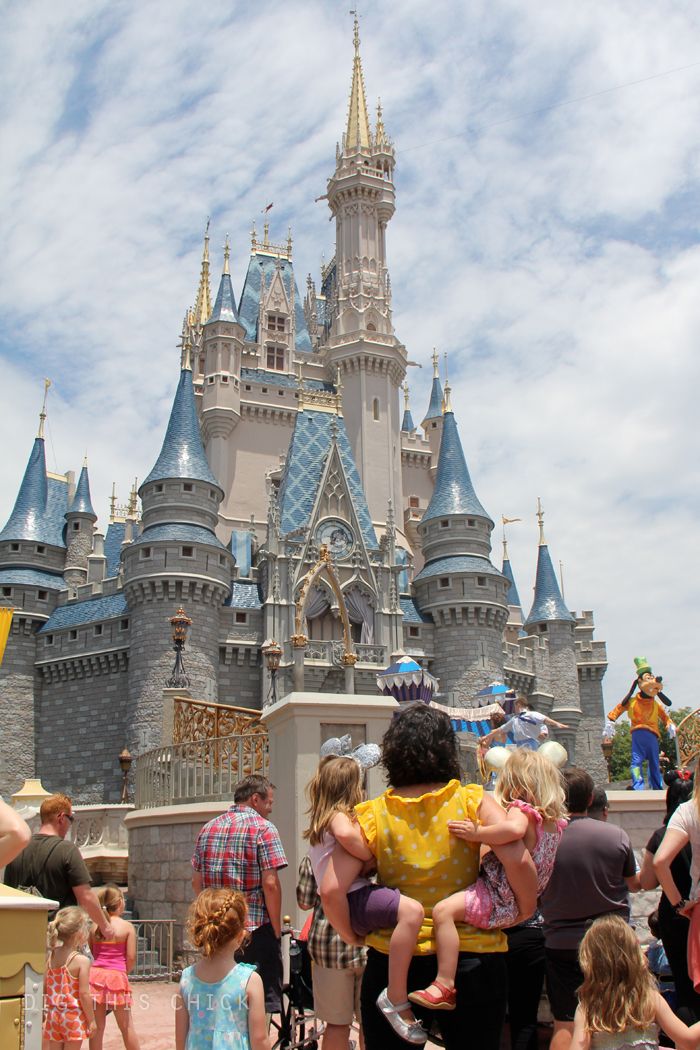 Margot felt like she had found her home, floating on happiness. She put out her hand for her little sister who felt overwhelmed at first. Ruby followed with trust.
Ruby coined a new word-use that immediately became a family favorite: soakin' to mean really. It was first used around 2pm in the when she shouted "I am soakin' HOT!" She adapted its use from my mom who declares anything that is remotely wet (a little bit damp or dripping with moisture) to be soakin' wet.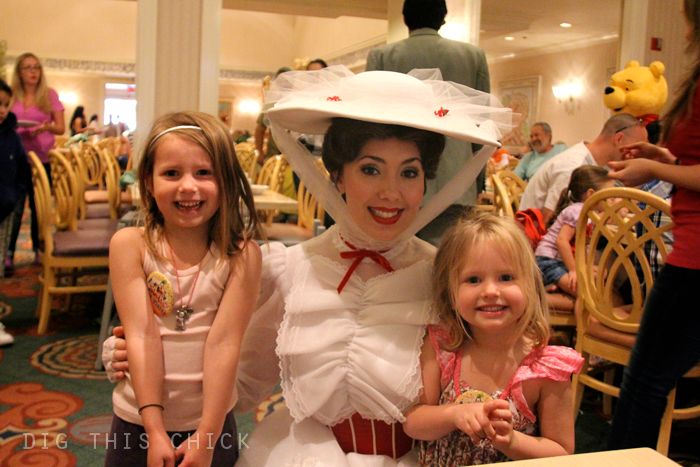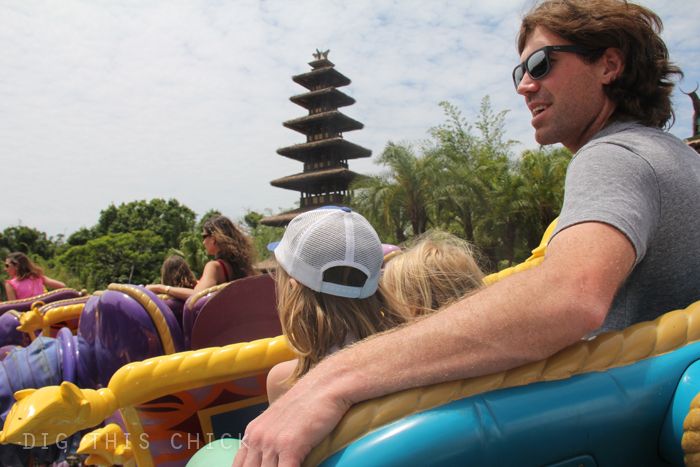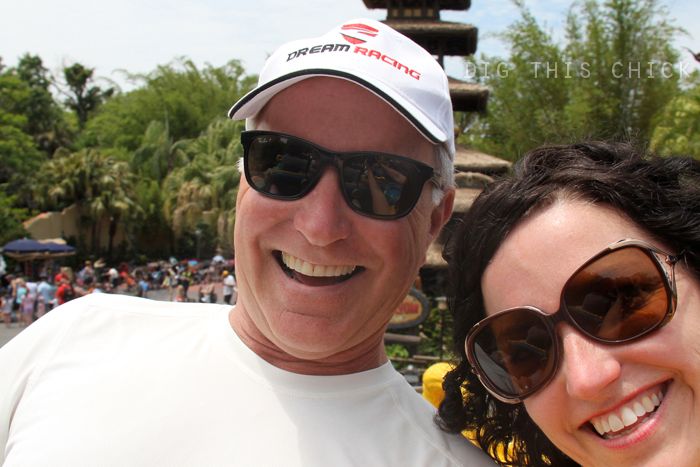 We watched a performance at Cinderella's castle where Mickey and Minnie invited the crowd to chant 'dreams come true.' Andy and I stood with our girls on our shoulders and sparkly mouse ears on their heads as they both cheered and sang dreams come true! as loud as their squeaky voices could sing.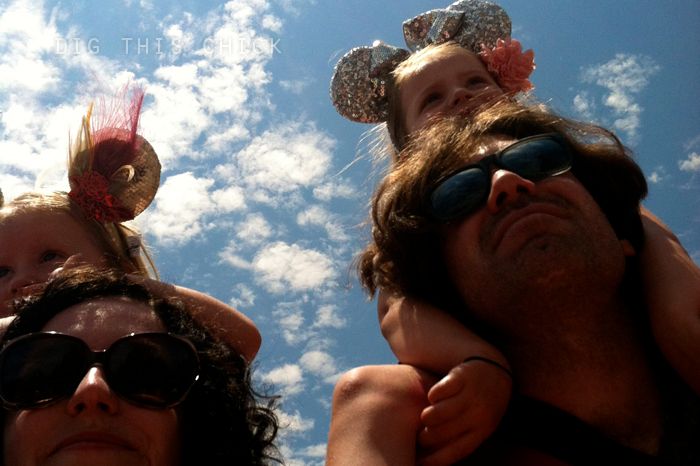 Favorites: It's A Small World, Under the Sea, the castle performance, meeting Ariel (Mom! She told us this is her first time on land!). Margot's fuzzy head was exactly at line for the roller coaster so sister got to experience Thunder Mountain. Twice. The second time was with me and she said "Ok mama. So it's a little scary. Well, more like startling. But all you have to do is smile and scream and then it's so fun!" Indeed.
The stroller rental proved an amazing addition to our crew. By day's end, I wanted a stroller (my aching feet!) but settled for a martini with my dad.
I felt and feel so appreciative for the experience. I kept reinventing ways to thank my dad for everything when he finally said, "Sweetie, you are welcome. This is what it is all about. Your mother and I are thankful to share our good fortune, especially with our kids and grandkids. That's all." And we toasted to that while I made a mental note to be the person who always delights in sharing good fortune.
We all have good fortune to share, you know. Every single one of us. What a soakin' great opportunity.
next up: part 4: Naples with Kelle