A while back I wrote a true tale of the barter for our dreamy range. A bit later I wrote of our excited and surprise journey to an espresso machine. Would you believe I am here to tell the story of our kitchen sink?
Yes, you believe it. Believe it.
On the espresso machine post, there was this comment thread:
And I just want to thank Anne and my friend Caroline who saw those comments and decided to click right over to craigs list where she discovered a sink for sale. The sink we ended up bringing home the next day.
Perhaps I'm lucky in these things but I think it's trust that the right thing will come along — meaning a sink like that or something else entirely or nothing at all because I have exactly what I need. I was fine with any of those outcomes.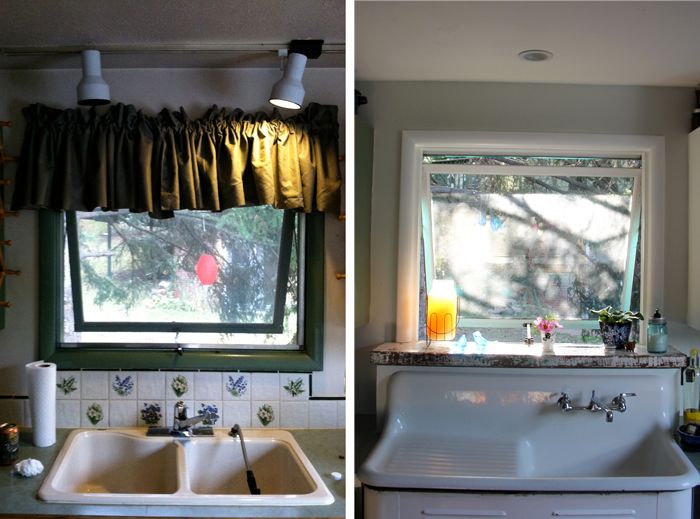 july 2012 // july 2013

This sink was the *right* one simply because of the symbiotic reality of price tag + our means. I've seen many (over the many years I've been wishing for one, late-night ebaying for one) for $400-$1000, most without faucet or base. This one? The homeowner was totally shocked that we wanted such a small sink for our kitchen. He was very kind and repeated again and again that he couldn't believe our family of four was choosing this sink. I'll give you specifics because I know I'd want specifics: we offered $150 and dude said yes. Then when I went to write the check he said with a smile and a grip of my sink-adoring-shoulder, Honey, I'm not taking more than $125 for that thing.
Our sink sat for many months on our front porch. Through several seasons, it endured pinecones, snow and pollen (the whole thing cleaned up nicely with bon ami
). It waited until we were inspired to set it in place. It all happened rather spontaneously, as we tend to approach most everything. My handy man ripped out the old and installed the new-old, first building a shelf behind the sink to accommodate the new-old metal base.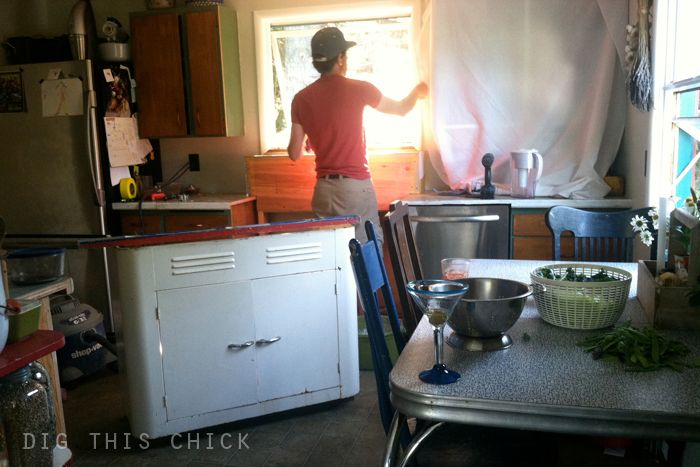 The faucet and drain connection was pretty leaky but we managed to replace o rings and tighten and fanagle it into working order. Honestly, the faucet troubleshooting and drain fixing was pretty damn frustrating and funny — company in town, dishes in the bathtub, lots of back and forths to the hardware store — but it feels like nothing now, a statement afforded by several sink-swoony weeks having passed.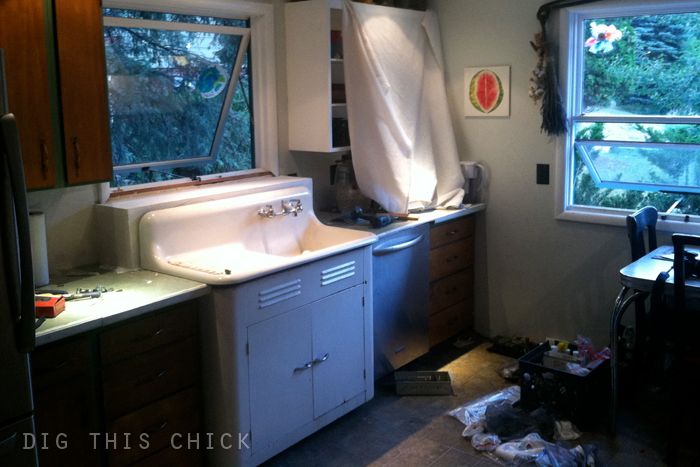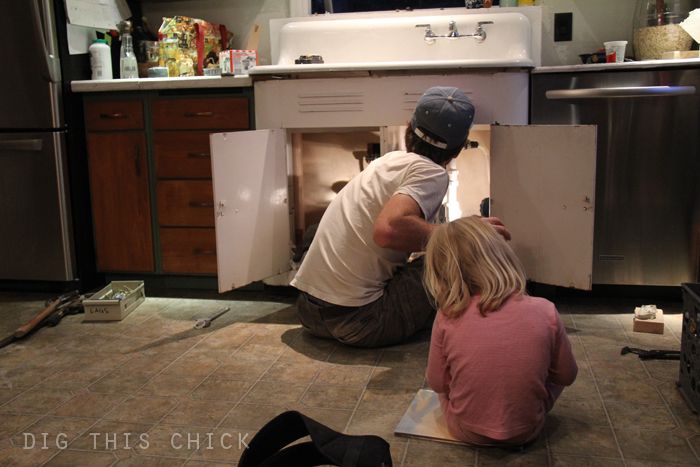 The shelf was framed and sheet rocked, mudded and painted (to match our walls). To finish the shelf top: we found an old piece of wood at our building reuse supply store. Sanded it down, applied a few coats of polyurethane.
Recently, we also tore down a kitchen wall and moved the fridge (as instagram followers may know). Little by little, as we can, we're creating the kitchen we want. Up next: painting bottom cabinets (I am thinking a gray that kind of matches stainless appliances? Or white?) and building a bracket-less open shelf from reclaimed wood. The current open shelf is simply the existing cabinet, doors removed, holes patched, painted white. Some day: counters and floors.

june 2013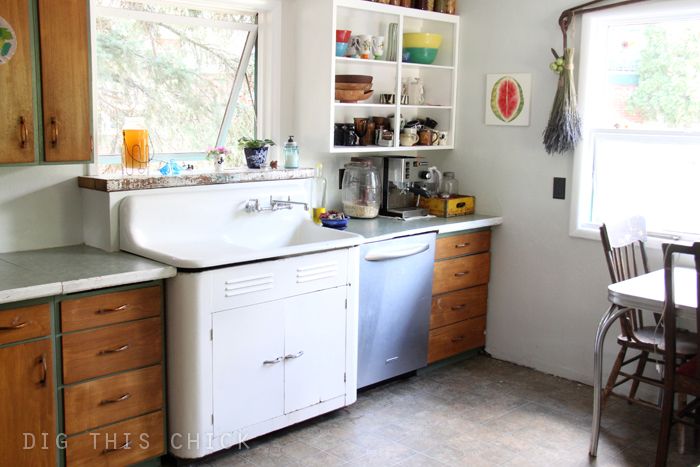 july 2013
I love beautiful utilitarian objects. I am smitten with this sink. I smile every single time I stand over the morning's coffee mugs, over my daughters' growing shoulders, over canning season mayhem, over watching the two baby fawns walk by every afternoon, over watering plants, over crusted oatmeal pots. I love this sink.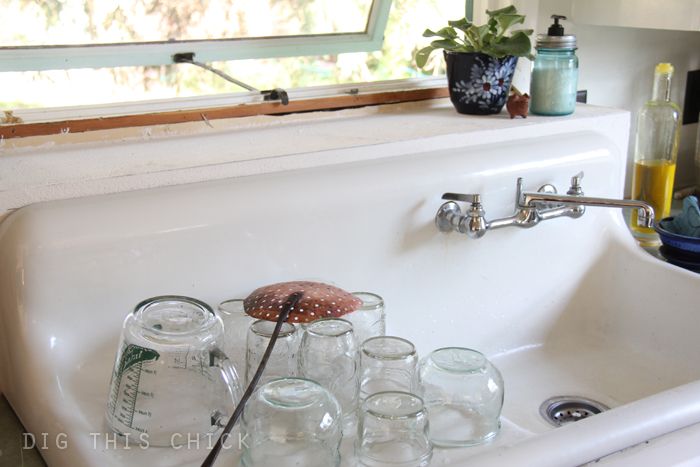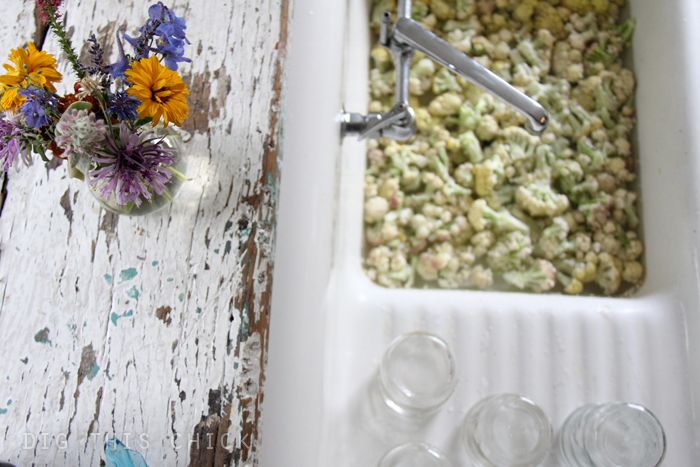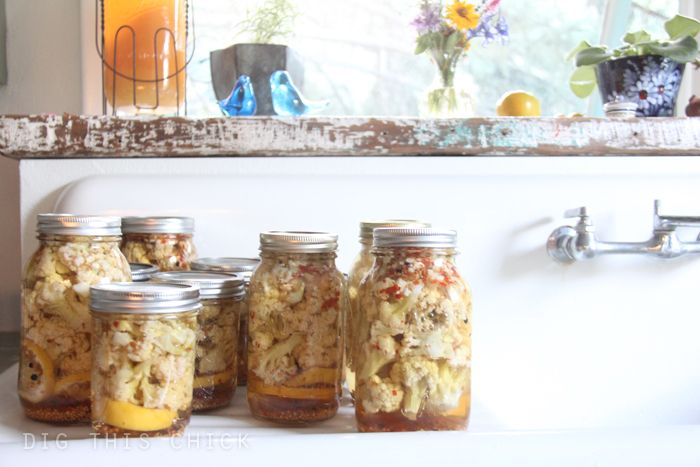 lemony pickled cauliflower, recipe from Food in Jars