I received an email a little over a month ago. The subject line read:
Being an Artist vs. Being Materialistic.
Hi Nici!
My name is Sarah Brousseau, I'm a fellow creator, writing you from Baltimore, MD.
I read your blog posts often, follow your Instagram feed and earnestly ooggle over your newest creations. Whenever I read your words, hear your stories and view the images you take, I feel an undeniable connection to what you're sharing. Many times I find that your experiences help me relate to my own! (As a creative myself, this is what I hope to do for others)

So, you may be wondering, why am I telling you all of this? Well, your latest blog post evoked a question that I ask myself often but have never been able to answer. I wonder, as artists who makes physical objects, how do we translate the isolation from materialistic needs and mindsets to our creations? In my darkest moments of creating, I feel almost guilty for making more "stuff", for playing into the commercialism of art or falling into a business oriented mindset. I was wondering if this something you or your husband have ever questioned? And if so, how have you dealt with it? How, as artists who believe in minimizing materialism, deal with our inherent desire to make more things?

Here's a link to my artist website and personal blog. I make paintings as well as letterpress prints. One day I hope to run my own printing business making greeting cards, stationary and other fun paper goods.
http://sarahbrousseau.weebly.com
http://www.thebeautyofacontinuousjourney.blogspot.com
I look forward to hearing from you!
Warmest Wishes,
– Sarah
One of Sarah's mixed media pieces.
I loved this email so much. It is thoughtful and thought-provoking. I wrote back:
Hi Sarah!

I love this question. YES, I think about that all the time!
I want my kids to be materialistic. Meaning, I want them to make smart choices, invest in and value the objects in their lives instead of buying the cheap stuff that gets tossed. People think of materialism as a bad thing but I think our culture needs more of it, in a certain sense. We purchase the cheapest leggings/vacuum/art supplies that get a hole/falls apart/breaks and throw them away and buy more. And we are disconnected from the maker/seller of the objects we purchase, creating a thoughtless void where there ought to be a handshake.
I love beautiful things. I love making things. And I love to invest in another's beautiful, made thing. I hope that when people purchase something from me it is because they value my creation and will use it well, enjoy it for a long time.

I feel the guilt you feel, at times. I think all sensitive artists do. Wondering if what I do is the best use of my time on this planet, for this planet. And if the answer is maybe or no, I use that information to make changes. It keeps it interesting and intentional. And, having my goals be mostly about doing what feels good and right and alive and purposeful forces my work represent those things.

Thanks for your email.
with love,
Nici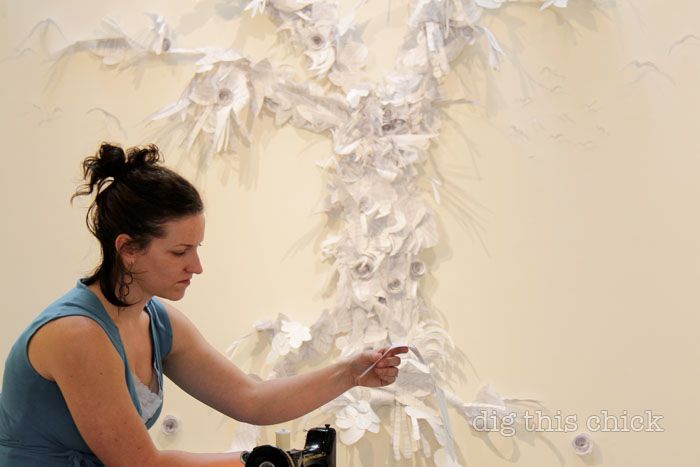 Me, installing a sculpture at The Brink in 2011. This piece was everything I'd written since becoming a mom. I printed it all out, cut it up, sewed it together and used straight pins to attach to wall in the shape of a tree.
Our emails continued and the exchange came up in conversations with friends. So I asked a few pals how they approach their tree-hugging ideals and their need to make things. They said smart things. I hope you'll weigh in too!
PAIGE GREEN
Paige is a photographer and one of my very best friends since we met in the University of Georgia dorm bathroom in 1996 when I was all angsty and bulimic and dying my hair red. We bonded over being two of the only women not in a sorority (at least it felt that way), art, love of animals, environmentalism and cheap beer. 20 years later, it's now much deeper than that. The first image is of Paige documenting the second image.
"Yes. Totally. I feel that way… which is why I don't create "stuff" often. And that is one reason I had trouble in art classes in school, because of the waste of paper, resources, chemicals (paint, turpentine, dark room stuff.)

For me, taking photos of people's lives feels ok. It feels like a more worthy way for people to spend their money than on expensive jeans made in Malaysia that pollute the environment and hurt the people making them.

The truth is we live in a capitalist society driven by consumerism. If we don't shop and spend money, we are all out of luck. Teaching people how to consume smarter, better, more thoughtfully… by supporting local artists who are sourcing their materials in thoughtful sustainable ways is the best thing we can do. Bring it home. Bring it local.

We need art and creative people to survive. To feed our souls. If you are making "stuff" you don't believe in that doesn't fuel your soul then you are probably contributing to the problem. If you are making art and inspiring community and encouraging people to think about sense of place and their connection to people and the world, then you are helping make the world a better place."
BOBBY TILTON
Bobby is an artist and retired art professor from the University of Montana. Bobby taught art education at the U when I was there and, while I never had a class with her, I was always drawn to her big love. And then, years later, she emailed me and said "we are selling my parents house and this might sound wild but I imagine your family living here." I told her thanks but that we weren't looking for a house. Long story short: we now live in that house! And Bobby is my neighbor. My kids have French Toast with her every Friday.
You might recognize this piece! We own it. A  fun story: Andy and I were in art school, no money and loved this piece. We went to a benefit auction and placed a bid of like $50, knowing there was no way we'd get it. We got a call the next day saying we'd won! We panicked, worried our bid was misread but, nope. One of our other professors – MaryAnn Bonjorni paid the difference as a gift.
"Should we (as artists) bring more stuff into the world?

Many objects are brought into this world with the "sole" intent of making money.

Some objects are made with the "soul" intent of bringing beauty, comfort, joy and dare I say love into the world. Some objects are beautifully birthed into existence to help us think.

How do we spend our life blood? How do we "make it" in this world?

We make and choose with intent. Watch for the aura…you know when its there."
ELISE ROTHAMEL
My cousin, my sister. Elise is one of the most creative people I know. She works with photography, clay, glass…she turns everything into art. And she teaches art in Bend, Oregon. We have many stories but here is one about the creative process: when we were 6 and 8 years old, we slept over at our grandparents home. We stayed up all night watching the Sound of Music and whispering under blankets with flashlights. Then we had a great idea to get up and make breakfast! We'd surprise everyone! So we got out the flour, eggs, milk, sugar, baking powder. We laughed quietly as we mixed many different concoctions in many different bowls, all to be pancakes. Our grandparents weren't as thrilled as we'd hoped. I couldn't get a photo from her of her making art so here is one of us as kids. She made this image into a magnet for me long ago. Another of her glass work.
"I guess for me, the need to create is something I have to do. It's a need in me and I fulfill it. I honestly don't feel right when I can't make art and create something. It's my therapy,So to speak. My lifeline. We all have things that we need to do to help us live in this world, and for me creating is one of them. It helps me to be a better person. A better me. I can only hope that others find joy in my creations as well. For me giving the gift of art; being a teacher that celebrates art is one of the best things I've ever done in my life. Sometimes in this crazy world, art is the only thing that makes sense."
BRAD BERNHART
Brad is the artist and genius behind Earlywood. My husband grew up skiing with Brad and I've known him since high school. He is dear friend and one of my very favorite people to talk business with; we have handmade/ecommerce pow wows whenever we can. We just had one this last weekend in Red Lodge!
"We (at least here in the US) live in a capitalist society. As a result, supply and demand are always hard at work filling gaps, setting prices, spurring innovation, and creating opportunities for those who pay attention. I know that if I don't make what I make (wooden utensils in my case) then someone else will. So, the net result is that someone is going to be making what I make. It's me, or them. With this in mind, my goal is to make the kind of product that is not disposable, but more like an heirloom. I strive to make utensils of quality and designs that will be kept in a person's kitchen for 50 years, then passed to grandchildren. This is how I see it is possible to create while reducing waste at the same time."
ANDY CLINE
My beloved partner, lover and co-parenter. Among the many things he is good at, Andy paints contemporary landscapes. He portrays the current state of land — it's use and evolution and how it interacts with interstates, construction, humans and animals. The top image is Andy at work in his itty studio using his itty paintbrush, the bottom of him in at the Orange Street Food Farm holding a recent article about his work that you ought to read (#proudwife).
"We all place value on certain objects. If a person has a real desire to create something, they should do it. In the very human need to make art – that is enough. If we have good intentions and big desire, we don't need to think about it so much. We just need to make it. And hopefully share it with others."
ON MAKING ART WITH KIDS.
I feel strongly about using natural and recycled materials. Art and craft supplies can be obscenely wasteful. Or, not at all. The last real body of artwork I made and exhibited used dryer lint, eggs and thread clippings. In our home, we forage for seasonal bits or reuse materials from recycling. I get the allure of the craft store. And, you can do so much with what is laying about.
A valentine garland my daughters and I made many years ago. They painted scraps of white and cream fabric. I stuck the fabric to newspaper with fusible interfacing. We cut hearts and machine-stitched the hearts together. I was taking photos of it this morning when I noticed all the cut paper on the floor! See my thoughts on this below. I tell you: my kids are scissor-crazed fanatics with paper.
An equinox mandala art project I taught Margot's second grade class:
A fall garland made from leaves and cray-pas:
Our holiday candle holder: stick, glue, glitter, drilled holes:
I have also discovered that quality art supplies make all the difference in both joy and endurance. Literally, 100% of the time – when I buy cheap: they expire quickly and fail to produce the consistent marks my kids want. Tips break, watercolors crumble, markers wilt. When I invest, we have these supplies for years instead of months. And the quality is consistent and excellent. Actually, "twice as expensive" ends up being a "less than half the price" in the long run — more enjoyable and lasting. Hmm, 'tis the case most of the time.
I've made the mistake of buying one of those "affordable" art kits, wowed by all those supplies neatly organized and at the ready only to discover the paint trays have a skiff of paint, the crayons are so waxy that color can't get through and the pencil tips snap every other stroke.
I don't want to call out specific brands that I find unimpressive; instead I will list a few of our favorites (nothing sponsored post here, just what we dig obv. I will of course always be open about that!).
Faber Castell Colour Pencils :: Tips rarely break, vibrant color.
Sakura Cray-Pas. The junior Sakura sticks are great for toddlers who might not take care of supplies — they are cheaper both in price and quality. Once kids develop a love of mark-making with oil pastels, the upgrade to this set is worth every penny.
Stockmar Beeswax Stick Crayons :: We've had one set of these crayons for years. Great color, no breaks.
Art Alternatives Pocket Watercolor Set :: Ruby especially loves to paint; this tin is durable and the bold paints last like 10x longer than the cheaper brands.
Prismacolor Scholar Graphite Drawing Pencils :: Have you ever drawn with a 4B pencil? And then a 2H? There's no going back to the yellow #2.
Pentel Fine Point Color Markers :: These markers are bomb proof! They last and last. Even when the lid is left off for a few hours, they draw like a boss.
Paint Brush Set :: My kids actually use really nice brushes because they get their dad's handmedowns. Do yourself a favor and skip the crummy, bristly packs sold in the kid art aisle. They are nothing but frustrating and for a bit more money, one can move the paint effortlessly.
I bought Kids Create! Art & Craft Experiences for 3- to 9-Year-Olds at a local book exchange a few years ago and it is a go-to in our home. We especially love all the clay recipes; We used the salt dough recipe to make this LOVE banner that hangs over our bed:
All Year Round: Calendar of Celebrations is another favorite creative book. It is full of stories, recipes and activities that honor the ceremony of season.
Let's talk paper. I take paper consumption seriously. We don't use paper towels or paper plates. I don't buy wrapping paper unless it is exceptionally beautiful and will be reused many times. I only print double-sided and reduce the size. We only use 100% recycled toilet paper (I kinda can't believe anything else is even legal)…you get it. A challenge in our home is that my kids FLY through paper like little artist maniacs when we make stuff that includes paper. If we simply leave a something that is paper – a bill, a magazine, a list – lying on the counter, Ruby will scoop it up and get all Edward Scissorhands on it.
So, our general approach: use garbage or found objects (paper from recycling bin, cardboard boxes, wood scraps, rocks, pinecones etc) except when my child has a vision and intention to make something on real, nice paper. Then we use real, nice paper and we treasure it. I'm trained as a printmaker and painter so the feel and weight of paper is something I deeply appreciate; lovely paper carries marks in a way that feels like flying. So, every so often, we splurge on great paper and have a holy experience in making something worthy of for-keeps, for us or a loved-one.
Additionally, I've found that my girls cherish blank books. The small, bound object is valued and cared for in a way loose paper just isn't. If you're a friend of mine, I've likely given your children blank books as gifts. And I won't stop.
I made these adventure journals for our road trip last fall. And, they are now available, customizable, for sale in my shop!
One last thing: art-making doesn't need to result in a thing, right? Right. It doesn't need to be finished. It doesn't need to hang on a wall. Kids get this: they stack sticks, construct fairy lands, build forts, arrange beads, doodle on scraps without any need for it to become something else forever.
So, back to Sarah's question about the reconciliation of what we add to this world with what we want this world to be for our kids and their kids. I think we know how to do this. I think we know when we make a purchase that is wasteful, use a thing that is selfish in its ease. We understand we are creatures continually trying to make sense of our own contradictions. We know what to do, we just have to listen to and act within that knowledge. And, goodness, we must never ever stop making art.
I like what Bobby said:
"We make and choose with intent. Watch for the aura…you know when its there."
You might also like