It has been a while since I have written…death of a woman I love so much, family reunion…now I am HOME.
:: :: ::
To me, living sustainably isn't about organic food and recycling. I mean, it kind of is, but my life sustainable means eating local food that is in season and reducing the amount of recyclables I produce. A big part of this for me is growing my family's dinner. So, I have been working my tiny urban plot for years and I think I finally have it figured out (or almost) so that I am not just growing tonight's dinner, but I am growing food to live on when the soil hardens and the green fades to gray.
It has taken practice and thoughtful planning to make this happen in my 20×15′ garden. My goal: Planting successive crops at the exact right moments so the harvest keeps coming. I am definitely still learning and inevitably grumpy with stupid decisions I make. Like, planting my carrots in many short rows across a long skinny bed. That makes the soaker hose placement look like a lame contemporary line drawing.

In March I planted arugula, peas and greens. It was a bit early this year because of our seemingly never ending winter. But the seeds fared just fine and came up as soon as they were given the chance.
In April, I harvested all of the arugula and greens and pulled those bolted plants to make room for beets, spinach, radish, lettuce, carrots, potatoes, onions, more peas (LOVE peas). After danger of last frost (or so I thought), I planted tomatoes, peppers, cabbage, eggplant, basil, winter squash and beans.

Now we wait and harvest. I love picking spinach and peas straight from my plot and, after a quick whirl through the food mill, bug gets dinner. We also have radish and a few more weeks of rhubarb and strawberries. If I had wed in May or June, I would have carried a giant bouquet of rhubarb.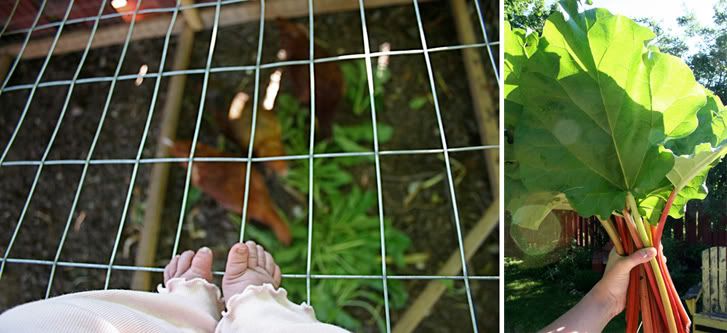 I think I would have been a good homesteader. But I would have had a hard time without essential items like my hairstylist and refrigeration.
You might also like