Today was my last harvest. In the rain-sun-rain I grabbed the last of my carrots, beets and cabbage and yanked the leathery, sorry tomato, pepper and basil plants.
I am ready for hardy soups and flannel sheets. Partly because I am excited to start over next spring. And the only way that can happen is if the soil freezes and absorbs this year's organic material (how do worms survive? I always picture them in tiny sleeping bags with a straw that poke out of the crusty surface to bring them air while they are frozen and immobile).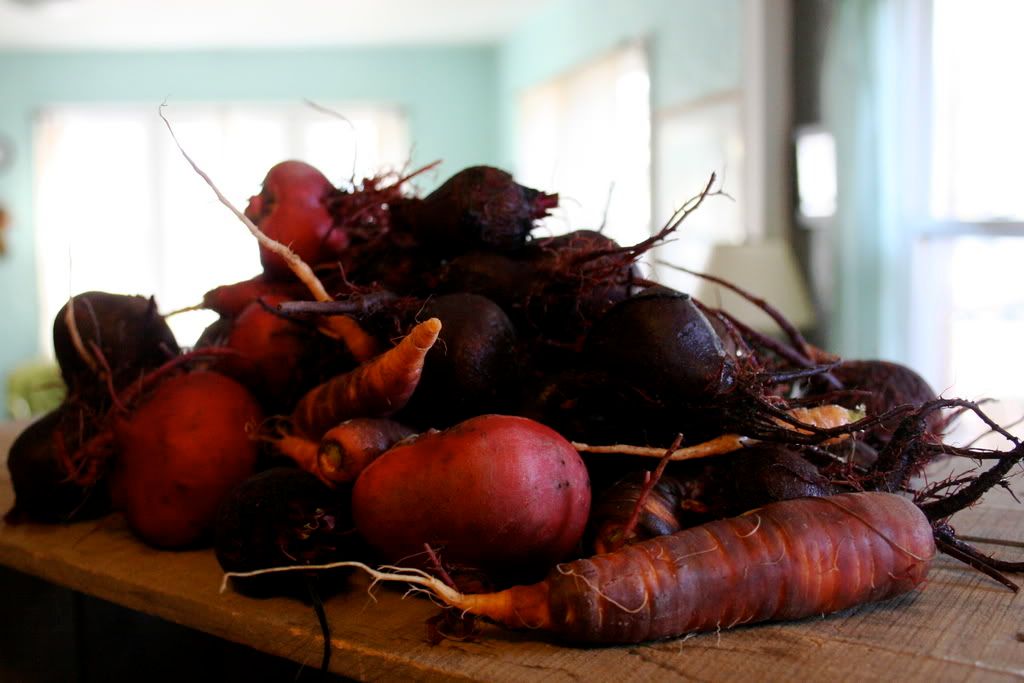 The truth is I am disappointed with how my garden wound down this year. My tomatoes worsened and definitely had bacterial spot or maybe blight. I didn't investigate too much because they were still producing and the season was ending and I have a really full life right now and didn't prioritize my plot as I would have liked. sigh. After harvest the tomato plants went straight in the trash. Tragic because they are one of the best over-winter garden loungers, warding off weed-seed germination with their thick web of wilted greens.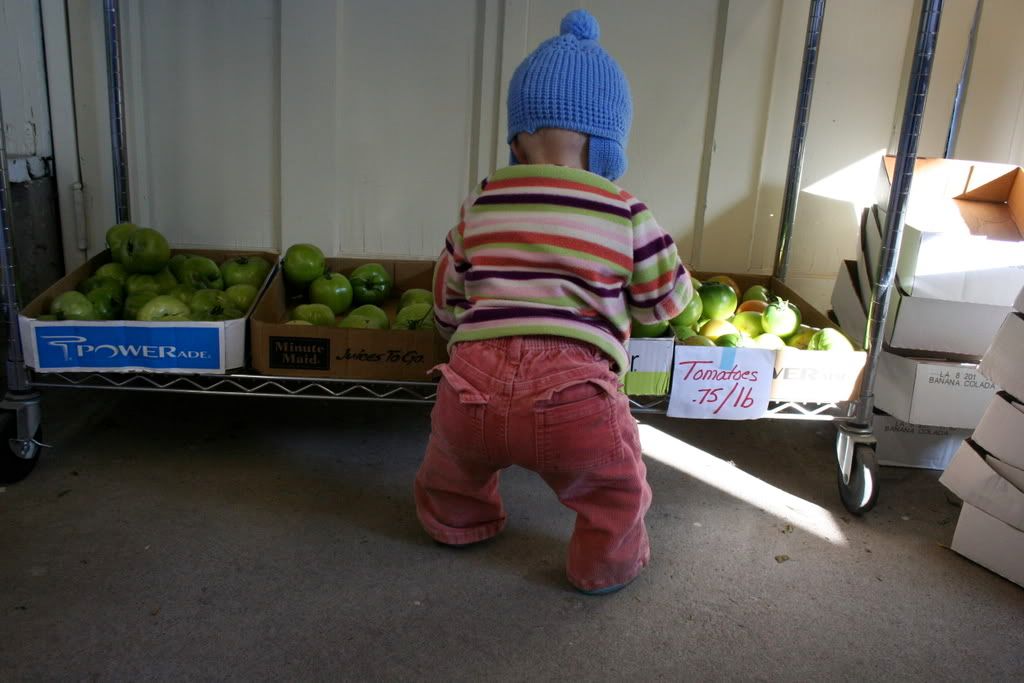 I am very satisfied to have purchased a pumpkin instead of having a pushy plant that bullies all the other veggies in my modest plot. Bug and I went to our neighborhood farm to pick it out. She also helped me pick out some green tomatoes because I made an extra giant batch of Green Tomato Relish Salsa Delish. Anyone else super disappointed with Ball's new canning lids?
On Monday I get boxes of apples and pears from a generous friend so the preserving continues. We won't starve this winter. In fact, we will eat local fruit and veggies for several months at least. I feel great about that.
So, it's on to making that quilt that has been in pieces in my basement, painting my hallway, skiing and holidays which means eating and drinking and kissing on my loved ones. And then, it's almost spring and time to pour over seed catalogs into the wee hours of the morning while Andy pleads babe, please turn out the light and go to sleep. And, THEN it's spring and time for arugula and rhubarb.
And so it will be the beginning of it all again. Next year I will have potatoes that'll make Idaho swoon and garlic! I, for the first time ever (pathetic, I know) am planting garlic. Today.
You might also like