On father's day and summer solstice eve, while Andy was out whooping it up at our pal's bachelor party, I made soup with bug and Alice. And so I call it ahsoup because Margot has this charming habit of adding ah in front of single syllable words.
It wasn't just any soup but soup made from an item one would certainly otherwise toss to the chickens or compost. Radish greens. It pains me to toss the greens of radish and rhubarb in partic because it is so meaty and just must be full of good-for-you stuff. So I inquired with my pal, google, and found this recipe. What did a girl do with this kind of question before google? I think she most likely tried it with great hope. She was wishing with all her being that it'd turn out because she was with back pain and nine children and used the last of the household's wood to light the fire that boiled the soup that turned out like poo and they had to eat it for days anyway, cold, because the papa wouldn't be home from elk hunting with for another two weeks. That's what it was like before google.


my girls are always underfoot in the kitchen
But I have the privilege of typing eat radish greens? on a tiny, white piece of metal and plastic and in .37 seconds a recipe with 22 reviews telling me it is great is right there in front of my eyeballs with the option to print. neat.
So the soup turned out fabulously just like all those reviewers said it would. And I got to use the two Greatest Culinary Inventions Of All Time. The immersion blender I have talked about often but the supa slick herb scissors are a new gift from Laura. *magic*

as if scissors weren't cool enough
I made some changes and below is the recipe with my edits.
:: Radish Green AhSoup ::
2 tablespoons butter
1 large onion, diced
3 medium potatoes, sliced thinly
4 cups raw radish greens
4 cups vegetable broth
2 tablespoons fresh thyme
2 bay leaves
1/3 cup (or so…) heavy cream
salt to taste
Melt the butter in a pot over medium. Throw in the onion and cook until soft. Add potatoes, radish greens, broth and herbs. Bring to a boil and then reduce to a simmer. Cook until potatoes soften. Remove bay leaves. Use the Greatest Culinary Invention Ever to puree. Add cream slowly while stirring until desired creaminess is reached.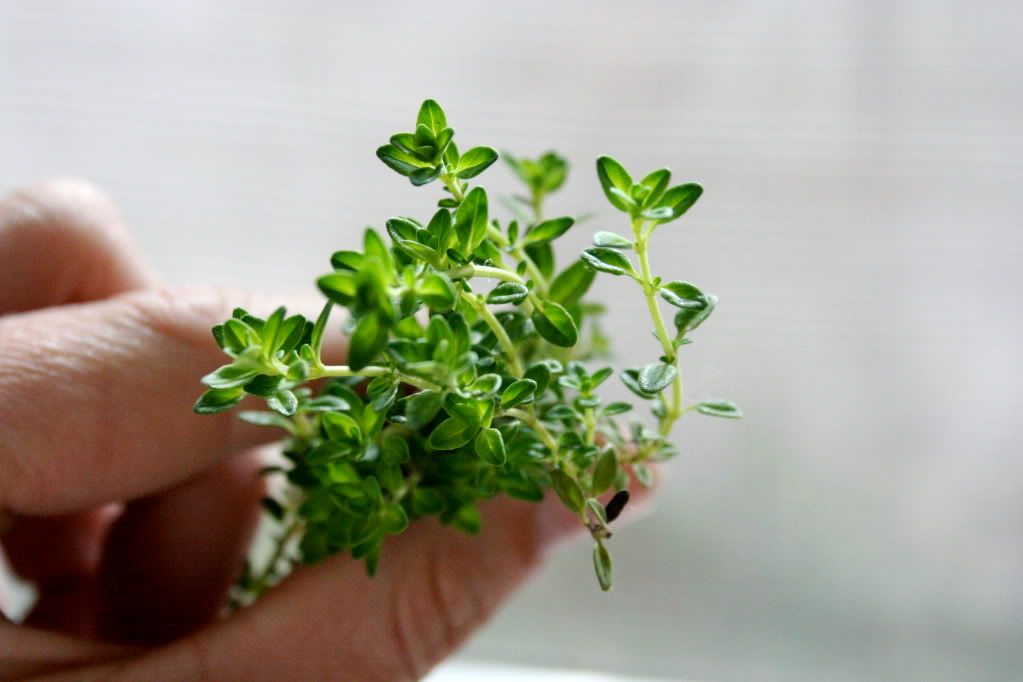 thyme
The original recipe calls for thinly sliced radishes on top and I found the flavor and consistency and aesthetic to be all wrong so don't do that. Even with a pretty linen and artful crop it still hearkens a turd in a punch bowl.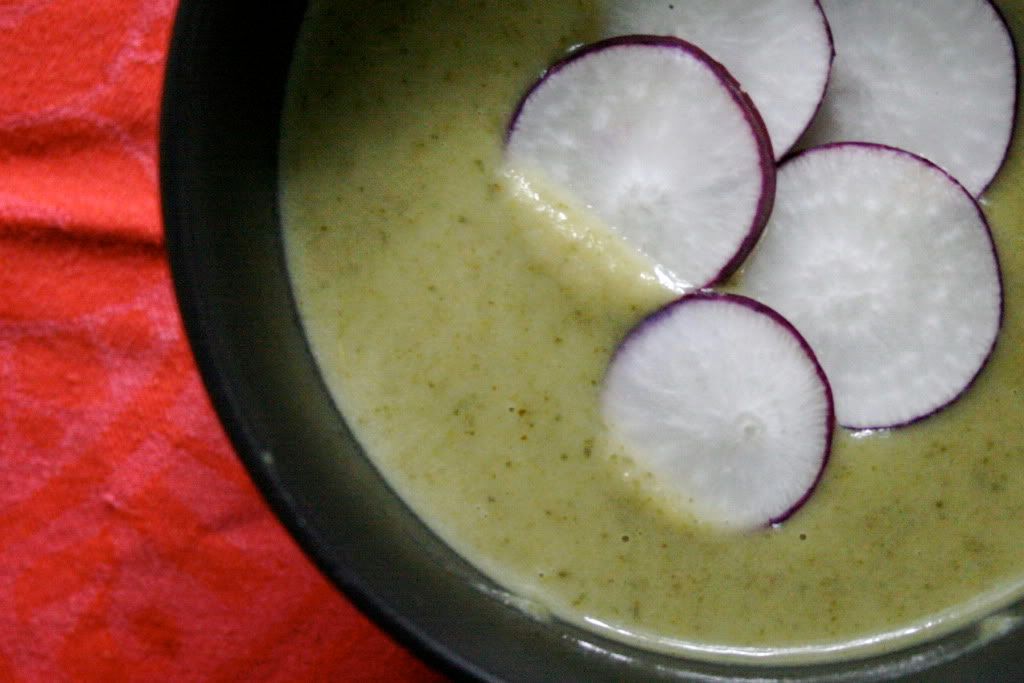 so hideous. I buried the radishes but they kept turning up on the spoon.
Only include the radishes if you have a toddler who would enjoy eating the soupy slivers. Bug gobbled up all my radish garnish. Margot LOVED this soup.

eating ahsoup in her favorite ahcoat
So, many of the recipe reviewers said things like "To reduce the fat I didn't add the cream and instead added a dollop of low fat sour cream…" eh? I am realizing that the world doesn't eat like Montanans do. We eat real butter, extra virgin olive oil, half and half and peanut butter. I know there's a market for all those substitutes but I don't believe they are so much consumed in Montana. Perhaps it's that we aren't often in bikinis.
I added extra cream. And then I made cocoa oatmeal cookies. Now that could sound excessive but 1. I am pregnant and very hungry and 2. In the afternoon I became obsessed with a cocoa powder cookie with oats and 3. I was active today with pilates, a bike ride, gardening and a walk…Again, google assisted and voila. Effing awesome cookies. I omitted the raisins included in the original recipe because my man thinks raisins offend the perfect fruit, Grape. And tomorrow's his day. Speaking of fattening food and tomorrow being his day, I bought him an entire half of a cheesecake for father's day because he had a piece of this cheesecake last week on a work lunch break and barely stepped across the threshold of our home that evening before breathlessly recounting every detail of the life-altering experience he had at Tagliare's. Followed by his exclaiming and, babe, they sell whole cakes! and wondering if it would be nuts if he, every once in a while, ordered one just to have at our house.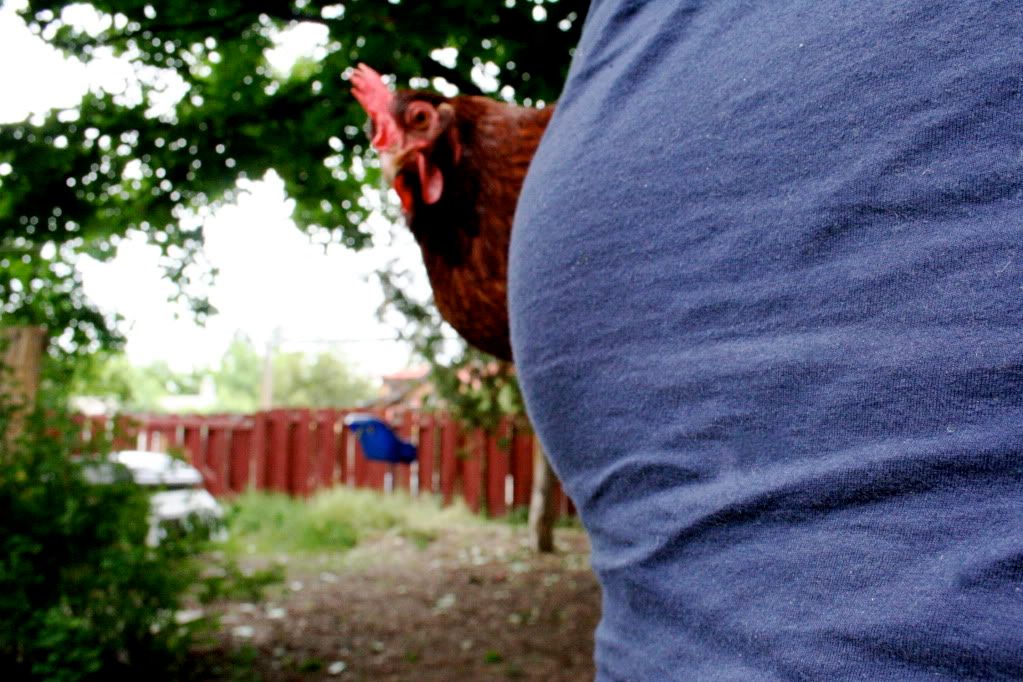 out of context shot of Ida and my belly
:: Cocoa Oatmeal Cookies ::
1 cup butter, softened
1 cup packed brown sugar
1/2 cup white sugar
2 eggs
1 teaspoon vanilla extract
1 1/2 cups all-purpose flour
1/3 cup unsweetened cocoa powder
1 teaspoon baking soda
1/2 teaspoon salt
3 cups rolled oats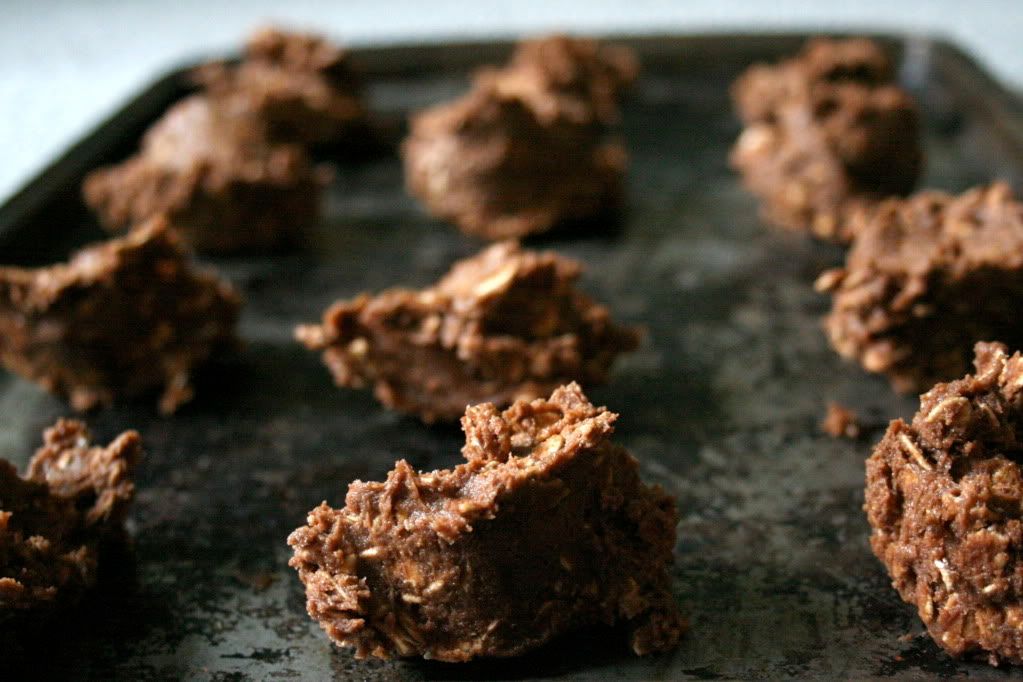 the dough is quite tasty
Preheat oven to 350. Beat butter or margarine and sugars until creamy. Add eggs and vanilla; beat well. Add combined flour, cocoa powder, baking soda and salt; mix well. Stir in oats and, mix well. Drop dough by rounded tablespoonfuls onto ungreased cookie sheets. Bake 10 minutes, until cookies are almost set. Do not overbake. Cool 1 minute on cookies sheets, then move to wire racks or eat five with a glass of milk.

kindof hard to photograph without looking like dog food. trust me, they're tasty
Happy papa's day to all you dads out there, with a special shout out to my amazing and inspiring dad. Hope you have a loving and fulfilling day.
You might also like