Spent the last week in Minneapolis with the family….first time my brother, parents Margot and me were all together since bug was two months old. Just Margot and me traveling and she was a real peach on the plane just charming the socks off of anyone who even looked her way. Although a squirmy toddler playing ring around the rosie on pregnant belly was not the most comfortable game I have enjoyed with my chicken. Especially since the we all fall down is her favorite part and she just pours her every muscle into that fall…whatever works for those two hours is fine by me. The ticket was outrageously expensive but that, friends, is exactly what credit cards are for. My little brother is off to grad school in Alabama and so who knows when our next reunion as a whole will be. It was good.

pre-dinner family walk in Minnesota (aunt, uncle and cousins live there too)
And I am off again in two short days for our dear friends' wedding in Steamboat Springs. Lots of big and important weddings this year. I am officiating and just hope I can make it though without losing my breath (feels like this small kid is vice griping my lungs) and don't have much hope for not weeping through the whole darn thing. SO, wish me luck. And, bug is one of three flower girls. The three names are Esther, Betty and Margot. Sounds more like these ladies are off to sip stiff cocktails while playing bridge rather than toddle down an aisle in pink eyelet dresses (that my mom made).
So not much blogging going on because August is the last of the summer and I am out. Although, when I get back I do have plans to write about tomatoes that rival orgasm, hot hot garlic the color of a ripe bruise, recipes for all that zucchini and other vital stuff.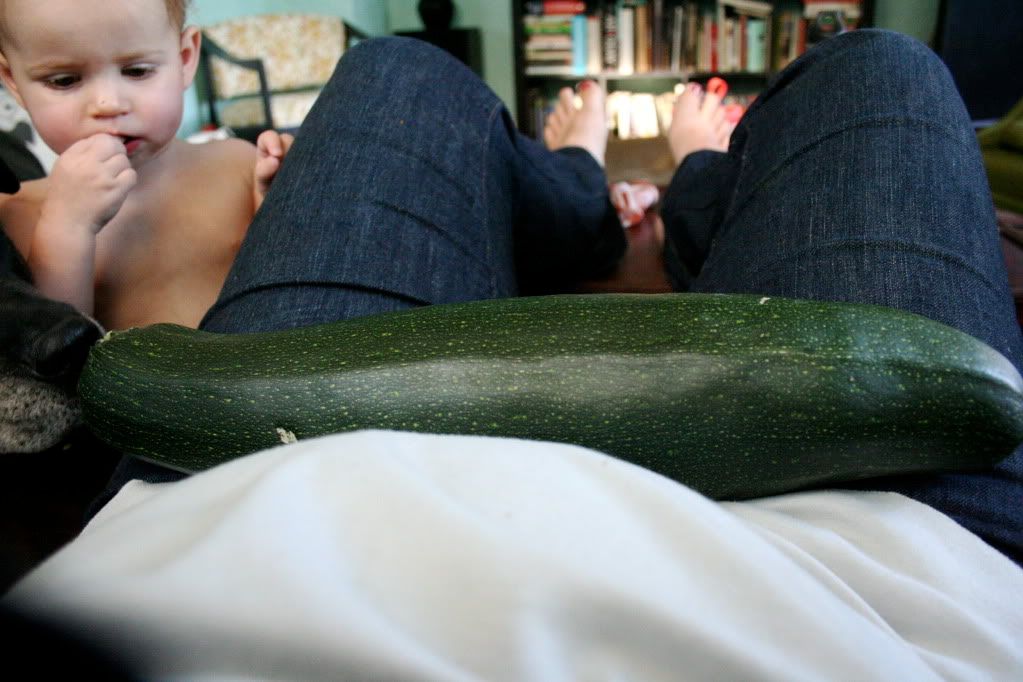 What a zucchini looks like at my house when I leave town. Andy doesn't like zucchini and therefore 'doesn't even notice' the vegetable that takes up half of our boulevard.