I had an exhausting week last week and haven't really been able to catch up because sleep escapes me. I don't even promise an articulate post because this lady is tired.
I woke Saturday morning at 4a and after tossing for a bit decided to just rise. It was actually lovely and quiet and coffee and studio all to myself. I made a potholder. It took me like two hours because I was all this log cabin stuff is supposed to be real easy and I can use up some scraps but then I felt overly (unnecessarily) confident and didn't google it and I started from the outside which any non-sleep depraved person would realize is super stupid but anyway, it was a good two hour 4-6a exercise. And it turned out pretty cute even with the wonkiness.
And then I made peach butter. The favorite canned item in my home that Andy hoards and I have to sneaky give gifts of. It has a lot to do with the peaches from Forbidden Fruit Orchard in Paradise, MT. How sweet is that name and town combo? yes. They grow beautiful, unsprayed peaches and sell them by the box full at the market. *And* they sell seconds for about a dollar a pound….if one is willing to deal with some dents and bugs and split pits, it's a peachy opportunity.
I get so excited when the peaches start to roll out that I am kind of a lunatic about it. The seconds go fast and I am not about to let little grandma with her cute satchel cut me in line. I get my aggressive, crazed pregnant lady-with-toddler on and I get my peaches.
I just love canning. It's in my blood. I feel a real connection to my mom, my grandma and women in the kitchen all over the world both present and past. It's just such a good and true and satisfying thing to do. And it's all passed down through stories and days spent in the kitchen over a hot stove.

canning with bug: 2007, 2008, 2009
So I looked at my post from last year to guide my recipe this year (last year was the best ever fruit to sug ratio) and my recorded yield was way off. I know some of you made the butter and I apologize but at least it was off in a good way….what a lovely surprise this year! 20 pounds of peaches actually yield about 30-36 half pints of butter (not 18ish. depending on how long you cook down). I amended the post to reflect the truth.
What is butter and did you just make it up and why don't you just say jelly or jam like a normal person?, you ask? Well, butter doesn't have added pectin and very minimal added sugar. Butter involves a long, slow thickening of the pureed fruit resulting in a sweetly concentrated spread with distinctly fruity, not sugary, flavor. For example, the Ball book calls for 7 1/2 cups of sugar and one pouch of pectin for 8 pints of jam. I use 2 cups of sugar and no pectin for 18 pints.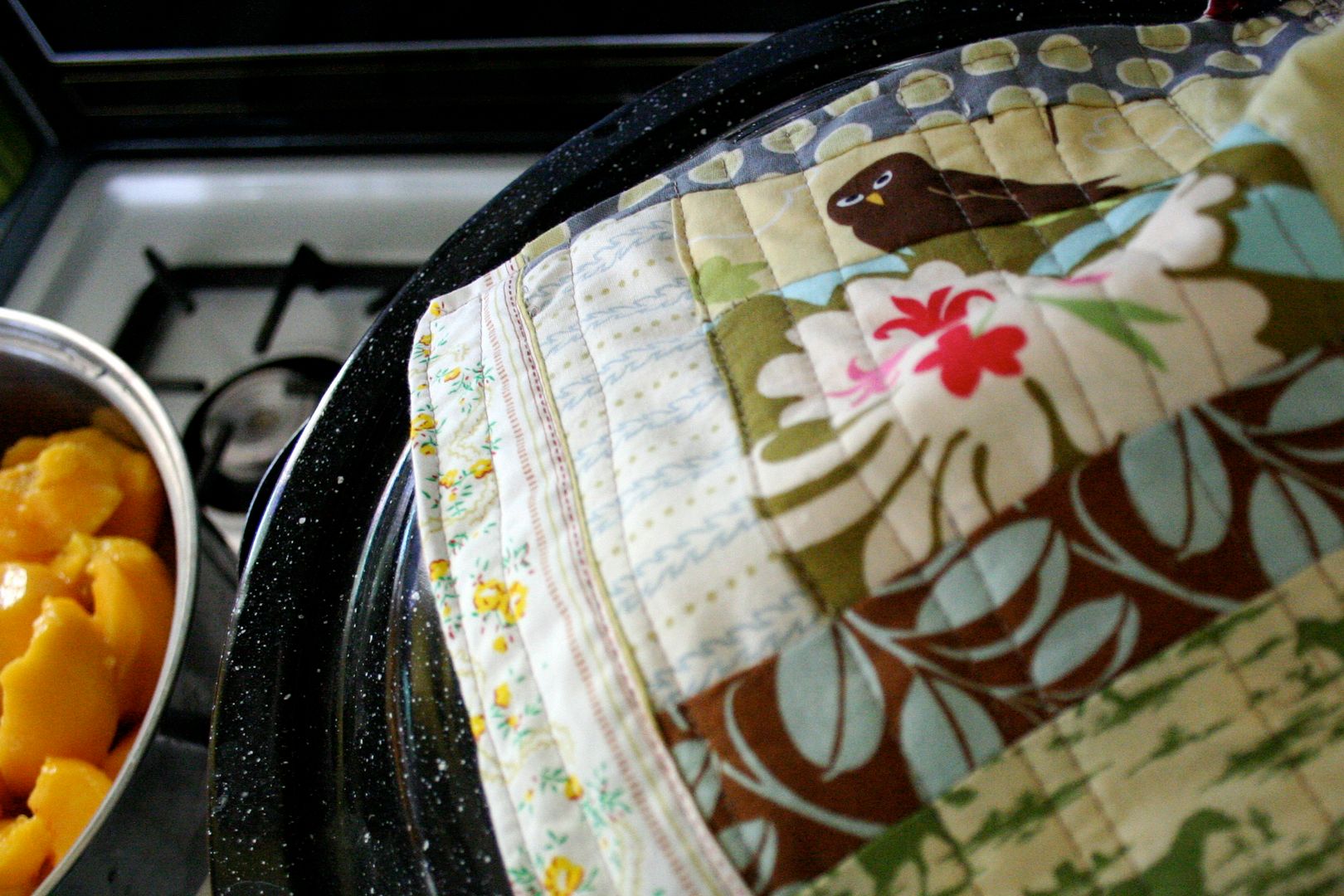 I even got to use the early morning potholder on the late morning butter making!
The result is pure bliss. We add to oatmeal, ice cream, strong cheeses. It's great on sandwiches, meats and herby spreads. And then just on crusty bread with butter and coffee. Make some and sing it.
You might also like