Andy and I are in a bistro club. There are 14 of us, who like each other a whole lot and get together every so often and swoon over incredible food and wine. We always have a theme and last weekend's meal was locavore. In November in Montana, that means lots of meat, cheese, root vegetables and squash. And, yo, it was spectacular. I made a plum upside down cake, which I entirely followed an actual recipe for and that I didn't entirely mess up.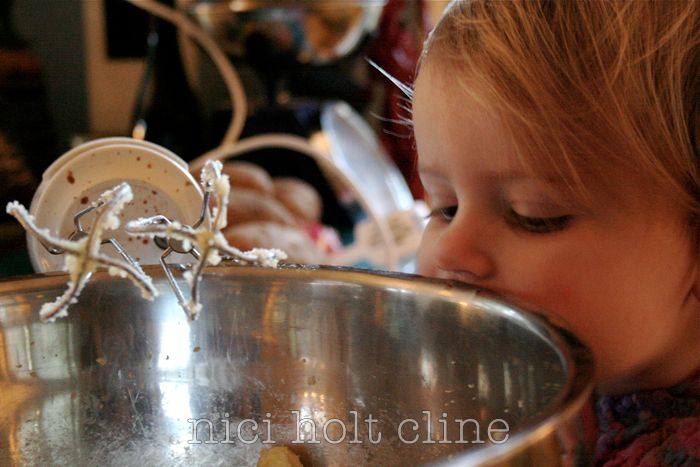 It is remarkable what you can do with *mostly* local-ish food. Meat and veggies are easy, Lifeline Farm for everything dairy, Wheat Montana for flour, backyard chickens for eggs.
For the plum upside down cake, I used non-local sugar, baking powder, vanilla and salt. Otherwise, it's a Montana Plum Upside Down Cake Yo. And with all the steps of adding in batches alternating with milk and separating eggs and whipping to firm peaks and perfectly arranging once-frozen plum slices, I am proud to report that I did it all as the recipe called for (except a few ingredient substitutions) and it was worth it. Turns out, steps like that are there for a reason and not to induce craziness in a nine month pregnant person with a toddler assistant. Maybe I'll even start sifting.
Margot and I had the most fun baking together.
The recipe adapted from Mary Jo Thoresen, published in Food & Wine
1 1/2 sticks (6 ounces) unsalted butter, softened
3/4 cup light brown sugar
2 pounds Italian plums, pitted and quartered
1 1/2 cups whole wheat flour
2 teaspoons baking powder
1/2 teaspoon salt
1 cup granulated sugar
2 large eggs, separated
1 teaspoon pure vanilla extract
1/2 cup whole milk
Preheat the oven to 350°. In a 12-inch ovenproof skillet (or if you don't have an giant, ovenproof skillet, improvise with what you have and a homespun double-boiler) melt 4 tablespoons of the butter. Sprinkle the brown sugar evenly in the dish. Turn off the heat and arrange the plum wedges in the dish in several concentric circles.
In a small bowl, whisk the flour, baking powder and salt. It was at this point that Margot reached in the bowl and carefully scooped out the lump of baking powder resting atop the flour and ate it. No no Margot I said as the ingredient passed her lips. Yummy mama! she said through a chalky grin.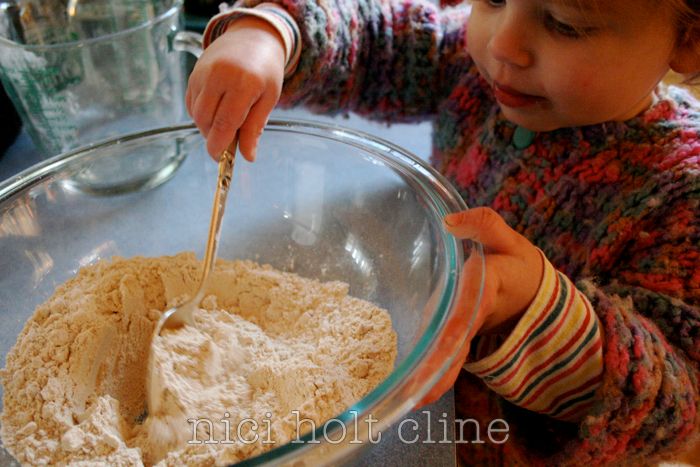 In a medium bowl, using a handheld mixer, beat the remaining stick of butter with the granulated sugar until fluffy.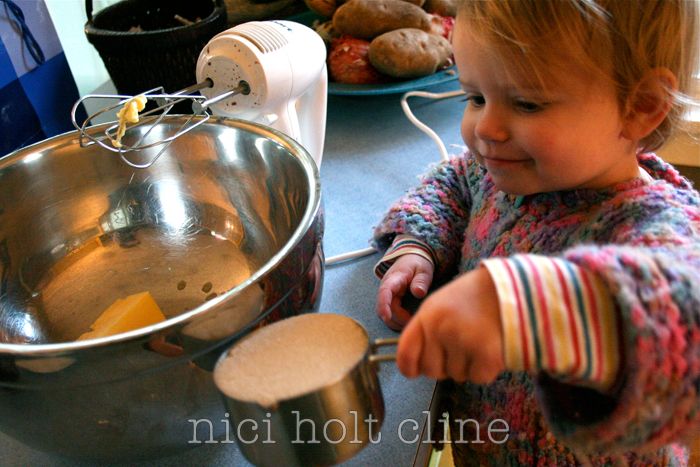 Beat in the egg yolks, 1 at a time, until incorporated, then beat in the vanilla. Beat in the dry ingredients in 3 additions, alternating with the milk.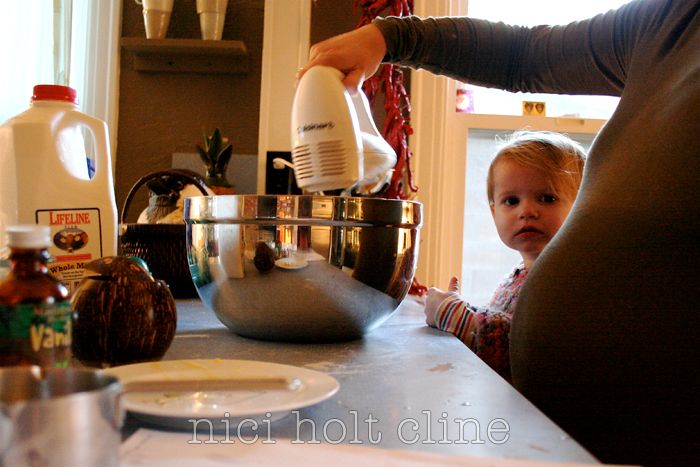 In a medium bowl, beat the egg whites until they hold firm peaks. Using a rubber spatula, stir one-third of the egg whites into the batter to lighten it, then gently fold in the remaining whites. Spread the batter over the plums and bake for about 55 (it only took me 47 minutes), or until a butter knife inserted in the center comes out clean. Let the cake cool for 15 minutes, then turn it out onto a plate. Cut the cake into wedges and serve warm or at room temperature.
It's really excellent and all that jumping through hoops while juggling regarding adding stuff in the right order with the right prep yields a moist, fluffy but hearty cake. Make it. I tried to take photos of the gorgeous finished cake but they all turned out looking like an organ. So, instead, the most telling photograph.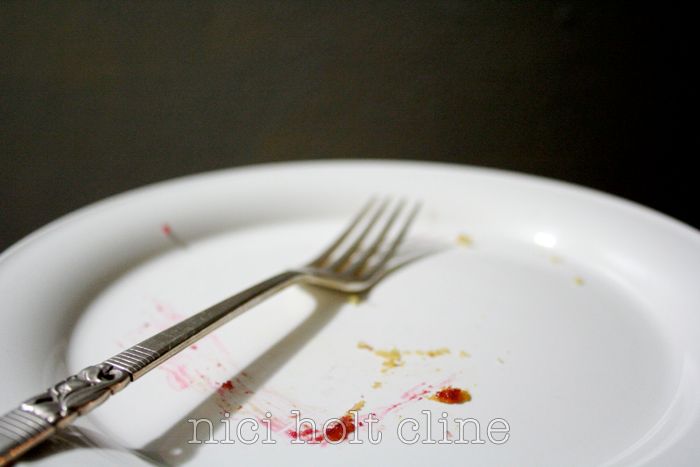 And, it is amazingly fabulous served chilled for breakfast with thick coffee. Or, for little ones, a sliver served with tea.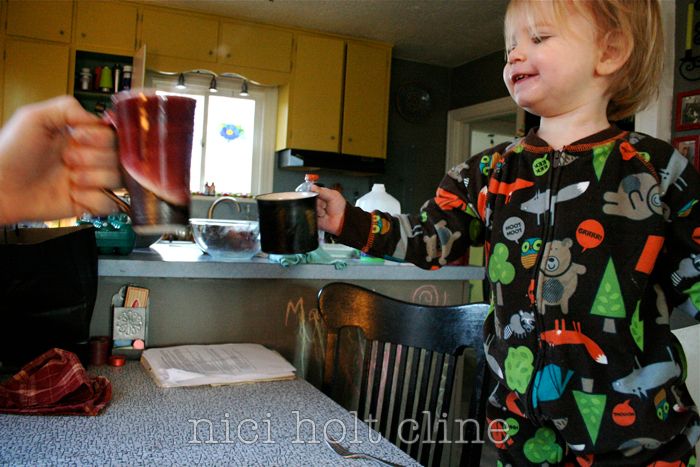 We have several toasting occasions per meal as instigated by Margot. She proclaims CHEERS! This is a Holt trait. I come from a family of prolific toasters.
the bistro club menu:
fried pumpkin ravioli with sage cream sauce
empanadas
creamy squash soup
baked lake trout
oven roasted squash and apples with fennel
beef stroganoff
potatoey cheesy heaven with bacon
chocolate peanut cake (not remotely local but it was Anne's birthday and she is local)
plum upside down cake
You might also like