hump day nuggets: little bits of the season in photos and (few) words about the last week
Or, this week, lots of words.

Woke to a dusting of snow this morning after a long night…my inaugural experience with a sick, puking kid all night. All is well now after kisses, hydration and a pancake.
My body is changing in a familiar way. Every time some sensation occurs, I'm all, oh yeah. I remember this. The low cramping, unreal tightening of my uterus every 15 minutes all night, when the kid grabs her ice pick or chop stick or other utensil and stabs down on my cervix. It's happening.
We are at the one-midwife-appointment per week stage and last week, 37 weeks or AT TERM bitches so no pre-term hospital fear anymore, I was one centimeter dilated, 50% effaced. And I am feeling really exposed emotionally, trying to understand that my life is about to change forever and, at the same time, knowing there is no way to understand it and that is the pure beauty of this whole procreating shtick.
At work, I find myself thinking this is my last patron event at the museum, this is my last First Friday, this is my last auction committee meeting, etc and every time I get tight-chested and excited with my little reflection among my co-workers and museum supporters that are a huge part of my life. I am going to have to write more about leaving my MAMily in a non-nugget post.
nuggets.
:: At our last appointment with Jeanne, she was all OK so you are at term now and you have all of your birth supplies and a car seat and such? To which we replied, huh. So, this last weekend we had hot dates at Target and Walgreens, delivery of a friend's car seat and we now have a stripedy bag sitting in bug's closet full of everything we will need to successfully get this kid born. I can't wait to sit in a tub in our living room. I can't wait to be surrounded by candles and friendly faces in our bedroom. I can't wait to lean on our perfect-height kitchen counter during contractions. I can't wait to meet our girl.

'sister's car seat', Margot says
:: Having a baby is like getting married or buying my first house: once it happened to me, I realized what a big effing deal it was and that the enthusiasm and generosity and help of friends were invaluable. Then, it was my turn to be that big help in friend's lives, to make up for my not knowing all those years. I don't know if I can possibly keep up with the love exhibited by my friends but I'll die trying.
And, it's no different with baby number two. This arrived in the post last week: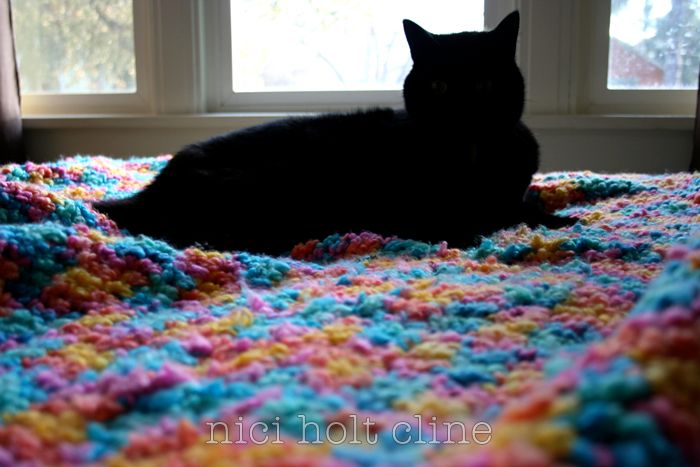 From my dear friend who enjoys the small things. We've never actually met but we know each other well and have plans to lock eyeballs this next spring. Can't wait to rest my little g on this so-soft blanket. Until then, Sam and Margot are working to break it in.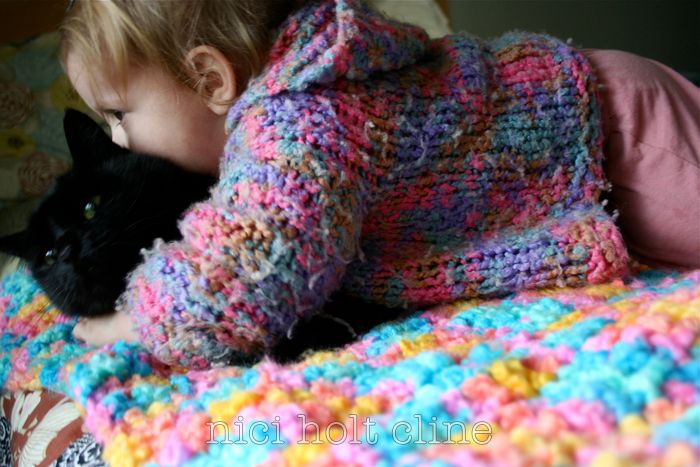 :: The new issue of mamalode is here and will be distributed today all around Missoula. I have an essay on page 40-43 called In Pursuit of Life. My first magazine publication woot! Mamalode is full of great writing. Read it.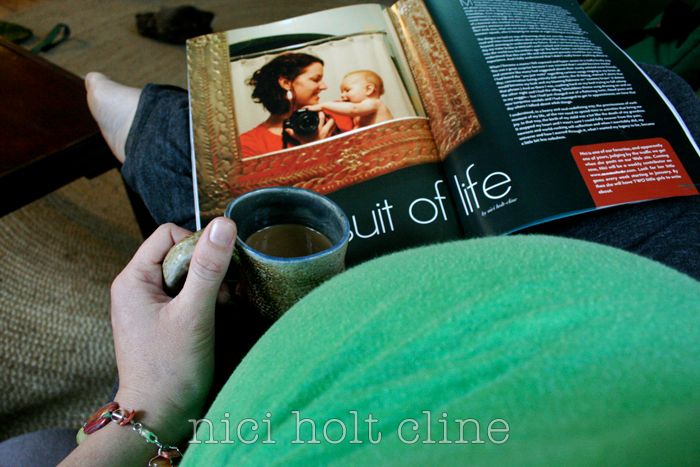 :: Update on my midwife, Jeanne Hebl, and her unfair ban from Community Medical Center (click here and here to catch up): she had a meeting last Thursday and it went well! In fact, it seems there was a bit of tail-between-the-legs-cause-we-got-nothin'-on-you action. Dr. Weisul admitted to making a decision based on a few people's accounts without proof and without consulting Jeanne for her side. He presented her with a policy of what birth support (all midwives and doulas) cannot do at CMC and lo, she was cool with all of it. It is interesting that the CMC admin squirmed their way around the targeted accusations on Jeanne and are now making blanket statements about 'birth support'.
So, huh, the best thing is to move forward with seeking ob gyn support of the policy but one cannot help but think that this was blatantly discriminatory and could be pursued as such. But that's not Jeanne's style. She just wants what's best for her patients. So, come on with me and think good thoughts on November 20, the date the ob gyns will be voting on the new policy. I can't imagine they would vote it down because if they did, it would affect all midwifes, doulas, friends, spouses etc. and that would be about as successful as my trying to run a half marathon with ankle weights on right now. It won't be pretty and won't fly.
Who knows what tipped the senior management to seek a fair compromise but I like to think that the letter writing campaign and my meeting had an impact. We, the people. There's something to that. Thanks for all of your support and participation!
:: We have this to-do list to complete before Margot's sister arrives. Essential and non-essential but the distinction is moot. I find myself all chore-oriented first thing in the morning, wanting to get shit done. Thinking, if the baby comes today I don't want to worry that the chickens don't have fresh water.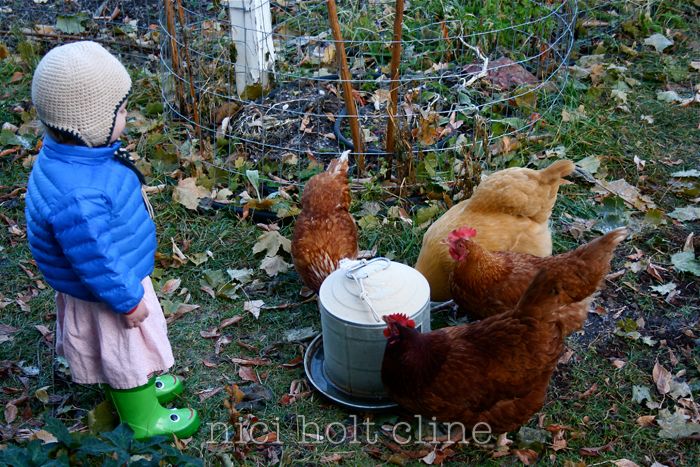 :: Of course, one essential non-essential is hunting through the garage to hunt through boxes of baby clothes. We totally scored on having a kid of the same gender at the same time of year as bug. We don't really have to buy a thing. All of our newborn stuff is super warm, ready for a Montana winter. Although, most all were hand-me-downs and many were returned. But, hey, I do love thrifting for and making tiny clothes so I don't mind.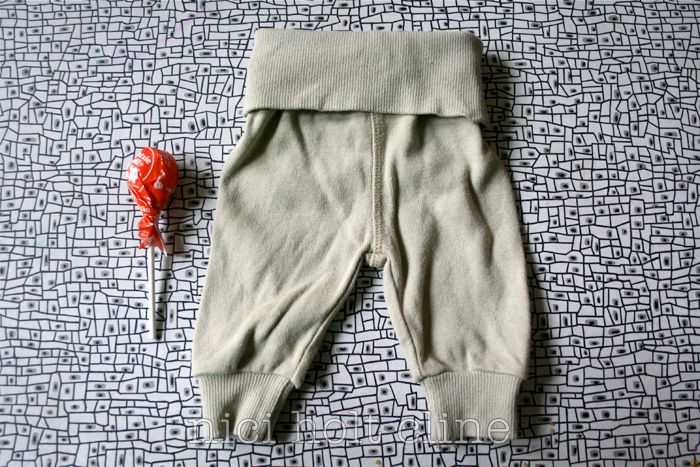 :: And, the itty room that they will share. Margot has been in her big girl bed for a while but the crib had remained as she left it. I washed and readied the place our babe will sleep. In a few months, that is. I look forward to her sleeping on Andy and me for those first, floppy months.
I remember sitting in the rocking chair in this room two years ago dreaming about what it would all be like. And I find myself doing the same now with some additional visual stimulation that wasn't there before…
:: My beautiful bracelet, made from beads my friends chose for me. I look at it all day and feel so much love and support for my upcoming birth. It is a fabulous gift.
:: Loving reading about what I was feeling at this time two years ago. My anxiety about not knowing when (if) it was going to happen. My total, overwhelming excitement of the day I'd meet her. Reliving the moment my waters broke. And, of course, the actual birth and subsequent falling in Love.
You might also like