hump day nuggets: little bits of the season in photos and words about the last week
Just plugging along Missoula winter over here. Triumph and defeat are equal possibilities in my daily life. Some days I manage to write, do laundry and put it away, clean the coop, draw with Margot, coo with Ruby, put on lipstick and make a delicious dinner. And, some days it takes me hours to accomplish one little thing like drinking a glass of water or changing my underwear, my big accomplishment unloading the dishwasher, and Andy gets home and I'm all don't we have a pizza in the deep freeze?
It's an adventure. One led by a spunky two year-old and a feisty seven week-old. I rather enjoy the passenger seat, with these two behind the wheel. It's not boring, usually surprising and always funny.
nuggets.
:: Afternoon cuddles. Margot cannot get enough of cuddling (rolling over, wrestling, tickling, squeezing) Ruby. It is very cool (with a parent playing interference). It makes me wonder how second children are not entirely different creatures than first children.
:: Homemade peanut butter cookies for our canine friends. Andy came home from work, his cookie radar alarming, and said, so, are these really dog cookies or just shaped like a bone? This week I'll make my broken-hearted husband some human cookies.
2 cups whole wheat flour
1/4 cup cornmeal
1 tablespoon baking powder
1 cup peanut butter
1 cup milk
Mix the dry together. Add the peanut butter and stir/knead. Add milk and incorporate. Chill in fridge for a few. Remove and roll out. Cut with cookie cutter and bake at 370 degrees for about 20 minutes. Store at least seven feet off the ground to avoid premature consumption.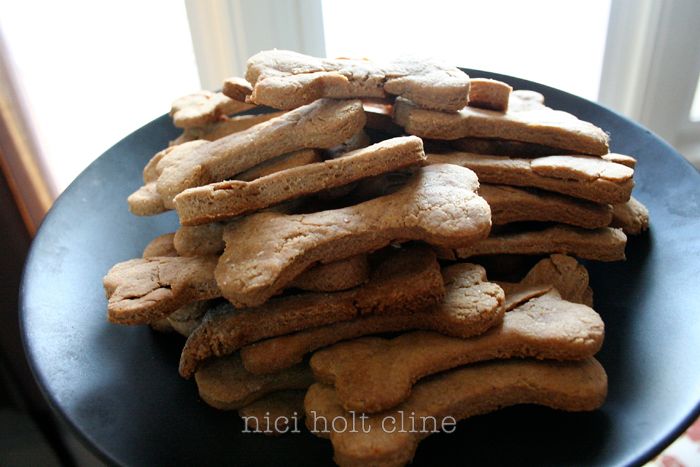 :: Interpreting Ruby's hilarious expressions. Really, I could just stare at her all day.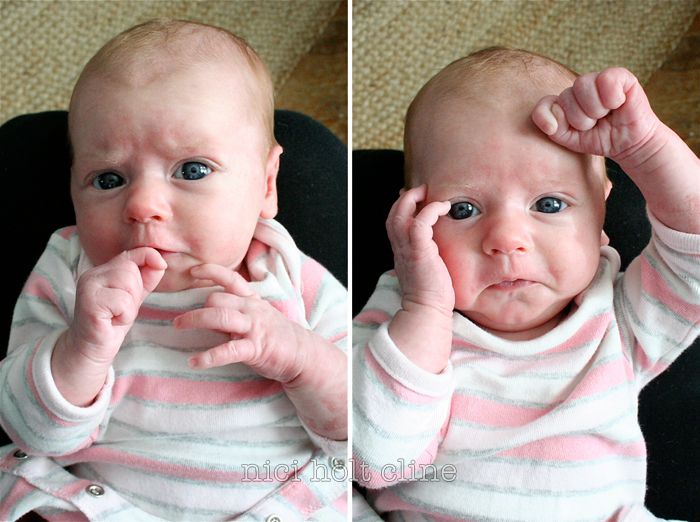 :: She has the most thoughtful eyes.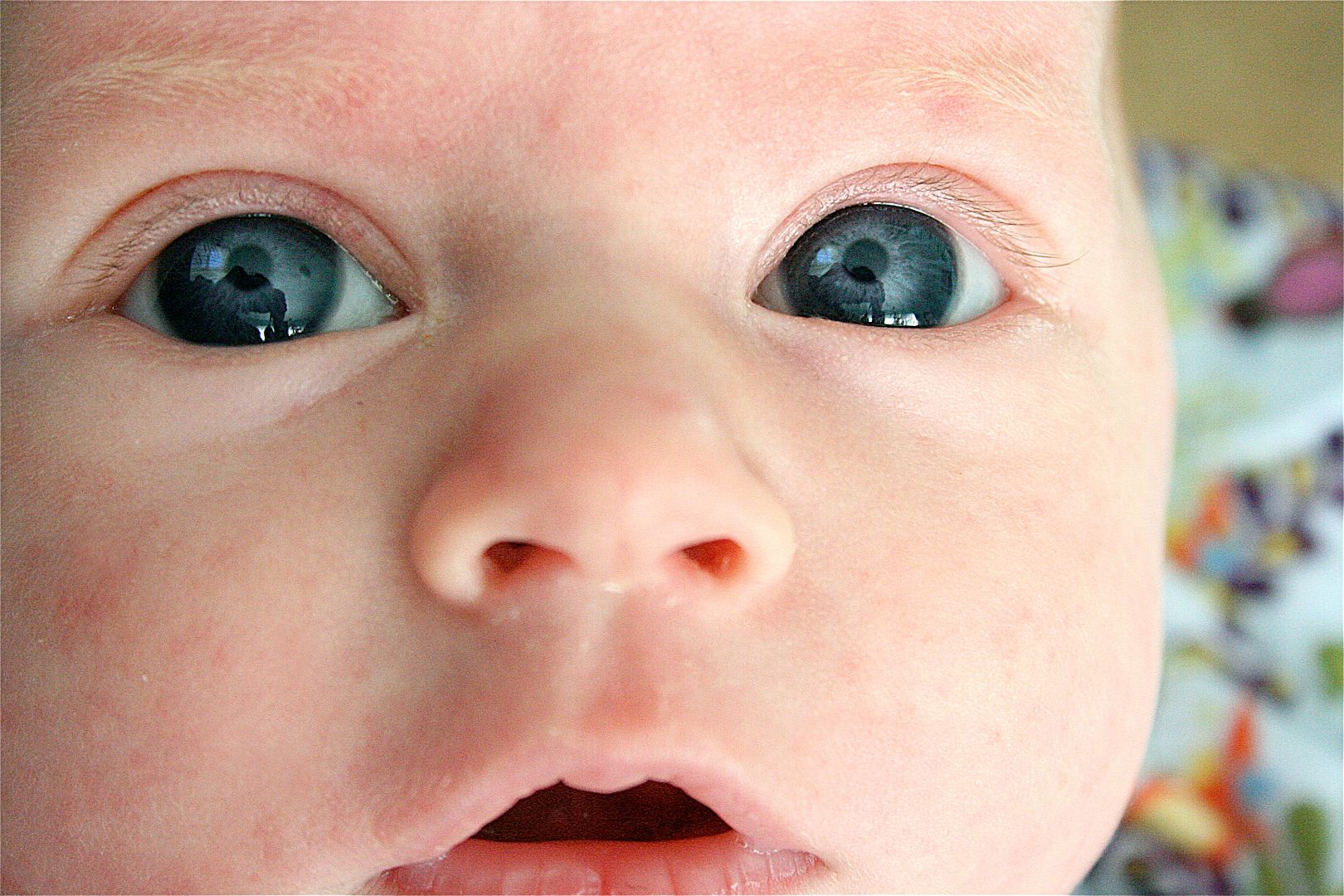 :: Hot chocolate breaks.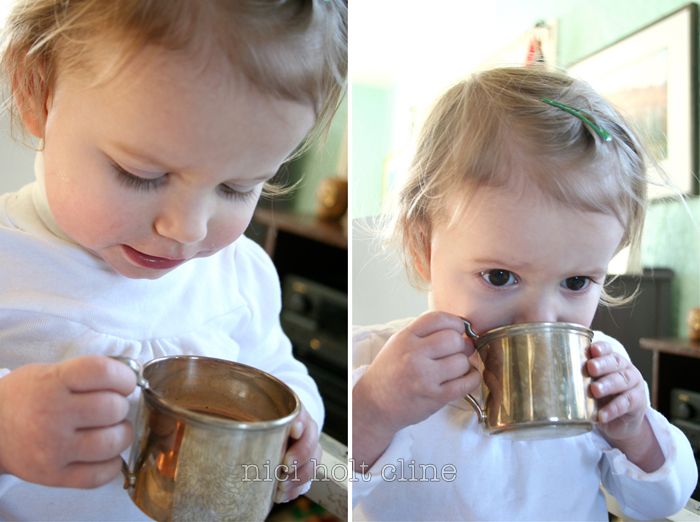 :: Oatmeal with the christmas tree.
Margot LOVES the tree. She tells us daily, Margot Bea loves christmas treat a lot. At first she confused trick or treat with christmas tree and this eventually led to christmas treat. She gave it hugs and counted the ornaments in her special way of counting: one, two, three, six, fourteen, eleventeen. Repeat. We've heard her count to ten but she prefers this other method. Oh and this reminds me of another cute thing she says: feisty instead of spicy. Papa, feisty noodles! And another, she says freddy instead of really. Papa, freddy feisty noodles!
So the taking down of the christmas treat was delayed and delayed (and, really, I never want to take it down anyway. It's just so pretty.) until two days ago when I did a nap-time holiday set strike. The disappointment was devastating with mama, where christmas treat go? and papa, christmas treat? for a good bit. We explained it'll be back next December and now she can't wait to be three.
:: Very, exceptionally delicious: Maple Roasted Vegetables
2 medium carrots, peeled and sliced 1/4 inch thick on the bias
1 large parsnips (1 pound), peeled and sliced 1/4 inch thick on the bias
1/2 medium head cauliflower, cut into 1-inch florets
1/2 pound brussels sprouts, halved
1/4 cup extra-virgin olive oil
1/4 teaspoon nutmeg
salt and freshly ground black pepper
1/4 cup pure maple syrup or a little less
I made this because this is what I had on-hand and it was the PERFECT combination. I want to eat it every night. Adapted from this recipe.
Prepare all the veggies and toss with olive oil, salt and pep in a bowl. Place on a rimmed cookie sheet (stone works best) in 425 degree oven for about 1/2 hour. Pull out, add maple syrup, flip and shuffle around. Roast for another 20 minutes.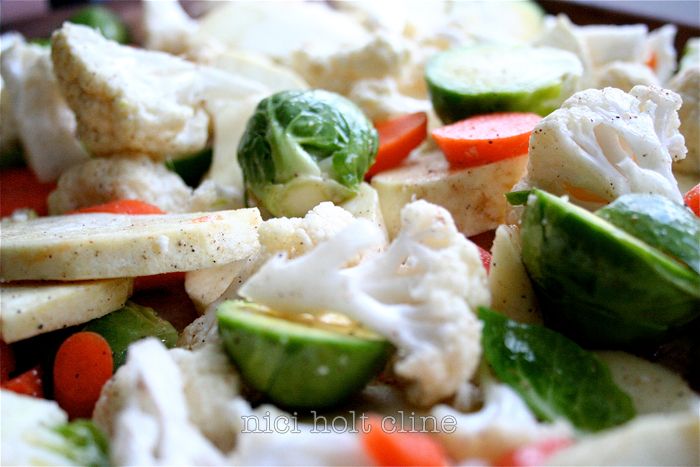 :: And, because I am obsessed with comparing last year at this time and photos of the girls at the same ages, I will be sharing this obsession with you all in the weekly nugs.

one year ago

Margot & Ruby at seven weeks
You might also like