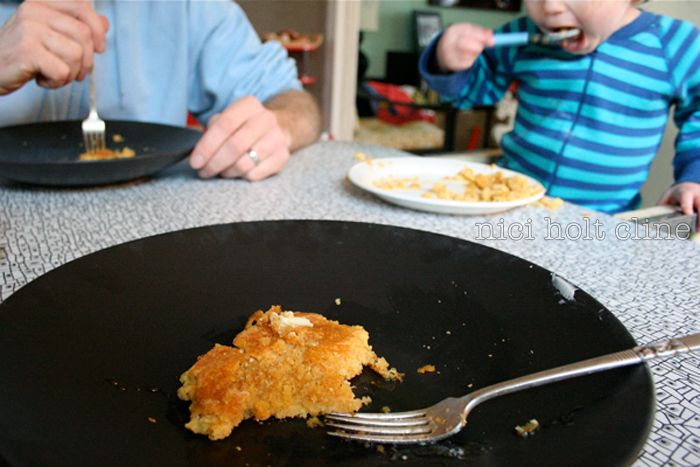 We love pancakes in our house. Andy is a purist: plain fluffy cakes made from scratch with white flour. I experiment with cornmeal johnnycakes and multi-grain flapjacks. They are sometimes topped with peanut butter, homemade applesauce or whole milk blueberry yogurt. They are always topped with Grade A maple syrup and salted organic butter.
When we were 19 we fell in love over pancakes in Andy's mom's kitchen. In Jackson, Wyoming, when we were 22, we ate pancakes on the floor of our tiny apartment with the only two forks we owned on the only two plates we owned on a blanket on the floor…click here to read the rest of this essay at mamalode.com.
:: :: ::
johnnycakes
2 1/2 cups cornmeal
1 1/2 teaspoons salt
3 tablespoons butter
3 tablespoons plain yogurt
1 teaspoon baking powder
1 teaspoon baking soda
Put cornmeal and salt into large bowl. Bring two cups water to a boil with 1 tablespoon of butter and pour over the cornmeal. Stir well and let sit for 10 minutes. Stir in yogurt, baking soda and powder.
(The recipe I was following said I could then grab and form a cake in my floured hands…my batter was way too runny for that so I just spooned it on the griddle and it worked just great)
On a griddle, melt a bit of butter over medium-low heat. Spoon about two tablespoons of the batter to form a cake. Cook about 4-5 minutes on each side. Repeat the process, adding butter to griddle each time. Serve with butter and syrup.
You might also like