hump day nuggets: little bits of the season in photos and words about the last week
Huh. I wonder if I might be that ridiculous mom who hands out raisins on Halloween and stuffs Easter eggs with spinach. I promise I WON'T do those things because I am married to a man who values chocolate like many value sports cars and also I remember the taste of all that candy on those special occasions when I was a kid and I just will not be the turd in that punch bowl. Also, I don't think I am ridiculous. In general. But holy smokes with the peeps and robin's eggs and pastel m&m's that everyone wants so earnestly to feed my toddler.
Do I need to loosen up? Yes.
I mean, my family doesn't celebrate Easter as a christian holiday, we celebrate the day for vibrancy, new growth, spring and a wacky excuse to drink mimosas on a Sunday morning and hunt for eggs full of soy nuts, er, skittles in the back yard.
There is a whole new and SO FUN aspect to holidays now that Margot is old enough to flip out over the magic of it all. And I love getting crafty an creative with what I have laying around, making our own traditions and magic that doesn't involve spending of the cash money and subsequent garbage.
:: I came home from our week in Red Lodge to 30 eggs and Andy had been eating two a day and had given a dozen away. Our happy hens are quite productive. (Holy hell I am so thankful I don't ovulate every day.)
We made our own egg dye (left to right: paprika, plum, tumeric, blueberry) and slowly beautified our brown eggs all day on Sunday.
Paprika did exactly nothing except look pretty for this photograph. That lone glass of dirt water at the back was my attempt at boiling some dandelion greens. Also, not pictured is coffee, which was my favorite (speckled egg, center, below).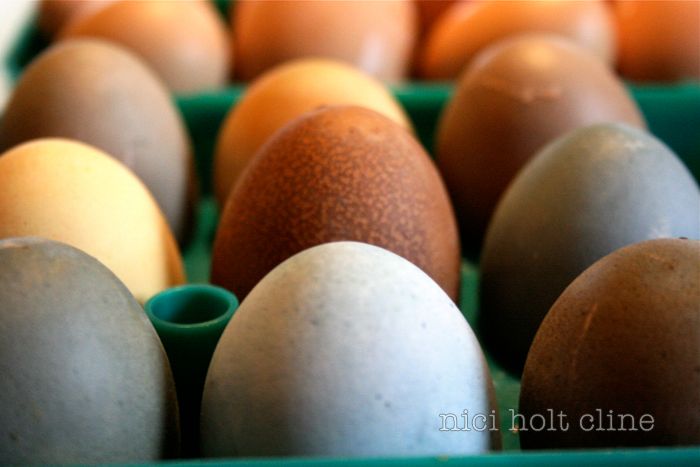 To make egg dye, mix a cup of water with a tablespoon of white vinegar and add pigmenting stuff. For fruit, use salt instead of vinegar. I boiled the blueberries and plums (I actually used last season's plum butter!) with the water and pressed the liquid through a strainer.
The whole process was quite beautiful and very fun.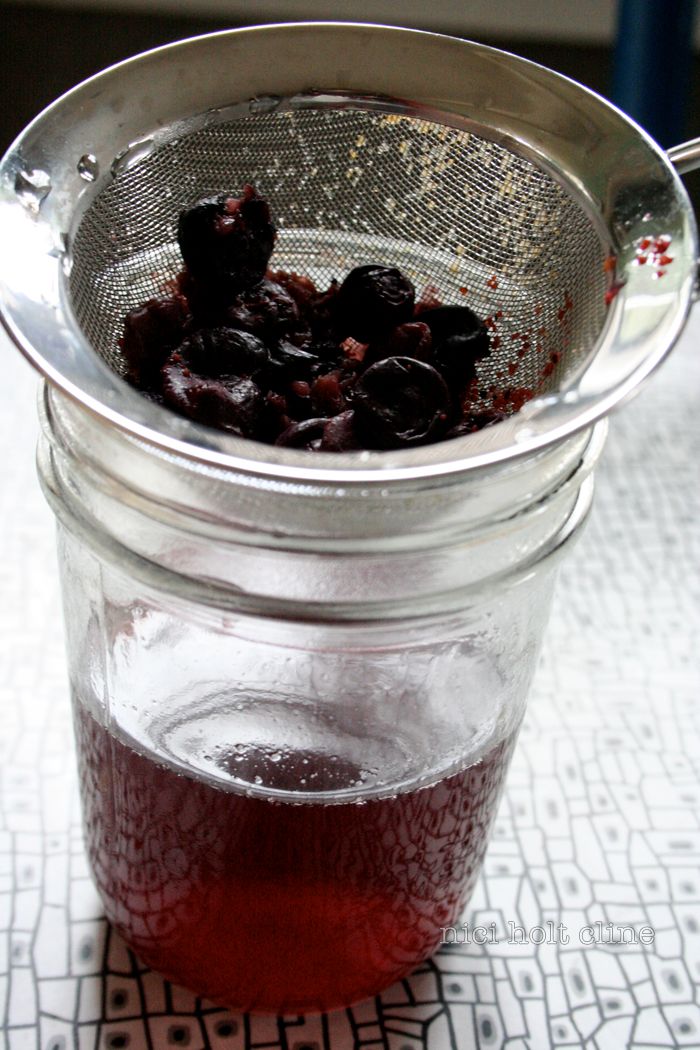 :: I've never been much for holiday decoration but I was completely smitten with this little nest I saw. It was a fabulous project for Margot who loves nothing more than the following: 1. glue 2. getting messy 3. birds 4. scissors 5. dipping objects into liquid.
So, to make, cut up paper into strips.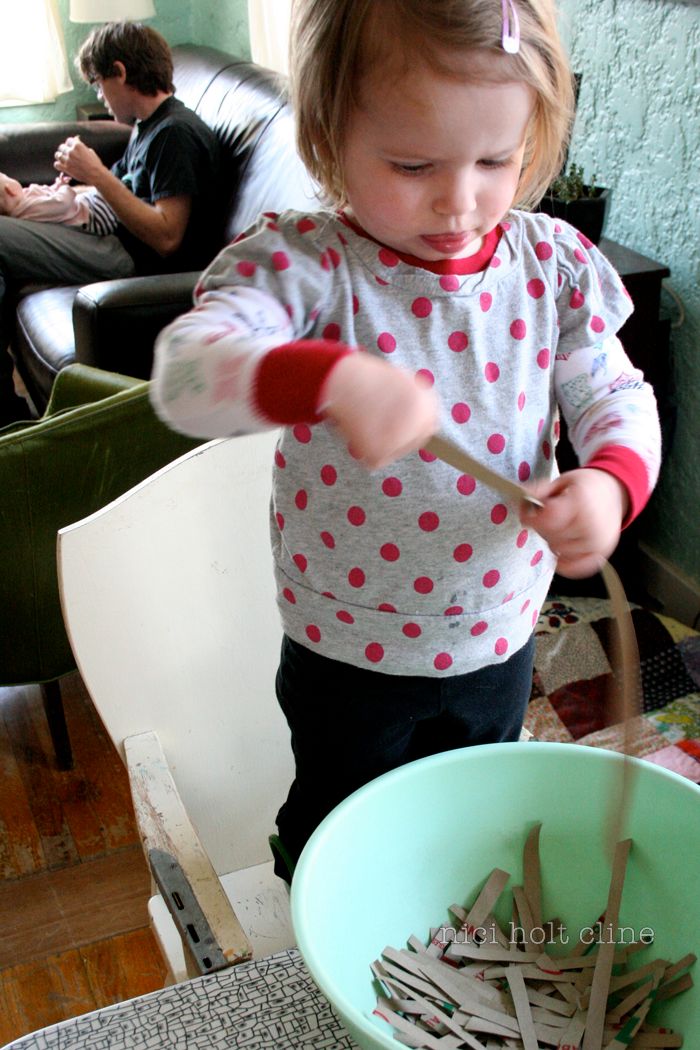 Mix a few tablespoons of clear-drying glue with a cup of water. Flip a bowl upside down and cover the bottom with saran wrap.
Immerse the paper strips in the glue mixture and coat the bottom of the bowl. Add a few dry strips to the outside when done.
Let set for a few hours and peel off. Let dry and that's one stinkin' cute nest.
And one stinkin' cute kid who is so proud of her nest.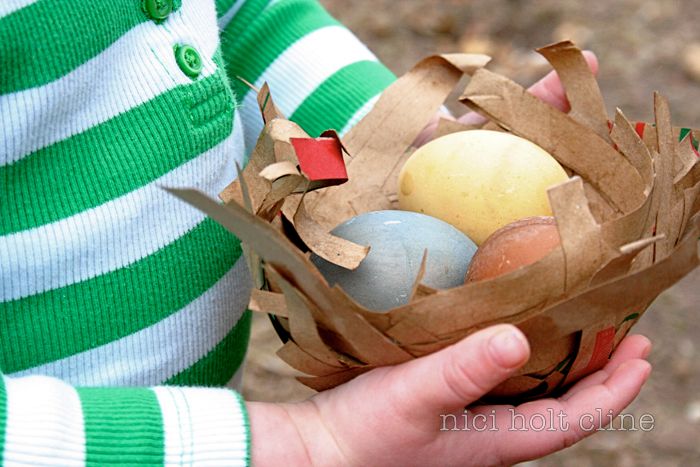 And three stinkin' cute chickens who laid some sweet eggs to go in the nest.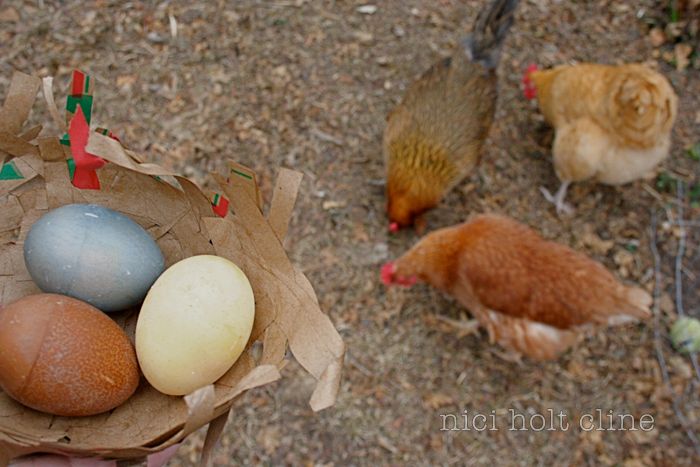 We made two nests out of one paper bag. I thought we could find egg-shaped rocks to paint and place in the nest. I was certain Margot would be so excited for this. We went outside and I picked up a rock and said, Hey, bug, this looks like an egg. And she said, No. That's a rock, mom.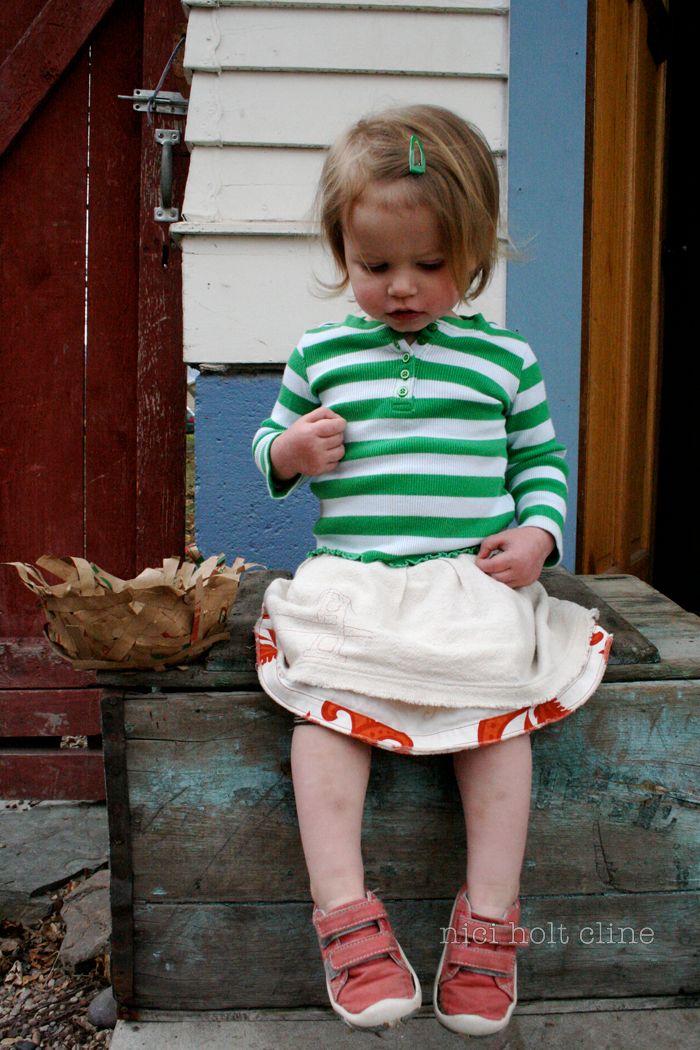 And so we just collected cool rocks. And she has no desire to paint them. So we have a nest of rocks.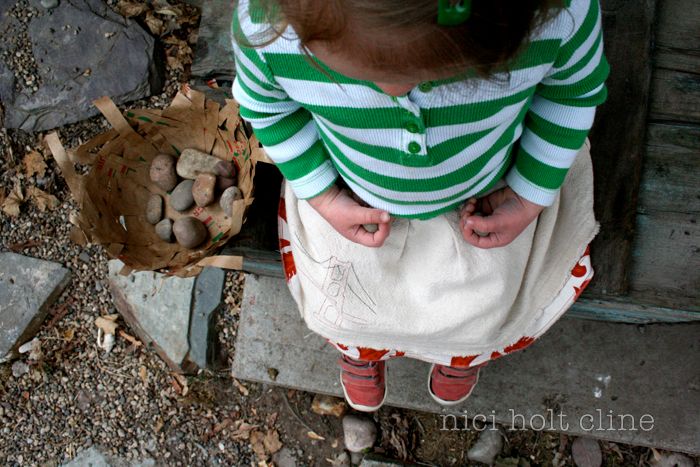 :: I have been thinking on the plastic egg schtick for a while. I just don't want them but I enjoy the concept of them. I found these sweet crocheted eggs and coveted them and wished I crocheted but settled on sewing some egg bags for stuffing with CANDY and hiding all about. Also if I crocheted I'd make an Easter egg basket out of plastic bags but instead I think I will buy one of these beauties. Seriously, how fabulous is etsy??
Ok eggs. At first I used woven fabric, lined and turned. But, this mama needed something quicker than that. During a 3:30am breastfeeding session I remembered I had a ton of scrap felt from Margot's birthday party…felt=EASY.
I cut out two pieces of felt, embellished a bit or not, machine-stitched up and over the top 3/4 of the egg and then made a drawstring at the bottom with yarn.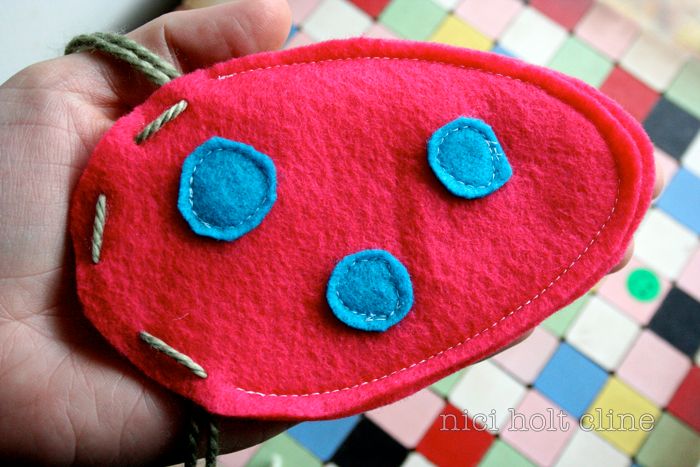 These seriously took no time at all. You could really get crazy cute if you wanted…I was tempted but then I reminded myself it was midnight and these are egg bags.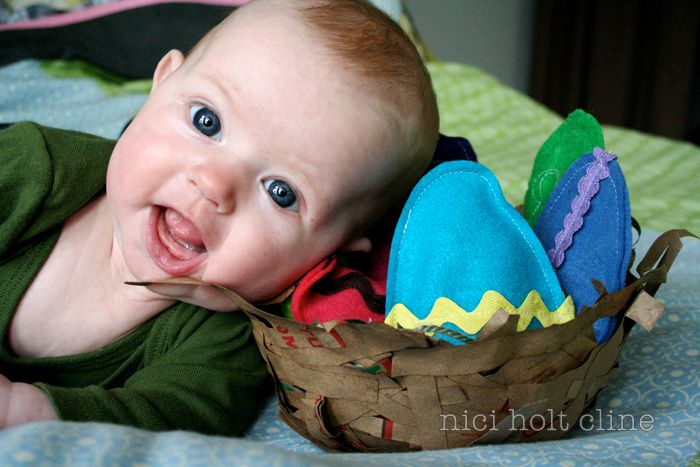 :: I am working on a new shirt line of fruits and veggies. They'll be out by May. My trip across Montana was also for business and I gained a few new shops: The Natural Baby Company in Bozeman and The Glass Rabbit in Red Lodge. Perhaps a shop in Helena too…also, I just dropped an armload of Montana shirts off at Blackbird here in Missoula!
:: And now for the non-egg craftiness portion of today's post.
:: Virgin Harvest High Mowing Organic Seed Winners:
Congrats! E mail me at digthischick at g mail dot com with your address. Also, I'd like to try to customize the seeds you receive, so tell me what your heart desires. Or, if you want to be surprised, I can do that too! Those who missed out on the giveaway, you can still join the fun.
:: Black Dog Publishing sent me a copy of Kids in the Garden: Growing Plants for Food and Fun to review.
Oh this book is fabulous! It is super informative and fun, full of recipes, projects and great information about soil and plant structure, how to grow different veggies and fruits, birds and bees (not in that way). I really love it a lot.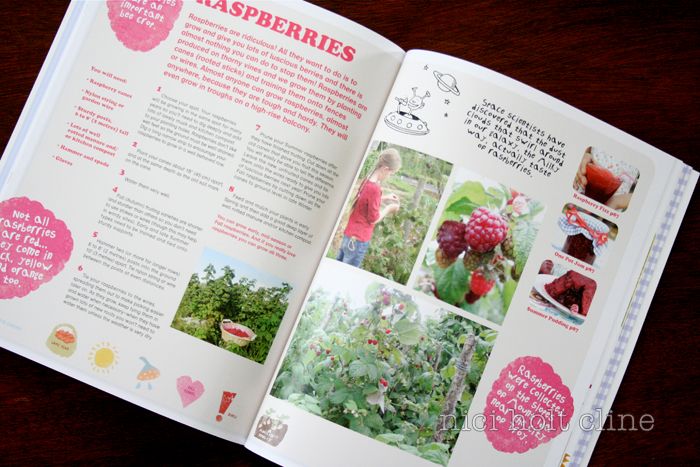 ***Black Dog Publishing is offering dig readers a 40% discount on this title; just enter 'dig this chick offer' in an e mail to jess at blackdogonline dot com.***
(This also reminds me that today is the last day to enter 'dig this' at checkout to receive 15% off your Sprout Pouch purchase.)
:: Paige is really proud of our compost.
:: Getting outside feels so good this time of year. A coat should probably be worn but it doesn't have to be. Our entire household is loving the thawed earth.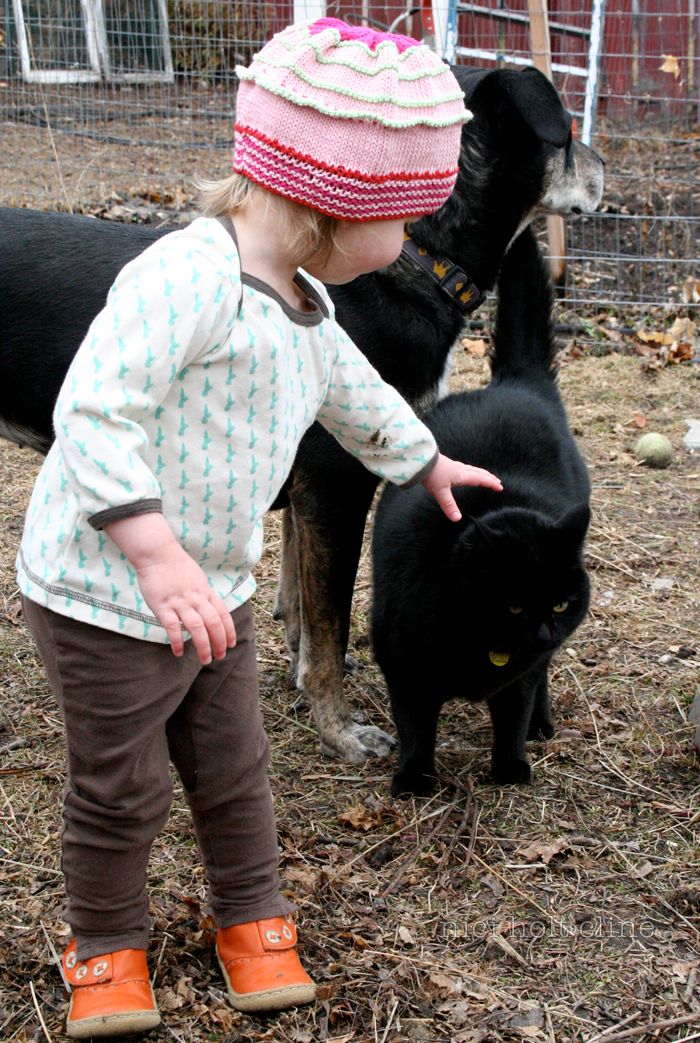 :: I talked about Mount Maurice being my favorite mountain, protecting Red Lodge. This old maple in our backyard is my favorite tree and the guardian of our little family. Love this tree.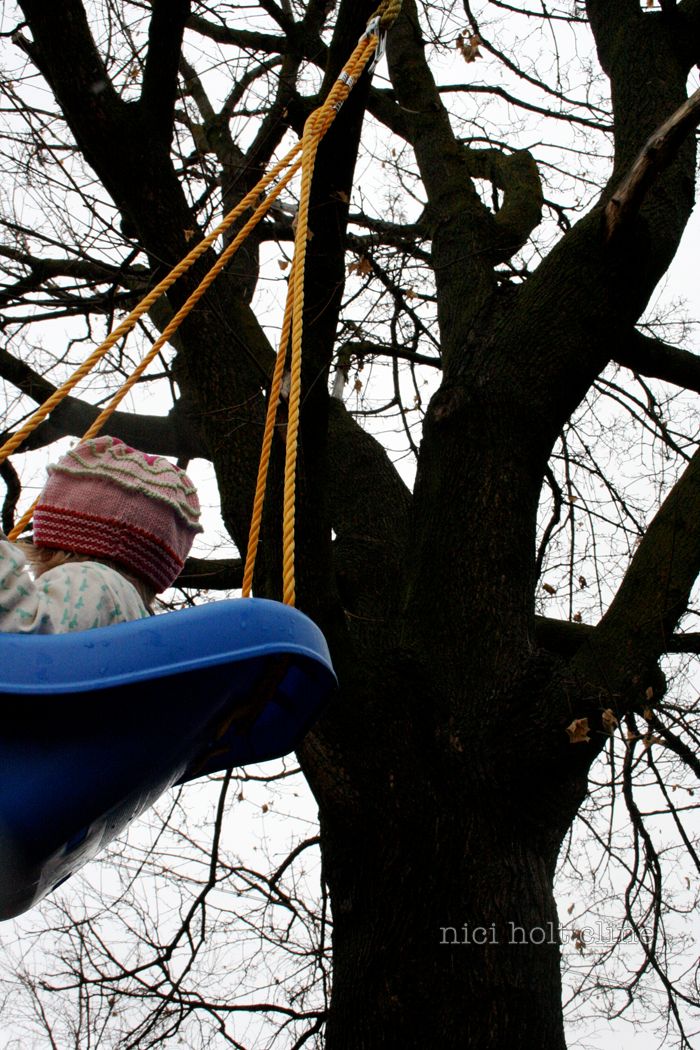 My mom arrives in town today (!) and this Sunday we'll celebrate by gathering with friends, eating amazing bread and an egg or nine, dancing, singing, watching spinach grow and discovering colorful bags full of treats under this very solid, very special tree.
What are you celebrating right now?
You might also like