hump day nuggets: little bits of the season in photos and words about the last week
Everything grows. An idea grows into a brilliant invention, a wink that grows into true love. Seeds grow into food and cells grow into people.
Food feeds winking inventors. Are you following me?
I'm tired tonight. Tuesday night is the night I sit down at my computer, kids in bed. I look back at my last week, sort through hundreds of photos and delete most. My nugget post. I pull the best moments and remember, renotice, rediscover why I felt inclined to pull my camera to my eyeball, frame a moment and push go.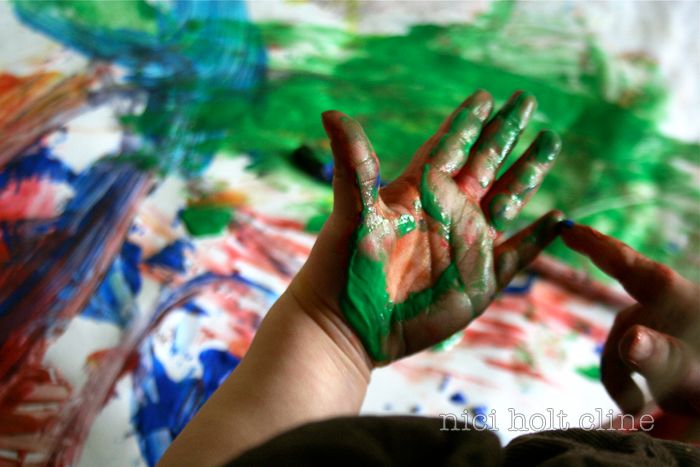 It's all miraculous. It's all extraordinary. And there's lots of humor. Life, love, growth.
There are two ways to live: you can live as if nothing is a miracle; you can live as if everything is a miracle.
-Albert Einstein
nuggets
:: Lots and lots of early morning bed romping. It's a fabulous way to start the day.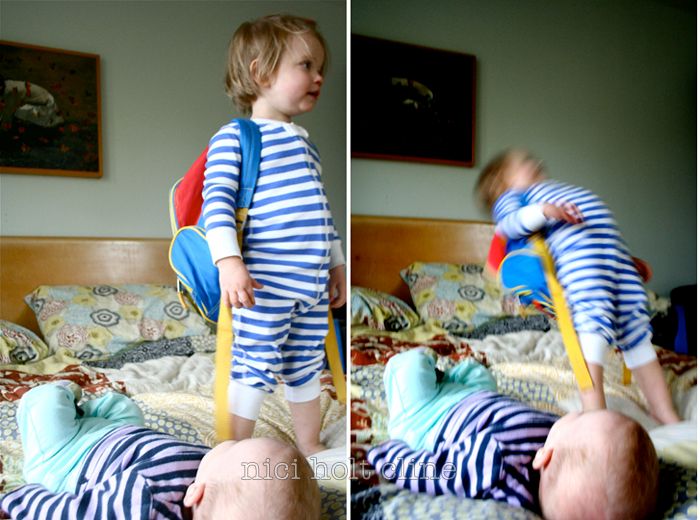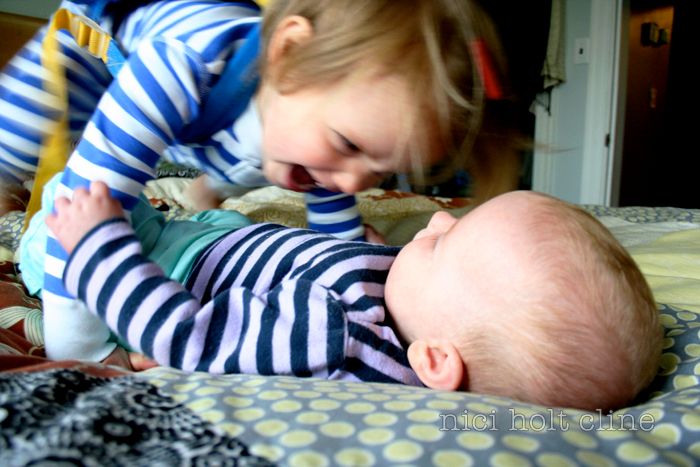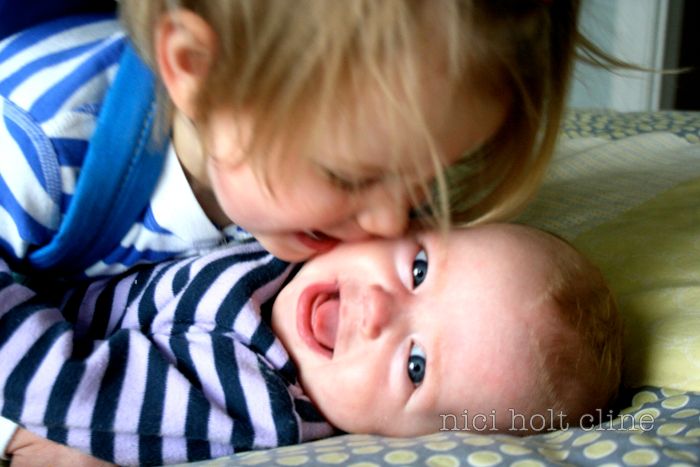 :: When Margot is really focused, her eyelashes appear to be extra sharp. This is probably because she is still instead of whirring by.
:: My beautiful
friend
birthed a boy Monday night. He's amazing and perfect and holy cow it is something else seeing someone one day, swollen with a KID inside them sitting on their couch and then seeing them the next day, sitting on the same couch, and that kid is in their arms. Welcome to the world, Solomon.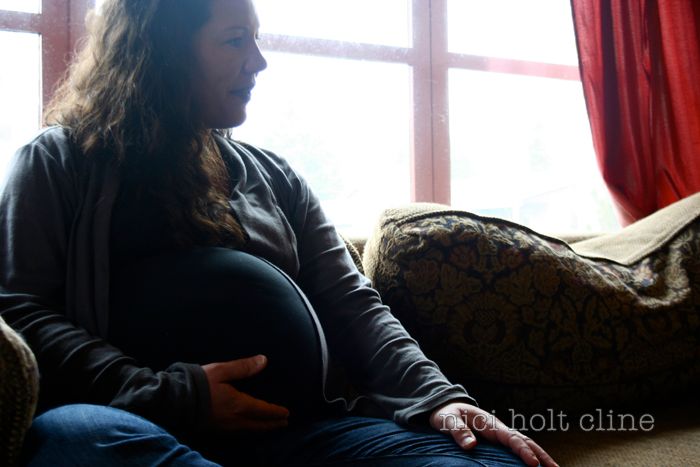 :: Margot is hilarious nearly all of the time. Like yesterday when I was kissing Andy in the kitchen and she said, hey there, that's MY papa!, as she clutched his leg. And then, like it was an insult, she said, he's YOUR husband.
Ten Spoon Vineyard and Winery
is a dig sponsor this month. This farm, these people are very close to my heart. I picked tomatoes, pruned grapevines and ate tuna sandwiches with this warm couple through college. Their business is inspiring and their wine is fabulous! And organic with no added sulfites!
Try some
.
Locals: Ten Spoon Vineyard + Winery Tasting Room is open on Fridays and Saturdays from 5-9pm :: 4175 Rattlesnake Drive, Missoula :: wine flights & wine by the glass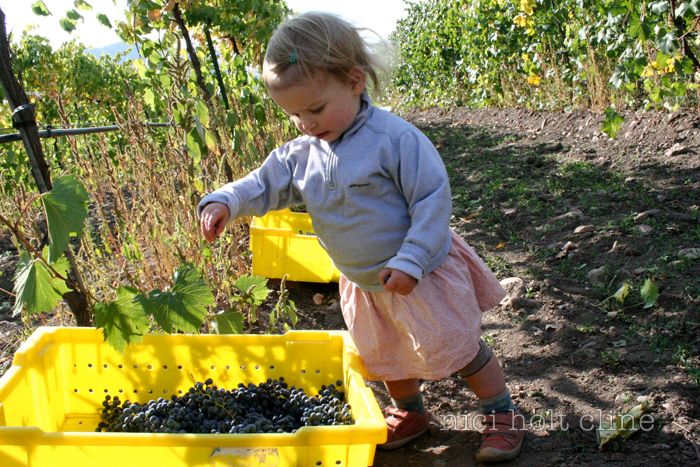 Margot assisting with grape harvest last fall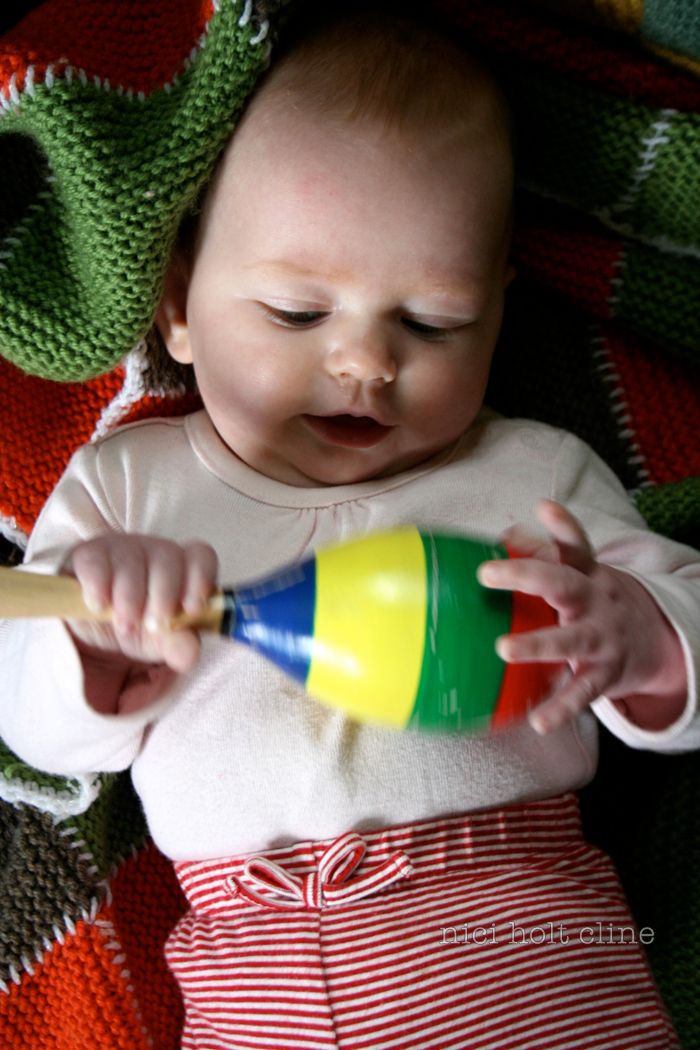 :: We went downtown for Missoula's annual Brew Fest last Saturday. I like beer and, due to scheduling conflicts, I've never been. Most everything in my charming, progressive, kind town is family-friendly. But this wasn't so much, as evidenced by the drunk college students tumbling down the river bank while trying not to drop their joints. It was also
Maggotfest
.
When walking from my car, a woman in gold lamay spandex pants skipped down the middle of the street, topless, arms waving overhead, yelling WWWWWWWWOOOOOOOOOOOOOOOOOOOOOO! What's that lady doin' mama?, Margot asked. Well, bug, she's having lots of fun, I replied. Oh, Margot said.
It made me love my town even more. Because, although not so much for young kids, I never felt unsafe or anxious. I love Missoula for its weirdness. I love Missoula for its drunk dudes somersaulting down the river bank to find a place to pee (as long as they don't drive). We met up with friends, went to a park, left Lady Gaga and the frat boys that I am inclined to call kids like I am way older than they are (…but I kinda am) and shared pizza and beer at our home.
:: Bug fell hard on her face last week. It was awful and we went to get chicken food that afternoon, the purple goose egg on her forehead shiny and throbbing. I let her pick a toy animal at the feed store and she picked a colt. That makes me feel better. That makes me so happy, she said. Do you think it is a boy or girl?, I asked. A boy, she said without hesitation. Does he have a name?, I asked. Jimmy, she replied.
:: Margot painting with her pal, Moana. I have learned a lot about how to encourage creativity in kids and I am working on a post about making art with children. I am excited to share what works for my family and I think it'll be up next week.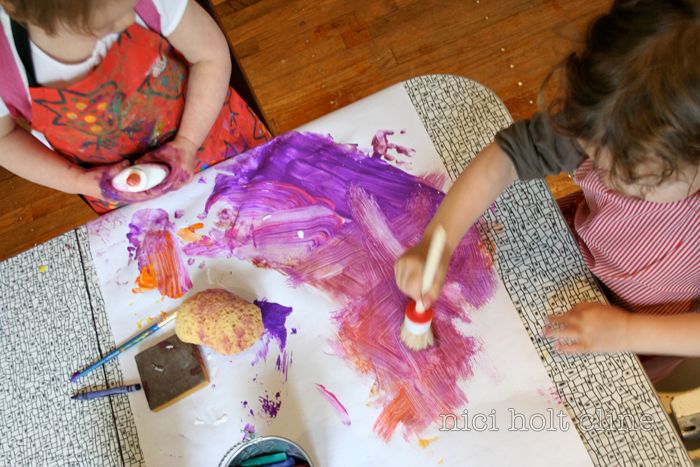 :: Sunday Family Walks continue.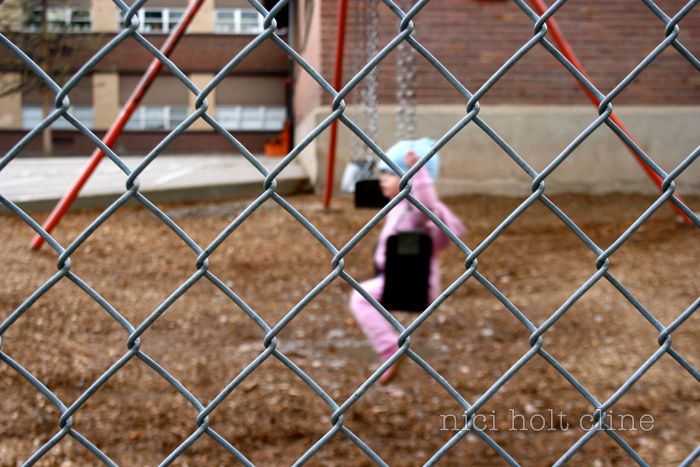 :: Margot's first self portrait. Imagine me yelling, Margot! No! Put mama's camera down! Margot! and she said, just real quick…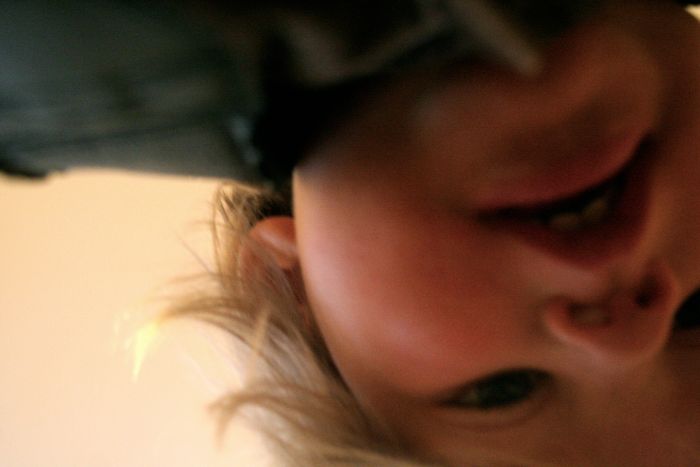 :: Ruby's just the sweetest little peanut. She loves to just sit with me. And grunt and growl.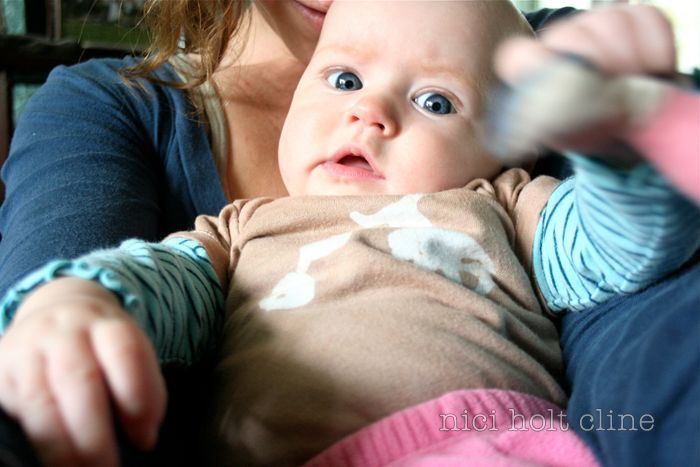 :: And, finally, FRESH tasting food. And, the promise of more is pushing its way through the soil.
Tarragon.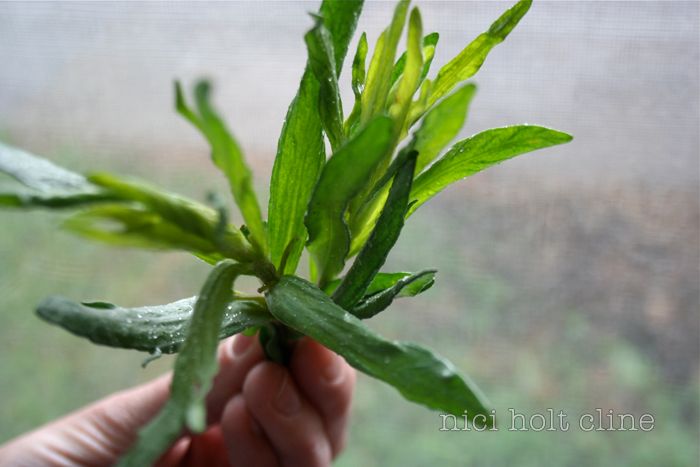 Rhubarb.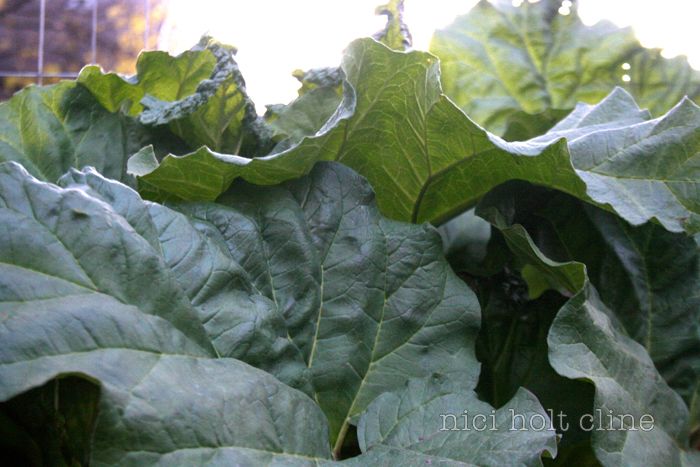 Peas.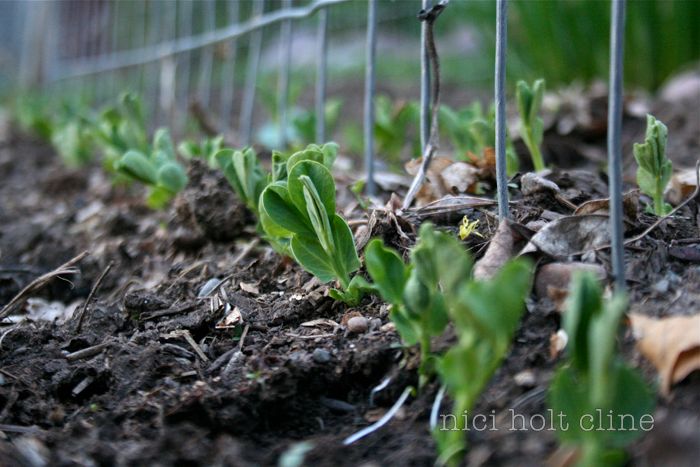 :: Margot is in love with carrying my old Nancy Drew books around. I know it's because they are yellow. I adore the thought of her staying up late at night with her alien night light illuminating her book that she can't put down like I did when I was a kid.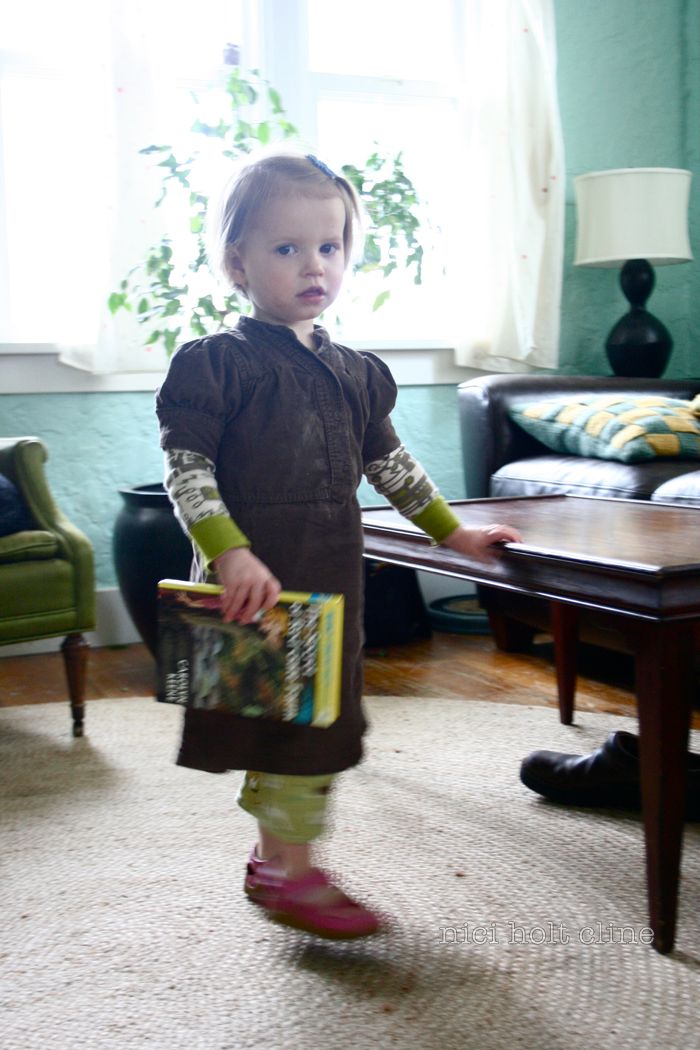 :: When love turns into a tickling choke hold. There's still love in that tickling choke hold.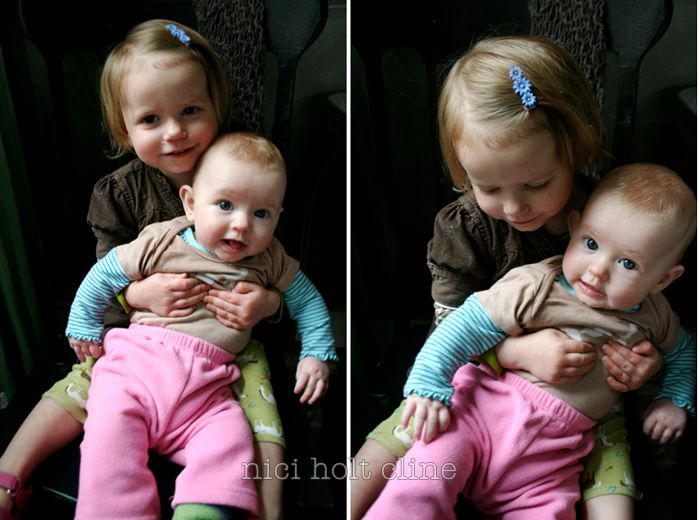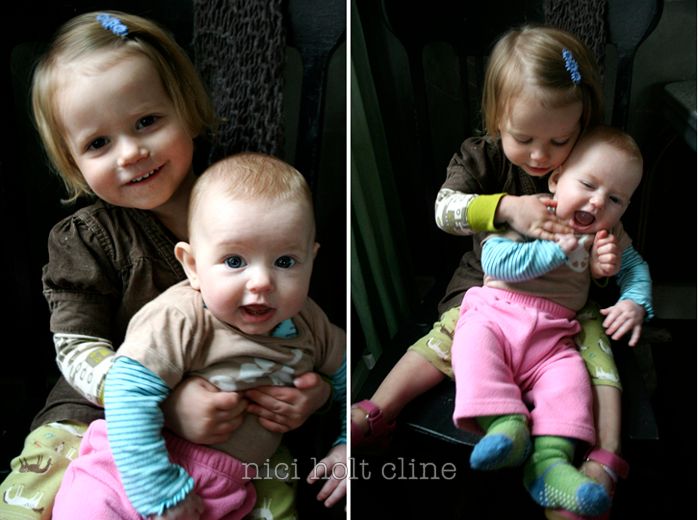 Don't go through life, grow through life.
– Eric Butterworth
You might also like