I have found the perfect recipe for rhubarb pie filling. Also, I have found the perfect pie crust recipe. And that's saying something because I thought I already had the perfect pie crust. But then this butter crust knocked the socks off of that shortening crust. Whooo dog, are you ready for this?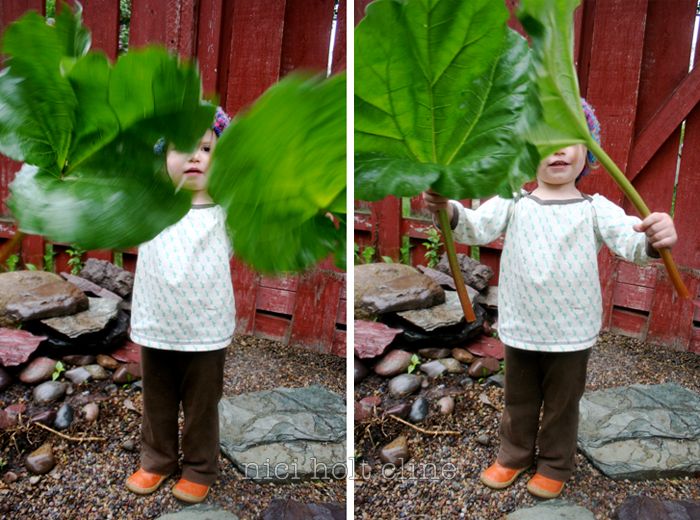 First let me say that, in my opinion, people shouldn't muck up rhubarb pie with other fruit. It's the even consistency of sweet-tart rhubarb tucked into a flaky crust that is simply perfect in its simple perfection. Rhubarb is a delicate fruit that requires a steady hand with the sugar…too much and it's syrup, too little and it's eye-watering sour. Other fruits throw it all off. And as I am writing this I think I feel that was about all fruit pie…pick one and rock it out. I did once have a stellar peach blueberry pie but other than that, fruit is its best self when alone in a pie.
Rhubarb is always a welcome sight in the Montana spring. It grows up all alien-like, as if the earth is hatching a brain and then the leave unfurl into a gorgeous bouquet with rosey stems. And it just grows and grows for months. It's so hardy too. When we moved into our house, our yard was dry, compact dirt. Hadn't been watered in years. There were three things alive: wild roses, a peony and rhubarb.
I like a tough-as-nails fruit.
OK the pie already.
Preheat over to 375 degrees.
---
EDIT on 5/31/17: I've been making pie for years now and am way better at it than I used to be! My original proportions here were much sweeter than I like now so I am changing my recipe. Initially: I made this pie with 5 cups rhubarb and 1.5 cups of sugar. The new ratio is tarter and makes a larger pie, both bonuses in my book! I have also updated my crust recipe. xo 
---
PERFECT EFFING RHUBARB PIE FILLING
8 cups chopped rhubarb
1 cup sugar
1/3 cup flour
Mix sugar and flour. Toss in rhubarb and coat.
PERFECT EFFING PIE CRUST
2 1/2 cups all-purpose flour, plus extra for rolling
2 sticks salted butter, very-cold, cut into 1/2 inch cubes
1 teaspoon salt
approximately 1/2 cup ice water
Cut up the butter and keep it in the freezer while you measure the flour and gather ingredients. Mix flour and salt thoroughly in a bowl.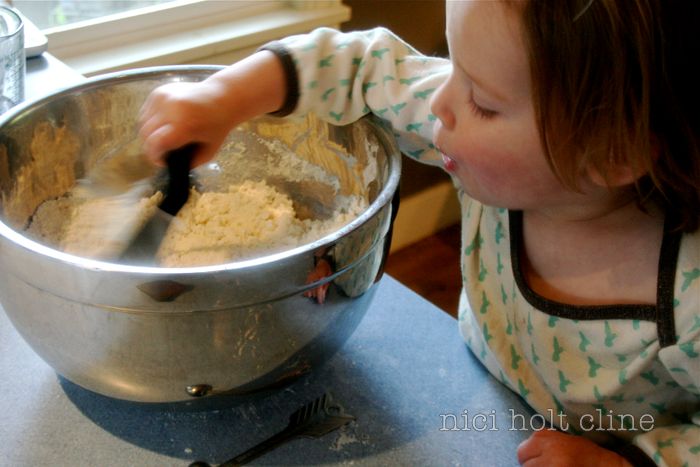 Add butter and cut into flour with pastry cutter (or other fancy food processing device). Chop and chop until the butter is all floury and pea-sized. Add water, a bit at a time and mix/squeeze (yea, I squeeze my pie dough) until it sticks together. Put in fridge for a few. Cold dough is your bff.
Form it into a ball, divide ball into two. Roll each ball out on a floured surface. I swear, this dough is very well-behaved. In a naughty, coy way.
Place one pie crust in bottom of pie pan. Add rhubarb filling (there will be extra sugar/flour in the bottom of the bowl. just toss it in there). Cut up 1 tablespoon of butter and randomly dot the rhubarb. Cover with crust. Admire the perfect pie.
Bake for somewhere around 45 minutes to an hour…honestly my oven is so jacked I am not sure how long a normal oven will take.
I made this pie over the course of a day because I only had a few minutes here and there. So, it didn't make it in the oven until like 10:30pm when my house was asleep. I waited for that bad boy, pulled it out of the oven and went straight to bed. And I woke to this: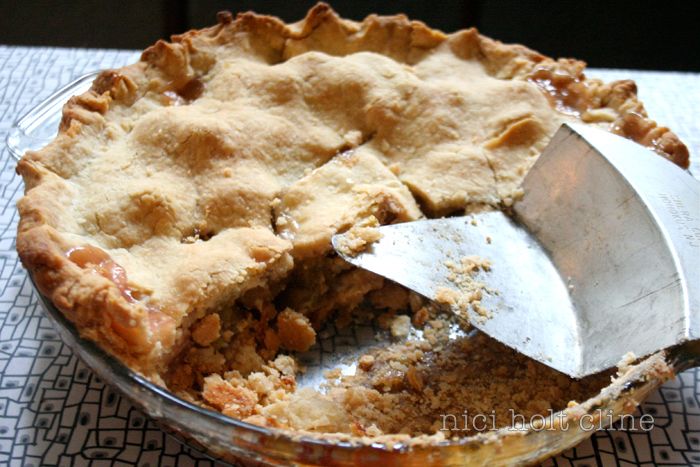 Scored that super cool antique pie server at a garage sale last summer.
We ate it for breakfast, lunch and dinner.
You might also like