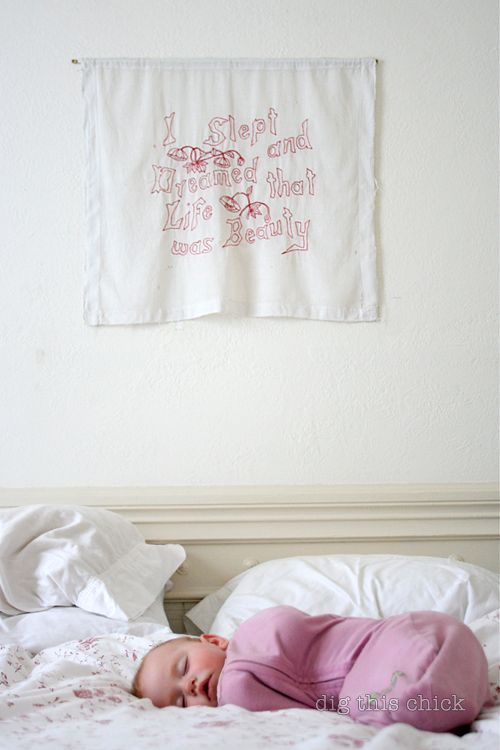 Ruby and I flew to California last week where two of my best friends live. We were there to celebrate and hug…pedicures and champagne, childhood friends who are family and endless conversation, sleepless nights with Ruby and really good coffee.
Oh and speaking of sleepless nights and good coffee, I got up with Ruby and the sun last Friday, sleepily tossed wee monkey and my wallet in the sling and headed out into the fog and my fog for coffee. I decided a quad shot was in order. The coffee shop was closed so we walked up and down those insane San Fran hills and when I returned, I was without wallet. I retraced and thought good thoughts, I stopped early morning runners and wanderers to ask if they'd seen a turquoise wallet. I wrote my name and number down at various shops and I eventually returned without coffee to cancel credit cards and try to figure out the whole you-can't-get-on-a-plane-without-id thing. My only hope was email because my business card was in my wallet…the nice, honest person would have to dig to find it…and Emily from the yoga studio did! So it was returned to me.
I wonder how many lives my lost wallet has because I have burned through several…last time it flew off the roof of my car and was run over by a semi truck. By the time my friends and I returned to gather, it had been taken. Turns out Gary from Big Timber collected my wallet confetti on I-90, googled my name, called my mom and met me at a gas station to return it all.
These things happen to me with regularity. I also spill liquid a lot, rarely know where my phone is and have crawled through every window in my home due to keys on the inside. And I pack at the last minute no matter what. Oh and I have missed four flights. These are my annoying but funny in hindsight (right?) idiosyncrasies.
Who knew this post would be so confessional?
Anyway, Cali was awesome and now we're home (and
I love my home
). Ruby is crawling, Margot is a whole new kind of hilarious (she just said
mama, first I am going to dance with my pink pants, undies and this orange thing on my bed. That's a good idea! And then you get me a pink mookers that I can hold. I think it's in the little, tiny goose. I want to be surprised, ok?
) and my garden is growing.
While our family foursome was split in half, I felt weird. I had thoughts of our plane crashing, of Margot and Andy getting in a car accident. I don't usually have nutty, nagging thoughts like this, but, really, since becoming a mama I have more than I've ever had.
When did I get so dark and creepy?
I think all of me stretched when I grew and birthed a person. My capacity for love and worry, happiness and despair. It's all bigger and deeper. And so while my imagination can spin billowing tapestries of rainbows and tall flowers it can also spin over-starched tapestries of shadows and gnarled roots. There's more to consider and more to imagine….read more in this week's mama digs,
stretch.
You might also like