Last night when I was reading just one more book for an hour with Margot, tracing faces and giggling in the low light cast by her overhead star, I asked her what she'd like to be for Halloween. And she said, "A chicken and a frog and a duck. AND A RAINBOW. A rainbow way up high in the sky with parrot and a butterfly."
I adore her imagination. How, we sneak into her room at night so as to not disturb the dinosaurs. How, she asks her Big Bird stuffed animal if he has a penis. How her Jimmy doll loves oatmeal.
I know toddler ideas are fleeting and that we could wake this morning and she'd want to be a carrot. I took the early duty today, rising with Ruby at her 5:30am HELLO WORLD I'M READY TO PLAY! We hung and chatted in the kitchen. Really, once I clear the thick fog out of my brain, it is completely lovely to hang. Just Rhubarb and me.
Margot emerged as she does every morning. Running. Fast, straight down the hall, peering through her honey-colored whisps with sleepy eyes, occasionally bouncing off the walls to guide her path to the kitchen where Ruby and I sit.
We cheersed, her juice to my coffee and I asked her what she wanted to be for Halloween. And, she said, "a chicken and a frog and a duck and a rainbow. A lot of rainbow." I was thankful for the butterfly and parrot omission but felt I should ask her about it in case she forgot. She lowered her brow in seriousness and said, "nonononono butterfly or parrot."
So I grabbed a piece of paper and some supplies and we set out to design this custom Margot costume. I drew her and she directed the rest.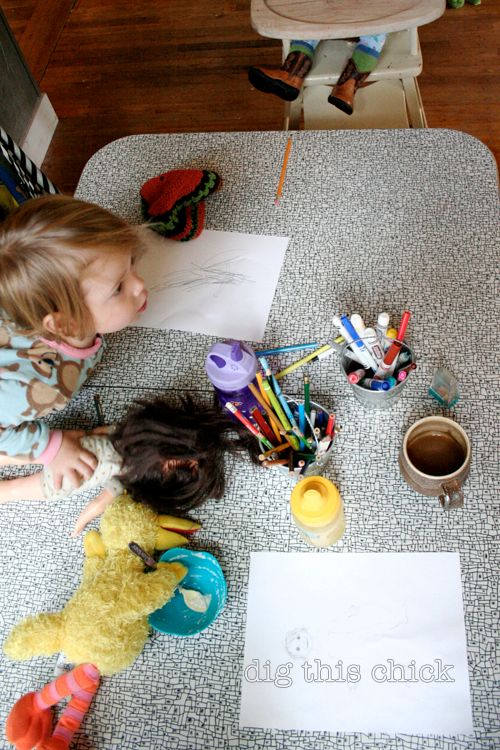 Behold, a chicken and a frog and a duck and a rainbow:
As per her very specific directions: yellow ducky wings, a lighter yellow shirt, a yellow hat, an orange belt, green legs with toad spots, froggy boots, dark blue nose and lighter blue cheeks. And a great, big, giant rainbow.
She bragged to papa before he even had a chance to say a word.
I like being her mama.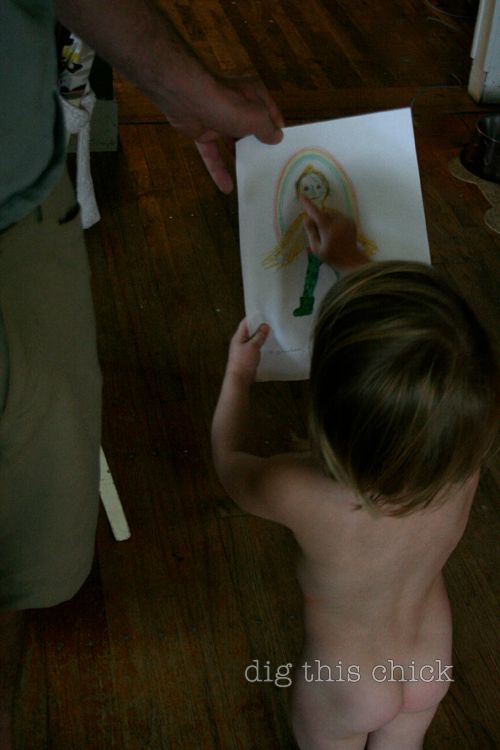 You might also like