Is there a place where you go and when you get there your heart beats a little more audibly and you smile the whole time? I feel that way at my local fabric shop, Selvedge Studio.
Almost everything I've made and posted about that led to a million Where'd you get that fabric?! emails? Answer: Selvedge Studio.
Mother-daughter owners, Mary Ryan and Leah Morrow, have this sweet little space in downtown Missoula and, for those who can't stroll the Missoula streets, they also have a sweet little space online. They sell mouth-watering fabric, notions, patterns and they offer classes, approachable advice in an inspiring and unintimidating environment. Time and agenda slow to a lovely pace in Selvedge. My kids love going there too.
Margot on left and Ruby on right: my babes hanging at Selvedge while mama shops for fabric
I had a wee chat with the two stylish women about their inspiring business. Check it out.
Tell us a bit about Selvedge Studio's history.
As a family we have always been obsessed with making stuff. We started this business because we were inspired by all the new (and improved) fabrics, designers, and sewing styles. Missoula is a creative place, it has wonderful yarn, beading, and craft stores. We wanted to help Missoulians discover – and achieve – their sewing dreams. We offer classes to get started, and the fabrics for a fabulous finished project.
Every time I enter Selvedge, you have new, irresistible stuff (and I am there a lot)! How do you do that?
Our fabric turns over seasonally so we are always at Market, discovering new designers, new fibers, and new inspiration. We love to watch current fashion and home dec trends, and try to bring the best back to our customers. We are collectors at heart and can't help but try something new all the time. (Our latest addition to the Selvedge line is vintage fabric!)
How can one get their paws on your delicious fabrics and notions?
We are happily located on the Hip Strip in Downtown Missoula, just south of the Higgins Street Bridge at 509 S Higgins. (There is parking in the back for a stress free shopping experience.)
You can also shop online and find links to our facebook, blogspot, and youtube sites on our website selvedgestudio.com
What advice do you have for aspiring seamstresses out there?
Start simple with a fabric that inspires you and a project that is manageable.  Some of our customer's best projects are as simple as tote bags, A-line skirts, and embellishments.  Pick stuff that is quicker to make than bathing a baby after a romp in the park.  After a few successful projects you'll find potential everywhere – "I could make that!"

******************************************************************
It's a very cool business to support, people. AND they are giving a little extra incentive:
:: 25% off all purchases! Enter 'dig this chick' at checkout or mention 'dig this chick' at their store.
::
Become a fan of their
Facebook page
and leave a comment answering 
What do you like to sew?
for a chance to win a $25 Luckiest Seamstress Ticket (gift certificate!!) to the store or website! Winner will be announced on Facebook on October 21.
******************************************************************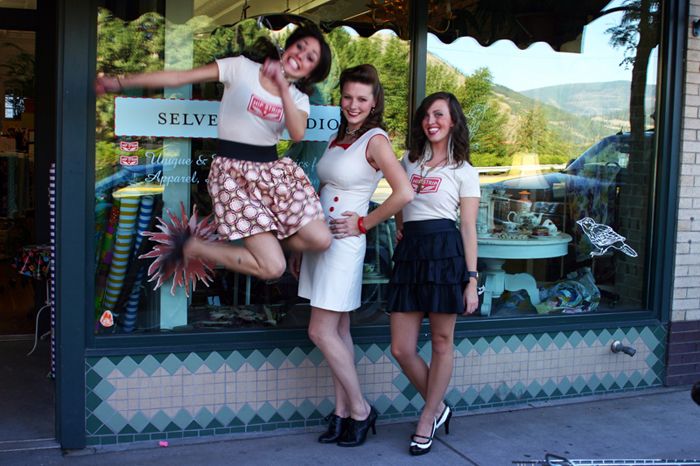 lots of fun to be had at Selvedge Studio
Y'all I am all about this place. Good people with a fabulous business. What's not to love? Head on over to
Selvedge Studio
and buy some beautiful fabric.
Thank you, Selvedge Studio!