hump day nuggets: little bits of the season in photos and words about the last week

Margot's giant, joyously pleading eyes led to us coming home with a betta fish a few weeks back. She was exceptionally decisive in picking the fish and the name. It seemed like she already knew this would happen so I trusted that and went with her. It went something like this:
"Oh mama! Look at all those fish! They are so beautiful to me!"
"Well…perhaps we could get a fish if you help me care for him everyday and…"
"Sure. I want that one right there. He's a boy and his name is Fisha."
I like to pronounce his name like a hip hop gangsta might. Fisha, Puhleez!
Fisha is chill. He swims around in a bowl and likes the music box. My husband last changed his water and the bowl broke and sliced clean and fast through his thumb. Andy placed Fisha in our liquid measuring cup until we could find another vase and when I went to fetch the homeless fish, he wasn't in the pyrex cup.
I immediately saw him. Dry and lifeless like a post-rain worm on a sidewalk. Margot was napping right next to me so I couldn't even verbally respond. I picked up our dead dude and he twitched and I about twitched out of my skin. I tossed him in the bowl and he sunk and then floated sideways and motionless. I thought maybe he had some nerve response like a chicken after it's head is chopped off.
I was about to dispose of him when I saw his itty gills erratically moving. I reached in and swirled the water and, sure enough, Fisha in da hizouse!
It took several hours of slow recovery but now he's resumed his daily activity of swimming in small figure eights on top of Margot's bookshelf. It's unexpected and surprising. I could have easily tossed him had I not given him one last hopeful glance.
I find relationships to be this way. The more I look, the deeper I dig and give the benefit of the doubt, the more people rise, sashay and move with life. The more I believe in greatness and inspiration, the more I find it.
I was moved in meeting my blog friend and her Florida family this last week.
Kelle
and I talked a lot about similarities outweighing differences….like people with or without down syndrome, women with or without kids, moms with or without mountains.
I think, at our core, we all know this.
We are born without judgement and with trust. We learn to assess situations and form opinions and while those are essential skills, I think we eventually (especially in our thirties when we learn we know nothing and mortality is real) try like hell to revert and practice that child-like wonder and appreciation for a hug, a cool bug, a perfectly prepared bowl of oatmeal, a favorite song on the radio.
nuggets. This last week, we:
:: Rolled around in color.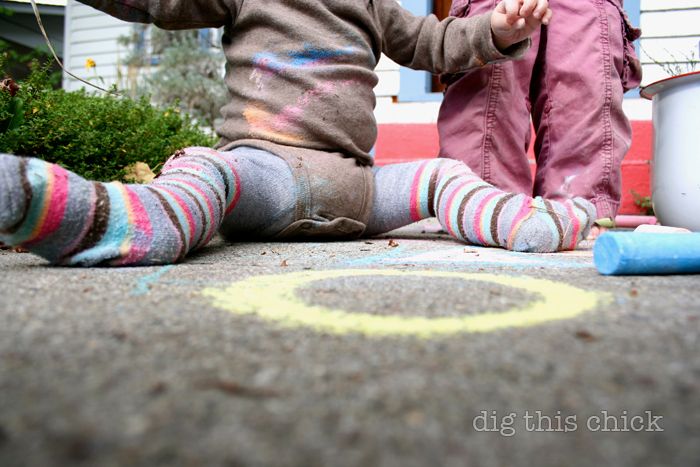 :: Believed there was nowhere else we'd rather be.
:: Taught those younger than us what's in store.
:: Danced.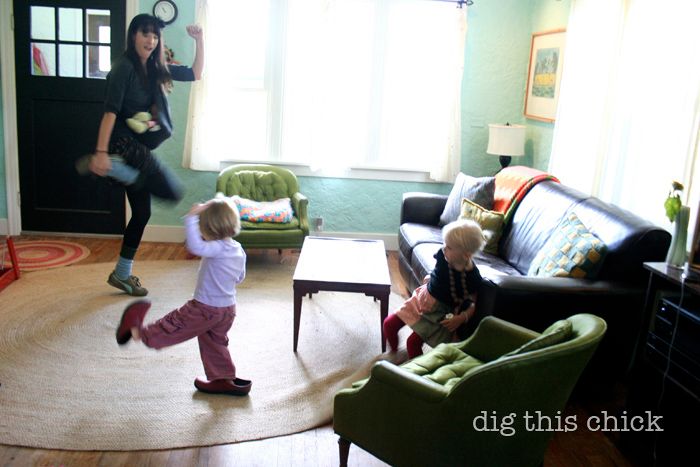 :: Found wonder in tall, honey-colored grass.
:: Smiled a lot.
:: Stretched and grew.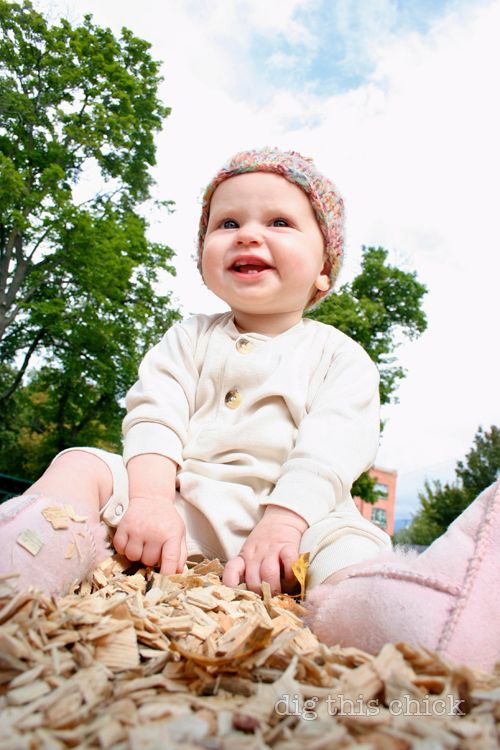 :: Realized we didn't have to go far or do much to discover new, exciting things.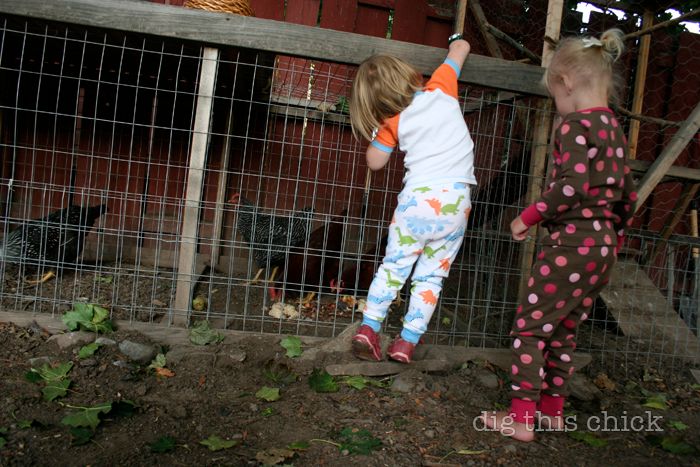 :: Played.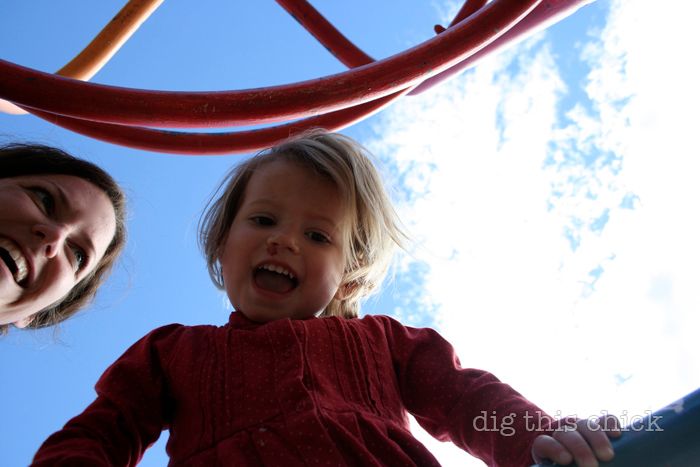 :: Understood how little one really needs to have fun.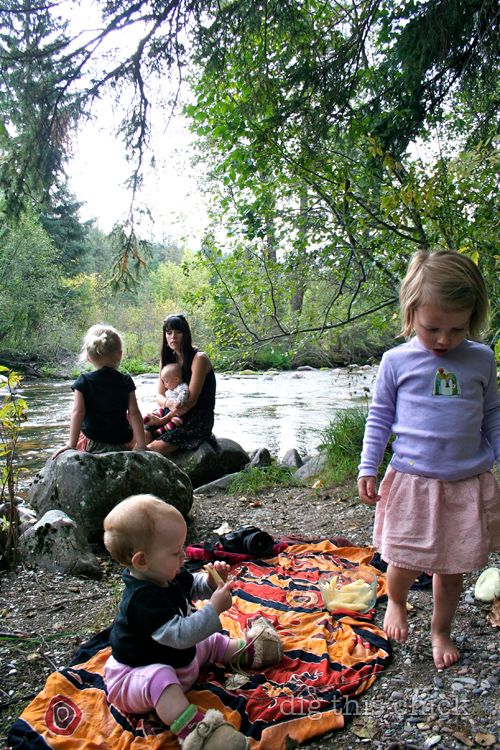 :: Wrestled thirty of the sixty pounds of peaches lounging in my kitchen.
:: Got to know old, new friends.
A common thread in my conversations with Kelle was competition versus camaraderie among women. And how we all have insecurities and if you were able to deconstruct them (as we did with each other's) they are the exact same.
She shared this beautiful excerpt with me. It's about writing but substitute any word you like and it is wonderful. "Mom" works beautifully. "Blogger" works beautifully.
From Writing Down the Bones by Natalie Goldberg:
Writers are great lovers. They fall in love with other writers. That's how they learn to write. They take on a writer, read everything by him or her, read it over again until they understand how the writer moves, pauses and sees. That's what being a lover is: stepping out of yourself, stepping into someone else's skin. Your ability to love another's writing means those capabilities are awakened in you. It will only make you bigger; it won't make you a copy cat…great writers realize they are what they are in love with…
…So writing is not just writing. It is also having a relationship with other writers. And don't be jealous, especially secretly. That's the worst kind. If someone writes something great, it's just more clarity in the world for all of us. Don't make writers "other," different from you: "They are good and I am bad." Don't create that dichotomy. It makes it hard to become good if you create that duality. The opposite, of course, is also true: if you say, "I am great and they aren't," then you become too proud, unable to grow as a writer or hear criticism of your work. Just, "They are good and I am good." This statement gives a lot of space.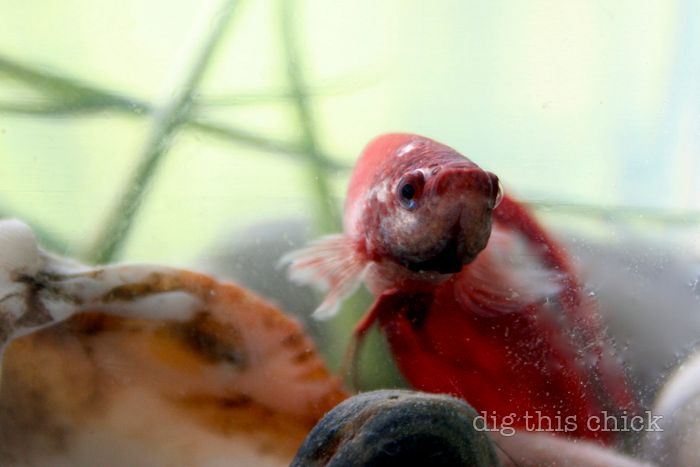 And lastly, from Fisha, the insanely strong fish with new street cred:
I never would have known what it felt like to be land-dwelling had I not taken a risk on that cartwheel out of the bowl. Turns out, it wasn't for me. I now have great respect for all you creatures with limbs. Water works for me and land works for you. Thankfully our world gives us both. Peace out and Happy Hump Day.