How I spent most of my weekend
We've had a grumpy, snotty few days around here. We think it's Ruby's teeth that are causing fevers and rashes and drool and tears. And then Margot caught an empathetic sisterly cold.
Last weekend we abandoned most plans and only left our home to sneak in some exercise and friend time. We held our girls more than we didn't and considered ourselves productive when we put the half and half back in the fridge.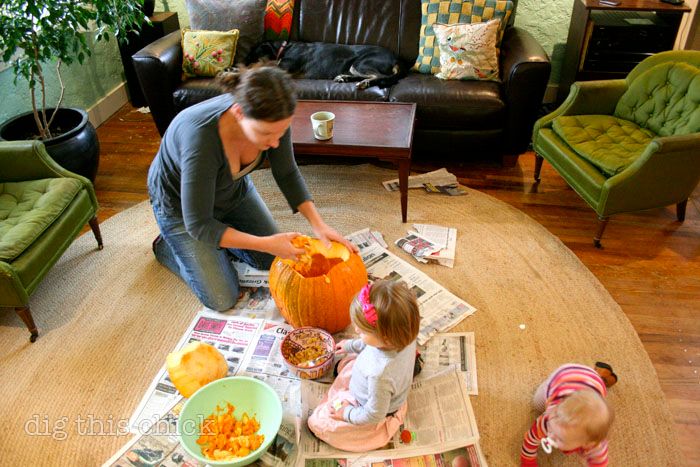 Alice supervised from the couch
Mostly, we hunkered and soothed around Halloweeny things like carving, sewing and toasting.
***RANGE PORN***
Pan toasted pumpkin seeds: wash seeds, toss in olive oil and salt and cook over medium heat while constantly stirring.
Takes about 20 minutes to cook and two minutes to eat.
I also thought a lot about our friends' whose new baby boy is in the hospital. I went to see them last week and, yo, did I revisit some uncomfortable stuff from when my Ruby was in the hospital. I came home and wrote about it and the eventual, wonderful realization that what almost happened didn't happen and what did happen is survival.
Andy read my column before I posted it and suggested that perhaps I should move on from publishing* stuff about Ruby's illness and recovery right now. I felt a little defensive because maybe he's right…if it feels to you like I am regurgitating the same feelings, the same process, the same effort, it's because I am. But I do feel like every time I think on it and write about it I get closer to the place I seek: honest memory of the experience and honest celebration of where we are now. Now was all we had back then and now is all we have today. In any event, right now, because of my tumbling encounter last week, I am closer. She survived. So did I.
Read more in this week's mama digs, another step.
*Edited to add: just to clarify: Andy fully encourages my writing! He was talking about taking a step away from hitting 'post'.
ps Congrats to the winners of a Feeleez game and poster! And thanks to everyone for playing along and sharing your feelings.
Jess said…
I feel like Emily. It has been a tough week, lots of people in pain around me. What a cool game! Reminds me of the Kimochi dolls.
Katie Anderson said…
I feel like Brook right now, just happy, in a good place. However I am all over the place with my feelings lately being 6 months pregnant and all.
Email me at [email protected] to claim your prize!
You might also like