hump day nuggets: little bits of the season in photos and words about the last week

This hump day falls on the one day between Ruby's first birthday and Thanksgiving. And, really, I have just two nuggets today. The second nug, however, is a big ol' nug.
:: Nugget #1: Everyone seems to have opinions about social media, myself included. I think that in a world that feels bigger and scarier than it did when I was a kid, my online community shines light on life's authentic beauty, the same beauty that motivated me to have children. Read more in my mama digs column, my social network.
:: Nugget #2: Ruby is one.
I was hanging with girlfriends the other day proclaiming my lament that the English language doesn't have a word that I need on occasion. There's blessed, lucky and fortunate. None these work for me. Heather immediately said thankful. At first I said no no that's not quite right for what I want to convey… but then she said, All those other words happen to you. 'Thankful' puts the action in your hands. Yes. That's it. That's why I don't like those other words. Those words say some other power or randomness sculpt my feelings and riches. But, thankful? Thankful says I own my feelings and define my riches.
I am thankful for Ruby Jane. My leapshin sweet potato pie rubes stinker chicken green bean rhubarb. Love her so.
One. It seems big. I know she's small. But, One.
11.22.10, 11:10pm
Dear Ruby,
I got home not too long ago. I was sipping wine with best friends. We went to leave the cozy downtown confines and stepped outside and then right back inside because the snow and wind blurred our vision and inhibited our good byes.
Now I sit in my warm living room, understanding more than ever before why it is called a living room. One year ago right this minute, I felt a shift and a gush and knew I'd meet you soon. Andy thought it'd still be a week or so but I thought just maybe…
It wasn't this blustery last year. Right now wind is audible even over our forced-air heat that hums as you, your sister and papa sleep. It's 10 degrees outside and dropping like a stone to a creek bottom.
I remember sitting up staring at the birthing tub in my kitchen, staring at my belly wondering who you were. I couldn't wait to hold you outside my body.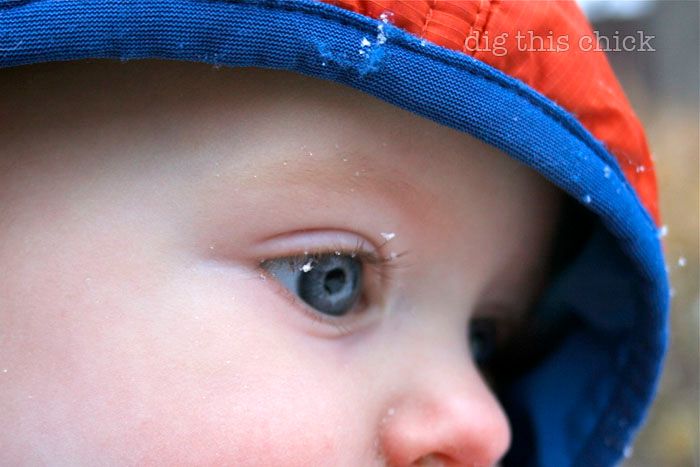 11.23.10, 8:23am
Dear Ruby,
A year ago Margot was at Laura's house across the alley and the day was just overcoming night, barely brightening behind the curtains in my bedroom. Labor was fast and intense once the sun came up. I leaned against my bed holding your dad's hands and stared into his eyes. He was so steady, he knew you'd wiggle out soon.
11.24.10, 6:47pm
Dear Ruby,
A year ago I fell in love with you more quickly than I had thought I would when I imagined meeting you. We spent the first days of your life within a few feet of the place you were born. Our village visited our home and they all said you were beautiful.
Yesterday we rolled and laughed on our bed and I couldn't stop thinking about how you were born on that same bed. I held you for the first time in the cool morning light on that bed.
We went to breakfast with friends at Ruby's Café, a place I've never been but wanted to go since you were born. That afternoon you and Margot napped while Chelci and I rearranged furniture, spread paper and art supplies across the floor and cooked.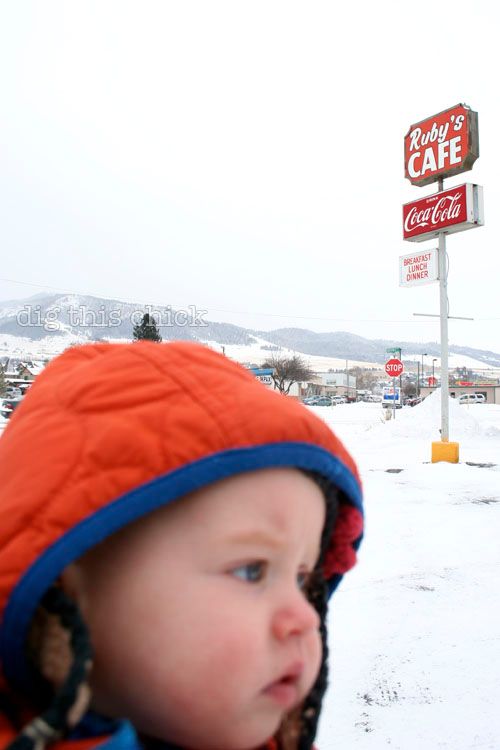 a hurried photo because our nostrils were freezing together
Last night we had a party for you. It was totally nuts with 25 adults and 15 kids huddled in our living space. It was the warmest night we are to have this week and the temperature was 1 degree. The pack of two, three and four year-olds moved quickly among the grown-up legs and you were mostly on my hip, in your dad's arms or on Pam's lap chewing a baguette. I was bummed the squash barley risotto I lovingly prepared all afternoon didn't cook up like it ought but everyone was cool with it. We ate it anyway and our amazing friends found compliments in the crispy porridge. They are good people, your people.
We sang to you and the noise boomed through our small home. At first you were startled and I touched your cheek with my one hand that wasn't holding a cupcake and you understood you were hearing the sound of love. You eagerly went to bed and we continued to talk and sip and watch the herd of three foot-tall kids remove clothing, draw all over their bodies and marvel at the newly discovered canvas of skin.

It was a really good day. I love you to the moon and back. I am thankful.
Happy Thanksgiving out there.
You might also like