hump day nuggets: little bits of the season in photos and words about the last week
I rearranged my living room. It is amazing to me that, truly, there are endless possibilities for a different perspective. If moving objects becomes boring then there's always the wall color. A new outlook, learning to appreciate a different landscape.
It's almost like we are on vacation. Alice continually explores every inch of the space with her nose, Sam and Olive purr to the different view, thankful to have the same stuff to lay on. Ruby and Margot have new interest in toys because they are in a different place.
Yes, January is here. The time when I start to feel like I am in an exotic place because I moved the downstairs rug upstairs. I think that means it's time to get away. Good thing I have some fun adventures on the horizon, beginning with my parents arriving tomorrow.
The shaking it up reminds me of when my high school art teacher taught us to draw the negative space around an object, instead of the actual object. Shifting what I was looking at and what I was trying to render changed everything for me, from then until now. Composition–whether in a photograph, an essay or conversation–is just as much about negative space as it is the positive space. It all matters.
nuggets.
:: I am so learning as I go with this whole parenting schtick. And I've learned a lot in the last few weeks. Like, Margot and Ruby have their own thing that has nothing to do with me. In fact, it's often better without me. I have had to hold back at times, to keep from joining in. Sometimes, it's hard to be on the out. Mostly, though, it is totally awesome.
:: We love the White Bean and Black Olive soup from Moosewood Cookbook and I planned to make it for my book club last weekend. I was out of some stuff and subbed some stuff and I'll be damned if I didn't make a very delicious soup that I want to share with you all.
White Bean and Black Olive Soup
adapted from Moosewood Cookbook
olive oil
1 onion, chopped
5 gloves, garlic minced
2 celery ribs, chopped
3 carrots, chopped
1/2 green pepper, chopped
1 – 1 1/2 cups oven roasted tomatoes (I know that's a tall order if you didn't do it last summer but do it next summer – even if you don't garden, buy from someone – and find endless opportunities to use the flavor-FULL bad boys)
1/4 cup  fresh basil, chopped
4 cups water
2 cups cooked navy beans
1 can sliced black olives
salt
pepper
Throw a few tablespoons of olive oil in a soup pot over high heat, add onion. Cook for a few minutes. Add celery, carrots and green pepper. Cook for five minutes. Add water and barely bring to boil. Add tomatoes, beans and olives. Simmer for 20 minutes. Add garlic, basil, salt and pepper. So good.
:: Nose-freezing weather has made for super quick walks. I am loving my walks with the girls. Margot tells me stories peppered with observations. And, when she is in the stroller, she can't see me smiling because she doesn't like it when I smile while she is talking. She says, "Nooooo, mama. I am trying to tell you something. You can't smile yet."
"Mama, remember when I fell last year? That's Amelia's house. She isn't home right now. My cheeks feel cold. When I am a great, big, big, giant, so giant girl like you I will drive. I will drive way, way faraway through the tunnel to Owen's house every day. I really do like ducks a lot. Remember the ducks? Mom, tell me again where the ducks went."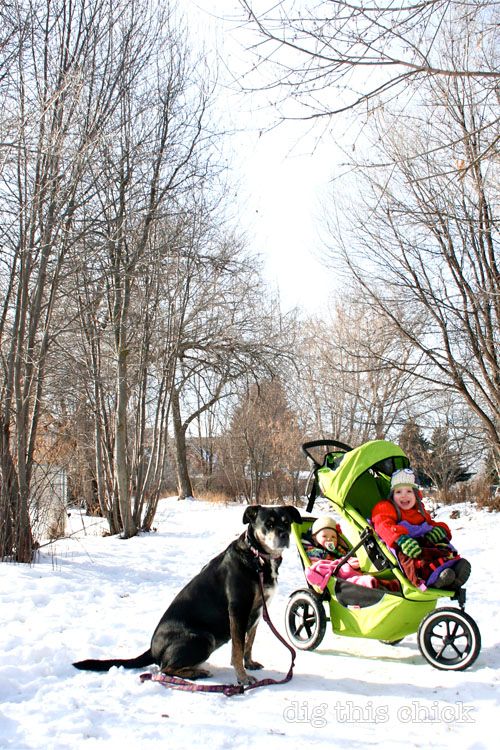 It might look cozy but it's 12 degrees.
:: Ruby is close to walking. I know *close* can last many months but sister friend adores being upright. Margot is mostly a good assistant except when she sees something more interesting to hold and forgets she is holding Ruby, not a doll.
But, to Margot's credit, she kinda looks like a doll.
:: Andy gave a brief talk at the museum (he has a painting in the annual auction exhibition). I love how at-home my girls are at MAM. They sat front and center to hear their papa talk. Well, Margot sat and Ruby roamed, very excited by the stools and shoes with feet attached to them.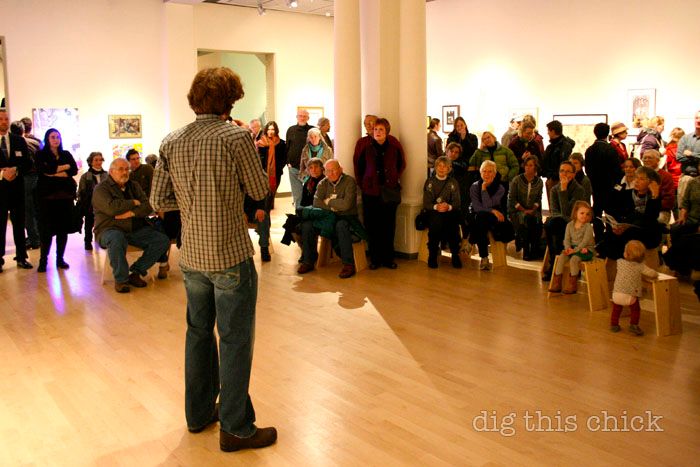 :: Margot has rediscovered a little cat her Great Aunt Jean made for her over a year ago. Darker blue is her new favorite and so this little kitty goes where we go. Always. He's a boy. He's nameless.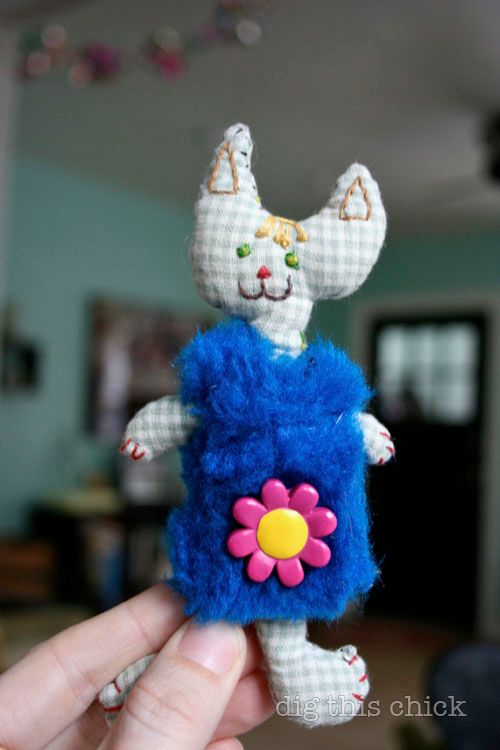 :: It's super friggin cold and there is beauty there. Like, in the frozen rain barrel chain.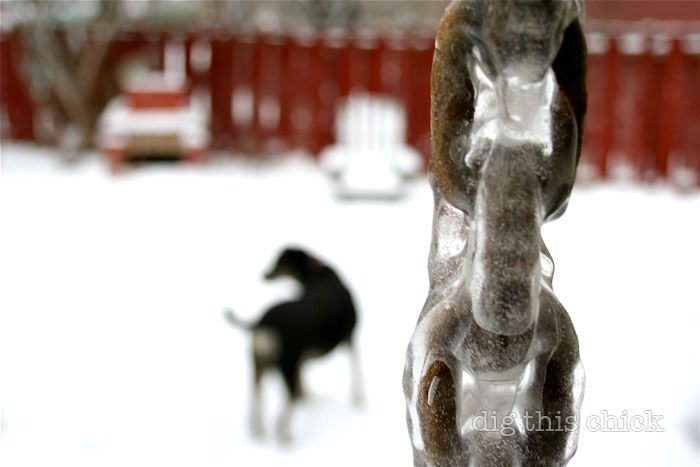 :: It's super friggin cold and there is beauty there. Like, in rotating out the books in our living room to make readily accessible new, inspiring pages. AND color coordinating the spines.
:: A new little Valentine monster named Oscar in my shop for a limited time.
:: Art-making happens a lot these days and I am quite amazed at how Rubes imitates her sister. We leave the block crayons out all the time and Ruby crawls to use them several times a day, drawing over Margot's lines.
So there has been some rearranging in our home even though all the guts are still the same.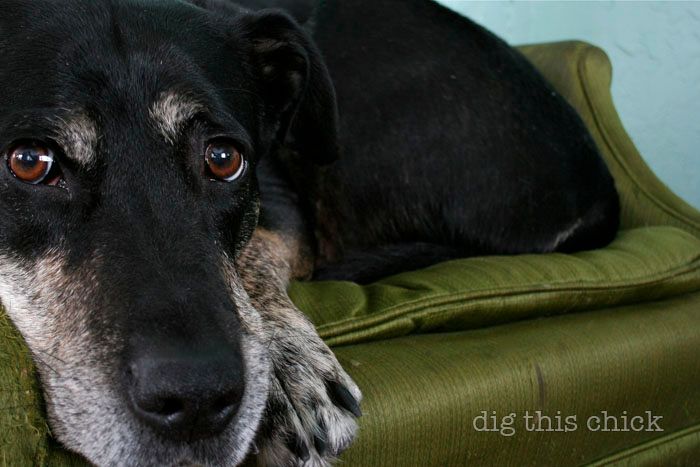 The same physical space with different shapes in different places. Different positive and negative spaces, different relationships. Everything shifts and learns, creating different compositions. It is just as much about negative space as it is the positive space. It all matters.
Happy hump day out there.