hump day nuggets: little bits of the season in photos and words about the last week

The white, clean wonderland has puddled into gray slop. People like to talk about the weather around here. Every season starts out hopeful and excited. In the winter it's I can't wait to ski and Won't it be nice to slow down, cozy up and eat soup? and then, sometime around January, the conversations shift to perpetually incorrect meteorologists and the need for a decent tomato.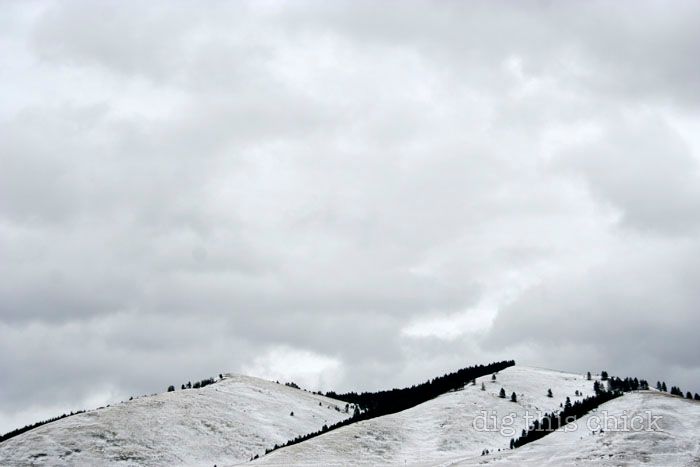 Montanans bond over this dialog as we stomp our boots in the grocery store vestibule, as we shuffle our feet along the slick riverfront trail.
The Weather has been pushin' it, as my mom would say. Generally I like all weather, including extremes. But we all have our limits and melty, gray, slippery, home-bound funk gets to me after a bit. When I feel like I can't walk around the block let alone hike, ski or navigate a parking lot with two small children without looking like a total about-to-fall freak show, I get a bit over it.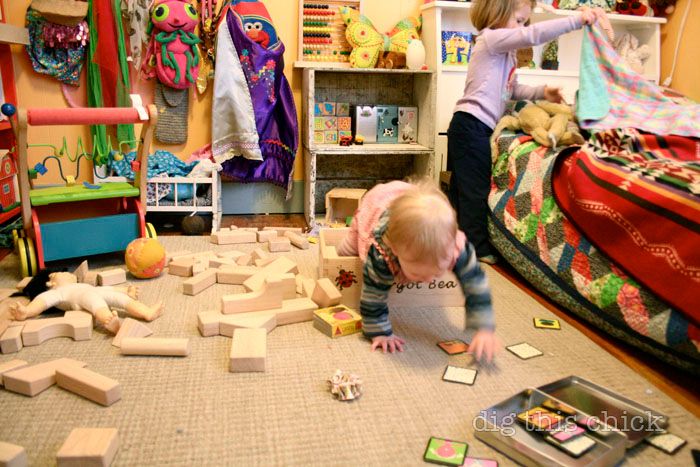 Amazingly, Margot and Ruby continue to find ways to explore our home.
The weather warmed and cooled and then hovered around freezing while it rained for three days. My parents were visiting during the dreary wet and we did what any fun-seeking family might do. We enjoyed coffee in the morning, stared at each other, played with face paint and glitter, debated dishwasher efficiency, visited the museum, went bowling and enjoyed adult beverages in the evening. And, you know, it was an excellent week.
nuggets.
:: Really, blech weather wonderfully compliments color.
:: Lately Margot has taken to interpreting Ruby's grunts and gestures. Usually, Margot says something like, "I am pretty sure she just wants your boob and the milk in your boob." And then Ruby claps and everyone is happily understood.
:: My mom made Margot a baby carrier that is donned immediately after the first layer of clothing first thing in the morning. It is definitely quite adorable, as you will observe in subsequent photos.
:: We went bowling and I think vow to go more often. It's cheap and fun and totally acceptable for kids to run and slide on smooth floors, carry and throw heavy bright pink balls, screech, give high fives and eat grilled cheese sandwiches.
Also, people get to invent alter egos in their screen names and then spend a good hour or so living that name. I was Fear Me but, unfortunately, the system abbreviated and F Me is what appeared. My family thought this was quite hilarious. And it was.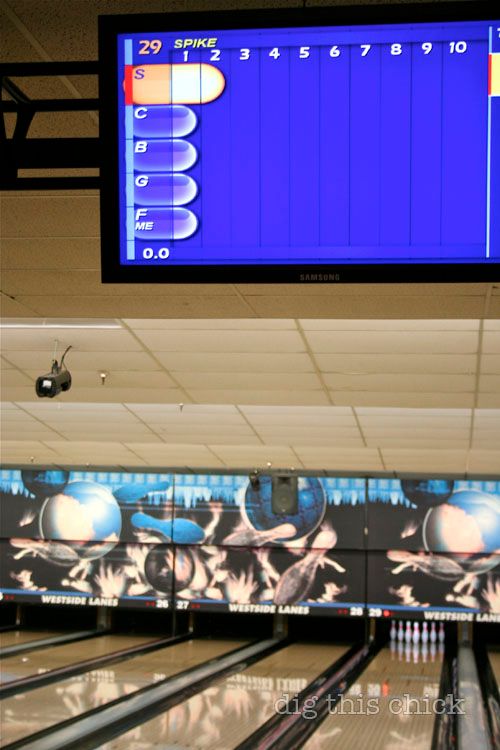 Andy's parents owned a bowling alley way back when and I think it's in his blood. Check out that form.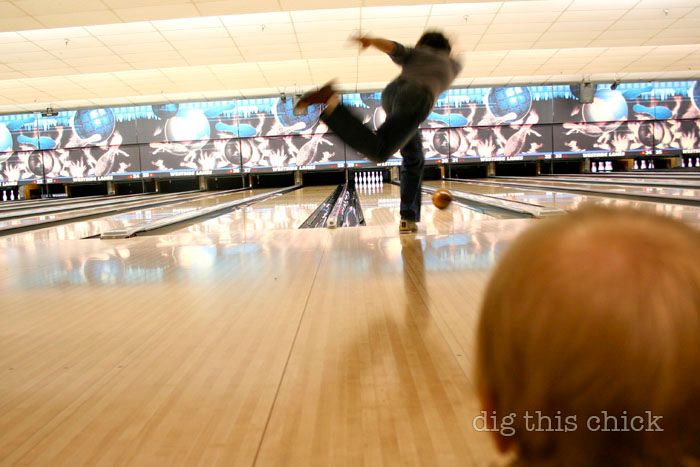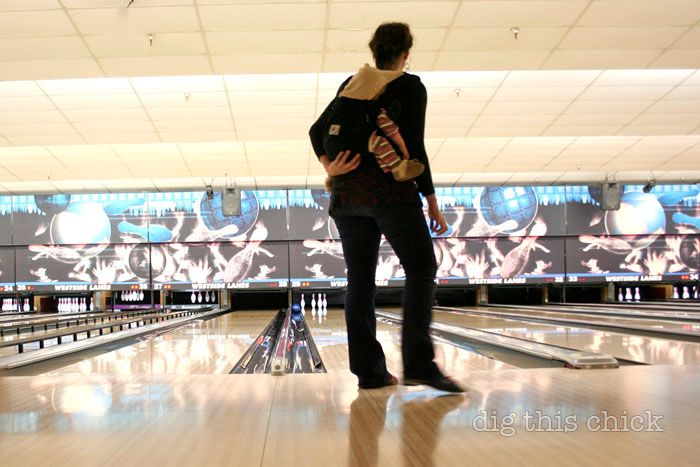 I bowled much better when Rubes napped on my back. F me.
:: As boring as it may sound, I am quite excited to get a new car seat for Ruby. And, thanks to a renewed sponsor, it's on its way! CSN has a pretty vast selection of stuff for home and the like…everything from a car seat to a dutch oven to a round chair. I am definitely looking forward to a forward-facing Rhubarb. Thanks, CSN!
:: Hot cocoa and peanut butter pretzels.
Peeps have been asking for our hot chocolate recipe and here is our very unspecific formula: heat whole milk over low heat. When it is *just* warm, add equal parts cocoa and sugar and whisk. For one cup of hot choc, I'd guess a heaping teaspoon of each. Heat until it's the temp you want. Voila!
:: Rhubarb.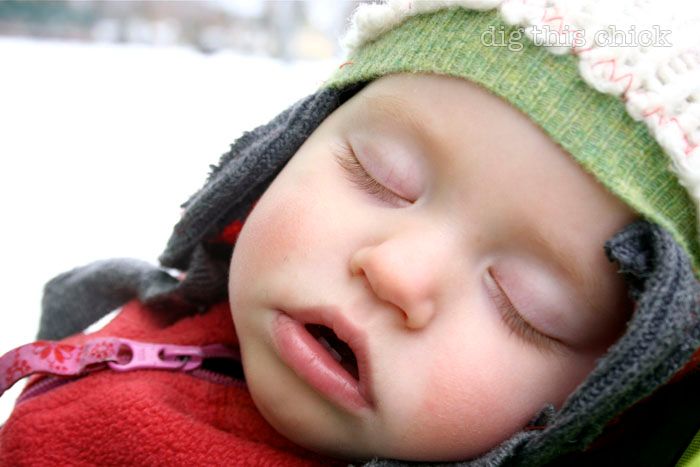 :: We swept up our Christmas tree needles and made a nest for Margot's favorite Darker Blue Bird Daughter.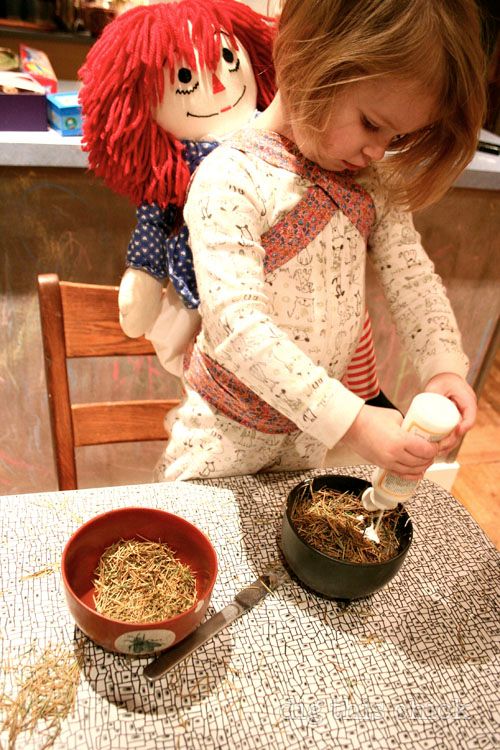 Margot mixed glue and dried pine needles in a bowl. Any ol' clear-drying glue will do. We like Mod Podge. Then, turn a largish bowl upside down and cover with plastic wrap. Pile and shape the gluey needles onto the plasticked bowl and let dry for many hours. We peeled it off before it was totes dry because Margot wanted to add glitter.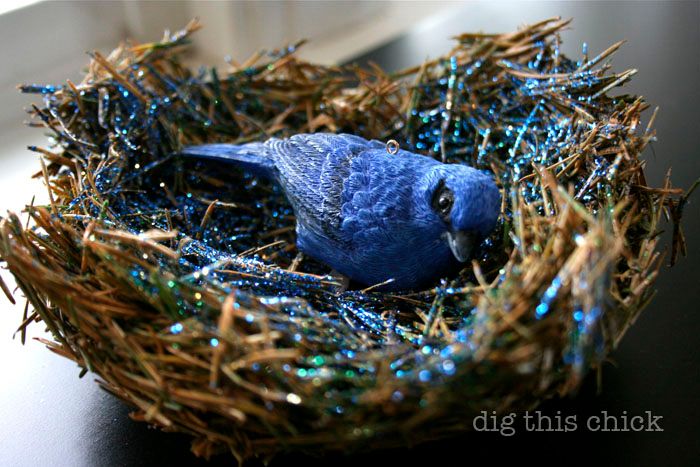 :: Monotone weather does make for great photo light and great opportunity to smooch gram.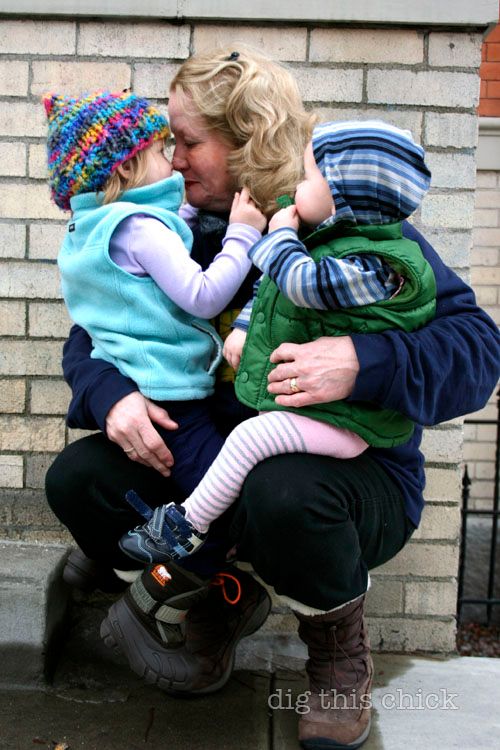 :: Twice we managed very slow walks. They were more like shuffles with swears mumbled through exhales. It's really, really icy here.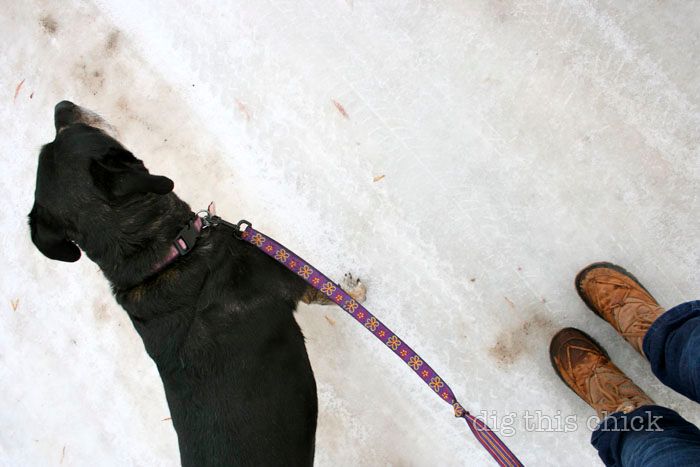 :: Mostly we lounged about the house where Ruby balanced on furniture and Margot defied balance.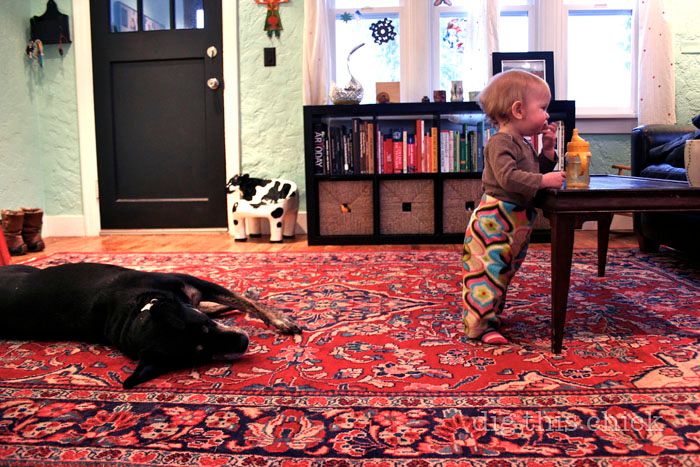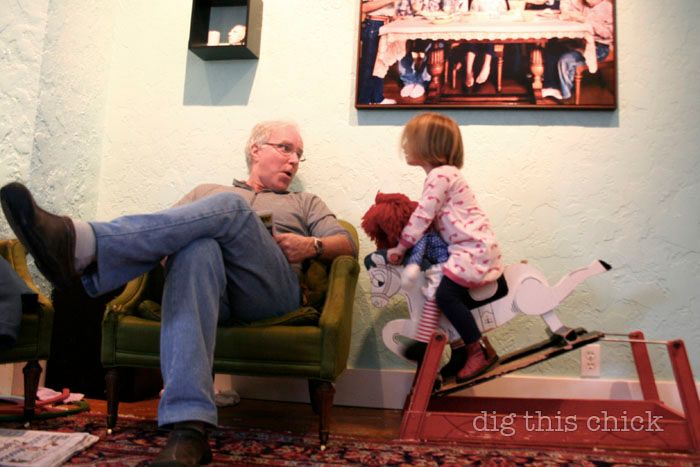 :: Every night when Andy walks in the door, the energy of our home rolls into him. When he isn't covered in insulation, he gives in, falls to the floor and rolls with all the creatures who love him so.
:: Even though I don't work at the museum any more, I still have such pride in that place. I love taking loved ones there. It's church.
:: Andy makes pancakes several times a week and Margot is getting quite skilled at measuring and stirring, although she surprisingly, still likes to eat baking powder by the spoonful while squealing YUMMY and exhaling white puffs.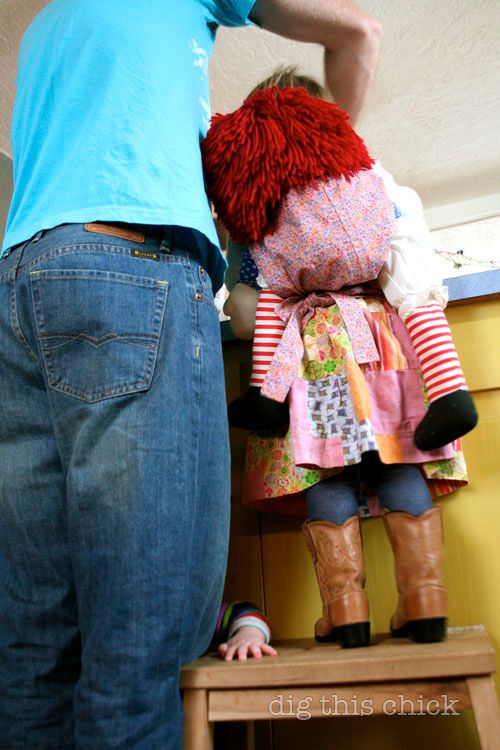 Ruby can't wait until she can be up on that stool
So, the weather's been bleak and we found fun elsewhere. And then today, a bit of blue and warm pooled light awakened atrophied interests and ignited tired bodies. Amazing, the power of the sun.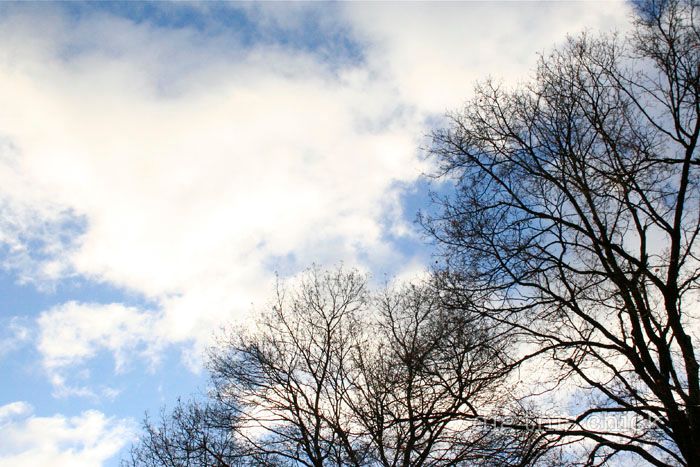 happy hump day out there.
ps Thanks for the all the notes about the bum link in Monday's post. Click here to read generations.
pps Nine new recycled skirts in my shop!