Last night, after an exhausting day of caring for my sick family, I decided to not even consider my pile of work. I needed to do something for me. It was late, snowing and cold. I couldn't find a leash and I couldn't stand to be inside for another moment so Alice and I headed out into the snowy night, boundless. I walked hard and fast. The cold air burned. I let go a little bit with every deliberate step.
I came home, walked through the messy kitchen only stopping to put the entire pot of chicken noodle soup in the fridge. I poured a glass of thick wine, descended to the studio put on some loud music and made myself a bag.

Our hen, 16 months, digs the new accessory
I've had this bag in mind for a while. My criteria:
Big but navigable when digging for, say, a pacifier or phone or fruit leather. 
Handles just the right length so I could reach in with one hand while it is on my shoulder
Uses awesome vintage upholstery fabric I scored at a garage sale.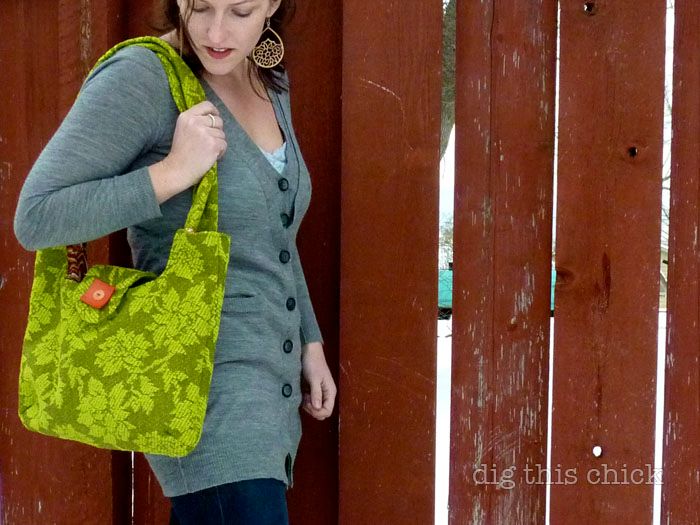 I don't love the button and I think I'll change it. Chunky wood? Thoughts?
Square bottom, heavy fabric. No floppy bag.
Comfortably holds camera, two diapers, diaper cover, two water bottles, snacks and the other normal purse stuff.
Thick, stay-put straps.
Laptop fits.
Lots of pockets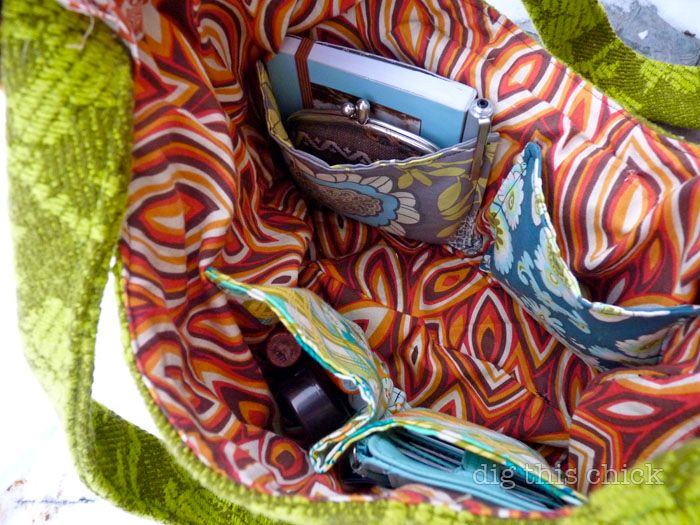 The fabric for lining and pockets are all pieces from my scrap stash.
Pattern details: The bag is a tweak on the Charming Handbag in Bend the Rules. My changes: I hand drew the pattern to 8×16″ (cut on the fold so my bag is 16×16″) . The two handles are each 30″ long and I doubled the width (also doubled the width of the casing). Because I used heavy fabric, I didn't do a facing, only a lining. I added three pockets to the lining before assembling bag. I added a flap, a snap and a non-functional button.
I like it. And, even though its completion meant very little sleep, it was just what I needed: a little spring green to accompany my winter uniform.
Another thing that fueled my mojo happened last week when Margot's camera was stolen from our front steps and I, as Margot says, drove way way far away all over to track down the thief. Read all about it in this week's mama digs: depth of field.
Lastly, there is still a day to vote in the poll at the upper right about which electronics or appliance item you'd love a discount on and comment on this post answering the question, If you were offered a discount on that item, would you purchase it? Your participation determines what fabulous deal Vann's will offer you all on Wednesday and helps me replace my broken camera thanks to the new dig sponsor. I really appreciate your support! And I really appreciate Vann's!
You might also like