Today, I have been here writing and interacting with the intertubes for four years. 
In 2007 I didn't read blogs and started one after hearing it was free and wouldn't get lost as easily as my scribbles on the back of old envelopes. It was about gardening, running, making. A space for me to keep track of germination and growth. A while back I had a gardening business called 
dig this chick
 and so the name was easy. I like to write and take photos. I started dating Blogger.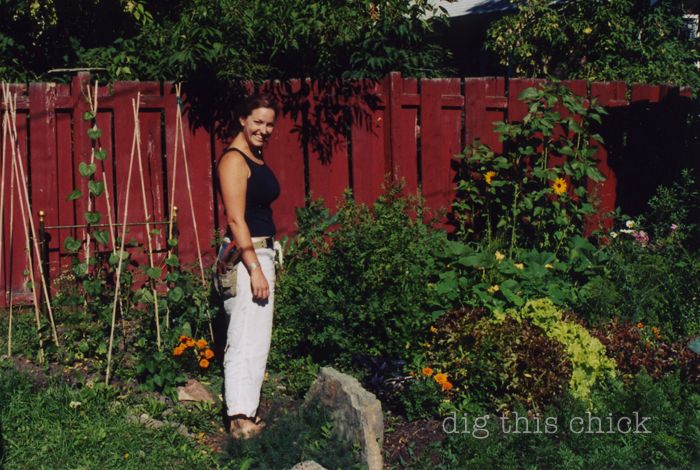 Then I was off to grad school in Chicago for two years without my husband (because he had just started his electrician apprenticeship) and I remember considering the possibilities of getting a bit more personal on my blog about all of
that
. And then, surprisingly, we were pregnant. My life was changing so quickly. I cautiously tip toed into writing more openly about my heart and it felt good. A whole different kind of germination and growth that led to I a whole lot of connection, thought-provokes and inspiration.

Margot Bea's birthday 12.18.07
Grad school on hold and a Margot in my belly,
dig this chick
changed into something else entirely. At first I felt like I wanted to honor the initial intention of
dig
so I started a different blog for bug. In hindsight I think I wanted to prove my autonomy and passions persisted within the context of motherhood. Because long ago, when unsure if I'd have kids or not, my biggest fear about motherhood was swallowed identity. And then, after a year, I understood I am Nici, a mom who gardens, writes, sews, makes, runs. Nothing was swallowed but
everything in my life is about me as a mom
. It is all dig. Dig.

Ruby Jane's birthday 11/23/09
This url has chronicled some of the most vulnerable and important moments of my life. I feel really thankful for this space and for you. YOU! Fer real. I learn so much from your experiences, advice, camaraderie, support. Thanks.
SO. A giveaway dontyouknow. And a good one. Remember how my camera broke and then Vann's gave me the rockstar loaner until I got my paws on my Dreamboat (thank you Vann's!)? Well, we're giving that barely-used, totally awesome rockstar loaner away to one of you lucky peeps!
Leave a comment for a chance at it. Tell me something interesting, path-changing that has happened to you in the last four years. For another entry, 'like' dig on facebook and leave another comment here telling me you did.
xo
*** comments closed ***