hump day nuggets: little bits of the season in photos and words about the last week

This morning, I searched through my blog archives looking for a post. I rarely do this. It is strange and kind of wonderful to remember, to see and read what I was thinking and doing. I like blogging.
A year ago, I was still terrified for Ruby's life. She was off the apnea monitor but we were still doing heart monitoring. I don't think I had slept in months. It took a while to bond with Ruby because I had distanced myself when she was on life support and kept worsening. She lived right there close to my heart for months, all day, every day. And slowly, cautiously and eventually, like a powerful wave, she plunged right into my heart.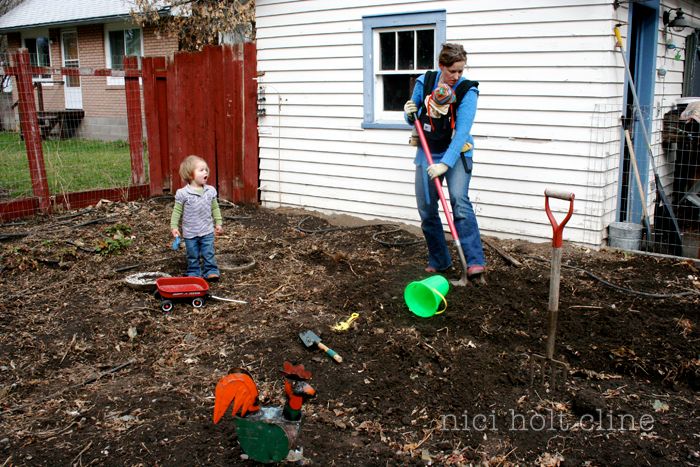 Two years ago, we returned from a two week vacation to Portland and northern California and I felt chubby and tired. I wondered….I didn't say anything to Andy and took a pregnancy test about 23 seconds after we got home. And, lo, little Ruby Jane registered as a plus sign. I gave Margot the test and told her to go show her papa. He asked Wait, what? Really? at least five times. Really.
Three years ago, I was wonderfully blown away by the love I felt for a four month-old Margot. I had just gone back to work at the museum and she came with me every day, nursed while I worked, played while I was in meetings, slept under my desk. She met Obama.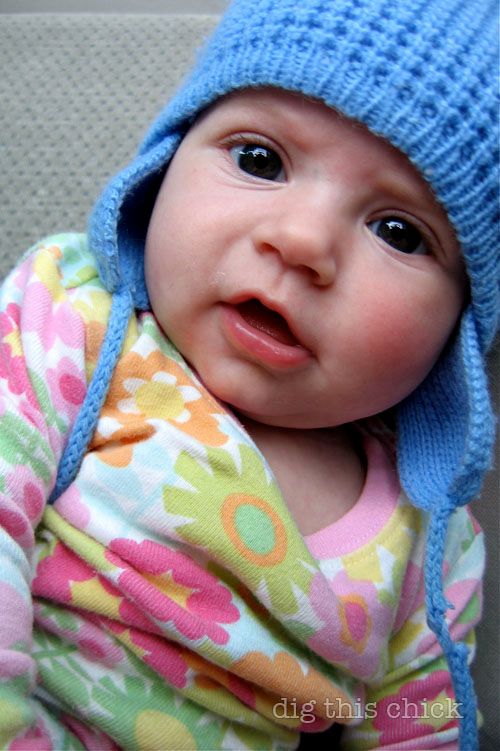 Four years ago, I dug in the same garden, cooked in the same kitchen, ran with the same dog, held hands with the same husband. The difference? Cells were dividing in my uterus. Oh man were we ever surprised at that information. Digging, cooking, running and hand holding forever changed.
nuggets.
:: Everything is messy these days. The everyday activity seems to be amped up about 17 notches. Painting turns into piles of color and little red footprints around the kitchen, puzzle pieces find their way into every one of my shoes, at any given moment there are at least three socks on the floor in every room, muddy boots lounge in corners, garden tools are inside and my jewelry is outside. This morning I found Margot's easter basket under our bed. It was full of chopped carrots.
I think it is because I don't have a baby and a kid anymore. I have two kids.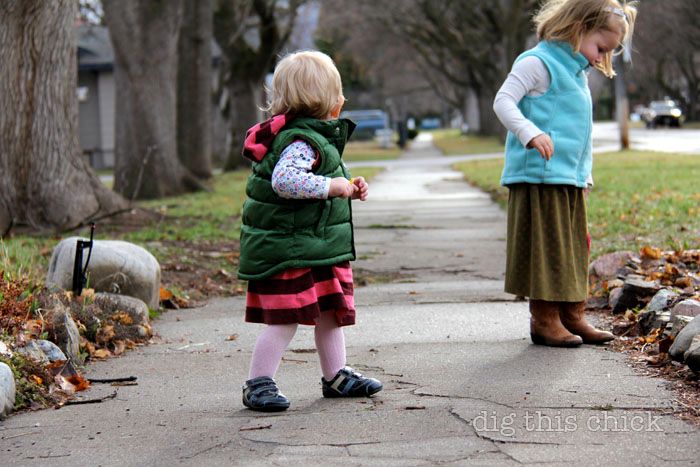 :: Last year I made these felt eggs for the backyard hunting.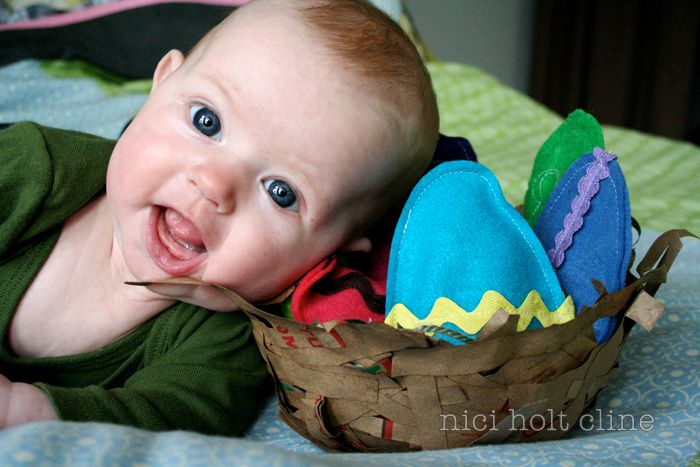 And, this year, I am making them to sell! There are only 10 15 sets available (wow! sold out right away…I added 5 more and that's really all I can do by easter. thanks!) They work great, don't break and land in the trash. They are colorful and securely hold jelly beans, erasers and other such items the easter bunny brings. And, they are made by a mama in her basement instead of a machine in a factory. What's not to love?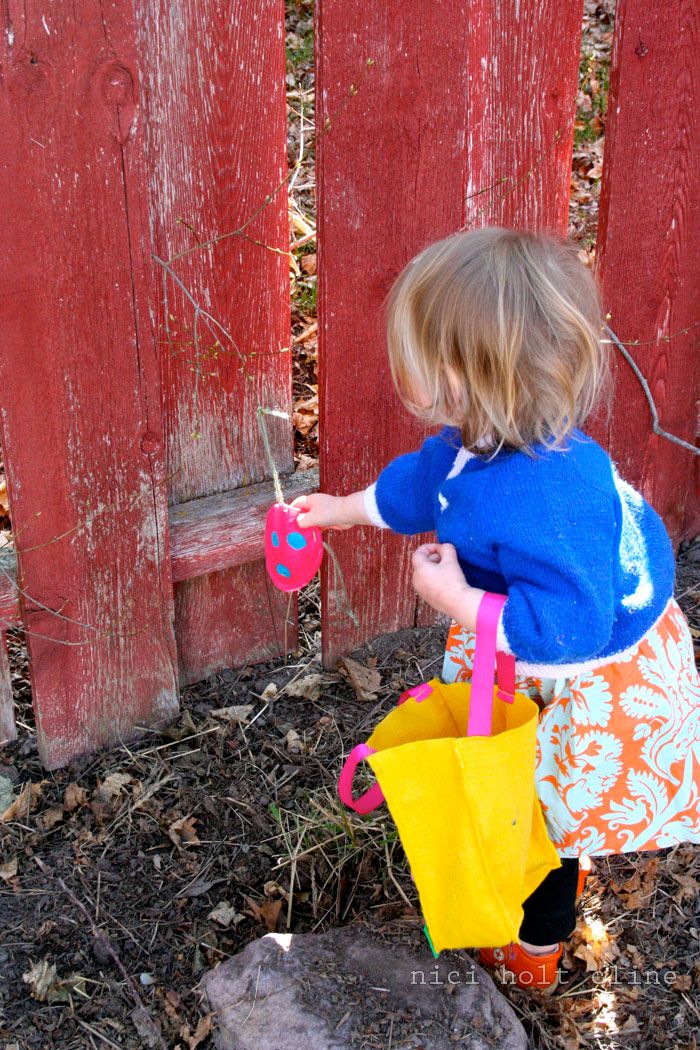 The draw strings also allow for crafty egg placement.

:: Ruby talks to the hens in this cockacockacocka chant that melts my heart.
:: Having two bipedal children is so freeing while outside. I feel light as a feather as I flit about the garden, while bug runs busily from rock to rock to see if any ants live underneath and Ruby swaggers behind, her faithful follower.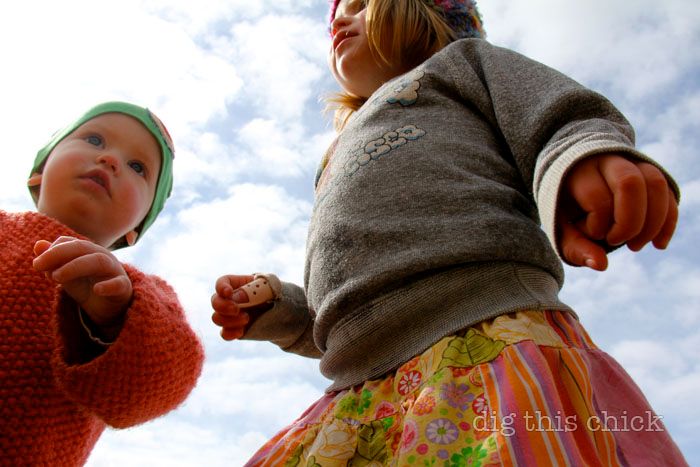 :: Speaking of bipedal, sweet potato glows with all that is beautiful in the world as she moves forward on her own two feet.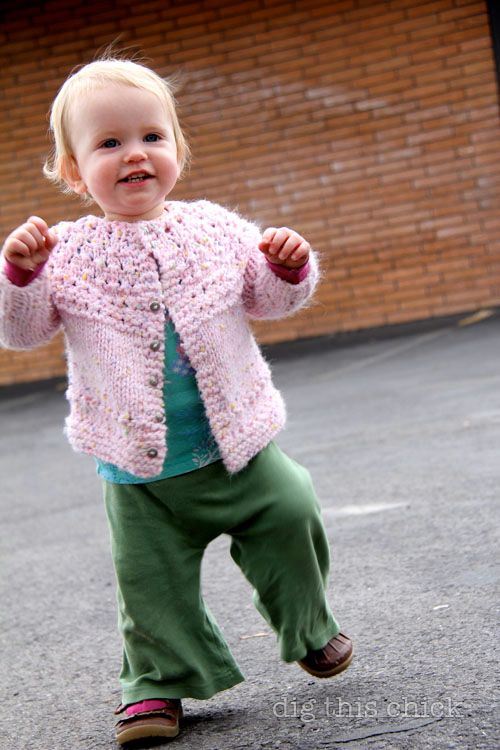 :: In the garden, Margot really likes to do whatever I do and this can be tricky when dealing with itty seeds and excited hands. Large seeds like peas, beets, beans, squash etc. work wonderfully for excited hands.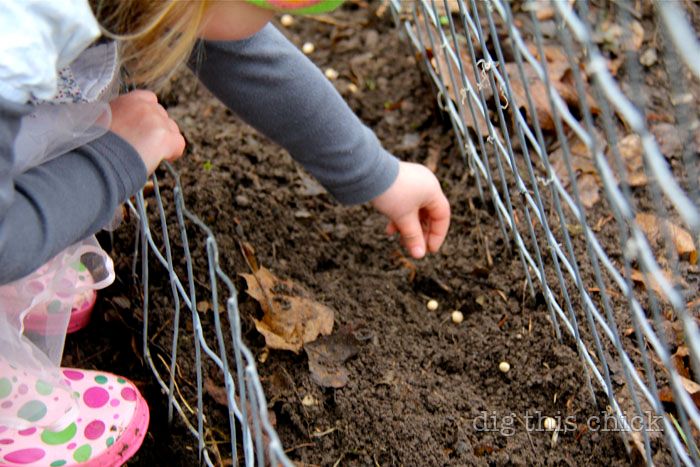 Diary of a Worm
is one of our favorite books around here. And I am quite certain it has deepened Margot's respect and curiosity of the amazing critters. As we dig, chicken collects all the worms in a bucket, talks to them, feeds then dirt and weeds. And, then she enthusiastically, carefully replaces them in the garden to "disappear under the ground."
:: Margot is such a little girl. I have been hanging on to the word toddler for some reason. I said it the other day while watching her pirouette and plié about our home in a carefully crafted outfit and immediately realized I was watching a girl who crossed toddler off her resume many months ago.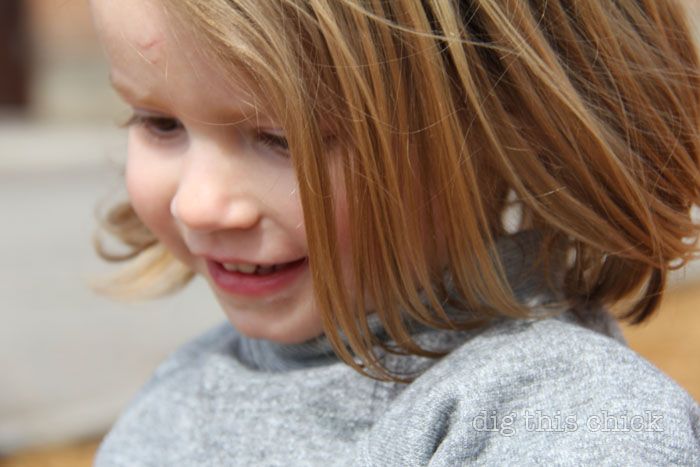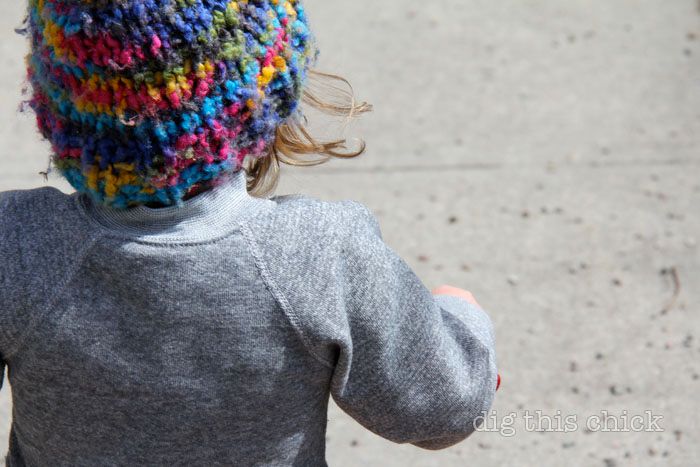 She's always been feisty and independent but now? Now, I have sincere visions of her at 18, fearlessly hopping on an airplane with a one-way ticket to Egypt. It might be because I am her mom, but I really feel that this daughter of mine will do incredible things in her life. She'll pave her own path and I think I will be wonderfully surprised and inspired by her choices.
:: I dusted off my
favorite spring skirt
last weekend as the temps felt beach-like when the sun peeked from behind the chilly clouds.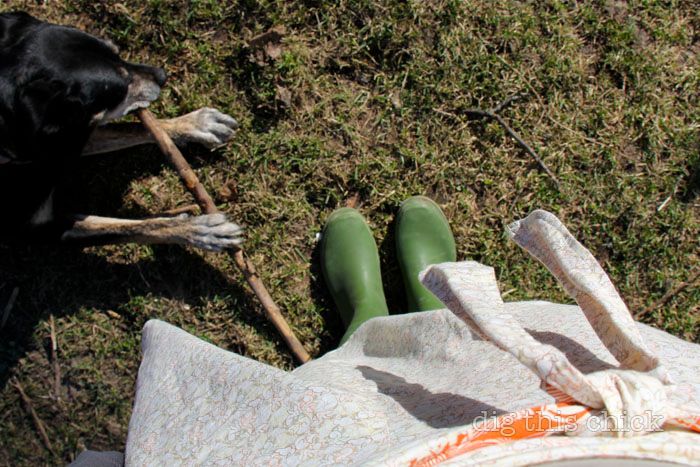 :: The sun really does change everything. It is so lovely that the bright ball hangs out after dinner, allowing us to meander about our neighborhood before tucking in for the night.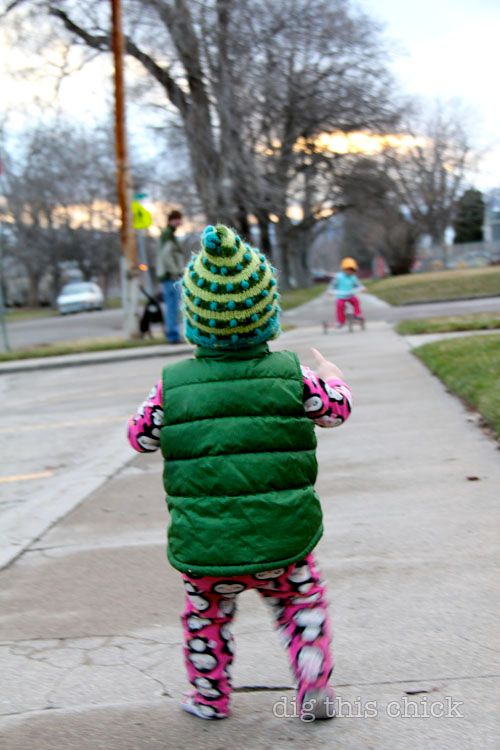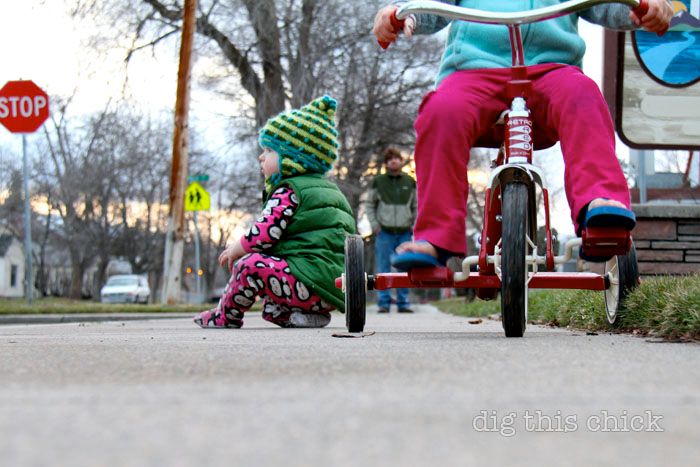 :: A big, fat welcome back to dig sponsor Soapwalla Kitchen. I have talked before about my allegiance to the deodorant and body oil.
Newish to me are the Restorative Face Serum and the Organic Lavender and French Clay Facial and Body Soap Bar. I use the soap bar only on my face and I completely adore the smell, the consistency, the clean. And, the face serum? It completely cleared up this annoying dry skin rash thing (dermatitis) I had around my eyes all winter. Also, her stuff works so well that you need so little. Everything lasts a long time.
Rachel is awesome and makes all of these things in her wee New York City apartment. She is offering you all 10% off your purchases this month! Coupon code: DTC11. Thank you Soapwalla!
:: We made more of the figgy bars and I have the satisfying stats all ironed out. I updated the recipe with this info: The store bought fig bars are $6/pound and the recipe yields three pounds for $6! 
Also, I rolled the dough way thinner and I like this batch better.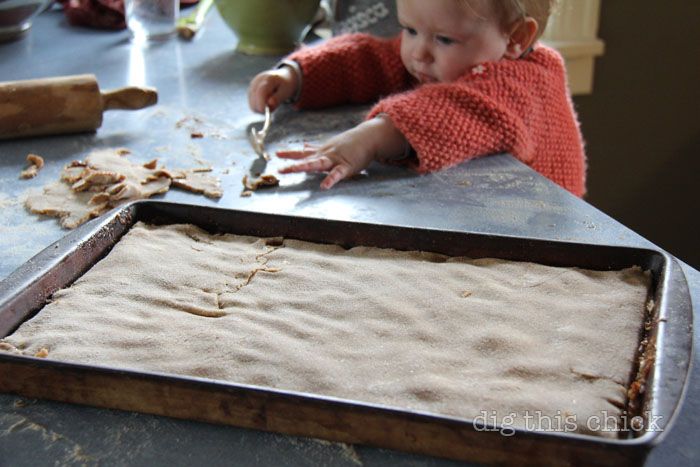 :: One of my favorites right now: Margot and Ruby work together to pull chairs to the back window so they can watch the chickens. "See that Rubes? That is Peanut and that one is 16 Months. And there's Maude. Cooper must be laying an egg or something." And Ruby nods and says "cockacockacocka."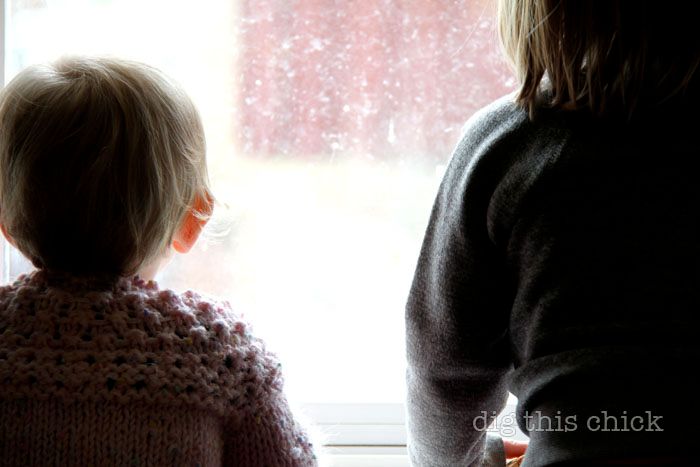 Um, It isn't snowing. I cleaned this window after I saw this photo.
:: And, ending these nuggets with this beautiful moment that for real made me cry happy, grateful tears. Andy and I sat on the floor together and watched our daughters dance together. Free, open, content, healthy, present. 
Ruby dances.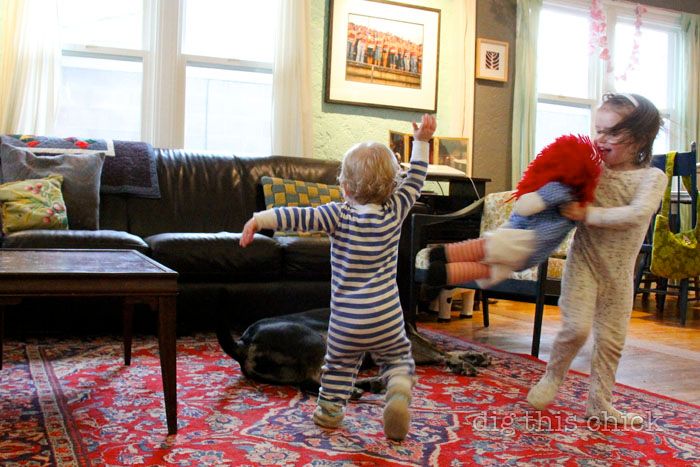 Happy hump day out there.
:: :: ::
except for the first three, all photos taken with a Canon Digital SLR from Vanns.com